A SUV goes off a cliff. Detective Michael Britten is at the wheel, and tries to hold onto his wife Hannah and son Rex. Once the SUV comes to rest, Michael wakes up and realizes that he's alive, but one of his family is dead.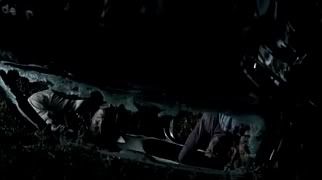 Reality 1
Sometime later, Michael is with his wife Hannah, at the funeral of their son Rex.
-----
Michael meets with a psychiatrist, Dr. John Lee, who confirms that Michael has gone back to work. Michael is working with a new guy, Detective Efrem Vega, and figures the department wants someone to hold his hand until they know he's okay.
-----
Michael and Vega work a case on a cab driver who was murdered. Vega finds one witness, Mr. Weaver, and Michael goes over to talk to him. Weaver confirms that the killer ran up into an alleyway, and wonders why he's telling the same story to Michael that he did to Vega. Michael spots a security camera on a nearby building and tells Vega to check it out. Vega hesitates and then thanks Michael for requesting him since he's been passed over twice. Michael tells him that he didn't request him and figures that the department promoted Vega to watch over him, and tells him again to check the camera.
Michael then goes home to where his wife is repainting the house so that they can sell it and move.
-----
Lee notes that it's a common reaction to start over after the death of someone close. He wonders if Hannah has gotten to Rex's room, and Michael admits that she hasn't been in the bedroom since the accident.
Reality 2
Michael wakes up the next morning, alone in his bed. As he goes out, Rex comes out of his room. They sit down for breakfast but neither one speaks. As Rex leaves, Michael suggests he might come to his tennis match and Rex disinterestedly says his father can do whatever he wants.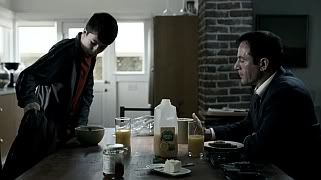 -----
Michael meets with a psychiatrist, Dr. Judith Evans, and they discuss the fact that Rex has taken up tennis since the accident, and Hannah taught him. She notices that Michael has a green rubber band around his left wrist and asks why, and Michael says that he uses it to keep things straight. Green is Rex's favorite, and he wears a red one when he's with Hannah. Evans asks if he means in his dreams, and Michael admits that's the case. He then describes the case that he's working.
-----
Rex investigates the stabbing murders of a couple in their expensive apartment. As he meets with his partner, Detective Isaiah "Bird" Freeman, he passes the uniformed Vega who is securing the crime scene. The money and the car have been stolen, and Michael figures that it's a home invasion gone bad. He finds a photo of their daughter on the refrigerator and Bird confirms that she wasn't in the apartment. They're trying to track her down, and the calendar says the parents were supposed to be at a meeting. The detectives check out the bedroom and Michael smells something in the closet. He realizes that it's urine in the closet, meaning that the girl hid there and she either ran or the killer took her.
-----
Evans is intrigued that Michael has been dreaming of a different reality, one where he is partnered with Vega and Rex died. She suggests that Michael is trying to compensate mentally by imagining a whole new existence where he didn't lose Hannah.
Reality 1
Lee is intrigued that Michael has been dreaming of a different reality, one where he is partnered with Bird and Hannah died. He suggests that Michael is trying to compensate mentally by imagining a whole new existence where he didn't lose Rex.
Reality 2
Michael assures Evans that he is awake and with his wife. But he explains that the next time he wakes up, he'll be with Rex and a different psychiatrist. When Evans assures him that the world he is in now is not a dream, Michael point out that Lee said the same thing.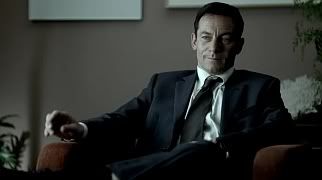 Reality 1
Michael and Vega go over the security footage and discover that the killer looked directly at the camera after shooting the cab driver. They're informed that there has been another shooting of a cab driver. They go there and Bird, the local officer, informs them that the shooter wore a bald cap and fake beard. There's a security camera at the scene and footage of the killer posing for the camera. As Vega takes statements, Bird tells Michael that the captain is splitting them up and moving him to another precinct. He tells Michael to watch himself with Vega, the captain's man, and Michael insists that there's nothing for Vega to see because he's fine. However, Bird says that when he told the captain Michael was fine, she transferred him, so Vega will tell her what she wants to hear.
-----
Lee assures Michael that doctor-patient confidentiality applies and he won't tell anything to Michael's superiors. Michael doesn't believe it, pointing out that Lee's report will make or break his career. However, Lee assures him that Michael is doing his job, but tells him that he has to process his loss. The psychiatrist asks if he's told Hannah what he's experiencing, Michael admits that he did at first, trying to be a bridge between the two. However, it wasn't comforting her. Lee explains Hannah is beginning to imagine a life without her son , and asks if she told Michael why she wants to move. Michael explains that Hannah can't stand to be in a house with her son's empty room, and Lee asks why Michael is determined to stay there. Michael tells him that for him, the room isn't empty.
Reality 2
Michael goes to his sleeping son's room and covers him over. He then goes to the station and gets a report that they found a stolen car in the neighborhood. The detectives figure that the killer was at the scene at 5, but the murders didn't occur until 9. However, the girl didn't get dropped off until 8:45. The killer broke in but the parents were there instead of at the meeting and had to be killed. As they go to talk to the watch commander, Michael tells Bird that he needs an hour or two to do something. He goes to Rex's tennis match and talks to his son's coach, Tara. She explains that she used to play tennis with Hannah and they once considered going pro. Rex wins the match but then kneels on the court, sobbing. Tara and Michael run over and Tara embrace the sobbing boy.
Tara and Michael take Rex to a diner. Father and son start to bond when they realize they enjoy the same TV shows, but Michael gets a call from Bird that they've found the killer's car. Michael has no choice but to go. Rex thanks him for coming and hugs his father, and admits that it was Tara's idea.
The car is at the Waverly Parking Lot and there's a blood trail from the girl. It leads to another parking space and they check the security footage and plan to talk to the other car owners and see if anyone saw anything. Michael suggests that they ask about the spot behind the killer's car, 611, as it appears that both cars left at the same time. Bird is skeptical and Michael says that he'll call the witnesses himself. Bird wonders if Michael is okay and then asks about Rex, and Michael admit that nobody really knows how to handle the death of their mother.
Reality 1
At breakfast, Hannah reminds Michael that they have a dinner that night. After she leaves, Michael notices a newscast of a crowd playing on the TV. He goes to the precinct house and tells Vega to pull the security footage again. When Vega wonders why, Michael explains that the killer could have ditched his disguise and gone back to watch the police investigation of his murders. Officers find the discarded wig with a red hair in it, but it's unlikely they'll get a DNA match from the database unless the killer has been arrested before. Vega and Michael review the tapes, and Vega mentions 611 Waverly, the address where the first cabby was killed. Michael realizes that 611 and Waverly related to the parking lot where the killer was in his case in the other reality.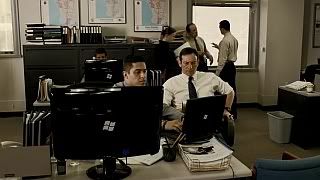 -----
Lee suggests that there's nothing unusual about facts bleeding over between the two realities, but Michael notes that he didn't know the address before Vega mentioned it. The psychiatrist suggests that he might have remembered it subconsciously when he read the paperwork earlier, but Michael wonders if he saw it in reality and it's repeating it in his dream of Lee's reality to indicate it's something important. Lee tells him that there's no therapeutic value in Michael entertaining the possibility of interchangeable realities, particularly one in which Rex survived the accident. Michael says that he doesn't know if it's true and there's a kidnapped girl that needs his help, and Lee asks him which case came first. When Michael confirms that the cabby died first, the psychiatrist suggests that the fact that he's dreaming about a case involving a missing child, and the dream is a message that he should deal with the death of his own child. Once he decides which one is dead, his wife or his son, the pain and the dreams will end.
-----
Michael and Hannah go to dinner and she tells him that she's applied to college and that she's quit her job. One of the schools is in Oregon and Michael wonders if she asked him out to soften him up when she broke the news. Hannah assures him that she wanted to go out because it was time for them to go out and do things again. Michael admits that she can be persuasive and takes her hand, smiling, and she suggests that they should go home. They end up making love for the first time since the accident.
Afterward, Hannah says that she wants to have another child despite the fact they haven't worked through their issues. She assures Michael that it's not about replacing Rex, but she wants another boy before she's too old. He wonders how she knows it'll be a boy, and says that they should think about it for awhile. Michael then asks her about the house and she admits she has one more room to paint. He enthusiastically describes Rex's game, claiming it was Vega's son who played it, but she realizes he's describing his dream of Rex. Hannah tells him that Rex is gone and asks if his sessions with the psychiatrist are helping, and Michael assures her that he feels better every time that he opens his eyes.
Reality 2
Michael opens his eyes and sees Rex standing at his bed.
Later, Evans points out that Michael seems more concerned about what is and isn't real. He admits that Lee said a few things that he's having trouble letting go of, and Evans asks him why he might have created an imaginary therapist that is so confrontational. Michael doesn't see why he would imagine someone that disagrees with him, and points out that Lee would think he was creating Evans because she agrees with him, meaning she is his subconscious. Evans prints out some pages of the Constitution and then has Michael pick one at random and start reading. Michael does so and Evans points out that if it was a dream, and he doesn't have the Constitution memorized, then he couldn't have read it. He admits that he can't explain it, and Evans tells him to tell Lee that it's not as simple as he makes it sound. Michael tries to cope with the idea that his reality with Hannah is just a dream.
That night, Michael goes to bed with the green rubber band for Rex on his wrist.
Reality 1
Michael wakes up in an empty bed, with no rubber band on his wrist. He calls for Hannah and gets no response, and begins to panic. When Michael calls her cell phone, he gets her voice mail. Rex's room is empty and Michael cuts his hand to try to determine if he's sleeping. Hannah comes in and assures him that she's not going anywhere. She bandages his wound and Michael sees the discarded red rubber band on the bed.
Later that day, Michael takes Vega to 611 Waverly, insisting that he's following a dream. When he examines the apartment building that Weaver testified from, Michael realizes that he couldn't have seen the killer go into an alleyway from his angle. The detectives spot Weaver looking at them through the blinds, and Michael goes up in the elevator while Vega covers the back. Weaver slips out in one of his disguises and Michael chases him into the street but loses him. As he tries to spot the killer, Weaver comes up behind him with a gun... and Vega returns in time to shoot him down.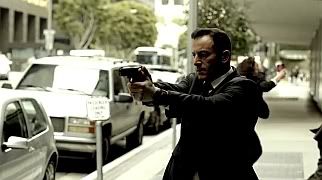 As the police clean up later, Vega asks Michael if he was joking when he said that a dream led them to the suspect. The younger detective warns that his superiors have wanted to know if Michael has been doing anything strange, but assures his partner that he hasn't said anything.
Reality 2
Michael and Bird go back to the Waverly Parkng Lot and examine slot 611. Bird doesn't understand why it matters who was parked in 611, but Michael examines the photos and realizes that the killer was driving a truck and slot 611 behind him had his trailer. They check for camper-trailers in the area they canvassed for sex offenders and come up with one that is parked by a lake in the foothills. The ranger has confirmed it's been there since the murders. Michael asks if they've determined if they anyone saw a man with red hair, like Weaver in the other reality, but then drops it.
Michael and Bird take a team to the camper and close in. The officers have confirmed that the killer is inside and has the girl with him. The detectives circle around the camper and Bird confirms that the door is locked. Michael checks the window and sees the girl inside, tied and gagged. He signals to her to be silent and shows her his badge, and then pries open a slat on the window. The red-haired killer carefully sets a table while Michael beckons the girl over to the window. She makes a noise and the killer comes at her with a knife, and Bird shoots him through another window.
As they secure the crime scene, Bird interviews the girl, who says that the killer wanted to marry her. He asks Michael how he knew the killer had red hair, and Michael dismisses it as a hunch. Bird isn't convinced but figures that Michael is going to stick to that. They realize that the girl is far from safe and doesn't even know that her parents are dead, and Bird realizes that they may have solved the case but they haven't fixed the girl.
Reality 1
Lee tells Michael that he's going to have to participate in a realistic examination of his situation. Michael insists that he believes that he's fine, but Lee points out that the medical report shows that Michael had elevated blood-alcohol levels on the night of the accident. Michael says that he wasn't drinking but Lee suggests that Michael is trying to shield himself from his own responsibility in Rex's death.
Reality 2
Evans admits that the blood-alcohol levels raise interesting questions, and Michael insists that he wasn't drinking. However, he doesn't remember anything that led to the accident. She suggests that he's using his dreams to work out what happened that night by giving him subconscious clues.
Reality 1
Lee says that his fantasy is far from benign and they have to deal with his fantasies before the situation becomes unsustainable. Michael cutting himself is just the tip of the iceberg. Michael considers what he's saying, and then explains that he's willing to lose his sanity if it means that he can be with his wife and son. He tells Lee that he'll come and see Lee as long as they make him, but he won't let try to make progress or let go of his dreams.
That night, Hannah asks Michael if he'll see Rex. He says that he will and Hannah says to tell Rex that he loves her. Michael assures her that he will.
Share this article with your friends