Veronica comes to Ted to inform him that upper management wants to increase employee productivity to impress the visiting board of directors. Upper management has decided to give out tickets for hard work, in return for worthless prizes, and Ted has been chosen to run the program for their department.
After co-worker Ritchie plays a prank on them, Phil and Lem realize they're the subjects of constant ridicule and decide they need to find a way to make people to respect them.
Ted goes to Linda to vent, and notices pudding in her hair. He removes it, while employees Sheila and Susan come by to ask about the Veridian merchandise. Linda and Ted banter back and forth, but after Ted leaves, the employees complain that Linda gets favorable treatment and more tickets from Ted because she's sleeping with him.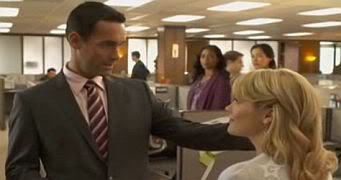 Veronica's boss Chet comes to see her and tells her that their former CEO, Arthur Wells, is in town. He warns her that Wells is now washed up and a pain in the ass, so the board wants Veronica to keep an eye on him... and won't take no for an answer. She returns to her office and finds Wells stealing her swipe card. He asks Veronica for help to prevent the board's vote to get him out. Wells has a map his mentor left to him with secrets that can bring Veridian down. However, the building has been redesigned repeatedly since he left and he needs Veronica's help to find the papers. When she refuses, Wells warns that he'll wander around randomly causing trouble, and she has no choice but to give in.
Linda tells Ted about her co-workers' suspicions, but takes offense when he says it's horrible. He insists that it undermines his authority and suggests that they stay away from each other to avoid raising suspicions. Linda angrily agrees.
Everyone likes the ticket system and Phil and Lem decide to buy Veridian belt buckles to impressive everyone. However, they don't have enough tickets.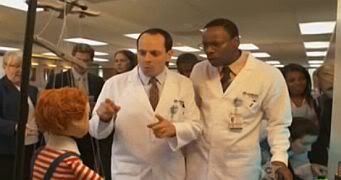 Veronica tells Ted about Wells' plan, and Sheila and Susan notice them talking. Ted starts adjusting Veronica's hair to convince them he's not having an affair with Linda. Veronica isn't interested and goes chasing after Wells. One of Ted's employees, Lonnie, complains that his prize t-shirt is too tight and wants Ted to handle the exchange. Ted refuses, and loudly insists he doesn't give special treatment to anyone... and then starts grooming Lonnie's hair. Lonnie assumes Ted is coming on to him. Ted wishes he could talk to Linda, but is forced to continue avoiding her when they meet in the hallway.
Phil sees Ritchie looking at their belt buckles and they come up with a plan to make fake tickets and then rip them up when they earn enough real tickets. Their plan works, but Susie starts hitting on Lem for tickets and he decides they should counterfeit more. Phil agrees and decides to counterfeit all the tickets.
Veronica and Wells search the final sub-basement and find the secret compartment.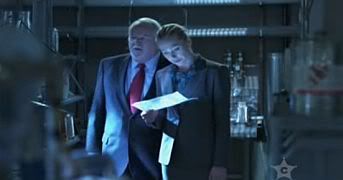 Employees begin to complain to Ted about anything and everything involving the ticket prizes. He tries to talk to Linda about his problems, but she refuses to talk to him because he cares more about what people think than their friendship.
Phil and Lem walk the halls of Veridian, wearing belt buckles and handing out tickets.
Veronica tells Wells that she'll take the papers and put in a good word for him. He responds by grabbing them and running. A fight ensues and Veronica wins by fighting dirty.
Ted suggests to Linda that they stage a fake breakup, and she decides to have a real one. She accuses Ted of putting his job ahead of her and he has no choice but to play along. They both get into the whole breakup scheme. As Sheila sympathizes, she gives Ted 100 tickets as consolation and he realizes that something is going on.
In the lab, Ritchie tries to buy tickets with pie. They refuse to take it unless he does it as a gesture of friendship. Ted arrives and they quickly confess.
Veronica reads the papers and discovers that they're 38 years out of date. When Wells realizes that he's doomed, she takes pity on him when she realizes it might be her future some day. Later, Ted comes to see her to kill the ticket giveaway, and Veronica explains about how Wells opened her eyes. Chet comes in to thank Veronica, and she responds by bluffing, saying Wells has found out about the company's worse secret. Her boss assumes the worse and the board agrees to let Wells stay on.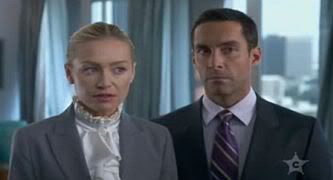 Linda comes to see Ted and apologize, and Ted admits he freaked out. He tells her that they were in a real relationship, he wouldn't care what anyone else thinks, and he admits that he missed her. Linda admits that he missed him, too. They finally kiss, but are interrupted when Phil and Lem come in to complain that Ted never told them what the initials on their Veridian Dynamics buckles meant.
Later, Phil and Lem get rid of their tickets by putting them out for anyone to take, on Ted's orders so the system will crash. His plan works.