Ted Crisp is the head of Research and Development at Veridian Dynamics, a company dedicated to developing technology for the future. His boss, Veronica, has high hopes for him thanks to Ted's reputation for getting things done. When she wants him to develop a weaponized pumpkin, he takes it to his team and they quickly come up with a way to infect soldiers with pumpkin mold.
Next, Veronica wants Ted to come up with a use for a spin-off fabric developed from spy satellite research. He takes it to his two top researchers, Lem and Phil. Lem is trying to deal with Veridian's new policy of moving the toilet paper holders further from the toilets to increase productivity by reducing the time spent on the toilet. Phil points out that Lem isn't going to fight the company over it, because he never fights. Ted agrees and gives them the fabric, telling them to make it into chair coverings.
Linda Zwordling handles testing of the chairs, and all of the subjects can't sit still because the fabric is so scratchy. As Ted goes to Linda with a new report, he notices that she's stealing coffee creamer and storing it in her desk drawer. She defends herself, noting there's no rule against it... yet. Ted shows her the report, which indicates that productivity among the chair users has gone up because they can't get comfortable enough to daydream and goof off. Another triumph for Veridian Dynamics.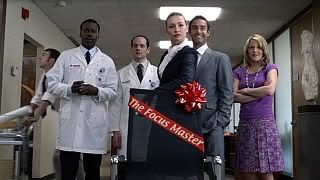 Veronica approaches Ted and tells him to convince Phil to undergo cryogenic suspension. The company has a new chemical and wants to freeze Phil for a year because nobody likes him. Ted warns that Phil hates the cold and tight spaces, and then goes to Linda. He overhears her trying to get her children's book published and sympathizes with her, and she complains that he tries to please everyone. Linda figures the company freezing Phil is par for the course.
Ted talks to Phil who is skeptical about the idea of being frozen for a year. Ted insists it's an honor but Phil isn't so sure.
Ted tells his daughter Rose about Phil's freezing. She doesn't think it's right and is worried he might decide to leave her for a year. Ted tries to convince Phil to refuse to volunteer, but Phil's decided it is an honor, and his wife is fine with him being gone for a year. They freeze Phil, who is frozen mid-scream. Everyone watches to see if he'll explode, and Linda and Ted inadvertently grasp each other's hands.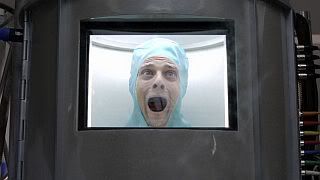 Three days later, Veronica is eager to store Phil in the basement. The movers manage to accidentally unthaw him and Ted tells his daughter that Phil is fine, except when his face freezes up and he uncontrollably screams. Veronica thinks it's creepy and tells Ted to fire him.
In the elevator, Linda talks to Ted about the handholding incident and doesn't believe his claim that it was accidental. Ted warns her that he's already had his one office affair, but doesn't tell her it was with Veronica a year ago. Veronica gets in and notices that they're close. After Linda leaves, Veronica insists that Ted fire Phil. He wants to take it slowly and she agrees, saying to wait until the end of the business week to make it easier on Payroll.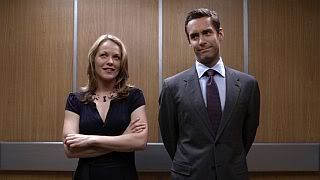 Rose still thinks her father shouldn't fire Phil for something he has no control over.
After checking on Linda, Veronica tells Ted that he can't sleep with Linda. It's bad for the company and could embarrass her. Veronica discovers that Phil is still there and Ted insists he's not going to fire his underling. Veronica warns that she'll have to tell "them," the board of directors, and that they love Ted, but "they" always hurt the ones they love.