The Fantastic Car arrives at the Baxter Building. As the Fantastic Four begin to exit their car, Johnny apologizes for messing up once again. Ben and Sue are disappointed in him. Ben asks Reed if his latest experiments will restore him to normal. Reed then goes to his laboratory, where an intruding probe injects wires into Reed's neck. Reed manages to pull himself off of the ground, and he goes to look at a reflection. Reed then begins to laugh.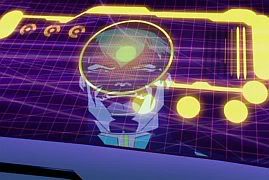 "Reed" then wakes up in New York's Latverian embassy, and he discovers that he is in a force field. He looks down and discovers that he is on a throne, and he is in Dr. Doom's body.
Johnny gets up the next morning, and he discovers that there is a camera crew in his bedroom. He then learns that they are there because Sue wants him to make up for his previous mistake by allowing having a film crew do a "day in the life" featurette on the Fantastic Four. Johnny has no choice but to agree.
Reed-in-Doom is trying to break free of the force field that he is contained in. Dr. Doom contacts Reed, and begins to taunt him about the fact that Dr. Doom managed to swap minds with Reed. Dr. Doom then tells Reed that he is going to destroy Reed's life.
In the kitchen, Ben notices that Reed is acting a little funny. Ben asks Doom-in-Reed about the tests to transform him back to normal. Doom-in-Reed tells him that he has stopped working on the cure for Ben because he has more important matters to deal with.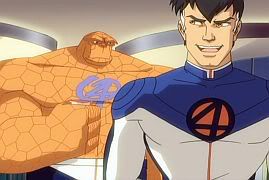 Cut to Johnny showing off his vehicles to the camera crew, instead of doing what he's supposed to--tell the crew about the Fantastic Four's charity projects and the many world saving missions that the Fantastic Four do. Doom-in-Reed shows up and derides Johnny's dangerous abilities. His comment about Johnny is caught on tape.
Reed-in-Doom discovers the password that removes "his" mask, and he uses it to penetrate the force field. The Doombots intercept him, but he orders them to self-destruct, so the robots do so because they believe Reed-in-Doom to be the real Dr. Doom.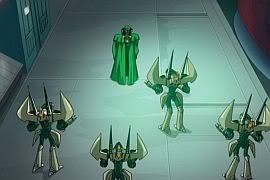 Doom-in-Reed disables the safety circuits on the power core in the Baxter Building when Sue confronts him about his current attitude problem or absent mindedness as she calls it. Doom-in-Reed admits to Sue that he is canceling all of his scheduled lectures, and he'd rather use the time to hang out with Sue. Sue tells Doom-in-Reed that she has other plans that she must attend to.
Reed-in-Doom makes his way through the Embassy, and he takes a taxi to the Baxter Building. Johnny ditches the film crew, and he begins to talk with Ben, who tells him that he's upset with Reed. Sue joins them and they continue to talk about Reed. They all agree that there is something wrong with Reed but they are interrupted by a security alert in the main lobby.
Reed-in-Doom is now at the lobby, where he activates Doom's armor systems and destroys the drones. Ben arrives and grabs him, saying that he doesn't believe Reed to be the person who he claims to be.
Reed-in-Doom gets free, but he is having trouble with the armor systems. He refuses to fight the Fantastic Four because there is a camera crew there, filming everything. Reed-in-Doom is now in a force field, and he's trying to convince Sue who he truly is. Doom-in-Reed then knocks Reed-in-Doom out. Reed-in-Doom then wakes up, while Sue wonders why he took the open approach. Doom-in-Reed reassures her, but in a way, compliments Doom. The comment Doom-in-Read made raises Ben's suspicions.
Doom-in-Reed is now boasting to his imprisoned rival that he is going to destroy the Fantastic Four, Reed's teammates and friends. Sue and the other member of the Fantastic Four confront Doom-in-Reed and they begin to attack. Sue frees Reed-in-Doom, leaving Ben and Johnny to fight off Doom-in-Reed. Reed-in-Doom tells Sue that they need to get to his lab. Meanwhile, Ben and Johnny fight Doom at less then half power, because they can't hurt Reed's body.
Reed-in-Doom works to reverse the mind-switch that had occurred. Ben and Johnny still fight Doom-in-Reed, but they are soon captured in his elastic embrace. The two of them manage to free each other. Reed-in-Doom injects Reed's body with a device that can reverse the mind switch. Doom is less than impressed, until Reed stops his plan to destroy the Fantastic Four. Reed tells Dr. Doom that he pities him, but Doom escapes. Reed finds himself with the task of explaining his actions. Johnny tries to tell the film crew what Reed was doing, but he doesn't have much luck at first.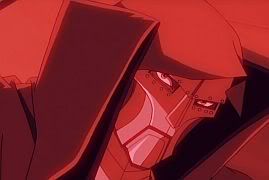 Later, Reed and Sue are trying to make up, with much success. While they are doing this, Ben accidentally destroys a drone. This final scene marks the ending of this episode.
Share this article with your friends