The Other Side
Brandon meets with his scientists, who have increased the lead shielding on their Machine. Walternate arrives at the lab and Brandon explains that the identified the DNA chains in Peter from his son's blood, and they are ready to use it to activate the machine. Brandon says he's proud to be a part of the plan to save their world, but Walternate warns that Oppenheimer saved them and paid for it with a lifetime of nightmares. Now they have to destroy This Side.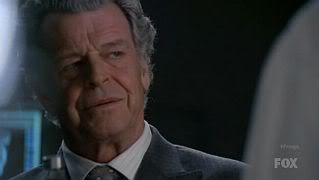 This Side
At a sheep ranch in Accord, NY, a ranch hand, Ritchie, discovers that the sheep have all gathered in one spot. He calls in his boss, Joe, and says that something is spooking the sheep. As Joe arrives, a swarm of locust flies by his truck, smashing into the windshield. When he gets to the field, a wind springs up and the men look up at the sky in horror as a bright light shines down.
Sam Weiss is at his bowling alley when one of the balls starts vibrating. He immediately goes into his office and takes out an executive swinging ball toy. Weiss puts it on the table and steps back, and watches as the balls starts wining on their own.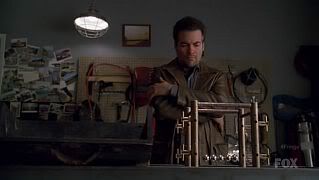 At the Bishop home, Olivia wakes up in bed next to a sleeping Peter. She goes out into the hallway and runs into Walter, naked. After a brief conversation, she retreats to the bedroom where Peter explains that Walter always cooks naked on Tuesdays. Olivia says that she could get used to waking up in bed with him, but they're interrupted when Broyles calls them to Accord. The entire field is scorched to the dirt and Joe and Ritchie have disappeared along with the sheep. There's no indication of a local source, and they have confirmed that the incident took place at approximately 6:05 a.m. While Olivia questions a neighbor, Walter discovers that a nearby piece of granite was exposed to extreme gravitational pressure. He believes that a vortex appeared above the field, consuming everything in its path, and the world is breaking down around them. Peter wonders what would trigger a vortex, and Walter admits that he isn't sure.
Nina is called to the research center where the Machine is being kept and studied. The team tells her that the Machine came on by itself, and she reports to Broyles. Broyles passes the information onto the team, and they confirm that it came on right before the vortex opened.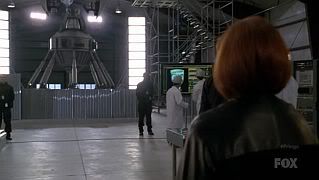 At Harvard, Peter tries to work out how the Machine came on without his presence. Walter confirms that the magnetic pattern around the Machine matches that of Fauxlivia's typewriter. They believe that Walternate somehow turned on the machine. Astrid reports that there have been three more incidents, and Walter warns that the events will increase exponentially and there is no way to stop them.
The Other Side
Fauxlivia and her nanny, Mary, are walking Olivia's son Henry. She gets a call from work and leaves son, Henry, when she gets a call alerting her to a fringe event on Liberty Island. She meets with Lincoln and they take a team to the DOD complex, but when they arrive, they're informed that Walternate has cancelled the alert. Fauxlivia isn't satisfied and knows who she can go to for more information.
Walternate and Brandon are analyzing the data, which doesn't indicate any environmental improvements yet. Fauxlivia arrives to meet with Walternate and asks about the energy surge. Walternate assures her that they have it under control, and she asks if the tech she stole is causing the surge. He tells her that it's classified, but she worries what will happen to the people on This Side, including Walternate's son. Walternate tells her that he's sacrificing his son for the sake of her son and many others.
This Side
The team tries to figure out what to do, and Walter warns that anything they do could have unimaginable consequences to both worlds. Olivia reports that Nina has discovered electromagnetic spikes preceding each event, and she heads to Massive Dynamic to prepare a first-alert protocol similar to the one they use on the Other Side. As she leaves, Peter tells her to be careful and she assures him that she will. Walter suggests they encase the Machine in lead, but Peter says that there's another way. As Walter pours himself a drink, Peter says that if he enters the Machine, he may be able to shut it down. Walter explains that the Observer was preparing him for the day when he would have to sacrifice Peter to fix the problem he created. Peter says it's what he's supposed to do, but admits he needs his father's help to do it.
At Massive Dynamic, Nina is trying to track a man when Olivia arrives. They confirm the protocol is in place, but they don't have enough amber to contain more than a handful of vortexes. Nina finally admits that it wasn't supposed to be, and that she was told on good authority that if Olivia and Peter were together, the vortexes couldn't happen. William trusted the man and told Nina to trust him implicitly, but the man warned that he would disappear if she told of his existence to anyone else. Olivia demands to know who it is, and Nina says that the man is Sam Weiss. She shows Olivia the First People books with the author's anagrams of "Samuel Weiss." Weiss has disappeared entirely and Olivia sets out to find him.
In Saratoga Springs, a young couple, Jack and Jeannie, are kissing in their truck when they see a bright aurora in the sky. Nearby, Weiss watches the phenomena and makes calculations.
The Other Side
After putting her son to bed, Fauxlivia goes to the living room to prepare. Lincoln is waiting for her, and Fauxlivia turns down his offer to come with her. She asks Lincoln to take Henry to her mother if she doesn't return the next day. He asks if she thinks Peter can stop it and heal both worlds, and Fauxlivia says that if anyone can do it, it's Walternate's son. They hug and Fauxlivia leaves for the DoD lab. She sneaks in and draws a gun on Brandon, and demands the equipment they used to bring Peter Bishop there. He takes her to the storage room while warning her that it's extremely dangerous and potentially lethal. Brandon gives her the devices and Fauxlivia takes two of them and then knocks him out. The soldiers close in, cornering her, and she tries to activate the devices without success.
This Side
Olivia locates Weiss' most recent apartment but discovers that it has been cleared out. The landlord where he went or when he left.
At the research facility, Peter studies schematics of the Machine and prepares to enter it. Meanwhile, Walter explains the procedure to Broyles, who asks for Walter's opinion as a father. Walter says it was his selfishness as a father that caused everything, but Broyles says it matters to him. The scientist admits that he has no idea what will happen.
Peter prepares to enter the Machine and everyone wishes him luck. As he goes, Walter puts conductive gel on his son's hands to protect them from burns. Peter realizes his father is trying to keep him back and says that he'll be okay, and Walter admits he was never good at letting Peter go. They say a final goodbye and Peter ascends to the top of the machine. He touches it and electrical current flows through his body, blasting him to the floor.
EMTs get Peter to the hospital and the doctors assure Walter that they'll take good care of his son. An hour later, Olivia arrives and Astrid tells her that his vitals are stable and there's no apparent brain trauma, but he's in a coma. She explains that the Machine protected itself and repelled Peter.
In the chapel, Walter tells God that he was willing to change, and offered up his son as a sacrifice. Kneeling, he prays to God to do what He wants to Walter, but to spare their world.
As Olivia waits, she notices a ray of sunlight coming through the windows. She goes outside to admire the sunset and finds Weiss. He tells her that he needs to go the Machine, and she needs to trust him.
The Other Side
Walternate comes to see Fauxlivia in her cell. She asks how he could sacrifice billions in the interests in the greater good, and Walternate says that she still has the luxury of her ideals. He says that she'll stay there until everything is over, turns off the lights in her cell, and departs.
Share this article with your friends