The VentusAir flight from Paris to New York is delayed due to weather and the pilot circles the field. Meanwhile, Marshall Bowman, one of the passengers, is writing down notes about technology when his nose starts bleeding. He goes to the lavatory, swabs his mouth, and tests it. He then tells the female flight attendant that he needs her to collect as many tranquilizers as possible from the passenger so that he can administer them. He quickly grows angry when she proves skeptical and warns her that everyone is in danger if she doesn't cooperate. The other flight attendant calls the captain, while Bowman tells the first attendant that if he doesn't answer the door when they knock, they should keep him locked in.
Once he's alone in the lavatory, Bowman starts screaming in pain. The air marshal knocks on the door and gets no answer. He opens the door only to discover that Bowman is fine. When they get to the ground, two TSA agents take Bowman into custody. He insists that he just had a panic attack and apologizes for wasting their time. As they start to go through his luggage, Bowman's need starts bleeding and he asks to go to the adjoining restroom. Once he leaves, they find two syringes of drugs in the bags and figure that he's using drugs. As they start to call the police, a giant humanoid creature with spines smashes through the door and attacks them.
Olivia meets with Dr. Anderson, the Bureau psychiatrist, who is surprised that Olivia is so comfortable with forgetting her life. However, Olivia insists that she's fine and would rather focus on finding David Robert Jones. Anderson wonders if Olivia has informed her sister Rachel of what she's going through, and Olivia admits that they're not that close. She talks about how Rachel went back to Chicago with her only daughter, Ella, to be closer with her ex, and dismisses the ex-husband as a jerk.
After the interview, Olivia is called in by Broyles. He admits that they don't have a protocol to deal with what she's going through, and Olivia insists that she's fine. However, Broyles has read the interview transcript and tells her that "her" Rachel is still married and has a second child, a son. Approximately 40% of Olivia's memories of her life in the current reality are gone for good., and Broyles says that she's not the agent they licensed.
When Olivia comes home, she finds Peter cooking supper for her. He realizes that it go well and she explains that Broyles has suggests that she take a vacation. Peter agrees that it would be a good idea and suggests that they go up to Vermont, but is interrupted when he gets a call from Lincoln summoning him to a case. He apologizes and Olivia tells him that it's okay.
Peter arrives at the lab and finds Lincoln and Astrid reviewing the surveillance footage of the attack on the TSA agents. Lincoln explains that with Olivia on leave, Broyles has given him the lead position. He mentions VentusAir and Peter remembers a similar incident happening in his original timeline. Meanwhile, Walter comes out with all the birthday presents that he saved for "his" Peter over the years, and Peter thanks him for the sentiment. He then goes over the case in his timeline, and explains that Bowman was an undercover cop who was dosed with a designer drug that rewrote his DNA and turned him into a creature resembling a porcupine. The plane crashed when Bowman went berserk and he and the other passengers were killed. Astrid points out that the plane landed safely even though Bowman was the same passenger.
The team goes to the airport and Walter examines the creature, which died after killing the TSA agents. Meanwhile, Peter talk to Bowman's sister, Melinda Bowman, who says that the last time she talked to her brother was a week ago. He shows her the pad that Bowman was writing on, which includes a phrase about not turning back once "they" get started. Melinda admits that her brother was stressed the last time she spoke to him, but doesn't have anything else to offer.
Back at the lab, Lincoln confirms that Bowman worked in the BPD crash unit and retired six years ago, and figures that he was working undercover just like Peter's Bowman. Peter remembers that Bowman had a partner who was also infected, but can't recall the name. He suggests that they talk to Olivia, who would remember it from her new memories, and Lincoln agrees.
Olivia comes up with the name, Daniel Hicks, as well as his address and give sit to them over the phone. As Peter and Lincoln go to the house, Peter suggests that they should talk, and Lincoln says that he understands that Olivia is "Peter's" Olivia. He describes his last partner, Robert, and how he and his wife looked at each other with such love... and that Olivia looks at Peter the same way.
When they get to the house, Lincoln and Peter find Olivia waiting for them on the doorstep. Lincoln figures that she won't leave no matter what he says and knocks on the door. When he gets no answer, he picks the lock rather than call for backup. Inside they discover that all of the windows have been blacked out and medical waste bags are lying around. They split up to search the house, and a creature like the one at the airport leaps out of the shadows and claws Lincoln. Olivia fires several shot into it, driving it away.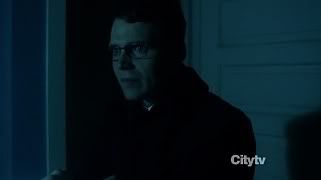 Back at the lab, Walter tends to Lincoln's wound while Peter examine the Bowman creature. He doesn't remember anything about the drug that they found in Bowman possession, but does find needle marks on the creature's arm. Olivia notices a tattoo on the arm and while Walter looks at it, she apologizes to Lincoln. She figures that he went into the house without backup rather than call Broyles and reveal that she was disobeying orders by helping the investigation. Lincoln assures her that it's all right. Olivia has remembered another name from the case, Conrad Etienne Moreau, and Astrid determines that he died five years ago in a car crash. In the first timeline, Moreau was the one who was brokering the dealer for the designer virus. Walter identifies the tattoo as a Sumerian cuneiform and Peter realizes that he knows someone who can translate it. Lincoln wants to go with Peter and Olivia but Walter tells him to stay behind so he can finish suturing his wound.
Peter and Olivia go to Markham's Bookstore. Edward Markham doesn't remember them in this timeline, having never met them. Peter and Olivia talk about the cuneiform, piquing Markham's interest, and he agrees to translate it. Once he sees it, he asks Olivia if she's one of "them."
At the lab, Walter tries to serve Lincoln some of his peanut butter and bacon sandwiches. He finally tells Lincoln that the creature at the house infected him, and explains that he can't treat the agent until the virus goes from the intermediate to the manifestation stage.
Markham explains that the symbol translates into the word "rebirth," and that it's connected with a cult that believes that the evolution of man can be guided. According to their website, they want the power to guide and advance the evolution of mankind.
Kate Hicks comes home, unaware that the creature that was her husband is lurking in the shadows. However, he moves and she hears it... and walks calmly over to hi, checking his wounds. They embrace and then Kate gives the creature an injection and tells Daniel that they will be the new Adam and Eve.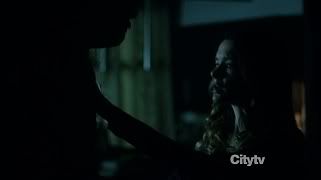 Peter and Olivia return to Harvard and work on the case, and Walter watches them admiringly and says to Lincoln that he always longed for family. Despite his earlier words, Lincoln isn't happy at seeing them together. Astrid finds a reference to guided mutation of mankind using advanced algorithms, and Walter notices that the reference system uses a palindromic code that he and Bell developed years ago. They go to Massive Dynamic and talks to Nina, who explains that they haven't used the system since Bell died. As she checks the archives for their experiments on genetic hybridization, she point out that Olivia isn't supposed to be on duty. Olivia agrees and Nina figures that she is stubborn in every reality. The files are missing and the security system confirms that only someone within Massive Dynamic could have done it. When she digs deeper, Nina determines that Jones was the head of the project.
At the lab, Lincoln is eating the bacon from Walter's sandwiches even though he doesn't like pork. Walter asks him what else he want and Lincoln says he has a craving for onion rings and cheesecake. Walter realizes that he knows what's going on and has Lincoln call Peter and Olivia back to the lab. When they arrive, he explains that the creatures use human fat, lipids, to fuel their transformation. Rather than go to the trouble and risk of killing humans, they steal discarded liposuction waste from plastic surgery clinics. Astrid starts making a list of likely clinics while Peter wonders how the creature can move around without being seen.
Daniel and Kate go to the roof of their apartment. They embrace, and then Daniel jumps off the building, grows wings, and flies away.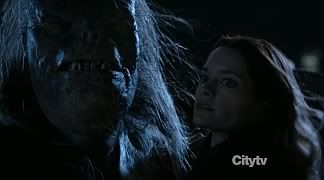 Walter comes up with a cure for the viral infection and has Lincoln drink it. He then tells Peter that the drugs they found maintain the mutation schedule rather than cure it. Bowman couldn't get to the drugs because they were in his checked luggage, and the transformation ran out of control and ultimately killed him. Walter uses Lincoln's blood to generate a computer model of the virus' progression, while Astrid and Olivia return with news that they found a surgi-center that had their body waste stolen. The place is under lockdown so Daniel won't be able to return there, As they wonder where of several possibilities it will go next, Peter sees that the computer model has shown that Daniel has grown wings. Astrid confirms that only one nearby surgi-center is in a high-rise and Lincoln calls Broyles for backup. Peter hesitates, warning the agent that if Broyles is involved then he'll find out that Olivia is disobeying orders. However, Olivia has already called Broyles, who has said he'll deal with her later.
Later that night, Lincoln and Peter take a team into the surgi-center, with everyone wearing light-intensifier goggles.
At the lab, Walter and Olivia wait. As Walter studies the chess game he's been playing with Lincoln and realizes that he's using the sleeping defense, Olivia gets an idea. She confirms that porcupines are nocturnal and has Astrid call Lincoln and Peter over the radio. When Peter answers, Olivia tells him to turn on the lights and frighten the creature out of hiding. They turn on the lights just as the Hicks creature attacks Lincoln. Lincoln manages to shoot it, and a human Kate tries to stab him. Peter arrives in time to shoot her in the shoulder. As she sees her dying husband, she breaks into tears.
Back at the lab, Walter is opening the rest of Peter's presents in anticipation of playing with them, while Astrid cleans up the wrapping paper. Olivia and Peter arrive and confirm that Kate will survive the shooting. However, she has no idea who created the serum, and that Bowman was their only contact. They wonder what Jones has planned and Walter suggests that since the man has a god complex, he plans to control mankind's evolution. Meanwhile, Broyles arrives and talks to Olivia privately. She tries to apologize, promising that she'll listen to what he says. Once she's done, Broyles tells her that her superiors have decide that 60% of their Olivia is still better than 100% of most of their agents, and she's been returned to active duty.
Melinda meets with her boyfriend Marco. They figure that something has gone wrong with her brother's transformation, but Melinda still wants to go ahead with the evolution and become children of the new world. The two of them inject themselves with Jones' designer drug.
A man locks up two of the porcupine creatures, then goes out past cages containing numerous other mutations in all shapes and sizes. He goes out a door and steps onto the deck of the giant tanker in the middle of the ocean.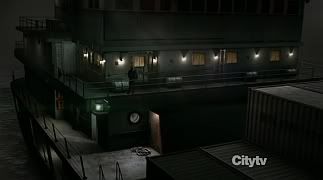 Share this article with your friends