Aboard the warp ship, Razer sits in his cell and watches a replay of the destruction of the colony world. Kilowog storms in and demands that Razer tell him about the Red Lanterns, slamming the former Red Lantern against the wall. Hal stops his comrade and asks Razer for his help, reminding him that Atrocitus abandoned him. Razer admits that he hates Atrocitus but that his hate for the Green Lanterns is no less.
On the bridge, Hal and Kilowog receive a transmission from the Guardians of the Universe. Apu objects to Hal being "rewarded" with the warp ship, but Ganthet notes that there is nothing they can do about it given the vast distances involved. Sayd tells Hal and Kilowog to gather intel on the Red Lanterns and take any reasonable steps to prevent their advance. Kilowog informs their superiors that they have the Red Lantern ring sealed in a stasis box, while Hal wonders what they should do with Razer. Apu tells them to keep Razer imprisoned rather than kill him, and Razer, overhearing them, dismisses them all as being too weak. Aya hears him and wonders why he refuse to make restitution if he believes that he did wrong. However, the former Red Lantern refuses to discuss the situation with a machine. Hal interrupts and asks Aya to find a suitable prison world.
The ship's computer soon finds a suitable asteroid prison and they land. The warden, Myglom of the Spider Guild, greets them and immediately accepts Razer as a prisoner. Kilowog is eager to get rid of Razer but Hal is suspicious of Myglom's eagerness. However, with no other options they turn Razer over and depart. Once the Green Lanterns are gone, Myglom has his guards strap Razer into a machine and turn it on, causing Razer to writhe in pain.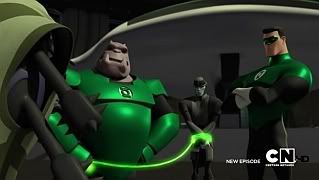 As the warp ship continues on course, Kilowog notices something climbing on the hull. He finally convinces Hal that it's there and they go out to investigate. The creature manages to evade them at first but they eventually snag the alien and bring it inside. It explains that its name is Goggan and that it escaped from the prison, where Myglom tortured him and the other prisoners. Kilowog doesn't believe the prisoner, which insists that it's forced to relive the painful memories of its life over and over again. Hal agrees to look into it, and a reluctant Kilowog points out that they are going back anyway to return Goggan. When Aya wonders why they should bother, Hal tells her that they believe in punishment, not torture. Aya lands the warp ship on the far side of the asteroid and the two Green Lanterns fly inside.
Trapped within the machine, Razer is forced to relive the most painful moments of his life. He sees himself on his homeworld with his mate, Illana. After the devastation caused by the Warlords, Razer is eager to join the militia and stop them. Illana objects but he assures her that once he joins the militia, he'll have the power to save his people and keep anyone from ever attacking them again.
Hal and Kilowog find one of the machines and indications that the person inside suffered great pain. They also notice glowing yellow rocks in the walls, and Kilowog is suspicious of them. The spider guards attack and the Green Lanterns try to use their rings, only to discover that they have lost most of their energy charge. Without their weapons, the two Green Lanterns are quickly overwhelmed and captured.
Razer relives his memory of returning to his homeworld to discover that the Warlords have bombarded his home city and killed Illana.
The spider guards cocoon Hal and Kilowog in the central chamber. Myglom informs them that they know too much and must now suffer the same fate as the prisoners. The yellow rocks provide energy and have the side effect of nullifying ring energy. As the guards attach smaller version of the torture devices, Myglom tells Hal and Kilowog that they will be forced to relive their worst memories over and over... and then serve as dinner for the Spider Guild.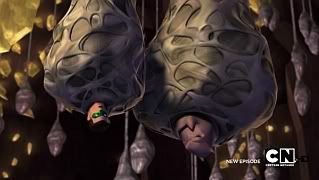 Back on the warp ship, Goggan worries that the Green Lanterns won't return. Aya finally decides to take action and sends her green energy force out of the ship and into the circuitry within the prison walls. However, when she comes to the sections with yellow rock, she is unable to pass.
Razer relives the next memory, seeing himself screaming in rage over Illana's body. A Red Lantern ring appears and offers him power if he will give into his hate and join the Red Lantern Corps. Razer accepts and takes the ring, and is reborn as a Red Lantern of hate. However, Aya merges with the memory projection and speaks to Razer through Illana. She explains what has happened but Razer says that he prefers the pain as long as he can see Illana. He believes that he deserves to suffer because he destroyed the colony world, and Aya tells him that Kilowog evacuated the colonists in time. Regardless, Razer prefers to stay trapped in the machine, but Aya ignores him and releases him, saying she understands his pain. Razer vows never to forgive her and says that no machine can understand what he's been through. She tries to guide him to Hal and Kilowog but he ignores her and goes to the warp ship instead... and removes his power ring from the stasis cell.
Myglom prepares to feed on the Green Lanterns, but Razer arrives and blasts away as the guards while freeing Hal and Kilowog. They jump into the fight, battling hand-to-hand. When Myglom tries to escape, Hal goes after the warden and subdues him despite his lack of the ring. Razer and Kilowog defeat the others and Razer stares at his ring and the power within. After a moment he concentrates and removes it, and then tosses it to Hal.
Later, the Green Lanterns imprison Myglom and his men. When Goggan wonders who will run the prison, Hal tells him that the Guardians will send a replacement in 18 months, but until then Goggan is in charge. Kilowog, surprised, admits that he thought Hal would appoint Razer. However, Hal tells him that Razer is coming with them.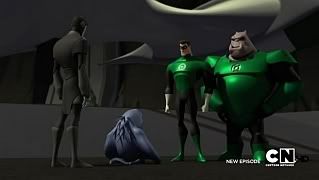 As the warp ship lift off, Kilowog comments that he has a new worst memory to live through and glances suspiciously at Razer. Meanwhile, Aya asks if Razer is okay and he asks why she risked her existence to save the Green Lanterns. The computer tells him that a Green Lantern would have done no less, and Razer contemplates her words.
Share this article with your friends