"Fee fi fo fum... I smell the blood of an Englishman..."
State Judge Logan Patterson pulls into his garage and goes to his house. As he walks through the yard, he hears something moving in the brush, but dismisses it as a small animal. As Patterson goes to his office, outside a hulking figure lurks on the street.
Patterson is working at his desk when he hears something moving again. He goes to investigate and the man from outside bursts in through the patio window. As the alarm goes off, the intruder easily overpowers Patterson, despite the fact that the judge manages to get his gun and shoot him in the chest. Once Patterson is down, the intruder picks up his gavel and advances on his victim.
Wu and Officer Messina arrive to investigate the alarm and enter the house. Inside they find Patterson dead, his gavel thrust through his mouth and out the back of his head.
The intruder goes to his car and pries the bullet out of his chest. He then takes a swig of alcohol and pours the rest onto the wound. As he winces at the pain, his face transforms into a creature.
Nick and Hank arrive at the scene with the CSI techs. Wu has found Patterson's gun and a casing, but no sign of a bullet hole in the wall. They figure that the killer may be wounded and put the word out to hospitals. Renard arrives and warns that the killing could anger a lot of highly-placed people. The detectives figure that it was more than just a robbery gone wrong, and assure their captain that they're going through Patterson's recent case files. The CSI techs get a print off of the gavel and Renard tells his team to find out who it belongs to.
The killer goes down to the river and tosses in a severed hand.
Back at the station, Nick and Hank go over the list of Patterson's recent cases and come up with three parolees that might want him dead. While Nick leaves to check their alibis, Hank gets word that the fingerprint belongs to Vince Chilton, an ex-Navy sailor with no criminal record. Renard, who is following the case, goes with Hank to Chilton's address and take a SWAT team. They find Chilton dead, brutally beaten to death and his right hand torn off. The fingerprint came from the missing hand and they figure the killer wanted them to find Chilton. Chilton has an antique woman's watch on his wrist, band turned outward, and Hank and Renard figure that it doesn't belong to Chilton. It's engraves with a message to "Mary" from her mother. When Renard suggests that they trace the watch, Hank remembers that Nick knows Eddie, who specializes in watches.
The next morning, Eddie is at home when Nick calls to ask him for expertise on antique watches. Eddie agrees and the partners come to see him. He recognizes the watch as a vintage Lucina and takes it apart to examine it. The engraving is professional but generic, and Eddie discovers that someone used glue to stop it. Nick figures it was deliberately stopped on a time and date: March 11, 10:15. Eddie tells them he can make a few calls to identify it and almost gives away to Hank that Nick has been there quite a bit. As they have coffee, Hank figures that the two victims, Mary, and the killer are all connected. Eddie confirms that the watch was repaired two months ago and belonged to Mary Robinson. Hank recognizes the name as that of an assistant DA that he worked a lot of cases with.
The officers have Wu take a team ahead. When they arrive, the sergeant tells them that they found Mary's body. They go inside, unaware that the killer is driving by on the street. The detectives confirm that the killer cut Mary's tongue out and put it on a nearby sculpture of the scales of Justice. Hank realizes that the message is aimed at him and that he knows who the killer is.
Back at the station, Hank tells Nick and Renard that it relates to a triple homicide five years ago. The Lambert family of three was abducted from their home, taken to an abandoned quarry, and tortured to death. The killer was Oleg Stark, who worked for hire. Lambert knew that Stark collected his fee and gold, found his stash, and stole it. Hank has confirmed that Stark escaped from a California prison 24 hours ago when he was sent to the infirmary. According to the medical records, Stark suffers from congenital angelsia, rendering him immune to pain and possessing abnormally dense bones. Hank confirms that Patterson tried Stark's case, Mary prosecuted, and Chilton was the jury foreman. The time and date on the watch was the date that Stark was sentenced to 300 years in prison. Renard figures that Stark will come after Hank and orders him into protective custody, ignoring Hank's objections that he wants Stark for himself. Nick suggests that they check for stolen cars and Renard orders Hank to help him.
As the partners go over Stark's record, Nick tries to assure his partner that Renard is doing what's right. Hank insists that he needs to go after Stark himself. Wu comes up with a report of a car stolen from an elderly man at a rest stop, and the officers put out an APB on the car.
Stark pulls the car into a parking lot, rigs it to explode, and then goes to help an old lady cross the street. As he escorts her across, the car explodes behind them and Stark keeps going.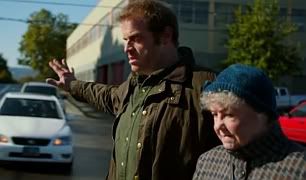 At the station, Nick asks Hank what he knows about Stark. Hank admits that Stark had no background as far as they could tell. Wu tells them that they found the car near Hank's old apartment. Hank starts to leave but Renard orders him to stay put and takes Nick with him. At the parking lot, the fire captain confirms that Stark deliberately set the fire and made no attempt to hide his involvement. As Nick goes over the crime scene, he's initially unaware that Stark is watching him from across the street. When Nick seems to sense something and turn, Stark has already slipped away.
Nick goes to the trailer and looks through his aunt's journals. He finds a reference to spirit oleander and something called "siegbarste gift," and locates an elephant rifle with a silver plate inscribed with a picture of a siegbarste that matches the description of Stark's ability.
That night, Stark knocks out a pick-up truck driver and steals his vehicle.
Nick arrives home and calls to Juliette, but gets no answer. He hears someone moving upstairs and assumes it's his girlfriend. Before he can go up, Juliette calls and tells him that she's on her way home. Once he hangs up, Nick hears the sound again and assumes that it's a raccoon outside. Stark leaps in through the window, disarms Nick when he goes for his gun, and demands to know where he can find Hank. The killer's face changes to his true form as an ogre. Nick grabs a knife and tries to defend himself without success, and Stark realizes that he's a Grimm. As he beats Nick unconscious, Juliette comes in and Nick tells her to run. Juliette gets to the kitchen and, when Stark comes after her, throws a pot of hot water into his face. Nick gets his gun and fires two shots and Stark runs away. Juliette runs to his side and he tells her to call Hank before passing out.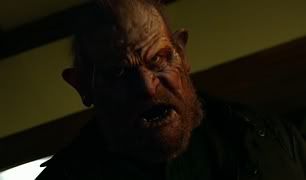 The medics get Nick to the hospital and the doctor confirms that he'll live but is in bad shape. Renard puts units at the hospital and at the house and assures Juliette that Stark won't get near her. As the captain leaves, Nick calls Juliette over and apologizes for putting her at risk in their own house. She assures him that she'll be fine and tells him to rest, and that she'll be back in the morning. Once Juliette leaves, Nick calls Eddie at home.
Officer Messina escorts Juliette home and assures her that they have the house under constant guard. Once she's alone, a crying Juliette picks up the shattered picture of herself and Nick.
At the station, Wu brings Hank up to speed, and Hank figures that Stark went after his partner when he didn't check out the explosion. Hank goes to see his partner and Renard tries to stop him, but the detective insists that it's his responsibility. Renard doesn't want to lose another man but Hank tells him that Stark won't stop until Hank comes to him. Wu suggests that they set a trap using Hank as bait at an isolated pass. Renard agrees and Hank accepts their decision, and then goes to see Nick and draw Stark out.
Nick wakes up from a nightmare of Stark's attack and finds Eddie at his bedside. Eddie knows about the siegbarste and warns Nick that they're rare but extremely dangerous. He met one at a distant when it beat his childhood friend's father, and warns Nick that they carry grudges to the grave. When Nick vows to stop him, Eddie warns that they're all but unstoppable unless someone has a rare poison. "Gift" is the German word for poison, and Nick realizes that the bottle labeled "siegbarste gift" is the poison he needs. Eddie explains that the poison calcifies the siegbarste's bones and shatters it from the inside. Nick tells Eddie about the elephant rifle at the trailer and asks him to get it.
Eddie drives to the trailer and looks at the contents in awe. He gets the triple-barreled hunting rifle and the poison, and then dips the rifle's bullets into the poison.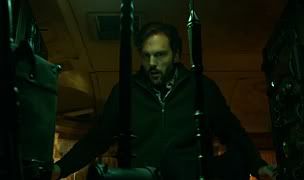 Hank arrives at the hospital and goes in, while a facially-burned Stark watches from the stolen pick-up truck. Nick is angry that Hank came there and tells him to go the precinct, but Hank assures him that they're bringing Stark in. He tells Nick about the roadblock they have planned, but Nick warns him that Stark isn't normal. After a moment, Hank admits that during Stark's trial, he and Mary suppressed a surveillance tape showing a man who looked like Stark in a different location, a man that Stark set up. He tells Nick that he's going to the quarry where the Lamberts were killed and putting an end to things himself, and then walks out. Nick calls Eddie as he arrives at the hospital and tells him to give the rifle to Hank. As Eddie protests, Hank drives away and Eddie has no choice but to follow him.
Stark starts following Hank and Eddie follows him. Hank arrives at the quarry takes out a shotgun, and then turns to face Stark as he pulls up. Eddie pulls up separately and wonders what to do, and finally takes the gun and heads for Hank.
When Stark gets out of his truck, Hank orders him to get down on the ground. Unimpressed, the siegbarste says that Hank owes him give years, gets back into the truck, and drives at the detective. Hank fires at the truck and then jumps out of the way as Stark rams his car. He gets out of his truck and advances on Hank, who discovers that his shotgun is jammed. Hank attacks Stark, who easily defeats him. As he picks up a large stone and prepares to crush Hank, Eddie finishes assembling the elephant rifle and fires the poisoned bullets. Stark goes down and Eddie runs off while Hank calls in the shooting.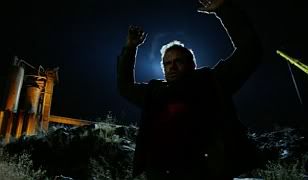 Eddie takes the rifle back to the trailer and then calls Nick and tells him that Hank is okay.
Hank goes to the hospital and tells Nick that Stark is dead, and that someone else killed him. He admits that doesn't know who but figures that he owes the shooter one.
Later at the station, Renard berates Hank for going off on his own. He's grateful that Hank is alive but warns him that the department doesn't work that way. Renard then shows him the bullets pulled out of Stark's body. Ballistics has confirmed that they came from an antique elephant and they're both very interested in finding out who uses one.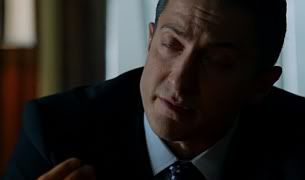 Share this article with your friends