"Perhaps some accident has befallen him," said the king, and the next day he sent out two more huntsmen who were to search for him.
At the trailer, Nick makes his own entry about the klaustreich.
In Washington, D.C, fuchsbau Ian Harmon realizes that he's being followed by a hundjager who is tracking him by smell. Ian loses the man and takes a bus west.
In St. Louis, Ian is checking bus schedules and notices someone outside of his hotel room. He goes out the window just as the man from Washington breaks in. he checks the window and assumes his prey has gone, but the occupant, Ian Harmon comes up from behind him, knocks him out, and shoots his would-be killer with his own gun. After confirming the killer has a tattoo on the palm of his right hand, Ian then climbs out the window and makes his escape. The next morning, another creature, a hundjager named Edgar Waltz, comes in and finds the dead man. He then checks the last phone number dialed and confirms his target was taking a bus to Portland.
When Ian gets off the bus in Portland, Edgar is waiting for him and opens fire. Ian ducks behind a bus and runs off into the city, and Edgar confirms that he wounded him.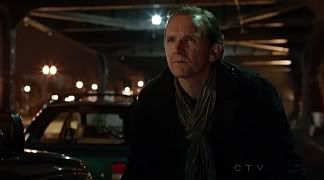 Renard comes home and finds Edgar waiting for him. Once he's sure Renard speaks German, he shows the police chief the tattoo of the Verrat on his hand and puts away his gun. Renard draws his gun and warns him not to break into his home again. Edgar says that he's hunting Ian, a leader of the resistance and one of the few alive. He doesn't care why Ian is in Portland but insists that he needs to find him and the members of the resistance, the Laufer. Renard insists that the Laufer resistance is none of his concern but Edgar warns him that the High Command wouldn't be happy with his refusal to help.
The next day, Hank stops by to pick up Nick and Juliette says that she heard about Adeline. Hank admits that he doesn't remember much of what happened on the last night he saw her. Nick comes down and Hank tells him that they have a shooting at the bus depot.
Rosalee arrives at the shop for the day and Ian grabs her from behind. She kicks him and runs for the door, but he calls to her and she realizes who he is and recognizes him. Ian says that he's been shot and that he can't go to a hospital, and Rosalee tells him that her brother was killed in a robbery. The fuchsbau explains that Freddy was supposed to have travel papers for him but refuses to tell her what he needed them for.
At the bus depot, Wu informs the detectives that the shooter shot his target three times and wounded him with the last shot. They've found 9mm rounds on the scene and have a witness. The partners talk to Melvin, the bus driver, who says that Ian left his hat on the seat and tried to go after him to return it. The driver has Ian's fake name from his ticket.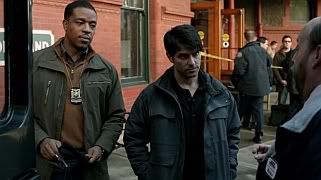 When Eddie arrives at Rosalee's shop he smells blood, and Rosalee introduces him to Ian. She tells Eddie that they can't take Ian to the hospital because he's on the run and he's a member of the Laufer. Eddie knows about the Laufer but points out that they're European, and Rosalee tells him that Ian is one of the resistance leaders as well as a journalist. She asks Eddie to stand by her while she goes to work with her father's surgical tools.
At the station, Nick and Wu go over the depot's surveillance videos and spot Ian. They figure that Ian was using an alias, and Hank reports that the bullets are used in German Lugers. They call the St. Louis PD where Ian bordered the bus and figure that the shooter will go after Ian again.
Edgar goes to a bar to drink and examines Ian's abandoned rucksack. The bartender, a lausenschlange breaks up a fight and gives Edgar a free beer, and Edgar asks the wessen if he can provide some travel papers. The man gives Edgar a card and assures him that the forger is the best. As Edgar leaves, the bartender notices that a passport has dropped out of the rucksack. He recognizes Ian from his passport ID and Edgar realizes that the man is sympathetic to the Laufer. Edgar reveals his true face, draws his gun, and kills the bartender.
As Rosalee removes the bullet, she tells Eddie that she was involved with Ian. That doesn't reassure Eddie, but Rosalee says that she was with Ian for a year and a half and trusts him. Eddie asks what happened and Rosalee says that Ian left her and she wasn't happy with it. She removes the bullet and Eddie suggests that they call Nick in. The half-conscious Ian calls for Rosalee and transforms, and she transforms as well.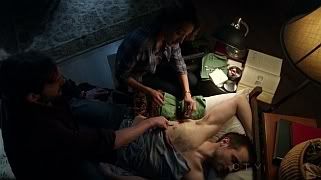 Nick and Hank are called to the bar to check out the murder and they confirm he was killed with the same gun from the depot shooting. They find the discarded passport and recognize Ian from the depot footage. Edgar is there, claiming to be a witness, and Nick goes to talk to him. The hundjager claims that he saw Ian run out and claims he can identify him. When Nick shows him Ian's photo, a startled Edgar briefly reveals his true features. Nick assures him that he has nothing to worry about and Edgar agrees to help how he can while giving a fake ID.
As Ian recovers, he warns Rosalee and Eddie that it's dangerous to be around him. They tell him that they know a Grimm, Nick, but he's different from the stories they've heard of the legendary monster-killers. Ian warns them that the Verrat send hundjagers after the resistance, but Rosalee insists that they can trust Nick and the Laufer member agrees to put his life in a Grimm's hands.
Nick and Hank tell Renard that the facts don't add up to place Ian as the shooter. Renard tells them to try and track down Ian as well as the man who shot at him at the depot. Eddie calls Nick and asks him to come to the shop. He explains that Ian is a wounded freedom fighter and needs Nick's help.
Edgar calls Renard and asks how the investigation into the depot shooting is going. He figures that Renard now has an excuse to track down Ian and turn him over, and then comments that Nick is working for him. When Renard says that Nick doesn't know about him, Edgar warns that he's playing a dangerous game. He then hangs up and goes to the address that the bartender gave him. The owner, a mauzhertz named Reginald, runs a camera store. Edgar draws his gun and threatens to shoot his family unless he gets the truth from Reginald. He then shows Reginald a photo of Ian and asks if he's seen him.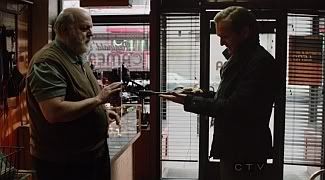 Nick gets to the store and Eddie explains what happened. However, when Nick sees Ian and recognizes him, he draws his gun and tells the others that Ian is wanted for murder. Rosalee explains that Ian lost his rucksack at the depot and his passport was in it, and confirms that Ian was in her shop when Edgar shot the bartender. Ian figures that Edgar is setting him up so that Nick would track him down and arrest him. Nick accepts his story and Ian explains that Edgar is with the Verrat and their influence is spreading throughout the world. The Laufer is the only thing that stands in their way, and Ian warns that the Seven Houses of the Verrat have infiltrated governments at all levels. Rosalee explains that her family has been part of the resistance but she didn't want to get involved. Ian tells Nick that the Grimms started working for the Seven Houses, changing the balance of power, but Nick has no idea what he's talking about. Rosalee and Eddie ask Nick to help Ian get some fake papers since Freddy is dead. Nick says that he can't promise anything and he has to track down Edgar, and tells Ian to stay put. Rosalee says that she can new travel papers from one of Freddy's contacts, Reginald.
After Nick leaves, Rosalee goes to see Reginald and explains that she knows he worked with Reginald. She shows him a photo of Ian and Reginald glances nervously at the photos of his family and says he can't help. When Rosalee admits that she has no one else to turn to, Reginald reluctantly says that he'll do it.
At the trailer, Nick checks the old reels of film that he recovered. There is Spanish Civil War footage of the Verrat hundjagers executing wessen who bred outside of their own species. Edgar calls Nick and suggests that they meet at the bus depot under the terms of friedenreden.
At the store, Eddie is pacing nervously while waiting for Rosalee to come back. Ian realizes that he cares about Rosalee, and Eddie insists that he cares about all of his friends, including Nick. Nick calls and asks for a translation of friedenreden, and Ian explains that it's a truce where both parties freely arrive and leave unarmed. However, Ian warns that once the truce is over, anything goes. Once Ian hangs up, he realizes that Edgar is getting close.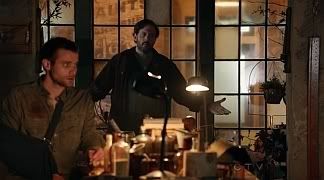 Nick goes to the bus depot and finds Edgar waiting for him. They both reveal that they're unarmed and Nick figures that Edgar killed the bartender. He promises to arrest the hundjager for murder and admits that he brought the gun, and Edgar assures him that he brought his gun as well. He threatens to kill as many innocents as possible and explains that Grimms and hundjagers have always been allies of convenience. When Nick refuses, Edgar warns him that he'll kill anyone who gets in his way. Reginald calls to tell Edgar that a woman is there asking for a passport for Ian. The hundjager tells him to keep Rosalee until he can get there, and then tells Nick that he's leaving and will shoot the first person he sees if the Grimm follows him.
Nick goes to the station to tell Renard that Edgar wants them to turn Ian over or he'll kill innocents. Renard refuses to negotiate with a lunatic but they admit that they haven't been able to identify Edgar. Wu comes in and informs them that they triangulated the phone signal from his burner phone and placed Edgar at Reginald's camera shop.
Reginald gives Rosalee the passport and then offers his condolences on Freddy's death. Once she leaves, Edgar emerges from the back room and assures the mauzhertz that he'll keep his end of the bargain and leaves his family unharmed. A minute later, he then follows Rosalee back to the apothecary shop. Behind him, Nick, Hank, and Renard arrive at the camera shop and discover that Edgar murdered Reginald. They also find the burner phone and realize that Edgar deliberately led them there.
At the shop, Rosalee is getting money for Ian to travel on when Edgar comes in and claims to need some help. She agrees to help him in a minute and checks the papers, and finds a note from Reginald saying that he was forced to help Edgar, a member of the Verrat. She reaches for her phone but Edgar draws his gun and tells her to call Ian. Rosalee then calls Eddie and tells him to get Ian out of the country, and Edgar then takes the phone. Eddie threatens him but Edgar says that he'll kill Rosalee if Ian isn't there in fifteen minutes.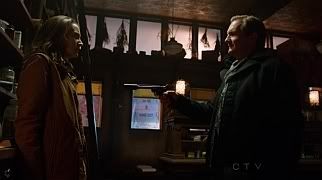 Eddie drives to the shop with Ian and calls Nick. Nick figures that Edgar will kill them all but Eddie says that he doesn't have a choice and he'll do what he has to. The Grimm says that he'll be there in five minutes and tells Eddie to wait if he can.
As they wait, Edgar tells Rosalee that he maintains order in society and he tries to stay out of it all by simply being an enforcer. Rosalee isn't impressed.
Eddie and Ian pull up and Eddie says that he's going in alone since Edgar doesn't know him. The blutbad starts to revert and Ian warns that Edgar will use his temper against him. Nick pulls up and says that he has a plan to stall, since Edgar doesn't know that he's connected to Rosalee and the others. He walks in and tells Edgar that he has Ian. Then Eddie comes in, claims he's a fuchsbau, and says that he has Ian. While Edgar is distracted, Rosalee grabs a jar of black pepper. She then tells Edgar that she didn't call a fuchsbau, and Eddie takes on his blutbad form. Rosalee throws the pepper in Edgar's face and Eddie throws him to the ground. Ian comes in and grabs Edgar's gun, and Nick tells him to put it down. The Laufer says that Edgar won't stop and shoots the hundjager dead. He insists that he did the right thing but Nick isn't convinced.
Nick arrests Ian and ignores Rosalee's worries that the Verrat will be able to find her former lover. She hugs Ian and apologizes, but he tells her that she has nothing to be sorry for. When Eddie objects, Nick tells him to get rid of Edgar's body and Eddie takes Rosalee inside. However, Nick then drives Ian to the bus depot and gives him the passport, and tells him not to come back.
Later, Edgar's body turns up. Renard arrives on the scene and Nick tells the captain that they've identified the killer from his passport. Nick suggests that Ian might have killed Edgar and is interested in finding him, but Renard says that someone else may catch up to him first.
Share this article with your friends