Reverend Ed Driscoll comes by the Rust Bucket, a local bar, and finds his Hanna working there. He insists that she should spend her time volunteering, or with her foster son Bobby. When Ed insult the bar, the owner, Otis, takes offense and reminds him he used to be an alcoholic. Ed warns him to watch his mouth and leaves with Hanna and Bobby.
The next morning, a butterfly hovers over a giant bronze ball as it rolls through the streets of Haven and smashes into the Rust Bucket.
Audrey comes to see Chief Wournos and shows him the photograph from the Colorado Kid murder. She wants to know about the woman who looks like her, since he was a beat cop and should have taken a witness statement. Chief Wournos hesitates until Audrey reminds him she's helped him out. He agrees to see what he can find, and Audrey admits she's staying for a few days. Nathan comes in and says that something has happened at a local bar, and Audrey invites herself along.
At the bar, Nathan explains that the metal ball is part of a sculpture at the church on Green St. Otis points out that Ed has motive, and Nathan notes that Ed lives on Green St. They go there and the caretaker confirms that it was anchored down by chains. Then the pair goes into the church where Ed is conducting a hellfire-type service. Disgusted, Nathan gets up and goes outside as Ed speaks about how they must all avoid the troubled n Haven. After a minute, Audrey goes out as well. Nathan explains that he has history with Ed, but he's never been violent. Ed has only been angry since his wife Penny died.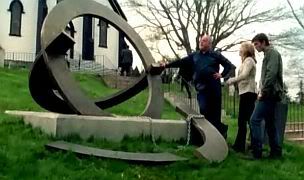 Nathan and Audrey go back to Ed's office, which has numerous butterfly photos. He insists that he doesn't condone violence, but ducks Audrey's question about why he was yelling at Hanna. Hanna and Bobby come in and Ed explains that she hid the fact she was working to the bar. After Ed leaves, Hanna insists that she doesn't know anything about what is going on there. Ed invites Audrey to dinner but she turns him down. When she notes that he isn't telling everything, he warns her that he won't answer any more questions about the Rust Bucket. Outside, Nathan explains that Ed hates him because he had sex with his daughter the night of the prom.
That night, Audrey gets out of the shower and discovers a butterfly on her bed blanket. She releases it out the window and sits back down, and the blanket forms itself into a cocoon around her as she calls Nathan for help.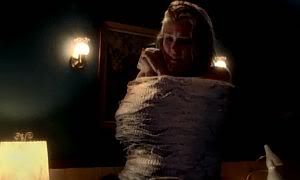 After Nathan frees Audrey, and she insists that Ed did it because of his interest in butterflies. Nathan points out that they need to talk to Hanna without Ed around. They go to the food bank where she works with her son. Audrey talks to Hanna, who explains that Bobby's family was killed n a car crash. Ed took Bobby in, but Hanna wants. Hanna wasn't thrilled to do it at first, but now she can't imagine life without Bobby.
Outside, Bobby explains to Nathan that Ed didn't pressure him, but admits that Ed has moods. Bobby goes to his room, but Hanna takes it. Inside, Hanna admits that it's pathetic that she doesn't stand up to Ed. She excuses herself and leaves.
Audrey and Nathan go back to the church, and he emerges to claim that they are harassing his daughter. The duo notices a butterfly land on Ed's shoulder and draws their gun. His medallion suddenly comes to life, pulling him onto the trunk of a nearby car and sticking. Another car starts and backs toward Ed, and Audrey manages to free him just before the two cars crash.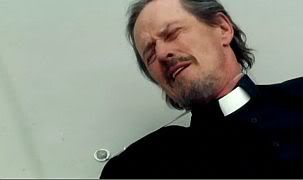 As Audrey and Nathan leave, Audrey insists that something strange is going on in Haven, and she wants answers. Nathan admits that something abnormal is going on and they figure the attempt on Ed's life means that he's innocent. Back at the station, they try to figure what the Rust Bucket has to do with the attacks on Ed and Hanna. Audrey notes that Hanna worked there, connecting the three. They call in Otis, who explains that Hanna was doing payroll. He was going to fire her because she was stealing money. Audrey figures that would be Hanna's motive, but Nathan isn't convinced. However, he goes to check Hanna's bank accounts.
Nathan turns up that Hanna has $57,000 stashed away. They go to see Hanna, and a drunken Ed tells them that his daughter is out. He insists that he wasn't attacked, and tells them that Hanna is at the junior high school science club. Ed tells Nathan that he pities him because he walks alone. Nathan agrees but says he's not giving in to booze.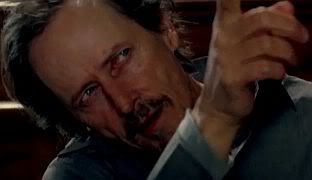 Hanna is at the science club helping Bobby prepare for his competition exhibit. He admits that he hasn't slept much recently. Audrey and Nathan arrive and ask Hanna about the $15,000. She denies stealing from the Rust Bucket, and explains that Otis stopped paying his bank loan. The bank hired her, and she determined that he was embezzling. She raised the $57,000 by doing other jobs. She figures if Ed knows, he would have stopped her, and that his wife died three days after she left him for another man. As Hanna goes, she says that she has to work on her son's butterfly exhibit.
Bobby goes to the locker room and the coach finds him and invites him to rejoin the team. Bobby thanks him for his offer and relaxes.
Nathan and Audrey search the junior high and a butterfly lands on Audrey's shoulder. A cable breaks away from a fuse box and slithers toward them, while the water pipes on the other side break and liquid flows toward them. The pair gets up on a bench just in time, and then set off a fire alarm. In the locker room, Bobby is startled awake.
The duo talks to the coach, who explains that Bobby felt survivor's guilt because he was the only one who made it out of the car. The boy hasn't had a decent night's sleep since then, and he was dozing in the locker room. They got to Hanna's house to talk to Bobby, and find Ed passed out drunk. There's no sign of Hanna and Bobby, but they search the boy's room and find science projects involving a large metal ball, magnets like the medallion, electrical wiring, and cocoons. They figure that Bobby sees them as he goes to bed, and that when he dreams he hurts people. That's why he's been trying not to sleep. They wake up Ed, who explains that Hanna and Bobby went to Bobby's family cabin. As they go, Ed insists that Bobby is one of Nathan's people, the same people who killed his wife. Nathan takes offense but Audrey holds him back. As they go, Ed insists that the "troubles" are back and that he doesn't want Bobby.
At the cabin, Bobby asks for coffee and tries to talk to Hanna about his problem.
As Nathan drives the SUV to the cabin, Audrey asks him what Ed meant about the troubles. Nathan doesn't want to discuss it, but thanks her for her concerns.
Hanna thinks that Bobby is imagining things, and tells him to get some sleep.
As they drive, Audrey tries to call Hanna and warn her not to let Bobby sleep. As they approach the spot where Bobby's parents died, a butterfly appears in the cab. More of them appear and they realize that Bobby is dreaming again. Opening the window gets them out, but the SUV accelerates on its own. Audrey figures that they're in Bobby's dream, and she tries to talk to him, pretending to be his mother. She tells him that he can save them this time. Bobby finds himself in the SUV, seeing his parents on their last night. They head for the edge of the road... and Bobby gets control just in time and stops them.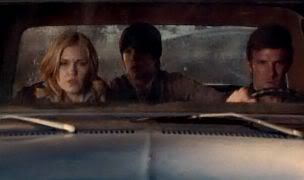 Later, Hanna and Bobby move out of Ed's home. Nathan warns Hanna that Bobby is a different type of child, and Hanna notes that he's just like she and Nathan were. She apologizes for letting Ed come between them, and wonders what things would have been like if she'd stayed with Nathan. Meanwhile, Audrey says that she's an orphan, but Bobby has the new family that she never had. She gives Hanna a drug to stop night terrors, but warns her that it doesn't work in adults. Hanna explained that Ed ignores her now, but she hopes that eventually he'll come around. Ed watches from his porch as Hanna and Bobby drive away.
At the station, the Chief gives Audrey the evidence box from the Colorado Kid murder. They discover that the box is empty, and the chief doesn't have an explanation. He warns her that the trail is too old. When Audrey insists she needs to find out if the woman is herm other, the chief invites her to stay and work for him. He needs someone who can see things a they really are, and figures they'll need that as the new troubles continue. In return, he offers to help her find some of the answers she's looking for.
Audrey goes to see Nathan as he sits by the harbor. She tells him about her father's job offer and that she'll think about it. Nathan figures it'd be a good idea for her to take it, and explains that when he was 7, it was February 1983 and he discovered that he couldn't feel pain. There were other things that happened then, people whispering and kids pulled out of school. When Nathan got better a couple of years later, they were gone. However, he figures that they're back and this time they won't go away. Audrey figures that she'll need to stick around and see, and observes that the Colorado Kid photo was taken in February 1983. They figure it's all connected, and they'll have to find out how.
Share this article with your friends