Mohinder comes home to discover Sylar casually waiting for him, with Molly sleeping in the next room. Sylar indicates that Maya is cooking breakfast and she introduces herself to Mohinder, eager to get answers to her questions. Mohinder tries to tell her Sylar is a killer but she thinks she knows about who he's killed. They both need Mohinder's help as Sylar figures he has the Shanti Virus. When Maya lets slip Sylar doesn't have his powers, Mohinder goes for a knife but Sylar draws a gun. Sylar has read Mohinder's computer files and his blood can cure the Shanti Virus when mixed with Claire's blood. Maya gets angry and activates her power, but when Molly starts to die, Maya retracts her power. Mohinder agrees to help but needs to take them to his lab at Isaac's loft.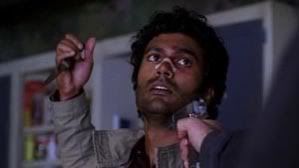 Nathan and Matt get Angela Petrelli released from jail and reveal that Victoria Pratt is dead. She explains that Adam wants revenge but he's killed everyone. However, they know that Peter was involved and is working with Adam. Angela reveals they accepted Adam's perspective at first until he decided to unleash the virus and wipe the world clean. Angela turned against him, but Nathan isn't impressed. She warns that Adam needs someone with Peter's powers to open the vault where the virus is stored, and that he'll never quit unless they can kill him. Angela "thinks" at Parkman that he must kill Peter too if they can't stop him.
At Primatech in Odessa, Peter and Adam come in but Hiro arrives and stops time for everyone except Peter, who is immune. Hiro tries to kill Adam as revenge for his father, teleporting around Peter. Peter telekinetically stops him and Hiro teleports away again then gets his sword against Peter's neck. Peter tries to explain about the virus and then grabs Hiro's sword and electrocutes him unconscious. The time freeze stops and Adam takes his sword, then goes with Peter to the vault.
Sandra tries to counsel Claire against going public, but Claire insists that she can take down the Company. Elle meets with her father, who chastises her for her failure with Claire and benches her. An upset Elle goes to see Noah in his cell and asks him what Bob did to her. He refuses even in the face of torture but when she asks nicely, he tells about how the Company forced her to use as much power as possible, as often as possible… at the age of 7. Bob interrupts and Elle leaves, and Bob asks Noah to help him keep Claire from going public. Noah refuses to say anything until Bob says he'll have to take measures to silence Claire.
Micah arrives home and tells Niki how Monica was captured, and she explains that the virus stripped her of her strength. Micah asks her to drive so he can rescue Monica.
Peter and Adam make their way through the Primatech facility to the heavy vault. Adam admits he killed Hiro's father but says Kaito planned to use the virus and kept it secure. Adam dodges Peter's question of trust and says it's the only way to save Caitlin in the future. Peter starts to telekinetically open the vault.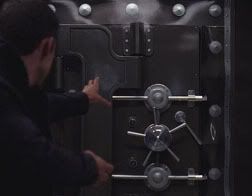 Sylar takes the others to Isaac's loft and Mohinder takes a sample of his blood to start testing for the correct antidote. As he does so, Mohinder glances up at the ceiling to the secret Company surveillance device he's aware of.
Elle breaks into the Company storeroom but finds the box with her files empty. She logs onto her father's computer and spots Sylar at Isaac's and immediately recognizes him, determining to go after him and prove herself to her father.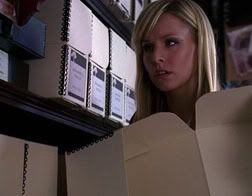 The gang member who captured Monica has her tied up and prepares to torch the abandoned restaurant they have her stashed at. Monica manages to activate her cell phone and Micah uses her abilities to use Niki's cell phone to home in on the GPS in Monica's cell phone.
Nathan flies Matt to Odessa and they enter the Primatech facility, and Matt relays what Angela said about killing Peter. Nathan insists on handling Peter himself, and Hiro comes outside to greet them.
Claire is packing when West arrives and tries to stop her from going public. He doesn't want the secret of his life exposed to the public but Claire insists on doing so and breaks up with him, giving him his Company file. West goes and Claire turns back briefly, only to see him fly off. The door opens and Noah Bennet walks in.
Molly volunteers to help find Alejandro, since Maya believe he left on his own. Molly "scans" for him… and then says he doesn't exist any more. Realizing what that means, Maya goes into a fury and confronts Sylar, who promptly shoots her down. Mohinder has discovered that Sylar has the exact same form of the virus that Niki had, so the Company must have injected it in him. Mohinder offers him the antidote but Sylar tells him to inject Maya first.
The Bennets have a family meeting and Noah explains that it was Claire's blood that brought him back from the dead. He pleads with Claire to back off of her plan to expose the Company, as they will react if she pushes, and he's made a deal. Noah will go back to the Company while his family lives a normal life. Noah apologizes for hurting them… and then leaves. Bob is waiting for him outside.
After several minutes of effort, Peter gets the vault door open but Hiro teleports in. Peter telekinetically shoves him aside and Adam enters the vault, noting Hiro will keep coming after them. Peter starts to telekinetically squeeze Hiro but Matt arrives and projects thoughts of him releasing Hiro and going after Adam. Peter resists with his own duplicated mental abilities and then telekinetically shoves Matt down the hall. Nathan arrives and asks if he's on the wrong side with the others. Hiro goes into the vault where Adam has acquired the vial. They have a tense standoff and Adam puts his sword to Hiro's throat while secretly holding the vial behind his back.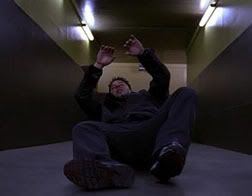 Nathan tries to get through to Peter, saying everything Adam has done has been to manipulate Peter. Adam talks of how releasing the virus will give the survivors a second chance. Nathan gets through to Peter and they head for the vault. Inside, Hiro resolves to kill Adam… then reaches forward and grabs Adam's shoulder. They disappear just after Adam drops the vial, but Peter telekinetically grabs it just before it hits the floor and shatters. Using his radiation powers, he vaporizes the virus and Nathan decides to do something to put the actions of the last generation to rest once and for all. As Nathan decides to call a press conference, they're unaware of a surveillance device in a ceiling vent.
Mohinder injects the dying Maya with the antidote and her wound heals on its own. Elle comes in and Sylar shoots at her, missing. Elle his him with a lightning bolt as he runs out the door, and she goes after him. Mohinder realizes that Niki needs the antidote.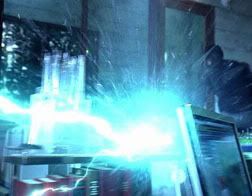 Micah has tracked Monica to the abandoned restaurant as the gang banger sets the place on fire with the comic book. Niki blocks the gang banger's escape with her car then knocks the guy out with her normal strength. She goes into the burning diner and unties Monica, and tries to get her out the door. A burning pillar blocks their escape route so Niki lifts it out of the way to get Monica out. As Niki is encircled by the flames, Monica gets outside to Micah and they both look on as the diner blows up.
Ando returns to his office to find Hiro watching the news. Hiro doesn't say what happened but only says Adam won't hurt anyone again. Adam is in Kaito Nakamura's coffin, buried beneath the earth but fully conscious. As he realizes his fate, Adam screams in anguish.
Maya revives and Elle returns to tell them Sylar escaped and her father will kill her. Mohinder thanks her and Elle is happy to be acknowledged as a hero.
Nathan, Matt, and Peter prepare a press conference in the Odessa Police Station. Nathan tells Peter that he did the right thing and to not feel guilty. They admit that they missed each other and Nathan gives a speech talking of all the amazing things he's seen, and of ordinary people rising to do incredible things. Just as he begins to announce his ability, two shots ring out and Nathan collapses. As Peter holds his dying brother in his arms, Matt looks around and spots a man slipping away through the crowd.
Angela Petrelli talks to someone on the phone, saying it was unavoidable but warning they've opened Pandora's box.
Volume Three: Villains
In a New York City alleyway, Sylar injects himself with the antidote and watches as his wounds heal. He then reaches out with his mind to a nearby can. He concentrates for a few seconds, then manages to telekinetically bring it into his hand. Smiling, he announces, "I'm back."
Share this article with your friends