Nathan is in bed with Tracy wondering what's happening with his life, but thankful he's had a second chance from God. When he goes out to the refrigerator to get a drink, he finds Linderman waiting for him. Linderman neither confirms nor denies that he's really there or not. Nathan wonders how Linderman knew Tracy needed help. Linderman speaks vaguely of being from a higher power but Nathan doesn't believe it. Linderman disappears and Traci comes out, asking who he's talking to. He denies talking to anyone.
Mohinder is in the park and approaches a drug dealer… and says he needs the dealer.
Peter confronts Sylar and snaps his neck. When Angela comes in, Peter telekinetically immobilizes her and asks what secrets she's hiding from him. He starts to cut her skull open but Sylar heals his injury and telekinetically slams Peter into the security window and makes sure Angela is okay. Noah arrives and tells Sylar to come with him: they have a lead on another target and he has no choice but to take Sylar.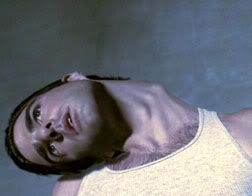 Sandra is going through Noah's files at home, and realizes that Claire is going after the escaped prisoners. She blames Meredith and observes that one of the prisoners is Stephen Canfield, who can create vortexes. Meredith sees another file on Eric Doyle, and warns Sandra that he's the worse of the prisoners. She goes to Doyle's place and Sandra offers to come, but Meredith warns that it'll be too dangerous.
Canfield is in an empty house calling his sister and trying to find his family. When she refuses to tell him, he gets angry, hangs up, and creates an energy vortex that sucks up loose debris and causes it to disappear. Claire arrives behind him and tasers him unconscious.
Adam reaches up and chokes Hiro, who explains that he needs their help. When Adam refuses to listen, Hiro seals him back inside the coffin and explains to Ando that he has no choice but to take the risk. He gives Adam another chance and explains they're looking for the formula. Adam says he told them to destroy it and wants to know what's in it for telling them. When they threaten to return him to imprisonment, he suggests Angela is responsible. When Hiro explains Angela is the one looking for the missing formula, Adam says he has another idea.
Linderman meets with Daphne at the Pinehearst Company and offers her a chance to join a new group that he's putting together. She's fine with the idea as long as she's paid, and goes over Linderman's files. She's worried about some of the nastier recruits, but Linderman assures her that they just need guidance.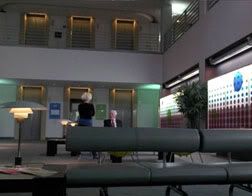 On the road, Noah admits that he's only keeping Sylar as a partner because of Angela, and that there'll be no forgiveness.
Canfield recovers conscious and insists that he just wants a chance to find his family but Claire insists he had his chance. He tells her she needs to listen and creates a vortex to suck away her taser.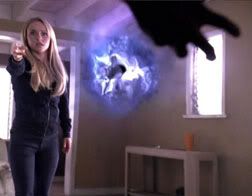 Mohinder brings the drug dealer back to his lab and hides him when he hears Maya comes in. She notes that their neighbor disappeared, the one that Mohinder killed. She notices the blood trail from the drug dealer and quickly leaves, and Mohinder looks around his lab… where the neighbor is cocooned to the wall.
Canfield tries to explain to Claire that he just made one mistake, and Claire gets a call. He first assumes she's with the Company but she denies it and he notes she doesn't have a partner. Then he wonders if he's with an organization called Pinehearst, which she's never heard of. He explains that he got into an argument with a neighbor and accidentally sent the man away. The Company locked him away without a trial and he was taken away from his wife and children, just one more time. He insists he just wants to be normal and then tells her to go. All he asks is that she give him a head start. Claire, touched, offers to help.
Tracy is preparing to leave for the day but refuses to discuss what happened to her with Nathan. He convinces her to talk and she finally reveals that she froze the reporter solid. He says it's not her fault and no one will believe her if she turns herself in. When she says she'll demonstrate her powers, Nathan says that when he tried to go public, he died… and saw God. Now he believes God has a higher purpose for them. Tracy explains that Zimmerman gave her her powers.
Claire goes over Canfield's files to locate his family and he thanks her for her help. He gets hold of his wife on the phone and asks for a chance to see her. They set up a meeting and Claire prepares to leave, but the phone goes dead. Noah bursts in and Canfield realizes he's Claire's father. He takes Claire hostage and Sylar comes in. Claire realizes her father is working with him. Canfield creates a vortex, tells Claire to hang on to something, and runs. It starts to suck in Claire as it pulls apart the house. She loses her grip… and Sylar rescues her. Once the vortex dissipates, Sylar goes after Canfield and Noah hugs his daughter. He asks her where Canfield went and warns her that he's dangerous. She accuses him of working with Sylar, who tries to apologize. Noah tells Sylar never to talk to him and tries to get through to Claire. When that fails, he asks to let him know where Canfield is so he can talk to him and make other arrangements.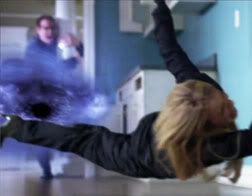 Adam takes Hiro and Ando to a bar where Specials can be hired. The bartender knows Adam and is angry at him for having an affair with his wife. The bartender throws a punch and hits Hiro, then chases after Adam, who runs outside, leaving them behind.
Nathan and Tracy come to see Peter, who has been put in a coma. Angela explains they're in trouble and knows about Dr. Zimmerman, but she says there's nothing she can do for Tracy. Nathan wonders what Angela is hiding and she explains that Zimmerman was instrumental in the Company's development of synthetic abilities. Tracy and her sisters Niki and Barbara were among his successes… as was Nathan.
Maya returns to Mohinder's lab and finds the neighbor and the drug dealer cocooned to the walls. She gets up on a chair and tries to free them but Mohinder comes in and hears a noise. He looks around and notices the chair, and sees the rip in the cocoon. He starts to look for her and then starts to convulse as her power kicks in. he finds her and tells her to control her power so she won't become a killer. She manages to rein it in and demands to know what he's done. When she accuses him of being a monster, he attacks her.
Hiro and Ando run outside the bar but are unable to find Adam. As they leave, Adam emerges from a dumpster but a man ambushes him: Knox. Knox renders Adam unconscious and dumps him into a van then informs someone by phone that "it's done" and asks what to do about Hiro and Ando.
Angela shows Nathan the files on the synthetic ability project and he realizes it wasn't God who gave him his abilities. Angela explains that Nathan's father was disappointed that he didn't have powers and authorized the experimentation. She apologizes to Tracy, noting they split the formula in half so it couldn't be recreated. Now they need Niki's help to stop whoever it is that plans to give everyone powers. Nathan is furious that she used him for experimentation along with God knows who else. He and Tracy leave and Nathan suggests they go to see Mohinder.
Mohinder is finishing cocooning Maya in his laboratory.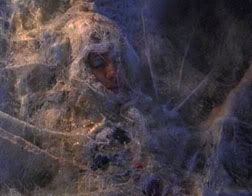 Claire goes to the carousel in Griffith Park where Canfield is meeting his wife. Canfield is already there and informs her that his family never showed up. He realizes that they're afraid of him and wonders if they're right. Noah arrives and puts a gun to his head. He offers Canfield a deal: if he makes Sylar disappear, it's all over and Canfield can leave. He refuses, insisting he's not a killer. Claire objects and Sylar, waiting by the car, notices they're arguing. Canfield refuses and sucks himself into one of his own vortexes.
Hiro and Ando go back to the bar to drink and Ando is depressed at their lack of success. Hiro insists they can't lose heart and the world is depending on them. Ando figures it can't get any worse… as Daphne and Knox enter the bar and offers them a job. Hiro insists they're badasses and ask to sign up. Daphne explains they have to prove themselves. Much to the surprise of both Ando and Daphne, Knox tells Hiro to kill Ando. Hiro takes a sword, apologizes… and runs Ando through.
Noah takes Claire home and insists that he did what he had to do. Sylar points out that Claire finally sees him as a user, and warns her that he'll never see either one of them as human beings. Noah asks if she understands that everything he does is to protect the family. She says she understands. He hugs her and assures her it'll be okay. She goes inside and Sandra greets her, saying she's glad Meredith found her. Claire has no idea what she's talking about.
Meredith is seated at a table across from Eric Royce in a room filled with toy puppets. He tells her to eat and as he takes a bite, she mimics his gestures. When she tries to speak up, he silences her and forces her to give him a kiss.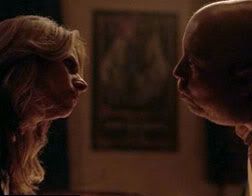 Angela is in her office when she hears a woman's scream. She goes outside and finds Tracy lying in the hallway, her throat cut. Nathan is kneeling nearby, his skull cut open. Peter is standing there, his hands covered in blood. He falls to the ground, a pipe rammed through his head. Angela turns and finds someone standing behind her: her husband Arthur. She warns that she'll stop him but he notes that her ability to see the future is too dangerous. He says she won't be able to move… and she wakes up only to discover that she can't move.
Daphne superspeeds to Pinehearst and meets with Linderman. She tells him that everyone is on board, including Hiro, but she's not happy with Ando's murder. He informs her there is one more person to recruit, the most difficult: Matt Parkman. Linderman informs her that Matt can alter her thoughts and make her see things that aren't there. She realizes that she fast enough to speak up on anybody… except for Linderman. She reaches through him and realizes that he's a telepathic projection. Linderman tells her not to worry about it. As she goes, Linderman disappears… and Maury Parkman steps out of the shadows. He goes in to the Parkhearst facility and has a seemingly one-way conversation with a paralyzed man: Arthur Petrelli. Maury assures Arthur that they'll have Adam there and they'll do whatever he says.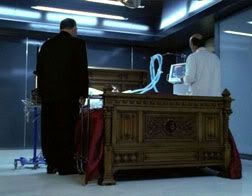 Share this article with your friends