In Newport, RI, Anthony is called in to help the 120-room Newport Spa & Whirlpool Suites, built in 1959 and owned by John Syragakis. Business has steadily declined for the last ten years and John is barely covering his expenses. Upon arrival, the first thing Anthony notices is that it does advertise whirlpool suites, which went out of vogue decades ago. Looking around, he finds an empty inside pool that looks like it's been abandoned. He also notices that the sign says that it's "Newport Inn & Spa."
Anthony goes to the front desk and the clerk, Joey, admits that people get confused about the name of the hotel. They think that it's a spa, but he explains that the spa is the smallest feature of the hotel. Anthony figures that the hotel has an identity crisis and goes to see the spa. It's a single room with one table. He then goes to see John, who explains that he bought the hotel in 1995. Anthony tells him that the spa is not a destination and whirlpool suites aren't in vogue. He asks about the pool and John explains that they shut it down for the winter. He also tells Anthony that he has a full-membership health club for the community and the guests, and thinks he can get a thousand members at $40 a membership. Anthony warns that only 8% of travelers choose hotels because they have a fitness center, and they prefer clean rooms and good service. He confirms that John was in the gym business before, and John admits that he picked up the hotel on a real estate deal and had the idea of having a four- or five-star hotel.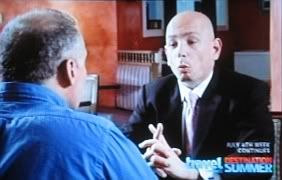 Anthony reads him some online reviews saying that it needs renovation and that people think that it is rundown compared to the price. John admits that he doesn't know how to run a hotel and Anthony tells him that for the next four days he works for him.
Next, Anthony checks out the luxury king whirlpool suite. He finds a high-quality massage chair and dismisses it as a waste of time that doesn't work in the room. Anthony figures that some guy selling whirlpools and massage chairs convinced the owner to buy the chair. The bed has a mirror and no headboard, and the bedspread is a thick antiquated comforter. Anthony finds snot with hair on the sheets and a variety of body fluid stains. The luxury mattress hasn't been cleaned in over 200 guests, and the Jacuzzi is hidden in a corner of the bathroom, facing the microwave and refrigerator. There's garbage in the garbage pail and a disconnected sink drain, and Anthony figures John is spending money in the wrong places. Checking further, Anthony pulls off the toilet seat with a single pull and finds filth beneath the rim of the toilet bowl.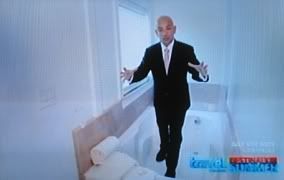 Anthony brings in designer Blanche Garcia to check out the suite and she's equally unhappy with the existing décor. He tells her that she needs to make the room pop in the next couple of days so that he can show John what he can do. Blanche agrees and promises to get rid of the massage chair, and Anthony also asks her to design a sign saying, "Newport Inn."
John and Anthony head to the indoor pool and Anthony explains that people want indoor pools. There's no water in the pool, the overhead pipes are rusted through, and the ceiling is cracked and exposed. John explains that they just painted the pool but Anthony finds rust stains and tells him that it hasn't been painted properly. When John claims that he's going to fix the roof, Anthony calls him on it, saying it's been in its current condition for ten years. Anthony then finds two empty hot tubs sitting in a corner. They're covered with plywood and not hooked up, and John says that he spent $15,000 on them and couldn't put them in because he didn't know the Rhode Island code. The tubs are filled with stagnant water that smells, making them a haven for germs. John admits that he had the $45,000 to fix the roof but he spent it on other things. He calmly claims that they'll repaint everything before they open, but Anthony doesn't believe it and challenges him to get rid of the hot tubs.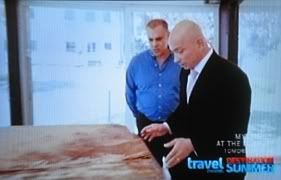 Anthony goes to see Donna, the general manager at the hotel for the last 15 years. She immediately admits that John is clueless and doesn't listen to her. John thinks it's a four-star hotel but she knows better and says that during the off-season they only have one maintenance person. Anthony bluntly tells Donna that John will lose the hotel in the next couple of days if he doesn't do something drastic. She breaks into tears at the thought and explains that they only have six people to run a 120-room property. John has controlled the hotel and let the rest of the people go. Donna explains that she does a lot of the work and that things fell apart a few years ago. Anthony tells her that he appreciates the fact that she's emotional and Donna admits that she wants to stay and try to save John from himself.
Next, Anthony brings Blanche into the pool area and asks her to make it into a haven for people coming in so they can drive the average rate. He tells Blanche to ignore the roof because John will have to do it, but asks her to take care of everything else on top of the sign and the luxury suite renovation. She agrees but tells him that it will be tough.
John meets Anthony in the health spa, which he's put together in the banquet room. The room is filled with state-of-the-art exercise equipment and John feels strongly that it's the best in any hotel. Anthony admits that it's the best health spa he's ever been in, but tells him that the first priority should be the hotel. John plans to sell memberships and bring in more customers. Dust is filtering down from the heating vents and Anthony tells John that he needs to focus on the hotel, but he's spending $110,000 on the gym rather than the pool roof. Anthony doesn't believe it and walks away.
Anthony tracks down Ronnie in Maintenance and asks how he is staying on top of everything that needs work. He has his shop set up in a guest room and it's a mess, and Ronnie admits it's been that way for a few years. He insists that he can function in there but Anthony doesn't believe it. Ronnie admits that he doesn't keep records for preventative maintenance and he just does whatever John tells him to do. Anthony asks what he would do if he owned the hotel and Ronnie figures he should put in a water slide. He finally admits that he could use more employees and Anthony thanks him for his time and then goes back to John. Anthony has confirmed that they can only get twenty cents on the dollar for the gym equipment, and John reluctantly admits that he made a bad decision. He agrees to listen to people, maintain the hotel, and move forward.
Next, Anthony takes John to the pool to talk to an expert on hot tubs. The man estimates that they're six to eight years old based on their current condition. John wants to store them for the future but Anthony tells him that he needs to get rid of them. The consultant refuses to buy them because of the mold buildup and John calmly admits that he threw $20,000 away.
As they haul out the hot tubs, Anthony sits John down and tells him that he's a ridiculously big dreamer. He's worried that he'll make more bad decisions after Anthony leaves, so Anthony wants to bring in a VP of Operations. John agrees that he'd be glad to sit back and just own the property, but Anthony tells him that he wants him involved and asking tough questions. The owner passively agrees and Anthony goes to check with Blanche first. The tub in the suite can't come out and all they've done is painting. Blanche explains that the sign is going up, trucks will arrive with water for the pool, and the wall behind the bed is concrete, slowing their work. She admits that they're only 40% done and they have a day left, but says that they have everything under control.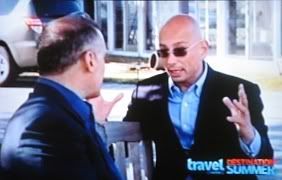 Anthony brings in the VP of Operations candidate, Sylvester Ruggiero, who he found through an industry staffing network. Sylvester explains that he's been in the business for 25 years and wants to pinpoint where John can save money while servicing guests and taking care of the employees. John says that he's had to micromanage but doesn't want to, and Sylvester warns that there's no point in having him there if John won't take his advice. The owner agrees to a 30-day trial period and they shake on it.
Next, Anthony takes John to the Newport Gateway Transportation & Visitors Center to market his hotel. The Newport Inn isn't there and they meet with Evan Smith, the owner of the Center. He explains that a million people come to his web site every year and 200-300 people make reservations through him for local hotels. Evan suggests that he collaborate with local businesses and create packages, and then he will advertise the packages for free.
Blanche oversees the water company filling up the pool, but they run out of water halfway through. They'll need 5-7 tankers and they won't be back until the next morning. When Anthony finds out, he warns her that they have to be done by the next day.
Anthony and John hit the piers and meet with Majestic Cruises, a local yacht company. The owner, Max, explains that they do special cruises and set up package deals with hotels. They take a cruise around the harbor and Max explains that he doesn't have partnerships with any local hotels. John and Max sit down and set up a two-night luxury cruise to take advantage of the coming summer events.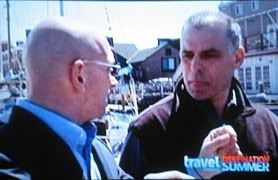 Next, Anthony brings in an emergency crew of painters to address the biggest problems. He then has John and Donna sit down and explain that they have hired a VP of Operations. Donna agrees that John needs someone else to control him and Anthony assures her that Sylvester will build the systems they need to get the hotel to the next level. She's relieved that the pressure will be off of her so she can make the hotel a success. Anthony then shows them the new pool deck and explains that they can promote it to raise their rates and keep it open year-round. He brings in Blanche and the crew and she explains what they did, and Anthony tells John and Donna that he's invited the staff of the Newport Visitors Center in for a clambake so they can understand how the hotel has changed.
Anthony continues the tour by showing them the new sign with a bright blue color and the correct name. He then takes them to the renovated luxury suite and they take in what Blanche has done. She will be able to provide them with all the colors and bedding that she used so they can replicate the renovation for the rest of the rooms.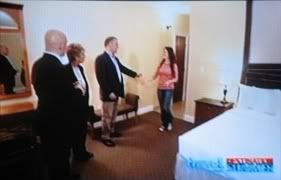 The clambake begins and Anthony thanks everyone for coming. He assures them that the Newport Inn has a vision that celebrates the area, and then gives them a sign with the hotel's longitude and latitude so they can put it in the Center's lobby. The clambake goes well and Anthony introduces Donna and Sylvester. John assures them that they can vote to veto whatever he proposes, and is happy that Anthony has given him a new direction.