Anthony is heading for the Triangle T Ranch in Dragoon, AZ, an hour out of Tucson. The ranch was founded in 1922 and has 32 guesthouses and a world-class riding program. Linda Kelly bought it in 2005 but has had problems ever since. She's lost more than $130,000 and is about out of funds.
When he pulls up, Anthony is impressed by the front display except for one lamp that is falling down. There are numerous signs pointing in the wrong directions. Finally he finds what appears to be the front office but there's no one there to greet him. There's a garbage bin on his right, cobwebs on the awnings, tape on the walls, and chipped paint. Anthony goes in and finds an empty desk with an abandoned phone. He sets out to find the front desk, walking through 100 degree temperatures. Anthony does find an outhouse but turns away in disgust when he smells urine.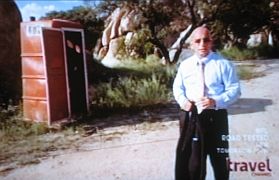 Anthony finally finds the saloon and asks the bartender where the front desk is. She admits that people come in looking for the front desk and gives Anthony directions to the back of the property. He goes in and finds a sign saying no one is there and he should check into the saloon. Rather than do some more walking, Anthony looks in back and finds Anne Marie at her desk. She admits that the signs are confusing and Anthony warns that so far the guest experience sucks. Anne Marie turns on the answering machine and Anthony realizes that no one will be manning the front desk.
Anne Marie takes him to Casita #6: the Steve McQueen guesthouse. When they get there, it looks like an apartment building. They go in and Anthony admits that he's intrigued that it is halfway decent and has a distinct Western look. The bed has a poor bedspread and there are hairs on it. Anthony tears off the bedspread and finds clean sheets.
Next, Anthony tracks Linda down and they go into the saloon to talk. He admits that the saloon is amazing and has Linda tell him about the ranch. The Rockefeller, the Vanderbilts, Will Rogers, John Wayne, and many other stars stayed there. Anthony wonders how it got like that and Linda says that it was like that when she got there... seven years ago. He tells her that it's her fault and Linda admits that if they don't turn it around in seven months then she's out of business. She breaks into tears and admits that she needs direction, and worries that she's not the right person to pull it out. Anthony tells her that the place is ridiculously special, but he warns her that their styles are different and she has to do what he tells her.
Anthony brings in designer Casey Noble for the first time to design the first building he saw into a welcome center. She's shocked that it's empty and they take a peek inside, and warns that it's a big job.
The next morning, Anthony sets out to see more of the ranch. He finds a nice pool with beautiful natural rock formations. However, the pool is filthy and Anthony skims it. The furniture is dirty and doesn't match, and Anthony figures that Linda has just given up.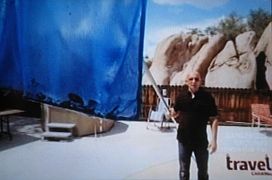 Next, Anthony calls a meeting with the entire staff. They're all dressed appropriately for a ranch and Anthony chats with them. Victor the chef has been there for a week. Joanne is head of housekeeping and only been there three weeks. Sarah started the previous morning and Anthony discovers that the employee there the longest has only been there a year. None of them have been trained and the staff points out that no one knows what's going on with anything.
Anthony goes to meet with Casey and their general contractor, Tony Santa Maria. She's putting in a porch and moved the door to let in light and provide a foyer. Casey got rid of the desk and says she wants it to feel residential as well as commercial. Anthony gets an idea and tells her to fix the pool. He then brings in John Heiman from Northwest Tracking to set up a mountain biking trail.
Anthony goes biking with John and Linda and they come across the movie set from the movie
3:10 to Yuma
. Anthony is shocked that she has a legendary set on her property and no one knows about it. He tells her that they're going to make sure that everyone knows about it and put it on the biking tour. Linda explains that it's used for maintenance storage because that's what it was when she got there. Anthony tosses out the old signs and mattresses inside and they continue back to the ranch.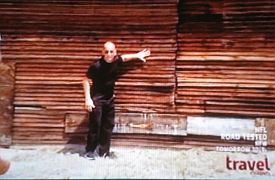 Next up is the saloon and Anthony talks to Victor and tastes his food. He has the chef make one clean healthy dish, one bad-ass steak, and his signature meal. Victor admits that he never cooked for Linda before she hired him and Anthony tells him to go to work. Once the chef is done, he brings out the three meals and Anthony digs in. All three dishes are good but Anthony says that Victor is going to have to keep up with the 20 or 30 people that he plans to invite in a few days.
On the third day, Anthony checks to see if Casey will be ready for the next day. She assures Anthony that work is underway and that she has a phone system being installed. Anthony informs her for the first time that there will be guests there and she has to be ready, and walks out as Casey stares at him in surprise.
Next, Anthony calls in a sales & marketing expert, Cindy Lew, to get the word out on the ranch. He wants to promote the spirit of the ranch and points out that they can't make a reservation on the ranch's website. Anthony has Linda give Cindy an old brochure with the addresses of all the famous guests and he tells them to work together for the next month to come up with a "Did you know?" marketing campaign. Linda already has a list ready and explains that the ranch deserves to be seen. Anthony hugs her, and says that it's the first time he's seen some passion from her.
Anthony then takes Linda aside and goes over her process for hiring employees. He's put out an ad for a wrangler and wants to see how Linda interviews him. The man, Eddie, hands them his resume and Linda interviews him and does a good job of it. However, Anthony points out that there's a four-year time gap in the resume. The wrangler admits that he was in jail and Linda says that it might not be a deal breaker. Anthony insists that the guests come first and she can't risk hiring the wrong person. He then tells Linda that Eddie was actually an actor that he hired. Once Eddie leaves, Anthony says that she at least has to conduct a drug check, a reference check, and a background check. When Linda says that sometimes they need to just hire a warm body, Anthony warns her that she can never do that and Linda promises never to do it again.
On the last day, Casey finishes with the welcome center and the pool. Anthony calls an employee stand-up meeting and explains to Linda that it's a vital communication tool. He then turns the stand-up over to Linda and she explains that she has travel agency representatives coming in. They're going to run a tour of the old and new things they have, and Linda hands out the "Did you know" list of fourteen facts. The staff is going to mention them at every opportunity and make sure they give the travel agents an experience worth telling the world about it.
While everyone comes together to prepare the ranch, Anthony checks on the welcome center. He has Casey call him to prove that the system works, and Anthony dons a cowboy outfit and takes Linda to the new welcome center. The owner breaks into tears and Anthony shows off the map of the ranch. He then brings in Casey and Tony and does the introductions. Casey explains that she wanted to show off the history of the ranch, incorporating what was there.
Anthony and Linda saddle up and ride to the saloon to meet their guests. Linda takes some of them to see the renovated Steve McQueen Casita. Meanwhile, Anthony takes the others to the movie set. Back at the ranch, all of the guests assemble at the saloon and the travel agents figure that they can sell it to their customers. Anthony has one more gift for Linda: a new website. Linda thanks him but asks for one more favor: a dance. Anthony joins her on the dance floor and Victor serves supper. Finally Anthony presents Linda with a new American flag.