Anthony flies to the isolated Glacier Bear Lodge in Yakatut, Alaska. Outdoorsman travel to the area for their world-class fishing, and nearby is the 32-room hotel with a bar and one of the few restaurants in town. Rick Outzen and Marc Dumar manage the place but admit that they don't know much about running a hotel.
As Anthony pulls up, he notes the lack of siding on the building and the general poor shape. The lodge looks empty and a couple of dogs walk by, and Anthony admits that it feels like a wilderness experience. As he approaches the lodge, he notices cigarette butts and no ashtrays. Inside he discovers no front desk but a lot of stuffed animals and wolf rugs, and admits that it feels a bit dumpy. The general manager, Pete, comes in and explains that they've never had a front desk. People fly in so Pete knows when to meet them. He admits that Anthony is the first person to check in wearing a suit.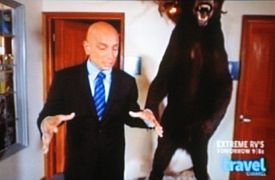 As Pete gets him a key, Anthony points out that the chairs are filthy and Pete admits that someone in waders sat there. He warns Anthony that they have bear problems and tells him to make noise so he won't surprise them. Anthony goes to the room and discovers that it's low end even for a fishing lodge. The carpet is stained and the heater is covered with mud. The windows are new but someone stuck a tissue paper in the screen to block a hole. Anthony checks the bed and finds low-rent sheets, lumpy pillows, and a thirty-year-old mattress. There are two nails in the wall to hang fishing gear from, and another nail for a bathroom hook. The sink cabinet has laminate stuck on with duct tape and it's clear the maintenance department isn't doing their job. When Anthony yanks on the toilet seat, it comes off in his hands. There is soap scum on the soap rack in the shower and Anthony dismisses it as the worst bathroom he's ever seen.
Anthony goes to see Rick and Marc as well as two of the owners, Bill and Bill, who have just flown in for a fishing trip. They admit that they don't know anything about running a hotel and consider the place a personal fishing lodge. Marc and Rick are the most active owners and admit that they're liable for three-quarters of a million dollars. The lodge made no profit in the last year and Anthony shows them their website. He asks why he can't book there and warns them that if people can't book online then the hotel is doomed. There are no online reviews and new people aren't coming there. They complain that it's expensive but Anthony points out that $750,000 is more expensive. They don't use travel agents and Anthony tells them that hotels live or die by travel agents.
Next, Anthony calls in designer Casey Noble to make the rooms better. She winces when she sees the room and suggests that they start with a hard finish. They smell the carpet and check the nails, and Anthony figures the bed hasn't been updated in 20 years. He shoves Casey in the bathroom and check out the worn towels.
County-western singer Craig Morgan is in town and Anthony meets with him and his friend Frank to get a handle on the fishing experience. Craig explains that people would sleep in a tent to fish on the river, They take Anthony fishing and he soon catches on. They spot a brown bear down river and Craig says that it's the final frontier, and Anthony sets out how to take advantage of the people who want to be there.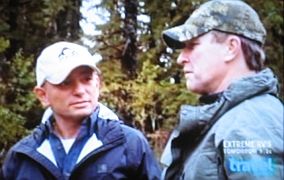 Back at the lodge, Craig and Anthony go over to the station where the lodge offers free fishing preparation. The worker directs them to a hose and says that he can hang his clothing in his room once he sprays himself down. Anthony has Craig talk to Casey and explain how fishermen would normally have a mudroom to hang their waders, boots, and poles. Casey figures they can convert one of the two existing laundry rooms and goes to work.
Later, Anthony spots a bear near the fish prep station. It's knocked over garbage cans filled with guts and the sea gulls have come swarming for the food. One of the guests shows up with a revolver and assures Anthony that there's plenty of bears around and they won't miss one.
Anthony checks back with Casey, who has already ripped out much of the room. She's brought in a local contractor, Mike, and they discovered that the floor is rotting beneath the tub. The roof is leaking and there's major water damage that has been going on for over a decade. Mike says that they'll work through the night to do what they can. Anthony figures the owners are ignoring maintenance and checks the rest of the property. One building looks abandoned and the wood is rotting. An entire stairway railing falls away when Anthony pushes on it.
The hotelier goes to see Pete and asks how often he does a perimeter check. The GM claims he does so every other day but Anthony doesn't believe him. Pete tells Anthony that he doesn't have time to deal with all of the problems, but Anthony points out that all GMs are busy. The GM says that the owners won't pay for it, but Anthony warns that the buildings are collapsing and shows him how he can literally pull the rotting wood out of the roof. There's a hole in the foundation large enough to crawl into but Pete says that it's never been a problem and fixing it is a low priority.
Anthony goes with Pete to his office and warns him that he's in excuse mode. He asks what Pete wants him to do and the GM says that he needs another maintenance person. Pete keeps making excuses and Anthony says he can't work with a GM who does that. He tells Pete to think hard about what he wants done and walks out.
Next, Anthony checks in with the locals at the general store and finds a couple of guides. They tell Anthony that they wouldn't recommend sending their clients there, but admit that if the lodge closes then it would be a blow to the community. The mayor comes in and explains that the lodges provide a lot of sales tax and hire locals during the fishing season. Anthony goes back to the lodge and checks their finances, and discovers that they're paying way too much to ship goods in. He calls in Marc and Rick and points out that they're spending $65,000 a year to ship in supplies monthly. If they consolidate and go with quarterly shipments, they can reduce their costs to $44,000. Anthony tells them to start a 3% capital expenditure fund and use that money to create a monthly budget. That way they can deal with problems as they arise until put them off until the end of the year. Next Anthony asks them for a commitment to be there regularly for more than fishing and they agree. He also tells them to make sure the townspeople have pride in the place so that they refer guests there.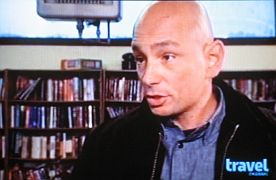 With 24 hours to deadline, Casey shows Anthony the laundry room she's chosen for the mudroom. It's filled with junk and Casey admits that she's short on resources. Anthony asks how she's going to get it ready in time.
Next, Anthony brings in Tara, a marketing manager from Liberty Travel, and sits her down with Rick and Marc. She's put together a marketing plan and will get them on several East Coast newspapers for free, even though it would normally cost $80,000.
Anthony goes back to see Pete, who tells him that he's bringing in a full-time maintenance person next season and will stop ignoring problems. He assures Anthony that he wants the place to succeed and has cleaned the chairs. Anthony is glad to see that Pete is committed and then takes him to see the new maintenance tools. Grainger donated $3,000 in tools and Pete is glad to have them.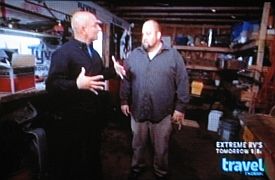 The next stop is the renovated room and Anthony finds Casey hard at work. She's put in a floor that doesn't smell as well as an open closet. Anthony checks out the bathroom and Casey says that there's still a lot of work to do even after Mike replaced the rotting wood.
On the final day, Anthony brings the owners in and explains the concept of the mudroom to them. They surprised that Anthony and his team were able to do it a couple of days, and Anthony gives the credit to Casey and Craig. He brings Casey in and she explains that it only cost her $300 to build. Next door is a dressing room with a painting rendition of the Glacier Bear.
Next, Anthony and Casey show Marc and Rick the renovated room with the comfortable beds and horizontal racks for longer fishing poles. The bathroom has a tiled shower and shelves that Casey found in a storage shed. Hotel Register has donated linen for the entire hotel. Casey brings in Mike and his team and the owners thank them. Anthony reminds them that they're no longer fishermen--they're hoteliers.