Anthony goes to the Telemark Lodge in Cable, WI. The ski resort has 150 rooms and has been around since 1947 when Anthony Wise built it. It is a place for cross-country skiing and a former playground for the rich and famous in the 1970s. However, Rick Carpenter and Robin Bucholz are currently trying to keep the place afloat and hope Anthony can bring us to minimum operating standards.
When Anthony pulls up, he notices that there are patches on the pillars. Cigarette butts are scattered all over and there is bird crap on the front of the building. Anthony checks out the lobby and admires the rock wall and the high ceilings. He considers it first-class at first but then notices a room off the lobby with cheap tables and filthy carpeting. Anthony rips off the black tape holding a chair together so the users can't use it and figures that it should be developed as a room for guests.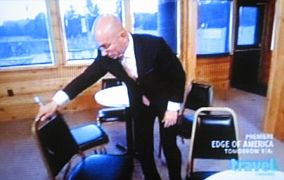 Anthony talks to Claire, the front desk clerk, and she explains that the room is a hospitality room. He goes behind the desk and discovers that they only have one computer. Claire explains that they have a homemade property management system and Anthony wonders how housekeeping knows when someone checks out. She explains that they use spreadsheets and admits that it's not the best, and shows him the handwritten clipboard system that they have. Anthony buries his head in his hands and laughs, and Claire goes back to the clipboard to find him an empty room to check out. He figures that he'll have to fix it but gets a key to room 212 and goes to check it out.
At room 212, Anthony discovers that the carpet smells and the door is filthy. He goes inside and is surprised at how nice it is given the lack of a PMS and the filthy hallway. However, Anthony looks closer and finds that the soap bar is too small. He goes to meet with the owner, Steve Kaufman, and his partner Dick Short. Steve explains that he bought the hotel a year ago and thought he had financial backers, but they never came through. He has no experience with hotels and Anthony points out that he never put in a PMS. Dick explains that he carries the mortgage and has $2.2 million on the line between the two of them. The bank will foreclose on the hotel in six to eight months, and Anthony warns them that it may be impossible to turn it around.
Anthony calls in Blanche Garcia to fix the hospitality room. She's impressed by the lobby and Anthony briefly claims that he wants to gut it. Joking, he then shows her to the hospitality room and Blanche agrees that it needs to be renovated. Anthony points out that that hotel doesn't have a business center or a gift center and wants Blanche to get it under control so he knows he has some control.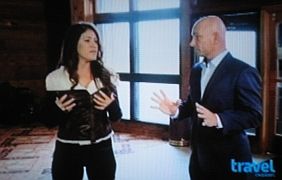 Blanche goes to work while Anthony meets with Robin, the GM, and Rick the director of sales and marketing. When they say that their problem is capital, Anthony explains that their main problem is that they don't have a PMS. He admits that they're expensive but warns that he can't help them if they don't have one. Next Anthony has a secret shopper try to book a group event. The man explains that it took multiple attempts over three days to make a booking, and the men say that Kait is their group sales manager. Anthony figures that Kait has no experience and then asks Rick what his duty is to Robin. When Rick says that his job is to handle sales and marketing, Anthony points out that he doesn't do sales and marketing, and Rick explains that he does trails and maintenance. The hotelier explains that Rick has to focus on his job first and market the hotel.
Later, Anthony tours the huge property and finds a game room with outdated games. He also finds a sophisticated Olympic-caliber gym and tries out the equipment. Anthony soon finds Kait and explains what his secret shopper found. She admits that she's the only person handling group sales and admits that she wants the hotel to be a success because she loves the place. Kait works 16- and 18-hour shifts and Anthony is happy to have a motivated person even if she doesn't know what she's doing. He promises to help her and make sure she isn't the reason the hotel fails. Anthony tells her to return all calls within an hour and use her passion to sell the place.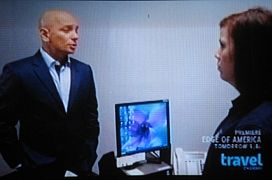 Robin is working in the pool when Anthony comes in to talk with him. The GM admits that he works seven days a week, 16-hours a day, and only sees his kids on weekends when they visit the hotel. Anthony is impressed but sets out to show Robin how to work smarter. For starters, Anthony tells the GM to make selling the hotel his number one priority. Robin admits that Rick is taking care of the trails but Anthony points out that they're not seeing much use, and Robin admits that Rick doesn't have much experience.
Anthony sets to work figuring out what the problem is with Rick by talking to him. They mount up on ATVs and check out the trails and the scenery. Anthony admits that it's impressive and then talks to Rick about why he's not selling rooms. Rick admits that Robin is controlling and refuses to put him in the role of sales, and keeps sending him out to check the trails. Anthony wonders if Robin is wrong about Rick and tells Rick that he's going to sell the hotel. Rick agrees to do whatever he takes and assures Anthony that he's his best bet. They then head back down the mountain and Anthony pulls a wheelie.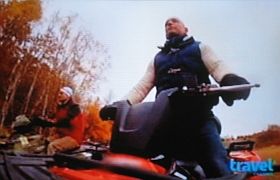 Back at the lodge, Anthony checks in with Blanche and Scott Byrd, the local construction manager. Blanche has discovered that the architect who built the hotel was a student of Frank Lloyd Wright. She plans to keep the straight lines but give it a Wisconsin feel. Blanche is setting up the area as a breakfast area, business center, and cultural display.
Anthony calls the staff together and has Rick come up. Rick admits that he's underutilized grooming trails, and Anthony tells everyone that they're selling spirit and passion. He figures the staff is behind Rick and then calls Robin up. Anthony has Rick tell Robin that he won't groom trails and Robin agrees. Next, Anthony calls Steve up to agree. One employee rolls his eyes and admits that Steve gave up on the hotel, and everyone else agrees. Steve says that he's willing to take chance on the hotel and on the staff. Kait disagrees, saying that Steve causes scenes with the employees in front of everyone, calling people idiots. A surprised Anthony makes Steve promise that he'll let Robin run the operation.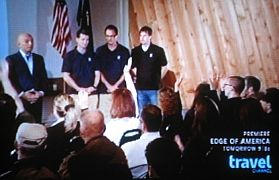 Later, Anthony has his camera crew catch Steve talking about kicking the staff out because they piss him off. After hearing the recordings, Anthony talks with Dick and admits that Steve isn't very impressive. Dick admits that he can't do anything because Steve owns the property and Anthony points out that Steve doesn't understand that the employees that work for him are real people. Anthony assures Dick that he wants to help people and Dick says that if Anthony can put something together for him then he'll do it.
Anthony meets with Steve and tries to figure out a way to diplomatically tell him to stay away from the hotel. Steve doesn't think that he called Kait an idiot but Anthony doesn't trust him and tells him that he should stay out of the day-to-day business. The owner defends his actions, saying that he's stayed and paid everyone, but Anthony isn't impressed and tells him to stay away and let his employees do their job. Steve agrees and they shake on it.
Workers clean the carpets and put in new soap, and Anthony meets with Rick and Kait to find a way to better market their outdoor amenities. He brings in a marketing agent, Jeannine, who is eager to help them focus on group business for the next thirty days. Kait talks about how she grew up around the Telemark and Jeannine says that she knows she would take care of any group she brings in. Rick explains that in the last few days he's been reaching out to his contacts in the bicycle and outdoor industry. He contacted a show in Madison and suggests that they relocate to the Telemark.
Anthony makes a few calls and then brings in Claire and Darinda, the head of housekeeping. He shows them the new PMS system that he's had installed. Claire put in data so they could use it immediately and Anthony explains how they can use the system to greet the guests, get them checked in, and make sure no one checks into a dirty room. Claire breaks into tears and Anthony gives her a hug.
Once Blanche finishes up, she and Anthony show them the renovated hospitality room, complete with new chairs, historical timeline, and a business center. They call in Scott and introduce him to Rick and Robin, and Scott says that he did it because Telemark is vital to the community. Anthony puts up a photo of the original owner, Anthony Wise, and they name the room after him.
Later, Anthony summons the staff to the bar for a surprise. He introduces Sheila and Janie Wise, the daughter and wife of Anthony Wise. Janie assures everyone that her father's spirit is alive and well and they share a toast to Anthony and to the Telemark.