At a theater, a ballet company begins their rehearsal and the lead dancer, Jeremy, complains to the conductor that it's too fast. They try again and he dances with the lead female, Penelope. As Jeremy lifts her, he collapses with back pain. However, Penelope finds herself unable to breathe as her lungs collapse.
House is at home listening to his hallucination of Amber play the ukulele. He refuses to listen to what she has to say, pointing out that she tried to kill Chase. Foreman arrives and House tries to plead a day off, but Foreman warns that Cuddy will fire House if he doesn't come in. In differential, House suggests a pulmonary contusion, while Amber suggests dehydration hiding an infection. House goes with the dehydration and orders antibiotics.
Wilson is meeting with a patient when House barges in and tells him that he's hallucinating. Wilson hastily takes him outside away from his patient. House wants Wilson to double-check everything he does in differential, but initially refuses to say who he's hallucinating. He insists he's just suffering from sleep apnea. Finally, House gives in but lies and says he's hallucinating Kutner.
Chase and Cameron are enjoying a meal at her place and she tells him she still has her dead husband's sperm. She still wants to hold onto it, warning that anything could happen, and wants a specimen from Chase as well.
As House undergoes monitoring while he tries to sleep to eliminate possible causes of his hallucinations, Amber advises him to tell Wilson he's scared, but House refuses. The next morning, they confirm it isn't sleep apnea. Foreman reports the tests are negative and House suggests a water injection through her trachea to test her lungs for pneumonia. Wilson and Foreman note it's radical but House tells him to run the tests unless he has something else to attempt. House goes with the next item on his list of causes for his hallucinations.
Penelope undergoes the tests, but as Taub holds her down, he slips and some of her skin comes off. House figures that the antibiotic treatment caused the necrosis. As they conduct more tests, Wilson comes to see House, who wonders where Wilson was when House proscribed antibiotics. House wonders if he might have MS, which is causing his guilt and shutting down his limbic system.
House goes to see Penelope, who insists that she get to dance again. House apologizes but doesn't feel any better, so he concludes its MS. Foreman notes that the artificial skin they've applied to her is too thin. As they take Penelope in for a biopsy, Chase brings up the sperm with Foreman. Foreman warns that Cameron married a dying guy and has issues, and Chase can't leave her. Penelope starts to crash and they revive her. In differential, the team wonders why Wilson is there and Foreman concludes House doesn't trust himself. House orders Wilson out. They need to take a MRI of the heart when it's not moving. Meanwhile, Amber points out that either Vicodin or mental illness are causing House's hallucinations. She then cuts herself, bleeding on the table. House suggests they temporarily stop Penelope's heart to MRI it. However, it will take four minutes to MRI the heart and three minutes until brain damage goes in.
House tells Wilson what he's doing and says that "she" is trying to kill the patient. Wilson picks up on the female pronoun, and House finally admits he's seeing Amber. However, he admits that he can't come up with any better ideas then what Amber is providing. Wilson tells him the LP test is negative but his Vicodin levels are too high. House argues he has schizophrenia and suggests electro-shock treatment for the hallucinations. However, Wilson warns could it prove lethal, or worse damage his rational mind. House refuses to consider anything else and Wilson agrees to make some calls.
Chase explains the procedure to Penelope and they begin. Meanwhile, House calls Wilson and suggests they try insulin shock, which is marginally less damaging than electro-shock. House argues that he's been popping Vicodin for years but the hallucinations are more recent, so Vicodin addiction can't be the cause. House tells Wilson to get up there in the next two minutes because he plans to give himself an insulin overdose.
The time limit on brain damage to Penelope arrives and Chase begins to revive her, just as Foreman sees something on the scan.
House notes that Amber is scared because the insulin will eliminate the hallucinations, and then injects himself. She disappears and House smiles in satisfaction… before going into shock. Wilson arrives and calls the nurses.
Wilson is there when House wakes up, but House is satisfied it worked. Wilson points out insulin shock wasn't the next rational step, but he has to admit House checks out. The team calls House back and argue about whether they saw something on Penelope's heart. House goes to watch over Penelope, with Jeremy at her side, and he notes that nothing changes. He figures that Jeremy is too devoted and feels guilty, because he was cheating. He suspects Penelope has gonorrhea, which disseminated to her heart, where it wouldn't show up on the blood tests but would appear on the MRI. He has them test Jeremy to confirm the diagnosis.
House is celebrating alone at a bar when Foreman calls to confirm that Jeremy tested positive for gonorrhea. However, Jeremy insists he didn't cheat on Penelope. House realizes he was lucky, not right, and looks over to see Amber singing and mocking him.
Wilson picks him up and offers to take him to a rehab center. House agrees and they go back to his apartment to pack. Foreman calls and Wilson takes the call. Penelope is septic, but Wilson tells Foreman that House is off the case and hangs up. House wonders why he doesn't feel scared even though his life is falling apart. Amber notes they've always found a way to cheat. House insists the rehab won't work, but Wilson says he has no other choice. House says good night to Wilson and leaves.
The team tries to figure out a way to treat Penelope and Foreman suggests dopamine, but it could kill her. They finally agree to treat Penelope with the dopamine. Meanwhile, House goes to Cuddy's office and tells her that he's quitting his position. Cuddy doesn't believe him and he insults her baby. As she storms off, House tells her he's hallucinating. She comes back and offers to check him into rehab, but House warns he'll figure out a way to get the Vicodin. He asks her to oversee his treatment because she's on to him and know his tricks. Cuddy agrees and calls her babysitter to make arrangements.
As Chase operates to remove the abscess, Penelope's blood pressure holds steady. However, necrosis appears in Penelope's fingertips and toes.
At his apartment, House undergoes withdrawal under Cuddy's supervision. She's already cleaned out most of his secret stashes, but he offers to tell her the rest over Amber's objections. Cuddy holds his hand as he goes through excruciating pain.
Chase explains to Penelope that they removed the abscess in her heart caused by the gonorrhea, but the dopamine shut off the blood to her extremities and they'll have to amputate. Penelope refuses and the team wonders what to do. Chase suggests they should accept her decision and Jeremy won't override her. Foreman begins to leave, insisting the case is over, but Chase notes that if they failed it won't just be because of House but because they failed.
As House vomits into the toilet, he notices a pill on the floor. Amber suggests he send Cuddy away and take the pill. He crawls toward it while Amber suggests that if he takes it, he doesn't think he deserves anyone. Before he can get to it, Cuddy comes back in and flushes the pill down the toilet.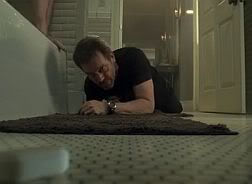 Taub comes up with an idea: using vasodilators from burn treatment to rejuvenate the skin. Much to Chase's astonishment, it works.
The next morning, House wakes up. He wonders what happens afterward and if he'll be able to work. Cuddy insists he'll be fine but House notes she's biased. He accuses her of lying and she says she hasn't lied to him in 20 Years. He asks her what she lied about 20 years ago, and she admits she wasn't signed up for the class they shared together. Cuddy admits she was interested in him then and she's there now for personal reasons. House notes that they're alone and Amber has disappeared.
Penelope wakes up and wonders where Jeremy is. Taub tells her that he left and wonders if she's okay.
Chase tells Cameron he can't give her his sperm, and he has no doubts about their future together. Cameron warns that she isn't sure and Chase says he'll wait until she is.
As Cuddy prepares to leave, House thanks her and then they kiss.
Share this article with your friends