The patient's room is in chaos, covered in blood, flowers, and toys.
-----
House looks at himself in the bathroom mirror, washes up, and then goes to meet with Dr. Walter Cofield for his disciplinary hearing concerning the patient in room 209. House wonders who Cofield is, and Cofield explains that he's the chief of neurology at Mercy and will be deciding his fate. House realizes that Cofield trained Foreman, but Cofield refuses to discuss himself. He insists that the facts are in the file and starts to go back to work, but Cofield warns that the facts aren't in House's favor. And if House is suspended, it will mean his parole is revoked. House sits back down and describes the case. The patient was a 32-year-old chemistry teacher, Bill Koppelman, who collapsed due to total limb paralysis while jogging.
-----
House and Foreman go over the patient's record and a desperate Foreman begs him to help... according to how House tells the story.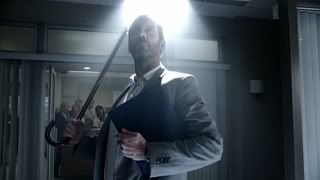 -----
House takes his Vicodin and Cofield wonders why. He then asks if House was taking Vicodin during the case and House admits that he was, and has been for the last nine years. He figures that Cofield is there to assign blame, but insists that it was no one's fault what happened.
-----
House hands out the files to the team in his usual manner.
-----
Cofield wonders if Adams is biasing her description to assign House blame, but she says she isn't. The neurologist then talks to Taub and Park, and they say that House thought their ideas were stupid.
-----
House points out that the patient had low opening pressure on his LP and tosses the files at his team. He points out that the potassium is low and orders steroids and beta blockers. Cofield wonders why there are orange smears on the files. He doesn't buy House's claim that they're Cheetos stains.
-----
Chase has orange hair and figures that House pranked him. House points out that he used Adams' shampoo, and she claims she had nothing to do with it.
-----
House admits that he did play a prank, but he did it to break the tension and improve team performance. However, Adams disagrees, noting that House likes to spread dissent among his team.
-----
Bill wakes up and Taub explains they're treating him for an overactive thyroid. Two of Bill's students, Jordan and Madison, arrive with flowers and tell him that everyone is worried about him. They ask if he was sick because of the explosion.
-----
Taub explains that no one knew about the explosion caused by a chemical experiment in class. Bill was unconscious and Emily, his wife, didn't know about it. When Cofield wonders why House didn't do it, Taub explains that House prefers to stay objective by not meeting with the patient. Cofield thinks that it's laziness, and House defends his approach. He figures that everybody lies... except him, to Cofield. Cofield disagrees and asks if the case might have ended differently if House had talked to the patient.
-----
Bill insists that it was a controlled experiment that went bad, but the students disagree and say that it's on YouTube because a student aide took a video. As they talk about the matter, Bill starts vomiting blood.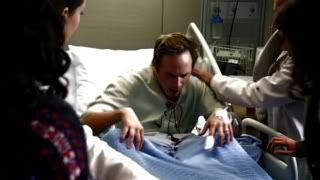 -----
Cofield finds it interesting that House finds his patient's symptoms merely "interesting."
-----
Bill shows the video to Adams and explains that a student aide added hydrofluoric acid to make it more interesting for the video. The team takes the hydrofluoric fumes into account, the concussion caused pressure on the brain, and House decides to treat with heparin.
-----
Cofield wants more details from Park, pointing out that she's being secretive. She finally tells Cofield that House had on a gas mask because Chase had rigged House's office with a stink bomb. House brings it into the conference room and the team tries to differential while choking. Taub is the one who suggests aerosolized heparin, but it's an experimental treatment.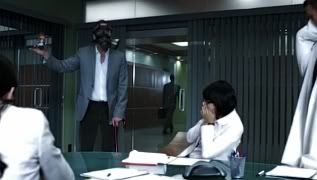 House admits that the heparin treatment has only been used on sheep, and Cofield figures that he pressured the team into coming up with an unsafe treatment just so they could get away from the stink bomb. House insists it was inspiration, not pressure. Park says that she protested and Cofield tells her that it's her duty to speak up if she disagrees. When he notes that she failed, Park says that she went to Foreman.
-----
Park suggests to Foreman that House's treatment is crazy, but Foreman figures that House knows what he's doing.
-----
Cofield calls in Foreman, who defends his involvement by saying the heparin had nothing to do with what happened. He says that he gives House the benefit of the doubt, but Cofield warns that if House is suspended, Foreman's decision will get him fired. Cofield figures that Foreman brought him in because he figured that Cofield would have his back. However, Cofield warns that he won't be able to get Foreman out of anything.
Next, Cofield calls in Adams and notes that Bill had a discharge order. However, House orders a bath to wash off residue from the blast.
-----
Adams discovers a rash underneath Bill's arms. Park says that it doesn't mean anything but they want to make sure. Bill insists on getting out of the bath.
-----
Park dismisses the rash as an irritation, saying the concussion to Bill's brain was the problem and caused his psychosis. She disagrees with Adams, who thinks that it's strep, and Taub disagrees with both of them. He figures that it's Wegener's. House says that he ran a diagnostic trial to test which of their diagnosis were correct.
-----
House starts Bill on steroids to cover all of their diagnosis. Bill will either be cured if Taub is right, or they'll know from how he gets worse if Park or Adams are right.
-----
Cofield points out that House chose two outcomes that could make the patient worse, but House stands by his decision. He says that what happened was caused by his team's disobedience.
-----
Adams treats for strep, ignoring House's orders.
-----
Adams tells Cofield that she gave the patient lidociane for the strep.
-----
When he sees the needle, Bill leaps out of his bed before Adams can give him the injection. Chase wrestles with him and tries to subdue him.
-----
Cofield asks House who he blames, and House says that he doesn't blame either one. When Cofield asks who he does blame, House doesn't have an answer.
-----
Taub runs into the room and manages to give Bill a sedative while the orderlies restrain him. Chase stares at his chest in horror, realizing that Bill drove a scalpel into his chest.
-----
The blade only grazed Chase's heart, and Adams explains that she kept him alive by plugging the hole with her index finger. She blames herself for setting off Bill's paranoia and tells Cofield to blame her. He tells her to continue.
-----
The orderlies get Chase to the OR.
-----
House insists that his diagnosis was correct and Bill had a steroid-induced psychosis. Cofield wonders if he cared that a colleague was injured.
-----
House enters the OR and Adams reluctantly removes her finger so that they can operate. The patch holds, and House asks what Bill's heart rate was. He tells Park to come with him, but she objects because House didn't listen to her. He tells her that Park isn't helping Chase, she's just staying to make herself feel better.
-----
Cofield suggests to Taub that House was callous, but Taub insists that callousness had nothing to do what happened. When Cofield suggests that Taub is blaming Chase, Taub notes that Chase took a scalpel into the room and endangered himself, Adams, and the patient.
-----
House goes to Bill's room and looks at the debris, and then checks the heart rate monitor. He then goes to see the team, which are at Chase's bedside, and tells them to DDX. When they hesitate, House points out that they're doing nothing and Bill has a wife and adoring students. Adams tells him to shut up, but Chase speaks up. They tell him what happened and he tells them that he can't feel his legs.
-----
Cofield goes to see Chase in his hospital bed and takes his statement. He asks if Chase was angry at House about the prank, but Chase doesn't feel that it matters. Cofield asks him who he thinks was at fault, figuring that he's spent every minute trying to answer the question. Chase tells him that it wasn't anyone's fault. He admits that he was angry but he wasn't distracted, and if he does walk it's because House is a genius.
-----
House analyzes Chase's paralysis and refuses to accept a diagnosis that can't be cured. He suggests a clot in the ridicular artery and orders surgery to confirm. They start removing the clot, but House says that they have to diagnosis Bill because Foreman is having him transferred since he believes that they can't remain objective.
-----
Chase explains that House already knew the answer and used the case as an excuse to check on Chase. Cofield asks if House's lack of concern is evidence of deep concern, and Chase tells him that it is. As they talk, Cofield notices that Chase's toes have twitched and they realize that it was the clot and Chase will be fine. Cofield then asks why Chase took the scalpel into Bill's room despite the risk, and Chase explains that he thought he was right about the rash and there wouldn't be a psychotic break. Cofield says, "I thought so" and starts to leave. When Chase asks what he means, Cofield says that Chase disregarded House because House created an atmosphere that promotes recklessness... and Chase may never walk again as a result.
Cofield meets with House for the last round of questions. When House says he had no idea that Chase regained movement, Cofield turns off his recorder and asks if House is really that cold. He wonders why House doesn't go and apologize to him, but House insists that he did nothing wrong. Cofield wonders why House can't stop acting like an ass, but House tells him to go back on the record and takes out a bottle of Vicodin. Cofield turns on the recorder and tells him to put away the Vicodin. House opens it anyway and it pops open with confetti: Chase's return prank. House gets an idea and realizes that there were two explosions, and then walks out on Cofield.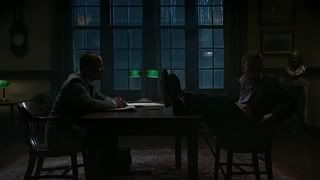 As the EMTs transfer Bill to the ambulance, House tells them to take the teacher out. The EMT refuses, saying that Foreman gave him orders to ignore House. As Bill's wife Emily walks away, House goes after her and tells her that Bill has a tumor in his lymph nodes. The explosion caused the cancer cells to break open, flooding his system with cancerous material. They caused the psychotic break by giving him the steroids. House tells Emily that it can be treated and she needs to tell the new doctors what Bill has. She ignores him and leaves.
House goes back to Cofield's office and discovers that he's left. Foreman is there and tells him that Cofield said he'd have his decision the next day.
Chase is lying in his bed, awake.
Foreman sits in his office.
Cofield is at home going over his notes and considering the investigation.
House stands outside of Chase's room, watching him as he sleeps. After a moment he turns and walks away.
The next day, Foreman and the team arrive in the office. Cofield comes in, turns on his recorder, and tells them that the case was a fiasco. He concedes that House is brilliant but a fiasco and refuses to condone him by exonerating him. However, Emily comes in and tells House that he was right. She explains that he isn't nicest the doctor she's met, but they did find Bill's tumor and expect a full recovery. Once Emily leaves, Cofield says that House's process is dangerous and inappropriate, but it is effective. He congratulates House and says that the stabbing incident is officially nobody's fault.
As Cofield starts to leave, House calls him a coward and picks up his file. He figures that Cofield fell for Emily's sob story, and says that it didn't change whether he did the wrong thing. House walks out as the others stare in shock.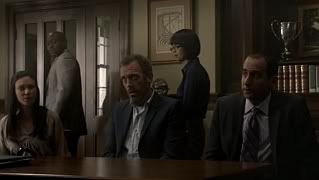 Chase is in the physical therapy room trying to walk when House comes in. He asks Chase how he rigged the Vicodin bottle to explode, and Chase wonders what the point was of the hair dye. House explains that he knew Chase was dating someone else, staying out late, and using Adams' shampoo, so he decided to teach Chase a lesson being late. He then tells Chase that officially the stabbing was nobody's fault. He then apologizes. Chase says that he's busy and goes back to his exercises, and House walks out.