dChase wakes up in the morning next to his most recent sexual conquest, Cindy. She notices that he's bleeding and asks if he needs a doctor, and Chase tells her that he is a doctor. House texts him but Chase ignores it, and he tells Cindy that a patient stabbed him with a scalpel. House sends another text message announcing that he's outside and Chase reluctantly opens the door. House has a case for him, but Chase says that it's not a good time and House reminds him that he hasn't been into work for three weeks. He asks if Chase will ever accept his apology and if he's coming back to work, and Chase tells him to fire him if it's a problem.
Later, Chase is at the hospital undergoing therapy when Foreman comes by to see him. Foreman reminds him that he owes 20 hours of clinic duty and asks if he's coming back to work in some capacity, even if it's not for House. Chase isn't sure and Foreman figures that if he doesn't do some kind of work, he'll lose his mind. When Chase goes to the clinic, he discovers that his patient is a nun, Moira. She is there with Sister Joan and complains that she has shoulder pains. Chase wants to give her an exam for breast cancer and asks Sister Joan to leave the room. Once they're alone, Chase asks Moira is she is stressed because she is preparing to become a nun, having recognized the signs. He explains that he was a seminarian and Moira tells him that she's been having second thoughts. When Chase does the breast exam, he finds a mass and admits her so that he can run tests.
Wilson confirms that the mass is a fat deposit, not cancer, and the stress tests also prove negative. House brings in the rest of the team, explaining that he knew Chase was up to something and had Park follow him. Chase doesn't want his help and when House asks why he is acting as if House is a jerk when he's known about it for years, Chase says that maybe he's just realizing it. As Chase tries to leave, House blocks him with his cane and suggests that Moira has a fungal infection caused by the unprocessed bread at the nunnery. Chase storms out and Park goes after him to apologize. She suggests that they go out for dinner so he'll have someone to talk to, but insists that it isn't a date. Chase dismissively tells her that knowing she's there for him is enough and walks away.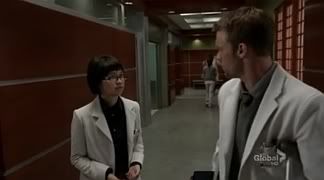 As Chase treats Moira, she realizes that he's Australian and asks if he surfs. He admits that he does and Moira explains that she grew up on Maui. Chase wonders why she wants to be a nun and Moira claims that she merely heard the call from God, and nothing dramatic happened to inspire her. She asks if Chase had a dramatic moment that caused him to join the seminary, and he explains that he only did it because he was brought up in a Catholic church. Moira suddenly starts vomiting and Chase realizes that it can't be a fungal infection.
House is on the lobby balcony preparing soda-filled balloons and Chase finds him. He's not interested in why House is pranking Taub, and asks for his help. House asks what he's going to do, and points out that Chase came back to the hospital even though he claims he wants something different. When House hesitates to take the case, Chase tells him that he'll do it just to find out why Chase is so interested. House suggests ascending cholangitis and then tries to hit Taub with the water balloon. He dodges it and heads for the door, avoiding another balloon in the process. Chase disagrees with House's differential even when House points out that the symptoms could have been delayed. After they finish, Chase goes back to Moira's room and she complains that her feet are numb. Chase realizes that he has no choice but to go to House for advice.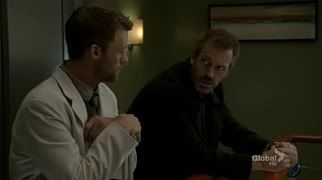 At the conference room, the team is going over another case. House is more interested in trying to shoot Taub with a paint gun, and Taub manages to block every shot with a tray. When Chase tells them about the case, House says that Chase is trying to defer his issues because he was stabbed by a dangerous patient, and Taub is learning martial arts for the same reason. However, House believes that no one can expect unexpected things. To demonstrate, he attacks Taub with a fake sword and Taub disarms him. House then suggests that Moira has a blood clot, but Adams disagrees and suggests a vasospasm. Upon consideration, House agrees and tells Chase to treat Moira with calcium channel blockers.
As Chase leaves, Adams goes after him and asks if he's okay. He reminds her that he almost got killed but Adams says that the fact that he saved her life makes up for it. She wonders how he can't be traumatized and Chase insists that he's fine and that he'll just have to make better choices in the future. When Adams says that she's seeing a trauma counselor and suggests that Chase do the same, he echoes his earlier words to Park about how it's enough knowing that she's there.
As Chase administers the blockers, he notices that Moira has an iPod. She explains that she borrowed it from a nurse, and Chase wonders if she's sincere about her beliefs. Moira insists that he can't argue away her faith but admits that she hasn't felt the calling yet. Chase doesn't believe it, saying that everyone has an epiphany that leads them to taking vows. However, Moira says that she wants the silence and is hoping that the epiphany will come once she takes her vows. Chase doesn't believe it and Moira admits that her decisions will separate her from other people, but she is willing to accept it. She's discussed Chase's womanizing with the nurses and figures that may be why he rejected the Church, but Chase says that there's nothing wrong with having fun. He wonders if someone broke her heart but Moira says that she's simply looking for something more than what she has. Chase says that he's doing the same thing and leaves.
When Chase arrives for clinic duty, he finds Taub hiding out from House. However, he's also there to talk to Chase, and tells Chase that House is helping him deal more than the self-defense classes. Taub suggests that Chase should come back because House will help him, but Chase leaves without answering.
That night, Chase goes to see Moira and confirm that she's getting better. She's ready to leave with Sister Joan, and once they're alone Moira finally tells Chase that she was a nanny caring for a 2-year-old boy, but he was hit by a car when she was taking care of him. She has blamed her ever since, and Chase tells her that she shouldn't run from what could be a good life. Moira insists that she's running to God, and wonders if Chase wants God to remake his life. Chase refuses to hide away and wishes her well, and then takes her hand so she can touch someone one last time.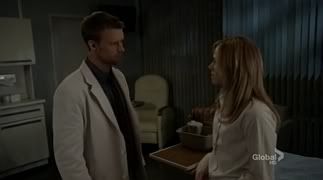 House is waiting for Chase as he leaves and accuses him of hitting on a nurse. He figures that Chase is afraid of intimacy and looking for an emotional anchor, but Chase says that he has a date. However, he is soon bored with his date, an aspiring actress named Leisha. She calls him on it and Chase agrees and goes home. He finds Moira waiting for him outside his apartment. Moira tells him that she was running away from something and takes his hand, and then kisses him. Chase kisses her back and they go into his apartment.
The next morning, Moira cuddles with Chase and he wonders if they are both damned to Hell. Moira admits that her plans have changed but assures him that she understands that he isn't the relationship type. As they discuss what she will do now, Moira suddenly blanks out in the middle of a conversation, and Chase realizes that her neck is swelling. She vomits up blood and Chase drives her to the hospital, explaining that the artery taking blood to her brain is falling apart. Moira momentarily gets better but Chase warns her that the artery has clotted up.
Chase calls ahead and Adams, Park, and Taub are waiting for him. He irritably orders Park off when she hesitates over the proper procedure, and gets Moira into the OR as she starts to lose brain function. House comes in and realizes from the dried blood on Chase that he was sleeping with Moira. The clot breaks and Chase prepares to operate himself, but the others warn against it because he's personally involved with the patient. They turn to House, who tells Chase to do it. When Adams accuses him of trying to suck up to Chase so he'll apology, House insists that Chase is the better surgeon.
In the operating room, Chase prepares to remove the artery but Adams and Taub disagree. He ignores them and removes the occlusion, and then uses ultrasound to make sure that the artery is clear. Again ignoring his teammate's objections, he wakes Moira up and confirms that she has restored mental function.
After the operation, Park apologizes to Chase for her earlier. He realizes that he's scared and Park admits that she's scared of everything. Chase tells her that she'll get over it, but Park blames herself because she had left the room and could have been the one who was stabbed. He dismisses it as pure luck and warns her that he doesn't have time to teach her how to be a doctor. Next, chase goes to see House and tells him that he removed nodules from Moira's artery. House takes a super-soaker out of a trashcan and prepares to ambush Taub after setting him up with a fake lab report. Taub is walking carefully down the hall and watching a nearby janitor. As he waits, House suggests that the nodules are plaque, indicating syphilis. As Taub comes up, House tries to shoot him only to discover that Taub found the super-soaker earlier and rigged it to shoot House in the face.
Chase goes to see Moira and confirms that the last time she had sex was six years ago. If she had tertiary syphilis, the timeframe would be consistent but she isn't consistent so Chase is okay. Moira wonders if the disease could have caused hallucinations and admits that when she was on the operating table, she saw the boy she was caring for come to her and forgive her. Chase seems to accept her vision as valid and says that it should help her move on. Foreman arrives with Adams in tow and talks to Chase privately. Once he confirms what Adams told him, that Chase is sexually involved with Moira, foreman takes him off the case. Chase protests, noting that Foreman lets House get away with anything he wants and Chase saved a life. Unimpressed, Foreman reasserts his orders and leaves. Adams apologizes but Chase angrily reminds her that he took the scalpel that was meant for her. She insists that he needs help but Chase tells her that he just needs to get away from House. Adams doesn't believe it and warns that he's turning into House. They both get a page and go to Moira's room. She complains that she has stomach pains and Adams confirms that her liver is swelling.
Back in differential, Park suggests that Moira has disseminated t-cell lymphoma, and it wouldn't have shown up on Wilson's earlier tests. Chase wants to try and find a cure, but House accuses him of grasping at straws and warns that there is no cure. A bit later, Chase gives the news to Moira, who soon realizes that there's nothing they can do but painfully prolong the inevitable. Chase promises to be there for her and finally admits that he left the seminary because he had an affair with the groundskeeper's wife. However, Moira figures that he was struggling for a reason to be there and the affair was an excuse. Chase admits that he was never able to believe, and then realizes that Moira is slurring her words. She explains that her jaw feels "heavy" and Chase goes to House's office. As he walks, he goes past the janitor who House has paid to tackle Taub. When Chase tells House about the new symptom, he suggests that Moira has jaw claudication. House agrees and orders steroid treatment.
Moira recovers thanks to the treatment and Chase says that he's going to take her surfing in Mexico. However, Moira has decided that she's going back based on her epiphany in the operating room. Chase doesn't accept it, insisting it was caused by oxygen symptom, and tells Moira that he loved her.
Later, House goes to see Chase, who is going over Internet reports on near-death experiences. He's ready to try and argue with Moira over her beliefs, but House tells him that he's an idiot. House insists that Moira has found an illusion that lets her deal with life, and that if Chase takes it away from her then she'll resent her. When Chase accuses his boss of trying to ruin his life and make it as bad as his own, House warns that Chase doing something stupid and stubborn would be the same thing that he did. As Chase leaves, House tells him that people reassess their lives when they make a mistake, but Chase didn't make a mistake. He just got stabbed. Chase goes to Moira's room but sees her praying. He tosses away the Internet papers and goes in to hug her. As he leaves, Chase sees Park trying to test a patient and reading the procedure from the book. Chase goes in and tells her to ignore the books and do it on instinct, and she succeeds.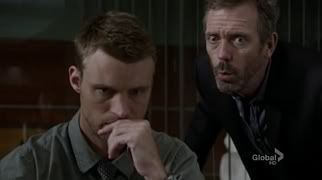 As Moira leaves, Chase goes to say goodbye and admits that he's glad that he knew her. Moira agrees and takes his hand, smiling. After a moment, Chase hobbles away.
Chase is soon back at work, and goes to the conference room to rejoin the team. House looks at him and Chase nods, accepting his apology.
Share this article with your friends