At an AP calculus exam, Matt Davis is among the students taking a test. A girl receives a text message sending her answers, and the teacher comes over to investigate. She demands the cell phone and Matt tries to get her attention to use his restroom. Mrs. Miller finally agrees to get him an escort, but Matt tries to get up, hallucinating what she's saying. The other students realize that he's sick and Matt collapses.
Foreman brings Matt's case to House, but House figures that Matt was taking drugs and isn't concerned. He wonders why Foreman cares so much, but Foreman insists he doesn't. He manages to get House's attention when he says that Matt's tox screen is negative. House still thinks Foreman cares for some reason, but agrees to take the case. In differential, Cameron suggests that someone screwed up the tox screen. House suggests copy machine toner used as a drug, and tells Foreman and Cameron to go to Matt's house and look for it. He then tells Chase to double his atropine dosage.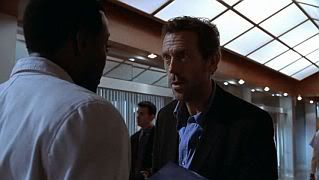 Chase talks to Matt, who says he didn't take drugs. Matt's mother, Margo, insists that her son doesn't take drugs. However, Chase doesn't believe her and talks about how he took drugs. He asks if Matt went anywhere, and Margo confirms that he stayed home and studied alone. She admits that she secretly tested Matt for drugs, but says that he was at home alone and argued about how he would apply for his interviews. As they talk, Matt has a seizure. House watches from outside.
At the Davis home, Foreman and Cameron check out Matt's room and realize it's too clean. Foreman argues that House believes everyone uses drugs because he's addicted. Cameron tries to defend House, but Foreman doesn't buy it. When she asks if he's ever did drugs, Foreman ducks the question and she accuses him of being just like House. Cameron finds homemade tomato sauce with indications of bacterial contamination, and Foreman finds an open jar in the refrigerator.
At the hospital, Foreman and Cameron test the tomato sauce. House comes in and complains that they didn't find any drugs. Foreman notes that Matt made himself pizza, and botulism accounts for the symptoms. House eats the sauce, and then notes that seizures aren't a symptom of botulism. Foreman notes it's not a symptom of drug use, either. House suggests organophosphates, and has already told the nurses to wash Matt down and remove any trace from his skin.
At the clinic, Georgia Adams comes in and complains that she's feeling better than ever at the age of 82. She admits that she's had renewed sexual interest, and admires House. Her son, Mark, is less than thrilled. Georgia talks about how Mark brought home the wrong DVD, and she became obsessed with Ashton Kutcher. She's a bit too eager to have House check her heart and starts removing her blouse. House quickly stops her and says he'll have her admitted for tests, overriding Mark's objections.
Margo watches over her son as they administer treatment for organophosphates. However, Matt flatlines and Chase calls in a team to revive him. They manage to stabilize Matt, but Margo wonders what will happen next. Chase says they'll have to wait and see, but Margo wants to know what her options are.
Back in differential, Chase says they have to wire Matt's heart, and Cameron wonders if they need a stronger treatment for organophosphates. Foreman notes that his teachers developed an experimental treatment involving hydrolates, but they need a specific poison identification. House tells Foreman to call his professor and meanwhile, they have to figure it out. He tells them to check the home and determine if Matt was sprayed with pesticides while treating his mother's homegrown tomato patch. While Foreman and Cameron check it out, Chase inserts a wire into Matt's heart to keep it pumping.
At the Davis home, Cameron checks out the shed for pesticides.
Wilson finds a love poem that Georgia has written to House, and can't resist teasing him about it. He gives House Georgia's test results. Cameron calls to tell House that she's identify the poison. They give Matt the specific antidote, but Margo explains that Matt dumped the can last winter and has been using organic treatments ever since. She worries what will happen if they give Matt the wrong treatment, Chase admits it could increase the toxicity, but insists that they're not wrong. Margo refuses to let him continue. She protests to Cuddy, and House insists that Margo is incompetent because she's taking Matt's word that he didn't use the pesticide. Cuddy stands by Margo's decision, and House goes to see Margo. He reads her statement and points out stupid she is for endangering her son, and Margo reconsiders. However, Cameron reports that they have another problem: a student named Chou-Young Ling has checked in with identical symptoms. The team manages to stabilize him, while Cameron explains that Chou-Young lives ten miles from Matt and the two students don't know each other.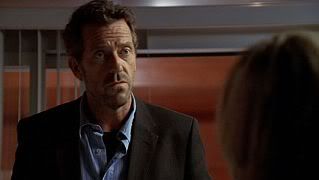 Cameron talks to Chou-Young's parents, who inform her that they have no fertilizer. House orders more oxygen treatment to stabilize Matt, and then tells Chase that Margo wants him off the case and complained to Cuddy that he admitted that he took drugs. Cameron reports that the two students have no connection, but House asks how they get to school. Cameron and Chase talk to the bus driver, who refuses to let them test until he warns that two students on his bus have been poisoned.
As Foreman tends to Matt, Margo talks about what House said. Foreman insists that it was their only choice, and House assumed that she was wrong. She points out that Foreman is just as pompous as House.
The bus driver tells Cameron and Chase where the students sit on the bus, and complains about a rash. Cameron tells him he has nothing to worry about. He remembers a truck down by the pond that was doing spraying.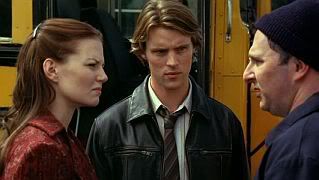 House comes to see Georgia and tells Mark to go outside first. Georgia insists that he stay, and House asks if she's had any recent sexual activity. She admits that she hasn't had any in 15 years, but Mark says that her husband died eight years ago. Georgia admits they didn't do anything seven years before that. House tells the Adams that Georgia tested positive for syphilis, and realizes that she's heard the diagnosis before. She explains that she has what they used to call Cupid's Disease, and got it in 1939 on prom night. Mark is shocked, and Georgia tells him it was only sex. The treatment suppressed the syphilis for 60 years, but now it's eating away at her brain cells. He proscribes penicillin and Georgia says that she'll practice safe sex, much to Mark's disgust.
Cameron and Chase return and report that the county sprayed for West Nile's Disease. There are hydrolates for the spray, but Foreman warns that Margo refuses to authorize treatment until they hear back from the CDC. The only one who will listen to them is Cameron. However, Margo insists on getting a second opinion from CDC, and isn't impressed with Cameron's "vulnerable honesty." Cameron warns that if Matt doesn't get the treatment, he'll die, and tosses the decision back to Margo. She gives in and Cameron administers the new batch of hydrolates to Matt, while Foreman treats Chou-Young. Matt and Chou-Young both have seizures.
They manage to stabilize both patients, but their lungs and livers are shutting down. The team figures the poison was administered through the skin, and Matt was poisoned before he got on the bus. House tries to figure out what they both do in the morning, and sends Cameron and Foreman to check both houses. As he goes, Georgia approaches him and explains that she came back to be with House without her son as chaperone. She wonders if her feelings are because of the syphilis, and House says it is. Georgia then tells him that she's refusing treatment: she'd rather feel sexy and die then live a boring life. House explains that she's already brain-damaged and will suffer the "symptoms." Georgia promises that she'll come back for House once she's no longer contagious.
Cameron and Foreman check out the two houses and don't find any common toiletries. Meanwhile, Chase warns that Matt's liver is about ready to go. Foreman and Chase call in and confirm they use the same liquid detergent, and House figures it soaked into their clothes and got onto their skin. House asks Chou-Young's parents if their son washed his clothing, but they say that he doesn't know how to use the washing machine. Further, his clothes are all new and have never been washed. House wonders if Matt's clothes are new, and they go to the storage room to check. House and Chase discover that he has old clothes. However, the label on the pants aren't faded, and that the jeans are fake-old. Chou-Young wore a different brand. The team tests both pairs of pants.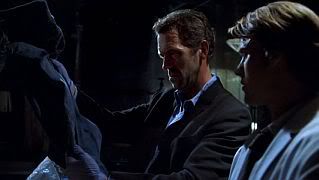 As he waits for the results, House talks with Wilson about clothing. Foreman comes in and confirms that both sets of jeans have phosphor. Margo has refused to authorize treatment, and won't move until she gets CDC treatment. They realize that Matt will be dead before the CDC responds. House goes to see Margo and offers her a cup of coffee, and she wonders why he's there. He says he's just there to hang out, and puts the vial of medicine on the counter. Then he waits and watches TV, then warns her that the CDC will take several days. Margo asks why he thinks he's right this time, and he admits that it's the same reason he thought he was the last time. The CDC calls and tells Margo that they can't help her. She tells House to give Matt the hydrolate. As he leaves, Chase tells House that he faked the call.
Matt and Chou-Young finally recover. Once he's up and about, Matt apologizes to his mother for wearing stolen pants. She's just glad that he's alive, and admits that she's too hard on him. Meanwhile, Foreman confirms that someone was selling stolen pants near the school, and used the same truck at a cornfield where he worked and where pesticide was spilled. House wonders why Foreman isn't with the mother, and says he has no reason to unless he doesn't care about them. As House and Foreman leave, Margo tells House that she heard from the CDC, and knows what they did. She admits to Matt that they're the arrogant jerks that saved his life. House and Foreman get into the elevator together... wearing the same shoes.
Share this article with your friends