Orion and his New Genesis attack fleet fire on the retreating forces of Apokolips, lead by Steppenwolf. Steppenwolf realizes that they're doomed and signals his lord and master, Darkseid. Darkseid admits it was a calculated risk and tells Steppenwolf to take as many with him as he can. They lose contact and Orion calls to inform them that the invasion is over. He creates a Boom Tube and sends the wreckage of Darkseid's fleet directly atop the palace, bring down the statue of the planet's ruler. When the dust has settled, Darkseid pulls himself from the wreckage. Highfather contacts him to warn that if he breaks the treaty again, he'll be destroyed.
Hawkgirl is aboard Watchtower, watching birds fly, when J'onn comes in and realizes she misses her homeworld. He apologizes for prying but Hawkgirl says it's okay, and he offers to listen.
On Apokolips, Darkseid and Desaad watch as Kalibak drives the slaves to restore the statue of Darkseid. Desaad warns that Darkseid overextended himself in getting the Anti-Life Equation. Darkseid takes offense and unleashes the Omega Force on him, disintegrating him. He then looks up as a massive spaceship descends upon the planet. Kalibak runs to his father and they watch as it looms over them.
Hawkgirl explains that she tracked criminals to a fortress, and they used a molecular dispersal beam that sent her from Thanagar to Earth. She notes that her planet is so far away that it has never made contact with the Green Lantern Corps. J'onn notes that they are almost all exiles and orphans, but is interrupted when the satellite shakes and the security alerts go off. They join with Superman, Batman, and Wonder Woman, who are registering a massive energy surge. Superman recognizes it as a Boom Tube, a teleportation portal. Darkseid arrives and Superman immediately attacks him. Wonder Woman and J'onn restrain their comrade, and Darkseid explains that he needs their help. His military force is weakened after his attack on New Genesis, and his planet is now being assimilated by... Braianiac. Superman doesn't believe him but Darkseid warns that Brainiac will assimilate all of Apokolips and then destroy it, killing millions. Darkseid departs, leaving the League to think about it.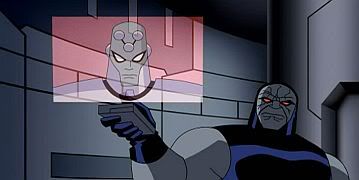 The others can't believe that Superman would let millions die, but the Man of Steel warns that Darkseid has something up his sleeve. Batman notes that in Superman's last encoutner with Darkseid, the ruler of Apokolips brainwashed him into becoming his servant and unleashed him against Earth, but tells Superman to get over it. J'onn takes a more diplomatic approach, noting that Brainiac is from Krypton and his destruction will be the planet's legacy. Superman reluctantly agrees, but warns that there is more than what they're seeing. However, he asks Batman to do something for him first.
Darkseid's forces attack Brainiac and his ship, but he ignores them from within his forcefield. He then launches drones which destroy the attacking war machines and force Kalibak to retreat. Darkseid receives word that the Justice League have agreed to help, and teleports Superman, Hawkgirl, and J'onn, arriving in a Javelin. They watch as Brainiac assembles a machine to obliterate the planet, and then launch their attack.
Batman and Wonder Woman arrive on New Genesis and look for reinforcements. A giant worm-creature attacks them and swallows Batman. He blasts open its teeth to free himself and Wonder Woman tries to lasso it. It knocks her down and moves in for the kill, but a red-and-white clad figure uses a buzz bomb to drive it off. He gets Wonder Woman and Batman to safety, and explains that he is Forager. When they ask for Orion, Forager says that he is a mere Bug, and Orion and the others are gods who live above them. He points to the giant floating city where Orion and the others dwell.
While J'onn pilots the Javelin and fires at Brainiac's drones, Superman and Hawkgirl attempt to penetrate the forcefield. Superman is repelled, and Darkseid informs him that he has a plan.
Wonder Woman flies Batman up to the city and try to find Orion. A bright shining figure, Lightray, soars by and considers them bugs. He taunts Wonder Woman, who chases after him. She drops off Batman and then lures the New God back so Batman can capture him. Orion arrives and demands to know why they are there.
Superman throws debris at the forcefield, which has no effect. Brainiac dismisses his efforts and then opens a gap in the field to blast his opponent. Superman flies up to the portal and widens it so that Darkseid can fire a blaster through and hit Brainiac. When Superman brings the forcefield down, Kalibak orders his troops to destroy the planetary assimilation mechanism. Superman attacks Brainiac, who teleports back into his ship and departs. The Justice League pursue but Brainiac opens fire, blasting Hawkgirl and Superman back. Darkseid tells them to finish the job and J'onn arrives in the Javelin
The heroes take up the pursuit and follow the ship into an asteroid field. Brainiac's ship seemingly disappears, but they spot a crater filled with machinery. A tractor beam latches onto the Javelin and pulls it into the asteroid, shaped like Brainiac's head.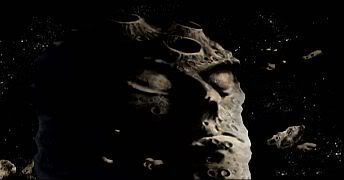 Share this article with your friends