Scientist Oren Metz enters his office and confronts his partner, James Kanack, who is talking about the Kanack Hybrid Engine to his investors with Braddock Aeronautics. Oren pounds on the conference room door and accuses Kanack of being a thief, and the guards take him away while Kanack's head of legal, Kip Bryden, says that they had to fire Oren because he was mentally disturbed. The head investor, Forrest, agrees to purchase the hybrid jet engine at the agreed upon price and Kanack says they'll have the contract ready in two weeks.
Oren goes to the restaurant and tells Nate and Sophie that he went to Kanack for research funds, but Kanack ruined his reputation by claiming that he was suicidal. The scientist admits that he mixed his medication and went to the hospital, but Kanack altered the files to make Oren seem unstable. Bryden convinced the judge that all of his work was trade secrets so they couldn't be introduced in court, but Oren left electronic watermarks on them that will show they're his if they can get the files. Nate abruptly agrees to take the case and walks away, leaving a surprised Oren and Sophie.
At the meeting, Nate tells Eliot and Sophie that he's sent Parker and Alec on and figures that it's an easy job. They go over Kanack's history and the fact that he inherited his money from his father and then bought a lot of young researchers to steal their work from. There have been no new deposits from Braddock so Nate figures that they have plenty of time to steal the files back.
Nate checks in with Alec and Parker, who are already at Kanack Worldwide. Parker routes works out a route through the vents, but Alec doesn't want to be exposed to dust mites. He's built a remote unit, Marvin, but Parker wants to go in on her own and bets on who can get to the server room first. Alec uses his remote to shut down the security systems. When the guard goes off, he heads inside only to run up against a real key. Parker is already inside and lets him in, and then contacts Nate on the security cameras. He tells them that they have company running as Alec downloads the files. When the guard arrives a minute later, there's no sign of them because they've climbed up in the vents. Parker points out that it's nice being close, until she reminds him about the dust mites.
That night, the team goes over the files and Alec explains that they've been scrubbed clean. Kanack hunted out all of the digital watermarks and removed them, and the huge files are audio recordings of static. Nate plays them and Eliot recognizes them as military satellite intercepts. They figure he got them by accident, and Nate takes a look at the server room. He realizes that Kanack is listening for alien signals and figures that they can appeal to Kanack's desire for fame. If they convince Kanack that he's only heard half the message, they can con him into paying for the other half.
Alec and Eliot take the van out into a field and discuss the mathematics of alien life civilization. The hacker explains that it's the best place nearby to bounce a signal off the very first satellite: the moon. Nate checks in and Alec assures him that he made the signal realistic. Eliot marches through the field with the equipment so they find the precise spot to bounce the signal so that only Kanack hears it. He hits the right spot and Alec sends the signal and then has Eliot move some more until Eliot realizes that he's being played. Meanwhile, Sophie arrives at the meeting room and comments on Nate's not listening earlier. They watch on the security cameras as Kanack hears the signal and assures Bryden that they definitely have made contact. Kanack then sends a message back but discovers that someone close to his signal is picking it up as well. He tells to dismiss all employees except security and take a team to capture the man near the signal. Parker has already attached a tracker to the SUV with Bryden and his muscle.
Eliot and Alec follow Bryden's van and Alec uses Marvin to manipulate the traffic lights so they catch up to the SUV. Bryden's men go to the trailer, take all the equipment, and haul away the man who picked up the signal. When they take the man back to Kanack, Kanack admits that he abducted him as a precaution and their prisoner, Eliot, starts ranting about alien abductors. Nate and Sophie watch and Sophie admires Eliot's work with his character. When Nate wonders why, she explains that she's picking up hints for the theater that she's going to start. Meanwhile, Kanack offers his state-of-the-art equipment to Eliot so that they can join forces, confirm the signal, and go public together.
Alec and Parker come in dressed as Men in Black and confront Kanack. They explain that they've noticed satellite taps and want to make sure he isn't tapping into government satellites. Kanack refuses to be intimidated and tells them to get a warrant, and Parker and Alec leave. Kanack tells Bryden that he wants to make sure he gets his name on it first to guarantee everyone remembers him.
Once he's alone, Eliot uses the clean file that Alec sent. When Kanack comes in, Eliot tells him that he's cleaned up the signal but they need a cryptanalyst to decode it. Kanack agrees to bring in Eliot's recommended expert: Sophie. She tells Kanack that there's a definite pattern and that the transmitter wants Kanack to send the missing numbers in the sequence back. Kanack says that it's just a game that he's playing with another scientist and pays Sophie her consulting fee in return for absolute discretion. They then go to tell Eliot to send the new numbers, but Eliot says that Kanack needs a geostationary satellite. Bryden points out that it's exorbitantly expensive but Kanack tells him to get a satellite dealer. Alec starts checking and confirms that Roger Bosley is the man who owns the satellite company, Annandale Communications. They intercept Kanack's call and tell him that Bosley is out of the office on personal business. Parker, posing as a receptionist, delays him until the next day.
The next day, Nate goes in posing as Bosley when Kanack and Bryden arrive to purchase one of his satellites as soon as possible. Nate holds out for $32 million and warns that it will take two years to get a satellite up. When Kanack offers to pay anything, Nate says that it would have to be under-the-table. He explains that his boss has a private satellite and Nate can get Kanack piggyback access for $1 million deposited into an offshore account. Kanack tells Bryden to make the transfer. Back at the company, Kanack gives Eliot the sequence of numbs to send via the satellite.
Nate and Sophie meet with Oren and give him the check for $1 million that they took from Kanack. However, Oren gives it back and Nate realizes what Oren was trying to tell him earlier, that he wants his reputation back. Oren thanks them and walks away.
Nate meets with the others and Alec suggests they transfer it directly into Oren's account. Meanwhile, Nate realizes that Sophie knew all along and figures that they need to make Kanack insane. He then has Alec prepare a signal to send back.
Eliot warns Kanack that his friend was abducted and that the aliens may come after Kanack if they realize that he's found them. Parker and Alec arrive and Bryden calls Kanack away to deal with them. Meanwhile, Nate and Sophie go over their new plan and Kanack calls Sophie back in.
Parker and Alec present their warrants to Kanack just as Sophie arrives. The CEO has no choice but to let them in and then he escorts Sophie in to his monitor room. Kanack has Sophie sit down with Eliot and leaves them alone, and Bryden warns his boss that he's going to crash his deal with Braddock Aeronautics if he doesn't focus. Sophie calls Kanack back in and tells him that they've decoded the message and realized that it's taken from the Mayan alphabet. It says, "He who comprehends these words is worthy of our presence." Kanack thanks her for her help and doubles her last payment and then has Kanack prepare a press announcement. He tells his security men to confine Sophie so she doesn't release the information early, but Nate knocks out the security man sent to capture her.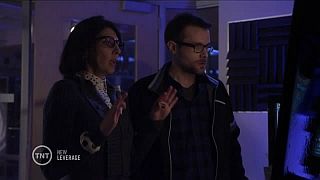 Nate warns Eliot that two security men is on the way to him, and says that they can't risk any signs of a struggle throwing off the con. Eliot is forced to knock out the men without breaking any of Kanack's souvenirs. Parker arrives and Eliot starts to haul them away, but he gets an idea.
When Kanack returns, he discovers that Eliot and the security men have all disappeared, leaving nothing but their boots. He looks around the facility for them and finds more empty boots. A staggered Eliot runs in and tells Kanack that the aliens abducted him. They sent the signal to find the best of the best on Earth, and Eliot told them that Kanack is the one. Eliot "dies" and unearthly whistling noises echo out of the darkness. A glowing light appears and Kanack runs off.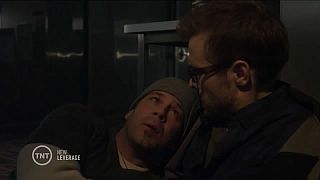 Nate and Alec watch from the van as Kanack panics, and Alec continues to tamper with all of the electrical equipment. Parker cues an ultrasonic projector that she and Alec planted earlier, and Alec triggers all the remote device that they placed when they were serving the warrant. Sophie arrives and bangs on the window, and then is lifted into the air and sucked backward out of sigh thanks to a theatrical harness. Outside, she meets with the rest of the team and Alec explains that he's programmed all of the lights and sound to play randomly throughout the night so that he won't leave.
The next morning, Kanack is cowering in his office when Bryden arrives. The lawyer suggests that they have the press come back the next day, but Kanack insists on telling them what he's found out. He goes to the press conference and Bryden tries to announce the sale of the hybrid engine. However, Kanack tells them that he's made first contact with alien life. He plays the message that he recorded as Eliot comes in, and Kanack says that he saw him die. Sophie also comes in as Kanack starts hearing noises, unaware that the team has planted a miniature speaker on him so that only he hears the aliens. Kanack starts rambling, telling the aliens not to probe him. Nate brings in Oren and introduces him to Forrest as the real designer of the hybrid engine. Oren has the files to prove it and he goes off with the investor. Kanack plays the CD that he had Eliot made of the alien response, unaware that it's one of Alec's music mixes. As Nate leaves, Kanack recognizes him from the satellite company.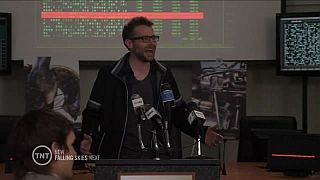 Later at the restaurant, Oren thanks them for his help and says that he'll be getting credit and a research grant for his work. Nate thanks him for showing him how to listen. Once Oren leaves, Sophie points out that Nate is the one who created the research grant, but Nate figures that the work is what important. He thanks Sophie for teach him how to listen.
Parker comes to see Alec with a picnic basket, but she apologizes because it's raining and the picnic is ruined. He tells her to close her eyes and assures her that nothing is ruined, and then brings up a projection of the night sky.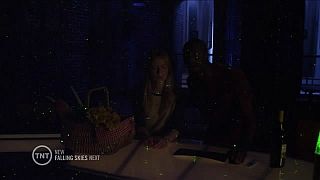 Share this article with your friends