In Belgrade, an American couple, the Mortons, meet with black marketeers to get their adopted son, Luka. When their leader, Irina Larenko, demands more money, a fight breaks out and the husband, Joe is clubbed to the ground. His wife Dana calls out for help.
In Los Angeles, Dana meets with Nate and explains that Joe had an arrest in college for using dope, meaning they couldn't adopt the U.S. They went to Serbia, where Irina assured them she could find them a baby in return for a substantial "administrative fee." When Irina didn't deliver, the Mortons flew to Serbia and threatened to go the authorities. She showed them a photo of Luka, and the Mortons agreed to give her $120,000. However, the Mortons don't want the money: they want Luka.
Nate briefs the team and explains that Irina let Luka stay with the Mortons for the week before taking her away. The team wonders how they can abduct a kid, and Nate admits that the American authorities won't get involved. Parker looks at the photos and confirms that Luka is an orphan, and appears to be speaking from personal experience. Hardison informs them that Irina was a former Russian model and minor actress, and Eliot and Nate realize she was in soft-porn flicks. She then lost her money and fell in with Russian mobsters, and became a grifter. Irina has a link set up on legitimate web sites, suckers people in, drains them of all their funds, and gets war orphans. Hardison has found her name on an invitation list to the embassy in Belgrade. Nate says it's time to leave, and Sophie is eager to stop at France on the way back.
At the American Embassy, Parker goes undercover as a waitress and Eliot as a football player. Parker spots Irina with a man and Eliot sends a picture of him to Nate. Nate and Sophie are at a borrowed office, since Sophie worked a scam on the American ambassador in the past and he'd recognize her. Hardison runs a facial recognition program and matches a face, but no name. It's the man who picked up Luka from the Mortons. Nate tells Parker to pick the man's wallet, while Sophie prepares to give Eliot tips on hitting on Irina.
Parker loses Nicolas in the crowd, but he approaches her and hits on her. She ends up giving him Hardison's name, and Nate tells her to pose as an exchange student and get his name. Parker does so, awkwardly, and the man introduces himself as Nicolas Obrovic.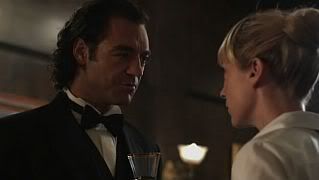 Eliot offers a drink to Irina, and she casually dismisses him as an American. Sophie tells him to give her a chance to be interested in him, and offers him some tips. Eliot ends up identifying himself as a rich businessman who owns a ranch but travels the world, and gets her interest. Meanwhile, Nicolas makes conversation with Parker and Nate tries to keep her going, while wondering if Sophie has been manipulating him. Meanwhile, Hardison determines that Nicolas is a former smuggler who went legitimate and now runs a government agency who takes in families from the war. Nate has Parker bring up the subject with Nicolas, and she imagines the families he's torn apart. She then grabs a fork and stabs him in the chest, and he calls for his bodyguard. Parker jumps over the balcony while Nicolas' bodyguards get him out. Eliot tells them what happened and Sophie figures that Irina will meet with Nicolas later through a dead drop. Nate has Eliot claim that he's producing a film with roles he needs to cast, and Irina eagerly asks if she can audition.
Eliot returns to base and has no idea where Parker can be found. Hardison figures she's gone, but Parker slips in and acts like nothing happened. Now they have to steal a movie. The next day, Hardison, Parker, and Sophie find a team shooting in Belgrade and interrupt the cash flow. The producer leaves for Los Angeles, while Sophie slips the director a cell phone and Hardison calls him with a major movie job in Vancouver. When Parker wonders why Sophie did the lift, Hardison explains that it was because Parker lost control. Nate takes the position as the new director and loses himself in the role.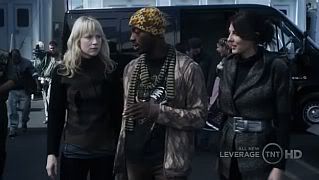 Eliot shows Irina around the set and then takes her to Nate, and Nate promptly agrees to give her a role in the movie. Parker is "demoted" to posing as an assistant, and Hardison points out that they can't trust her after the incident at the embassy. They discover that Sophie has taken the scene they need of Irina with a boy, and written herself into the script as a nun, despite the fact the movie is about werewolves. Nate points out all they have to do is get Irina to bring Luka to the set, but Sophie insists that they need her expertise. Nate can't bring himself to tell her that she can't act, and agrees to let her do the scene.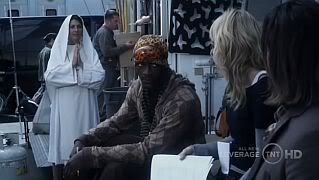 The filming begins and Sophie runs through a fake forest with soldiers in pursuit. Her character is shot and Sophie gives a dramatic death scene. Eliot is astonished, and Nate explains that Sophie can act when it's part of a scam. Irina comes in and Eliot and Nate stage an argument where they explain that the kid who was going to play her kid in the movie didn't appear. When Nate threatens to cut the scene, Irina offers to find them a boy to match the blonde ten-year-old they had cast.
Parker follows her to an orphanage, and complains that Hardison is following her. Hardison explains that he is doing it on her own. Irina goes in to a building labeled as an orphanage and meets with Nicolas. Armed guards are all over the place. Parker ducks into a room and finds it filled with orphans in filthy living conditions. Parker breaks into tears at the sight, and is forced to hide beneath the bed when Irina comes in and gets Luka. Nicolas has his men take out some crates and Parker follows them, ignoring Hardison's advice. Parker confirms that Nicolas is selling the weapons in the crate to some buyers,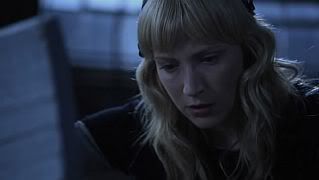 Parker meets with Hardison and says that they have to bail. She doesn't want to get involved, figuring that they can't make a difference, and Hardison says that they can do something about this orphanage. He explains that he was an orphan, and not every orphan that goes into the system ends up like Parker did. Parker reluctantly agrees to take on Nicolas and free the orphans.
When the team gets back together, Nate explains that arms dealers often use hospitals and orphanages to protect their goods. Hardison confirms that the buyers, Chechnyans, are picking up their purchase the next day. Nate says they need to concentrate on getting Luka out and ignore the other orphans, and Parker agrees. He assures Hardison that they'll make a plan and come back later, but they don't have the resources to do it now.
The next day, Irina arrives on set with Luka and Nate shows them how they'll duck into a cabin and Irina will hide Luka in a college. Filming begins and the scene goes as Nate described. A werewolf bursts in and "kills" Irina, and she dramatically dies. However, when she gets up, she discovers that Nate has disappeared... and taken Luka with him.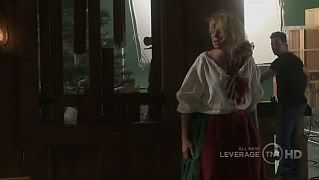 Nate meets with the rest of the team and they reunite Luka with Joe and Dana. Eliot admits that he feels good about the mission, and Nate assures them they'll come back. However, they realize that Parker isn't there and she's removed her earbud. Hardison explains that he put a GPS tracker in her shoe, and determines that she's heading back to the orphanage.
At the orphanage, Nicolas is finishing his deal with the Chechnyans. Meanwhile, Parker goes into the children's room and tries to speak to them, using a translation dictionary without much success. She finally gets results by promising them ice cream. However, when they leave they find Nicolas waiting for them. Parker attacks him and manages to take him down. She then gets the orphans out, leading them down the stairs. She spots the Chechnyans getting their merchandise and hesitates, and Sophie arrives to lead them back upstairs. The Chechnyans spot them and grab the guns, and police arrive outside and call on them to surrender. Nicolas comes back, grabs a gun, and orders them out.
Nate is waiting outside in a bus, and Sophie gets the orphans on board. Eliot takes out a guard and Nate drives away with the others. Nicolas and the Chechnyans come out and the bus grinds to a halt. Parker stares in horror as the crooks open fire... and realize they're firing blanks. Sophie explains that they're the guns from the prop truck. Hardison comes out and triggers an explosion, destroying the now-empty orphanage. He gets on board and Nate drives away, playing a sound effect from the movie that they used to convince Nicolas the police were moving in. The Chechnyans demands their money back, as bills drift down from the explosion.
Later, the team makes preparations to get the kids over the border and into the hands of the World Health Organization. Nate assures Parker that they'll be okay. Meanwhile, Nate explains that the money that Hardison transferred out of the movie account later has mysteriously found its way into Irina's bank account. As they prepare to go, Sophie asks if Nate got a copy of her death scene so she can use it for her resume. Eliot admits there was no film in the camera, and Sophie swears that they'll stop in Paris. When Parker wonders how Nate knew where she was, he tells her to thank Hardison. Hardison points out that they work as a team and she notes they're more than a team.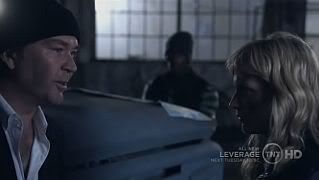 Share this article with your friends