MacGyver's grandfather Harry Jackson is fishing in Minneapolis with a neighbor boy who has noticed that Harry keeps catching fish while he doesn't have any luck. Harry shows him his fishing lure made out of a gum wrapper. The boy explains he learned to fish with his grandfather and Harry talks about his grandson, showing him a picture of MacGyver. Harry demonstrates how to cast and then collapses with a heart attack. As the boy goes for help, Harry tries to look at MacGyver's photo again but drops it.
In Los Angeles at the Museum of Art and Natural History, MacGyver is trying to make flight arrangements to Minneapolis without success. Pete arrives to prepare to turn an Egyptian relic, the Sun Boat, over to the consulate. Hakim from the consulate arrives and MacGyver notices that he's wearing an amulet with an Egyptian marking.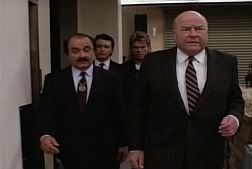 In a nearby parking lot, Tarik parks his car and then removes canisters of tear gas and a gas mask from his trunk.
While Hakim complains about how black market dealers have been selling Egyptian antiquities, Pete introduces him to Jeremy Stintson, the museum curator. Stintson shows them the Sun Boat and MacGyver points out that the symbol on the boat is the same one that Hakim is wearing. Hakim explains that the symbol relates to Osiris, and protects a man's soul. MacGyver seems momentarily taken aback and then goes to check on his grandfather. Meanwhile, Tarik slips in, tosses in the gas grenades, and steals the Sun Boat while Pete and the others are helpless. Stintson manages to hit the alarm and MacGyver comes to investigate. He chases after the thief, who runs up to the parking garage. The two men struggle and Tarik tosses MacGyver over the railing, where he lands several stories below on a car.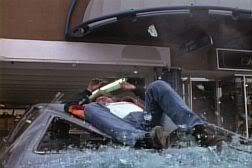 Pete accompanies MacGyver in the ambulance to the hospital. Outside the museum, Hakim meets with Tarik and insists he wanted no one hurt. Tarik complains that he had no choice but Hakim warns that everyone will be investigated despite their diplomatic immunity. He plans to smuggle the Sun Boat out of the embassy under diplomatic seal and sell it to his client. When Tarik reveals that MacGyver saw his face, Hakim tells him to make sure he doesn't have a chance to testify
Hakim and Tarik, his security aide, go to the hospital where Pete is watching over his friend. The doctor informs them that MacGyver is suffering from possible brain damage due to his head injuries and has lapsed into a coma. As they check on him, MacGyver is aware of what's going on but can't speak or move. He sees Tarik and realizes that he's the thief, but can't warn Pete.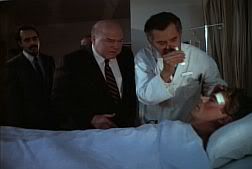 As he lies in his bed, MacGyver looks up to see Harry there. Harry walks out and MacGyver gets up and goes after him, and then realizes that he's left his body behind. No one can hear him and Harry shakes his head once before walking off. MacGyver goes after him as he walks down a long dark tunnel with a light at the other end. MacGyver tries to go back but discovers the door is locked. With no other choice, he follows Harry and finds himself on a dock beside a boat with the name
Osiris
. He sees Harry going up the boarding plank and tries to follow him up. The chief purser, Anubis, knows who MacGyver is. Anubis, who looks like Hakim, says they're in the netherworld and MacGyver realizes that he's dead.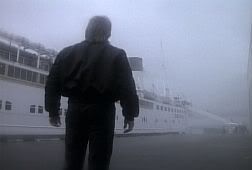 At the hospital, Hakim gives Tarik a syringe with orders to put it into MacGyver's IV at the first opportunity.
At the ship, the crew determines that James and Ellen MacGyver are aboard and there to greet Harry. MacGyver realizes his parents are aboard. The crew claim MacGyver isn't on the manifest, but Anubis tells them to check the manifest again.
At the hospital, Pete checks with the police. They believe an inside man was involved. Hakim assures Pete that his ambassador will let them search the embassy. Meanwhile, Tarik sneaks into MacGyver's room and puts the drug in the IV. MacGyver's ECG flat lines.
At the
Osiris
, MacGyver's name turns up on the manifest and he's cleared to go aboard. He spots Harry, who is surprised to see him there. He tells his grandson to leave and doesn't believe that MacGyver is dead. Harry explains that the fall didn't kill him and he can still fight. There's one last boarding call and Harry warns that if MacGyver is still on board when they cast off, he won't get back. MacGyver insists that he have the chance to see his parents and tell them how much he loved them, and Harry reluctantly gives in.
As the doctors try to revive MacGyver, Harry takes MacGyver across the ship. MacGyver says that he finally belongs. They arrive on the deck where James and Ellen are waiting. Harry goes to warn them. They greet him and tell him that his wife Celia couldn't make the trip but is waiting for him. MacGyver comes over and is reunited with his parents.
At the hospital, Dr. Brolenz explains that MacGyver's heart has flat lined and they don't know why. Outside, Hakim is informed that the Sun Boat is safely hidden at the consulate. However, they can't afford to refuse a search so they need to provide the police with a new suspect. Hakim figures that if Pete disappears, the police will conclude that he stole the Sun Boat.
Aboard the
Osiris
, Ellen is talking about MacGyver's childhood. James remembers the incident and explains that he watched over his family even after he died. They tell MacGyver how proud they are of him but he admits he's not so proud of the fact he couldn't be there when Ellen died. She tells him to let go of the past and assures him that he's earned his rest. Harry doesn't believe it, insisting it isn't MacGyver's time. MacGyver wonders what he has to go back for and Harry says he has friends who depend on him. Harry tosses him a coin with the Egyptian symbol on it and invites him to look through a ship's telescope. When MacGyver looks through it, he sees the future: Pete being killed by Hakim after finding the Sun Boat. Harry tells MacGyver he's the only one who can stop him.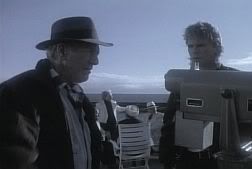 MacGyver realizes that he has to go back and warn Pete, but Harry warns that there are no promises. MacGyver goes to his parents and explains that it's not his time. They share one last embrace, knowing they'll meet again. The last boarding call goes off and Harry takes MacGyver to the boarding plank.
At the hospital, the doctors try to revive MacGyver, who is suffering from heightened potassium levels. Hakim and Tarik arrive to meet with Pete.
Harry tries to get MacGyver off the boat, insisting MacGyver isn't dead, but Anubis thinks he's in denial. He has his men lock both of them up in the engine room until after they embark. Harry wonders what was so important that MacGyver came on the boat after him and MacGyver says they had a lot to resolve. He apologizes for not spending more time with his grandfather but Harry points out that neither one of them like being crowded. MacGyver points out that they've never spent Christmas together but Harry says that love isn't something for weekends and holidays. Looking around, MacGyver spots the propeller shaft and gets an idea. He hooks a fire hose up from the shaft and ties it to the engine room door. When the ship starts up, the fire hose tightens and pulls the door loose.
MacGyver and Harry head for the deck as the
Osiris
starts to pull out. MacGyver lowers a line and prepares to swing clear. He asks Harry to come along but Harry says that his time is up. MacGyver embraces him, calling him "grandpa," MacGyver swings clear and Harry lowers him. As the ship pulls out, Anubis arrives and reverses the winch.
In the hospital, the doctors manage to revive MacGyver but warn he's not on solid ground.
MacGyver tries to swing to the dock and jumps. He clings to the edge of the pier and starts to fall into the water…
And Pete grasps his hand as MacGyver revives in his hospital room. MacGyver is unable to speak but glances over at Hakim and gestures with his finger. Realizing he's trying to signal them, Pete spreads powder on a tray so that MacGyver can sketch out the symbol. Pete takes them prisoner at gunpoint and has the doctors call the police.
Later, Pete tells MacGyver that they found the Sun Boat and Hakim and his men have been deported. He expresses his condolences about how MacGyver couldn't make it back for his grandfather's funeral, but MacGyver figures that Harry understands. Pete admits he was scared at how close MacGyver was to dying.