MacGyver travels to Kasabian but his car breaks down. He heads for the garage, but a policeman orders him back when he comes to migrant workers picketing in the streets. A labor organizer, Tony Garcia, is speaking out about how the contractors are using illegal pesticides and poisoning them. The company owner, Caspar Kasabian, arrives and insists that he follows the government regulations, but Garcia points out that the laws are weak and the growers pay off the government agents who enforce the laws. Caspar's son Nick is tempted about the protestors to do something but his father has tied his hands. Caspar insists the photos proving pesticide contamination are lies and the poisoning occurred in somebody else's fields. Caspar threatens Garcia and a fight breaks out. MacGyver jumps in to help Garcia and the police arrest him along with the others.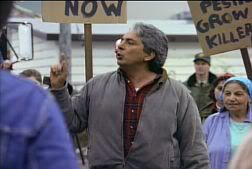 At the sheriff's department, Kasabian makes bail for his men, including Victor Lopez, a local man who works with Kasabian. One of the young workers, Alex Silva, accuses him of being a sellout. Garcia defends Lopez, saying he's not the problem. As Lopez leaves, Garcia tells him to do what he has to do. Garcia then tells the other workers that they've made a good start. Alex is unimpressed, accusing his father-in-law of sounding like a politician. When MacGyver wonders if they're on the same side, Alex snaps at him but Garcia thanks MacGyver for his help. Garcia explains that despite all the investigations, no one knows what is causing their illnesses. Alex explains that there are cancer clusters in McFarland and the same phenomenon is happening in Kasabian. Garcia insists that he's discounted all other factors and pesticides are responsible for the increased illnesses. MacGyver defends the government studies but Alex and Garcia say they need recognition from the growers about their concerns.
That night, the officers release the prisoners. As Garcia leaves, the sheriff warns that he's a troublemaker and Kasabian is loyal to his workers. The sheriff admits that the investigators are spread thin but they're doing what they can. Outside, Garcia offers to put MacGyver up for the night and have his nephew fix his car in the morning. As they drive home, Garcia tells MacGyver that he's received some groundbreaking information but refuses to tell him. As Garcia talks about his crippled daughter Natalie, a truck slams into the back of Garcia's truck and the passengers open fire. Garcia goes off the road and he and MacGyver run for it. Garcia draws the men away as MacGyver hides in the fields. A few seconds later, MacGyver hears a gunshot and goes to investigate, and someone clubs him unconscious. Before he passes out, MacGyver notices an owl-shaped balloon overhead. A pesticide spray truck then drives over him, dousing him with chemicals.
MacGyver wakes up at Tony's house and finds his wife Carmen tending to him. Alex explains that workers found him in the field that morning. Carmen informs MacGyver that Tony has gone missing. MacGyver goes to the sheriff's office but is unable to provide a useful description. Tony's truck has turned up but there are no bullet holes. Alex thinks that the sheriff is covering things up, and the sheriff accuses him of being a union organizer. He tells MacGyver to get out of town but MacGyver refuses to back down.
MacGyver and Alex go to the fields and find the owl-shaped balloon that MacGyver saw the previous night. As they search, MacGyver starts suffering from the effects of the pesticide. They find a button and Alex figures it belongs to one of the men who jumped MacGyver. Finally they find blood on a support post. MacGyver offers his condolences and Alex warns that the blood won't prove anything. He goes to see Carmen and promises that they'll find who is responsible. Carmen talks about how Garcia warned her that the growers would only let him go so far. MacGyver asks about the information Garcia mentioned and Carmen explains that he suspected Kasabian of illegal activity, and he planned to force Kasabian to sign a contract to protect the workers. Natalie comes in and Carmen breaks the news to her. That night, Carmen tells MacGyver that she worked in the fields until the seventh month of her pregnancy, and she was often exposed to the pesticide sprays. Natalie was born handicapped and Carmen is sure the pesticides caused the birth defects, but admits there was no proof. Garcia vowed that no parent would suffer the way he had. MacGyver assures her that they'll all do their part to take up Garcia's cause.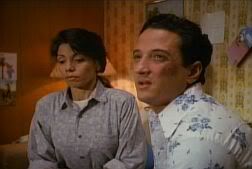 The next day, MacGyver slips in as a worker while Alex draws the attention of Lopez and his labor contractor, Felix Mendoza, Alex gets turned away but MacGyver slips onto the bus with the other workers. As the workers pick grapes, MacGyver still has trouble breathing from the pesticide. As he looks around, he sees how the workers' water is provided via ground water from the area near the crude latrines. MacGyver takes plant samples and notices the pesticide sprayer trucks scattered throughout the fields. As he loads up a truck, he notices a contractor's jacket with a missing button. It belongs to Lopez, who grabs him and remembers him from the fight. He figures MacGyver is an organizer and explains that he and Garcia grew up in the fields together. MacGyver points out that Garcia is probably dead and Lopez angrily orders him to walk the twenty miles back to town.
MacGyver walks back to town and sleeps through the night. The next morning, Natalie comes in to wake him up while Carmen and Alex go to church. She's brought him the polarized sunglasses and nail polish he asked for. MacGyver creates a crude spectroscope and determines that the plant sample is covered in crystals that are melting even as they look. MacGyver realizes what Tony was on to.
Lopez reports to Nick Kasabian that he's checked MacGyver's fingerprints and learned that he works for the Phoenix Foundation. Nick tells Lopez to get a truck and meet him at the warehouse, and then tells Mendoza that they have a problem and need to get rid of MacGyver.
As MacGyver calls Pete, Carmen informs him that Alex talked to a local garage owner who fixed the fender on Nick's truck. MacGyver explains that Kasabian is spraying an illegal growth enhancer on the grapes. A team from the Phoenix Foundation is coming to run tests. While he waits, MacGyver goes to find Alex.
Caspar confronts his son Nick and demands to know how his truck got smashed up. Nick denies any involvement in Garcia's death but Caspar warns that he doesn't own the police and they're going to investigate Garcia's death. Casper has visited the clinic where the workers are receiving treatment and has decided to sign the contracts that Garcia wanted. Nick says they could lose the entire crop and tells him they've been spraying growth enhancer to double their profits. Now he has to clean things up. As Nick drives away, Caspar angrily demands to know why he wasn't told.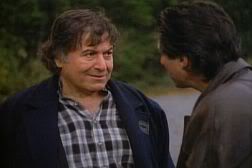 Alex sneaks into the warehouse and prepares to set a pesticide tractor on fire. MacGyver arrives and stops the fire before it goes off, and tells Silva that he's confirmed that the Kasabians are using growth enhancers, and that Garcia wouldn't have wanted violence. Alex says they'll need more samples and leads MacGyver to a storage facility. They find the growth enhancer hidden in cans marked maple syrup. Nick and Mendoza arrive and take them captive at gunpoint, but realize they have to make their deaths look accidental. They tie them up and put them into a recently drained tank filled with carbon dioxide. The oxygen rises to the top and the carbon dioxide sinks to the bottom. Once they're dead, Nick will take off their ropes. He closes the door and fills the tank with more carbon dioxide.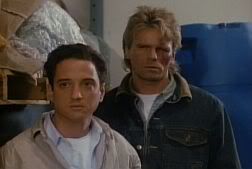 Once they're alone, MacGyver kicks at the ladder with his feet. He breaks a rung free and breathes through the handle, getting oxygen from the upper part of the tank. He uses the sharp edge to cut himself free, frees Alex, and they climb out the top of the tank. When Nick and Mendoza return, MacGyver and Alex jump them. Alex takes down Nick while MacGyver lands on a pump and activates the machinery. When Mendoza moves in, MacGyver releases the valve and knocks him out with a spray of wine. Lopez comes in and MacGyver shows him the button they found that belonged to Lopez. Lopez, shocked, says that Nick borrowed his jacket that night. Furious, he prepares to kill Nick for killing his friend. Caspar and the police arrive and tell him that it's over. The grower looks away as his son is hauled off.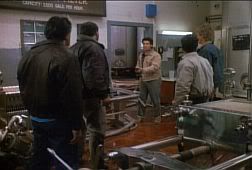 MacGyver stays for Garcia's service and Alex and Carmen thank him for his help. As he drives away, there's a news broadcast about the government destroying the contaminated fields. Nick will go to trial for murder and Caspar has volunteered to open his fields for testing and pledged his support to influence other growers to do the same. As MacGyver drives away, a bus of happy migrants wave to him in thanks.