MacGyver drives out to the Phoenix Foundation's wasteland test site and finds an envelope taped to the entrance sign. Inside it is an audiotape from Foundation scientist Willis, warning that the land is heavily toxic as a result of development, and the town of Maple Ridge if Bartlett City Development becomes a reality.
Willis is conducting tests and finding traces of radiation. He sinks into quicksand and is unable to get out. Meanwhile, MacGyver drives out and hears Willis' cries for help. MacGyver He's unable to get close due to the eroded land and pulls out all of the winch cable from Willis' truck. MacGyver then attaches the cable to his belt, turns on the winch, and runs out to Willis. He manages to get there and grab him just as the line draws taut and starts pulling him back.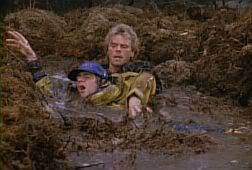 Once they're back on solid ground, Willis has them wash off the contaminated water and then plays a video about Bartlett City. It shows that if Bartlett City is built, it will deteriorate the aquifer level and contaminate the ground water. Eventually both cities will collapse, Maple Ridge first. MacGyver notes the EPA report doesn't match Willis' claims and the scientist says he's set up a meeting for MacGyver with Andrew Bartlett, the CEO. MacGyver warns that Bartlett doesn't sound like someone who listens to other people but Willis warns that if Bartlett doesn't listen, his city will go down.
Bartlett meets with his two children, Laura and Scott. They warn that the Phoenix Foundation likes to interfere and Bartlett asks if he can count on them for the dog-and-pony show that he's conducting for his investors later that day. He berates Scott for dressing informally and insists that when he was young, he wore formal clothes so they wouldn't have to. Bartlett insists they have to prove themselves after he spent so much time training them and providing an education so that they could show others they were special. Bartlett tells them to make MacGyver go way so he doesn't have to meet with them and Laura assures her father they can deal with it. As they go, Bartlett tells Scott to buy some decent suits or he'll take his Porsche away from him. In private, Scott insists he can't take their father any more. Laura says she's having second thoughts about working against their father. Scott insists that Bartlett drove their mother to kill herself and the only way they can have anything of their own is to take the company away from their father.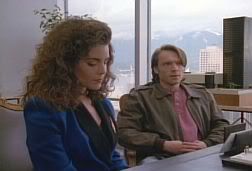 MacGyver goes to the Bartlett City construction site and meets with Scott and Laura. Laura sends Scott on to prepare the ceremony and informs MacGyver he'll be meeting with her. Scott calls to ask if MacGyver is going to be trouble, and she secretly indicates he is and their plan should go as intended. Laura offers to take a look at MacGyver's tape presentation and then go to lunch. At the restaurant, Laura points out the EPA reports give them a clean bill of health. MacGyver insists that the Foundation reports are valid and wants to talk to the EPA agent who conducted the reports. Laura signals the waiter, who tells MacGyver there's a call for him in the back room. He goes back there and several pool players, Bartlett workers, come after him. He blinds them with chalk powder and uses a cue stick to defend himself, but they quickly knock him out and leave him. Laura comes in and denies knowing anything about it. She warns that the construction workers think their jobs are threatened. MacGyver refuses to back down and informs Laura he'll meet with the EPA agent.
MacGyver returns to the construction site as Bartlett gives his presentation to his investors. Laura points MacGyver out to her father, who boasts that their water comes from the on-site artisan wells. The CEO calls MacGyver over but he warns that there won't be water if he moves 15,000 people in. Bartlett draws MacGyver off to the side and insists that his documentation is valid. MacGyver insists that he's trying to save Bartlett from a disaster and the CEO agrees to listen. He informs Bartlett that the EPA agent didn't run the test according to procedures and manipulated the tests. However, MacGyver has to admit the agent didn't break any laws and he filed the proper permits. MacGyver notes that the agent received a new car a week after he filed the false report but Bartlett isn't interested. He insists that he wants to create and MacGyver is just tearing down. MacGyver says he'll leave him alone if Bartlett gives him two hours of his time. Bartlett agrees, unaware that Scott has overheard the conversation.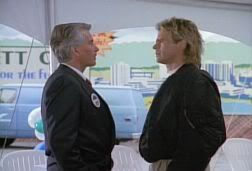 MacGyver arrives to pick Bartlett up, after the businessman tells Laura he has no choice because she didn't handle the situation. Once Bartlett's gone, Scott arrives and tells Laura that everything's in place. Laura has second thoughts but Scott tells her that it's a done deal and he's tired of his father putting him down. He finally tells her that he attached a bomb to the odometer of MacGyver's van. When it hits 55 miles, it'll detonate.
MacGyver drives onto the wasteland test site and Bartlett admits that he's impressed by the devastation. The odometer hits 55 and explodes, knocking the van upside down and knocking both men out. MacGyver recovers consciousness first and gets Bartlett out just before the gas tank explodes. He tends to Bartlett's broken leg and explains that someone killed Bartlett to benefit. MacGyver insists it was a bomb.
At the construction office, Laura destroys all the evidence of their takeover plan. Scott plans to drive out to make sure that their father is dead and insists she come with him.
MacGyver gets Bartlett down the road but warns that he's losing blood and will die in a couple of hours if they don't find a doctor. Bartlett begins to realize exactly what has happened, and how his construction will do the same thing. MacGyver builds a fire and plans to leave him there while he goes to the lab to call in a chopper.
Laura and Scott get their car stuck in mud and they proceed on foot.
As MacGyver builds the fire, Bartlett admits he might have overlooked the forest for the trees. He wonders if one of his children planted the bomb but doesn't believe it. MacGyver isn't so sure. He finishes building the fire and goes to the lab. MacGyver sends a Mayday on the radio but no one picks up the transmission due to an incoming storm. MacGyver spots a wind tunnel that Willis used for erosion test and the large fan inside. He then attaches it to a backpack and uses a folding table to lay out rope and attach sheets cut from the tent wall.
Scott and Laura find the van and blood, and Scott draws his gun and prepares to finish off their father once they find him.
While MacGyver continues to work, Bartlett wakes up and feeds fuel to the fire. Scott and Laura spot the fire and call out to Bartlett. He staggers up to them and quickly realizes that Scott was responsible for the bomb. His children explain that they couldn't take him any more and Bartlett insists that he pushed them hard to be ready for a tough life. Scott figures his father has been compensating for a poor childhood. When he prepares to shoot him, Laura tries to stop him but Scott shoves her aside. Bartlett says he can change but Scott fires his gun.
MacGyver hears the gunshot and activates his device, a backpack ultralite. He gains enough speed to lift into the air.
The wounded Bartlett begs Scott to stop. Laura tries to stop her brother and is shot and killed in the struggle. Scott blames Bartlett for her death and prepares to finish off his father. MacGyver drops down from the sky and knocks Scott down. He swings around and grabs Bartlett with his legs. They fly away and Scott can only sit down, defeated.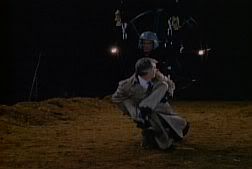 Later, Bartlett holds a press conference in his office and assures the reporters that he will stand by his son. He's abandoning the Bartlett City project based on the Phoenix Foundation's data. Willis and MacGyver look on as Bartlett tells the reporters he'll be setting up a memorial trust in his daughter's name to finance a family-counseling center. MacGyver admits that Bartlett is trying, and it's the best they can expect of anyone.