Jim goes to closed pharmacy at night and picks up his briefing. Armand Anderssarian is one of the world's largest illegal arms dealers, and is completing his biggest deal with the resale of American arms captured in Vietnam. He plans to sell them to guerilla groups throughout the world, causing bloodshed everywhere. The IMF must put him out of business for good.
In the Mediterranean, Jim breaks into the Ministry of Defense while Willy waits outside in the car. The IMF leader climbs down from the third-story window but a guard spots him and releases his dog. It brings Jim down and the guards haul him away while Willy watches.
Willy goes to a casino hotel. Meanwhile Barney is in a nearby hotel room with Dana and explains that he has prepared a special poker tablecloth so that it can detect the patterns of the cards and feed the information to him. Dana will be playing at position 6 and Armand has a permanent seat at position 7. Paris will be at position 3. Paris comes in, wearing a pair of glasses with earphones in the bows. He assures Dana that they'll return any money to the others. Willy arrives and tells them that Jim was captured.
Armand is going over his list of munitions with his supplier, Yin, and pays him $5 million. Yin tells him that once the ship has weighed anchor in Hong Kong, Armand will pay the remaining $5 million. If he withholds the remaining payment, he'll forfeit the down payment and the weapons will go to the next highest bidder.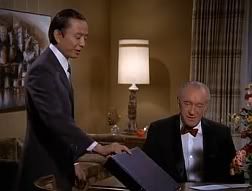 Willy tells the others that he can't move until Jim proves he's tougher than his interrogators. Barney has their fake radar station on their side of the border ready.
Armand is preparing for an evening out with his mistress, Nicole Dubois. She is drinking constantly to blot out the memories of the women and children that Armand's weapons have killed. He points out that she doesn't have any problem living on the proceeds from his weapon sales. Armand tells her to sober up and come out with him.
Captain Ionescu prepares to interrogate Jim.
At the casino, Armand, Nicole, and his assistant Leon arrive. The manager warns him about Paris, an infamous playboy gambler, but Armand has dealt with card sharks before. He tells Leon to buy Nicole a drink and then sits down to play Paris, while Nicole is next to Armand. As the cards are dealt, Barney relays the cards of each player to Paris via the radio eyeglasses. They play and Paris raises, and Dana asks for credit. The manager refuses, but Armand permits it. Paris demands cash and Dana has no choice but to bow out. Thanks to Barney feeding him the information on Armand's hand, Paris folds and Armand leaves, going to Nicole.
Dana approaches Armand, who flirts with her and then introduces himself and Nicole. They chat briefly and Dana leaves, and Nicole suggests that they go back upstairs. Armand refuses, telling her that he prefers to be alone. The manager then delivers a piece of paper to Armand with a lighting insignia on it. He informs Armand that Willy deliver it. The arms dealer goes over to him and Willy shows him a ring bearing the same insignia. He says that the man who owns the ring needs Armand's help and is being held by the police, even though Armand insists the owner is dead.
Ionescu demands to know why Jim risked his life to get a set of worthless blueprints of the radar station across the border. Jim claims to be a tourist and asks for a lawyer, but Ionescu refuses and repeats his questions without success. They're interrupted when Armand comes in and dismisses Ionescu, threatening to call his superior Minister Sartori if he doesn't. Once they're alone, Armand informs Jim that he was an Axis prisoner that the man who owned the ring, Colonel Telman, rescued during the war. He never met Telman but sent him the ring. Telman was wounded in the neck and Armand confirms that Jim has the same scar. Jim explains that he faked his death and Armand points out that he dismantled a communication center during the war and got it to the Nazis. The arms dealer assumes that Jim is there to capture the radar station across the border and deliver it to the government. As he leaves, Jim confirms who Armand is and the arms dealer suggests that he can help sell the radar station.
Dana is outside Armand's room, talking on the phone, while Nicole is nearby checking her makeup in a mirror. Dana fakes a conversation with her lover and then orders some champagne sent to her suite. Nicole assumes she's talking to Armand.
Armand talks to Sartori and asks for Jim's release. When Sartori proves skeptical, Armand offers him a profit of $1 million cash. Jim is quickly released and escorted to Armand. He isn't interested in Armand's help until Leon warns him that they can easily send him back to jail. They negotiate and Armand agrees to pay $5 million for the components. Jim says that he'll carry out the operation immediately and leaves, and Leon warns his employer that he's depleting his cash reserves and won't be able to afford the remaining payment on the munitions shipment. Armand assures him that Sartori has advanced him any sum required in return for $30 million, and leaves for the casino.
Jim and Willy meet with their team and go over the invasion plans while Leon looks on.
Dana emerges from her lover's room, adjusting her dress, and goes down to the casino. Nicole has been watching the room and sneaks in to Dana's room. Paris is in the bathroom using the shower and Nicole sees the poker tablecloth reader and realizes what it is.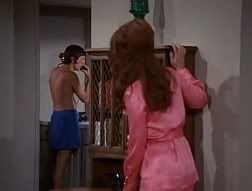 Jim and his team drive to the (fake) radar station, hiding inside a crate labeled medical supplies. Leon is with them, while Willy rides in the cab. He plays a tape recording with sound effects to simulate the guards at the border. The truck is passed through and they continue to the IMF radar station.
Paris leaves the casino and Nicole watches him go. She then calls Armand, takes him to the hotel room, and shows off the tablecloth reader. One button shows the proper radio frequency and Armand realizes he can set his hearing aid to the same frequency. Nicole is eager for Armand to praise him, but he says that Dana made her feel insecure and he would have preferred to be in her room as Nicole suspected. Armand dismisses her efforts and brushes her off, saying she'll never have his love.
The IMF assault team and Leon pull up near the fake radar station that is supposedly in the neighboring country and the men arm themselves with nerve gas sprayers. Jim tells Leon to stay but he insists on going so they gave him a mask. After they hint that one of them may be cracked, Leon has second thoughts and decides to stay after all. The assault team then drives in and releases the nerve gas. Leon watches as the IMF extras collapse.
Paris plays Armand again and Barney feeds his teammate the card information. Armand listens in and follows every move. However, Barney then switches to a second frequency and gives Paris the real card information. Armand turns to Dana and asks if she approves of raising the stakes. She agrees and Paris doubles Armand's stakes.
Jim and his team remove the radar component and drive away from the radar station. They stop to pick up Leon and drop off men to cover their escape. Once Jim, Willy, and Leon are clear, the "dead" IMF extras get up. Meanwhile, Jim and Willy drive back to their warehouse and Jim demands his $5 million. However, Leon has his own men in position for a double-cross. Jim puts on a gas mask and a similarly equipped Willy steps out with a canister of the nerve gas. Leon quickly tells his men to disarm and hands over the $5 million. Jim orders Leon over with his men, threatens to activate the canister by remote control if they move, and then drives away with Willy.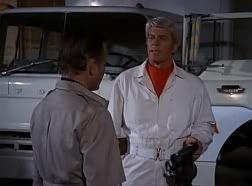 An increasingly drunken Nicole watches Armand play and notices the new hearing aid.
Sartori arrives to take custody of the captured radar equipment and tells Leon that they're simply standard units. He examines them more closely and discovers that they're fakes.
Armand is called to the phone and Leon tells him what happened. The assistant warns that Sartori is on his way to get his $5 million back, and warns Armand that he won't be able to make the final payment on the munitions shipment. Armand returns to the table and Paris offers to raise the stakes again. The arms dealer initially refuses until Paris puts up $3 million. Realizing he needs the money, Armand raises the stakes to $5 million and Paris agrees in a single head-to-head game. Nicole, realizing that the man who spurned her is desperate, "accidentally" spills her drink on the table, ruining it so that Armand will be ruined. She smiles in satisfaction and walks away.
Jim and Willy return and Barney tells them that the computer shorted out. He tells Paris to stall for time and the IMF agent does what he can. Armand matches him bet for bet and draws to a possible straight flush. He raises and Paris has no choice but to call with a pair of sevens. He checks and Armand raises for all of Paris' remaining money. Barney is unable to fix the computer and warns Paris that he's on his own. Paris considers and then calls. He then reveals a third seven, giving him three of a kind. Sartori arrives and flips over the last card, revealing a busted straight flush. The Defense Minister takes the stunned man away, just as Yin arrives and tells him that the ship has sailed and the weapons are his when he makes the final payment. The stunned Armand laughs hysterically as he realizes that he's been tricked.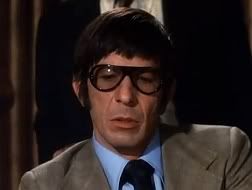 Share this article with your friends