Natalie informs Adrian that they have a new private case: a man named Roderick Brody wants to hire Adrian. Adrian remembers Roderick from middle school: he was the bully who used to dunk his head in the toilet. Monk insists on meeting with Dr. Bell early and tries to explain, figuring that Roderick is going to start doing the same thing to him as an adult. Dr. Bell suggests that Monk take the opportunity to come to terms with this aspect of his past. Monk would rather have Dr. Bell sign a note for Natalie excusing him from the case.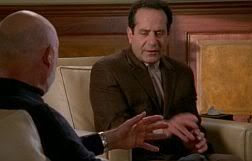 Adrian and Natalie go to Roderick's home and his wife Marilyn greets them at the door. Roderick meets with them in private and is glad to see Monk. He asks to meet with them in private but Monk insists on first reading a note saying how Roderick ruined his life. Roderick thinks Monk is nuts but goes on to explain that he thinks his wife is having an affair. He saw her at Lafayette Square two days ago even though she claimed she was going out of town. Natalie insists they don't take matrimonial cases but Monk is eager to make an exception so he can prove Marilyn is having an affair and make Roderick unhappy.
Monk and Natalie go to Lafayette Square and investigate a nearby lounge. The bartender claims not to recognize Marilyn's photo but the detective and his assistant soon notice Marilyn in a booth with another man. Monk has brought an old photo and tries to take a picture without much success. They take the photo to Roderick and identify the man as Douglas Fendle, a lawyer. However, the film is too old to make out much. Roderick begins to reconsider and thinks he imagined the whole thing, but Monk insists that they pursue the matter. Roderick assures Monk that he'll soon get paid and as he takes out the money, Monk notices a handgun in the glove compartment. Roderick explains he has a permit and then says he no longer wants Monk to investigate.
The next day, Monk buys a new digital camera and plans to go after the case for free. However, Disher calls and tells them that the police are investigating a murder: Douglas Fendle. He was found stabbed to death in a hotel room. They go there and Monk is incredibly happy now that he thinks Roderick killed Fendle. Disher has checked Fendle's background and discovered he's a lawyer from Chicago. Monk finally explains that they were following a client's wife. He eagerly gives up Roderick's name and Stottlemeyer brings the husband in for questioning. Roderick says that he was at home with Marilyn. However, she arrives and says that Roderick found out about her affair, went berserk, and left home vowing to kill Fendle. A few hours later he came back covered in blood and told her to hide the knife. Roderick apparently has no idea what she's talking about but Stottlemeyer has no choice but to arrest him for murder.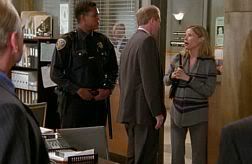 Monk goes outside and enjoys the birds singing but soon begins to feel guilty about helping Roderick get arrested. When he notices a policeman with a gun, Monk realizes what's wrong about the case. He and Natalie go to see Marilyn, who is just finishing a meeting with a banker and discussing the transfer of accounts. Monk asks her which car Roderick left in the previous night and she says it was his own car, the same one he met Mon and Natalie in. Monk wonders why he had a gun at hand but used a knife to commit the murder, but Marilyn suggests he changed his mind. Monk considers the possibility and leaves with Natalie. Once they're gone, "Marilyn" goes to the basement where the real Marilyn is tied up.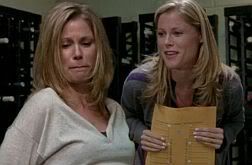 Monk goes to see Roderick in jail and admits that he's been faking helping Roderick to get revenge but now he wants to help him for real. Roderick has no idea what Monk is talking about, insisting that Monk struck back at him. Monk is stricken speechless and wanders over to the two-way mirror. He then has an idea and realizes that "Marilyn" killed Fendle. When Roderick points out that Marilyn was with him during the time of the murder, Monk explains that Marilyn was with Roderick… and her twin killed Fendle at the hotel.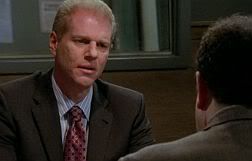 At Roderick's house, Marilyn's twin sister Patrice gives Marilyn tranquilizers and prepares to drown her in a tub filled with sea salt. Once Marilyn is dead, Patrice plans to dump her in the bay and make it look like an accidental drowning. Outside, Stottlemeyer and Disher arrive where Natalie and Monk are already waiting. As they wait for the search warrant, Monk explains that he realized that Patrice made several slip ups, pronouncing "aunt" differently and having unbitten fingernails. Disher has confirmed that Marilyn has a twin sister and they were given up separately by adoption, and Fendle's firm hired the paperwork. He gave the information to Patrice and together they planned to kill Roderick and Marilyn and use Patrice to get their money. However, Patrice turned against Fendle and killed him. The police arrested Roderick before Patrice could kill him.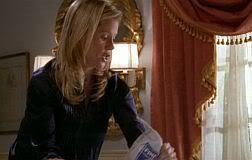 Patrice tries to dump Marilyn in to the tub but Marilyn struggles and knocks Patrice back. Marilyn manages to scream and Stottlemeyer and the others hear her. Now that they have probable cause, they run in and save Marilyn just in time.
Later, Roderick and Marilyn have a happy reunion and a depressed Monk is forced to look on unhappily as he hears the sound of a cosmic toilet swirling as he realizes he'll never have is revenge.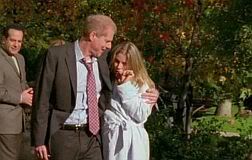 Share this article with your friends