At the Powell house, Jim, Stephanie, and JJ try to determine why Daphne is unable to remember the last three months. They finally demonstrate their powers, and then join hands and invite her to touch them. When she does, she gets visual flashes of everything that has happened to them in the last three months.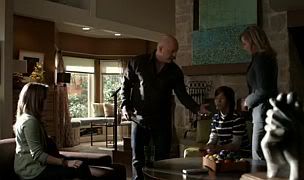 Later, George calls Jim and informs him of the robbery of an $8 million painting from the art museum. As he walks down the street, Jim notices a man unwittingly walking out in front of a speeding bus. Jim pulls him out of the way and the man, Dave Cotton, insists on getting Jim's name to tell his wife who rescued him.
At Global Tech, Stephanie discusses Daphne's problem and realizes that Katie is in love with the Watcher. She also finally realizes that Katie has been waiting to have sex, and Katie explains that she decided to wait until she met Mr. Perfect, and never did until now.
That night, Dave brings over his family: wife Michelle, and children Chloe and Troy. They exchange introductions and Dave explains to Stephanie what Jim did for him. Michelle invites them over for a barbeque and Stephanie accepts over Jim's objections. Afterward, Stephanie explains that all they have done since they got superpowers is isolate themselves from other families. Jim wonders what will happen if the Cottens ask any awkward questions, but Stephanie figures that they can laugh it off.
George calls Jim about the theft of another one of the paintings. Jim leaps to the museum, dons a hood, and confronts the robber. He uses a flash-bang grenade to distract Jim and make his escape, but has to leave the painting behind
The next day at the station, Jim explains what happened to George, and admits that the robber was a professional. George suggests that they check out the boot print the police lifted from the site, and Jim admits that he has a barbeque to attend. In response, George is shocked that Jim is choosing a normal life over crimefighting. At home, Stephanie is going through clothing at superspeed and admits that there's something about Michelle that she can relate to. As she goes through her drawers, Stephanie realizes that her journal about their superpowers is gone. Jim reassures her that it will turn up.
Katie meets the Watcher at an outdoor bar and they have drinks. She asks if she can talk about something personal with him, but then ducks the issue of her virginity.
At the Cotten home, Michelle thanks Stephanie for coming over with her family, and explains that Dave's job keeps him moving and she doesn't have time to make friends. Jim and Dave go to get charcoal for the grille and Jim almost displays his super-strength. He notices Dave has an expensive watch and they discuss how Jim played in a band in school. The families sit down and Jim sends a mental message to Daphne telling her to offer to show Troy and Chloe around their new school. The families share a toast to new friendships.
At school, Daphne shows Chloe around and explains the basic social structure. As they talk, Chloe sits down at the table belonging to the incumbent school president, Bailey Browning. Chloe insults her, impressing the onlookers. Once Bailey leaves, Chloe suggests that Daphne should decide to finally do something and run against Bailey for class president.
As JJ shows Troy around, he introduces her to Natalie, who abruptly walks away from them. JJ says that they kissed, once, and since then Natalie tries to ignore him. Troy insists that Natalie wants a bad boy, and suggests that JJ give her what she wants.
That night, Jim and Stephanie admit that they enjoyed being with the Cottens. Michelle has invited Stephanie for a drink, and Jim wonders if it might be a mistake to get too close to them.
At home, Dave and Michelle share a drink. He goes out to the garage, where the case holding the stolen paintings is stored along with a pair of black boots.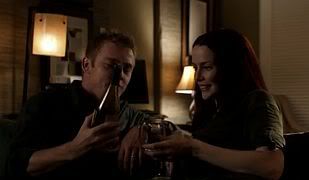 The Watcher brings Katie home and she hesitantly invites him in for a drink. He finally kisses her in mid-sentence, and she finally tells him that she's a virgin. He immediately turns and leaves, leaving Katie disappointed.
The next day, Jim admits to George that it's nice to meet someone who he can talk to about normal things. George discusses the art thief, and Jim realizes that the thief has struck at the same cities where Dave worked in the last few years. Jim isn't convinced, and George says that he needs to be ready because the thief will go after the same museum again.
JJ finds Troy and Natalie talking, and JJ takes offense. Troy freely admits that he's hitting on Natalie and JJ asks him to stop. In response, Troy tells him to man up and make him. JJ hesitates, and then calculates a punch and knocks Troy down. He walks away, leaving Natalie impressed.
At the Powell kitchen, Michelle and Stephanie share drinks and Stephanie gets somewhat drunk. She explains that she has a secret, that she has a fast metabolism, and asks for a secret in response. Michelle talks about dancing in the car, and Stephanie says she has a big secret, but all she can do is show her. She prepares to demonstrate her super-speed, but Jim comes in and stops her just in time.
Later, Jim watches the museum from the fire escape of a nearby building and complains to George over the radio about how the Powells can't be normal since they have a secret. The conversation ends when Jim spots the thief breaking into the museum. The thief expertly bypasses the security systems and goes for the painting. Jim comes in and spots the watch, and recognizes Dave's watch. However, he inadvertently sets off the alarms and the thief runs for it. A caged door comes down, separating them and leaving Jim trapped as the guards approach. He rips through the bars with his super-strength and gets away.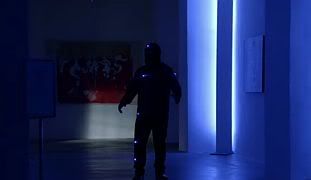 As Stephanie recovers from her headache, Jim explains his suspicions about Dave. She doesn't believe it and insists that the Cottens are normal, and warns Jim not to confront Dave directly. Jim goes over to practice music and mentions that the police spotted the thief's watch on the security cameras. He quickly goes overboard and Dave realizes that Jim is accusing him of being a thief.
Chloe begins handing out campaign flyers for Daphne, and Daphne telepathically realizes that most of the students don't care because they have problems with the school. Bailey congratulates her, while thinking that Daphne doesn't have a chance.
At Global Tech, Katie tries to explain her problem to Stephanie, but Stephanie is busy trying to find her journal. She finally focuses on her friend.
The Watcher goes to see Dr. King and says that he no longer plans to work for him. He complains that he's ashamed of the things that King has made him do to continue his power treatments, and that he's found someone that's worth it. King realizes that the Watcher is involved with Katie, and warns him that she'll never accept who he really is or what he's done. The Watcher says that they'll see and leaves.
At the station, Jim complains to George that he's lost one of the few friends he has. George suggests that Jim apologize and Jim goes to the Cotton home to attempt it. He looks for Dave in the garage and finds the thief's boots and carry case, and the stolen painting in the case. Michelle comes in and wonders if he's there to accuse Dave of another crime, and Jim shows her the proof. She admits that she's the thief.
Jim gets outside and calls Stephanie, who superspeeds over. He explains what he learned about Michelle, and that she's been the thief the entire time. Jim explains that he likes the Cottens and made a connection, and doesn't know what to do. Stephanie says that Michelle is her friend and goes to talk to her, warning that the police will tear up her life despite the fact that she's hidden the evidence. Michelle explains that she took a job as a museum assistant to cover the bills, and someone approached her to get her to steal a painting. She soon got sucked into it as a way of life, and Stephanie says she understands... but it doesn't make it right. Michelle asks for one day to get away, but Stephanie says that she can't allow that and suggests that George can help. Michelle agrees but asks for the chance to tell Dave and the kids first. Stephanie agrees and confirms that Michelle will turn herself in.
At school, Natalie approaches JJ and says that she was impressed that JJ threw a punch on her behalf. She kisses him and says to call her later. Once she's gone, Troy congratulates him and explains that he deliberately set up JJ to punch him.
Bailey is giving her class president speech to the student body. Daphne is next and tells the student body that she's not any more impressed with all the dances and ceremonies. Reading the minds of the students, she tells them the things that they want, and that she wants for the school as well. The students applaud her.
Jim tells George what's going on, and George is worried that Stephanie went in on her own. However, Jim is convinced that Stephanie wouldn't endanger herself.
Stephanie follows Michelle to an alleyway rendezvous and then confronts her. Michelle says that she had to make one last deal to finance her family, and her fence arrives. He prepares to shoot Stephanie, and Michelle leaps in the way, taking the bullet.
At the hospital, Stephanie visits Michelle, who is under guard. She thanks Michelle for saving her life, and Michelle says that she was the one who put Stephanie in danger. Michelle admits that she lied to Stephanie, and hopes they can be real friends… someday. Outside, Dave blames himself for not looking deeply enough, and Jim says that everyone has secrets. Dave says that whatever secrets Jim has, he changed his life.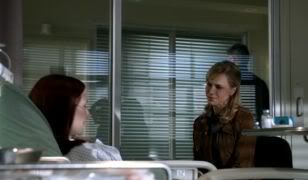 At home, Jim gets a call from George that the police identified the shooter and arrested him. Stephanie blames herself for changing the lives of Michelle's family, but Jim assures her that she did the right thing, and that it will take a long time to find a friend that she can trust. Stephanie wonders if she's already found that friend with Katie
The Watcher comes to see Katie and admits that their relationship was getting much realer than he expected, or what he signed up for. However, he tells her that he had to make a choice, and he chose her. He steps in and kisses her. Later, the Watcher dozes off in bed, and Katie gets up. As she moves his clothing, she notices Stephanie's journal has fallen out of his pocket.
Share this article with your friends