Now
Emma takes David to the station and he worries about his missing wife Kathryn, but Emma warns him that he's the likely suspect due to his affair with Mary Margaret. She shows him the phone recording indicating his call to Kathryn right before she disappeared, but David insists that he made no such call. Emma isn't convinced but still believes that he's telling the truth, and tells him to get a lawyer.
At the diner, Ruby is talking with August and he describes all the places that he's been. As August talks about his visit to Nepal, Granny calls Ruby over repeatedly and the waitress ignores her, until the owner finally yells at her to stop flirting.
Once Upon a Time
The blacksmith's son, Peter comes to see his lover, Red, at her cottage in the woods. She warns him that her Granny, the Widow Lucas, is in the next room and tells Peter to be quiet. He suggests that they leave together and see the world, saying that he would do anything for her. However, Red warns that Granny will never let her go. Granny yells for Red to come and the couple share a single curse before Peter leaves.
Red goes to see what her grandmother wants and discovers that a hunting party led by Mayor Tomkins has arrived at their doorstep. Tomkins reminds them that its Wolfstime and that the creature has been preying on the livestock, and they plan to put an end to it. Red immediately asks to go with them, but Granny says that the hunters are fools and that they should lock their doors and let the wolf take their sheep. She dismisses Peter along with the others and then she and Red bar the doors and seal the windows.
Now
When Ruby complains that Granny humiliated her, the owner says that she wants Ruby to work Saturday nights from now on to learn how to do the paperwork. Ruby complains, saying that she wants to go out and see the world. Angry, she tells Granny that she's quitting and storms out of the diner.
Once Upon a Time
The next morning, Red comes out to discover that Granny has spent the entire night watching the door, armed with a crossbow. Red starts to go out without her red cloak and Granny tells her that she needs to put it on because red frightens wolves away. Out in the barn, Red hears someone moving and discovers that Snow is hiding in the hay, stealing eggs. Red assures her that it's not a problem and Snow explains that she hid in the barn because it was cold. When she gives an obvious fake name, Red realizes it and Snow explains that someone is hunting her. She gives her new friend the name "Mary" and they go to the well to get water. Red explains that it's Wolfstime and that the creature comes out of the woods to kill cattle. When they bring up water from the well, they realize that it's filled with blood and see the bodies of the slaughter hunters nearby.
Now
Mary Margaret meets Emma on the street and asks how David is doing. Emma brings her up to speed and comments that her friend deserved Kathryn's slap. Taken aback, Mary Margaret asks what she means and Emma warns that even if she doesn't think it, there are plenty of people in town that do. Mary Margaret admits that she wasn't with David the night that Kathryn disappeared. As they approach the bus stop, they see Dr. Whale flirting with Ruby. He quickly leaves when the other two women approach, and Ruby tells Emma and Mary Margaret that she's leaving town. However, she admits that she has no idea where she's going and Mary Margaret offers to put her up at their apartment until she gets back on her feet. Emma is less than thrilled at the news but reluctantly agrees.
Once Upon a Time
Granny and Red go to the local tavern where Tomkins is addressing the townspeople, telling them how he went home and would have died if he had been with the hunting party. The old woman tells them that they have no choice but to hide and cower because the wolf is too dangerous. When Tomkins questions her wisdom, Granny explains that she watched as her father and six brothers were killed by another wolf when they tried to hunt it down. The creature bit off their spears and ripped out their throats, and then turned on Granny and bit her arm. Granny reveals the scars on her right arm where the wolf's teethmarks are still visible, and tells them that if the wolf is like the one that killed her family then there's nothing they can do.
Back at the cottage, Red tells Snow that she feels trapped, while Snow realized from the glances they exchanged at the inn that Red and Peter are on item. Red explains that they have been friends for years and now their relationship is changing into something different. They want to run away, but Granny won't let them because she insists that is unsafe for anyone to leave while the wolf is at large. Snow figures that Granny is using the wolf as an excuse and Red seizes on the idea, saying that they need to kill the wolf so she can be free. When Snow hesitates, Red says that she's going whether anyone accompanies her or not.
Now
Mary Margaret parks where Kathryn's car was found and goes into the woods. She hears someone moving and David stumbles out of the woods. He stares at her and says that he's looking for Kathryn, but doesn't seem to recognize Mary Margaret. David looks blank for a moment and then turns and wanders back into the woods.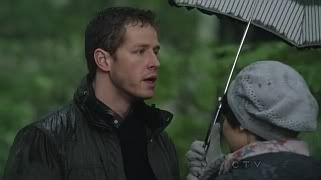 Once Upon a Time
Red and Snow go into the woods and find the wolf's trail, and realize that it must be an enormous creature. As they follow the trail, Red tells Snow that she's good at tracking things down when they're what she wants.
Now
Ruby is at the sheriff's office looking through the help wanted ads with henry's help. He suggests that she might try delivering things in baskets, but Ruby admits that she it doesn't like her kind of thing. The non-emergency line keeps ringing and Ruby finally picks it up and answers the call. Emma comes in and hears her, and says that she's doing a good job. When Emma offers to hire her as a receptionist, Ruby leaps at the opportunity, saying that she wants to be useful. Emma asks her to get lunch as Mary Margaret comes in and says that she saw David in the woods and that he's acting strangely.
Once Upon a Time
Snow and Red follow the wolf's trail and realize that the paw prints are slowly turning into footprints. The trail leads to the cottage and Snow says that she's heard legends of humans that transform into wolves when the moon is full, the same time as Wolfstime. The boot prints go up to the window and Red remembers that Peter was at the window the previous night. She figures that he is the wolf and that either he'll kill the village hunting party or they'll kill him. Snow advises Red to talk to Peter and tell him the truth, and that way she can save everyone. Red is hesitant to go, figuring that Granny will come looking for her, and Snow says that her friend has to do something.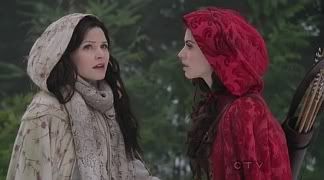 Now
Ruby goes to the diner to get Emma's lunch and places an order with Granny. She talks about her new job but Granny, unimpressed points out that Ruby is getting food for someone else just like she's always done. Ruby lies and says that she's helping Emma solving crimes, and Granny tells her that she hopes she finds what she's looking for.
Once Upon a Time
Red finds Peter and tells him that he's the wolf killer. She says that they can leave together because all she has to do is tie him up each night of the full moon and they'll be safe. Peter gives her chains to bind him with and tells her to stay away once he's chained up, but Red insists on staying with him.
Now
Henry locks away his recovered storybook while Emma prepares to go into the woods to find David. The boy explains to his mother that Ruby is actually Red Riding Hood and that she doesn't remember all of what she's capable of. When Ruby returns with lunch, Emma asks her to come along to help her in the search. Ruby reluctantly agrees and they go into the woods, and she says that she hears something. Emma doesn't hear anything, but follows Ruby as she goes through the woods and finds David lying on the ground. He wakes up and tells them that he has no memory of where he's been since he was in Emma's office the previous evening.
At the hospital, Dr. Whale examines David and says that his blackout is probably related to whatever caused him to go into a coma before. Emma wonders how David could have talked to Mary Margret in the woods and Whale says that people in similar states can still function, and possibly made the call that he doesn't consciously remember. As Emma wonders if David could have killed Kathryn in a similar state, Regina storms in and objects to Emma questioning David. She tells David to get a lawyer and Emma wonders why she's there. Whale explains that Regina is still David's medical contact in Kathryn's absence, and Regina tells Emma to go out and find Kathryn.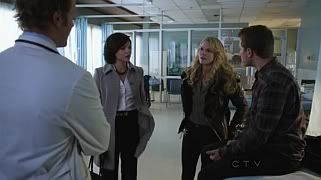 Ruby is at the station when Emma calls to ask her to go to the toll bridge where David was found originally and see if she can find any clues. Ruby hesitates but Emma insists that she has to do it now, and Ruby reluctantly drives to bridge. Operating on instinct, she starts digging at a particular spot and finds a small wooden casket buried in the ground. Ruby opens it, then gasps in horror and slams the lid shut.
Once Upon a Time
Snow poses as Red, wearing her red cloak and sleeping in her bed, in an attempt to fool Granny. The grandmother catches on immediately and Snow admits that Red is with Peter, who is the wolf. When Snow tells Granny that Red has chained up Peter, the old woman says that the boy is in danger and runs off.
Peter stairs in horror, chained to the spot, as Red transforms into a wolf.
Now
Emma and Ruby bring the casket back to the station, look at the contents, and hastily close the lid. Emma thanks Ruby and tells her that she did good, and figures that now they can figure out what happened. Ruby insists that she was scared out of her mind but Emma assures her that she handled herself well despite that.
Once Upon a Time
As Granny follows the trail through the woods, she explains to Snow that Red inherited the curse from her mother, who was killed by a hunting party, and Granny bought the cloak from a wizard to stop the transformations. However, since Granny never told her her secret, Red almost never wears the cloak. The wolf that bit Granny years ago was Red's grandfather, who marked Granny and came back for her later. Granny uses her abilities to track Red, and she tells Snow that she has a silver-tipped crossbow bolt that will drop the wolf. They approach Red from downwind and find her chewing on Peter's corpse. Snow steps on a twig and the wolf lunges at them, and Granny shoots it down. They put the cloak on Red, causing her to transform back, and they hear the hunters approaching. Red transforms back into her human form and realizes that she killed her true love. Granny apologizes to the girl for keeping her curse a secret and tells her to go, and Snow leads Red away while Granny goes to face the hunters.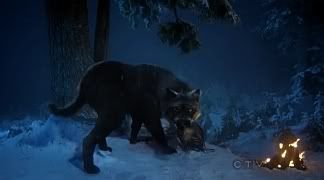 Now
The next morning, Ruby goes back to the diner and asks how Granny is doing. The owner complains about how the scars on her right arm bother her during the full moon, and wonders why Ruby has come back. Ruby admits that she wants her job back and admits that she panicked because she didn't know how to be like Granny. She didn't want the responsibility and admits that she's scared, and found something in herself that she didn't expect. Her time with Emma has taught her that she wants to something that she loves, somewhere that she loves, rather than do a job that makes people unhappy. Granny admits that she was pressuring Ruby to learn the business so that she could turn it over to her when she retired, because she doesn't have anyone else and because Ruby is like family to her. The two women hug and Granny gruffly admits that she's proud of Ruby.
Mary Margaret goes to the animal shelter to see David, who admits that the only explanation he can think of for his blackouts isn't a good one. Emma arrives and tells them that they found a casket... and it contains a human heart. No one else has been reported missing, so they're assuming that it's Kathryn's until they can have it tested. Mary Margaret goes to David, who is ready for Emma to arrest him. however, she tells him that they found fingerprints inside the box... and they belong to Mary Margaret.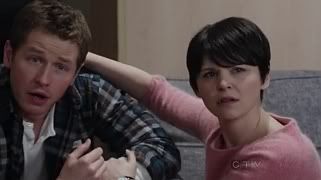 Share this article with your friends