When August wakes up in the morning, he realizes that his leg is convulsing. He manages to stagger to the desk and calls Henry and says that they need to accelerate their plan. August then meets with Henry and sends him into Gold's shop to buy a present for Mary Margaret while August sneaks into Gold's office. Gold quickly discovers August in the back, and the intruder claims that he was just looking for some maps and came in via the back door. The pawnbroker directs him to the front of the shop and glares suspiciously at August's back.
Emma goes to the hospital to talk to Kathryn, who says that she remembers being kept in a basement somewhere after the accident. She was drugged and then woke up in a field and walked into town. Dr. Whale confirms that Kathryn was drugged and she wonders why they thought she was dead. Emma explains that they found a heart that matched Kathryn's DNA and that they're checking the lab results to see if someone tampered with the report. Kathryn wonders who would have tried to frame Mary Margaret for her murder.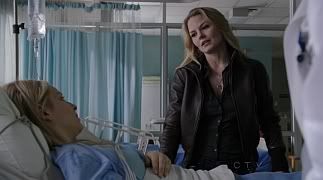 Regina goes to Gold's pawnshop and demands to know what he's doing, claiming that he broke their deal. Gold insists that he kept her word, and that he only agreed to make sure that something "tragic" happened to Kathryn. Regina realizes that Gold has set her up because the evidence will eventually lead to her, and asks what he's up to. Gold tells her that she's a smart woman and to figure it out herself.
Once Upon a Time
Baelfire is kicking a ball around the village when he runs out into the road and a donkey driver narrowly misses him with his cart. When the driver realizes that Baelfire is Rumpelstiltskin's son he hastily apologizes. Rumpelstiltskin comes over and takes offense for his son's injury, turns the driver into a snail and crushes him with his foot. As Baelfire stares in horror, the townspeople quickly slip away before Rumpelstiltskin notices them as well.
Now
David visits Kathryn at the hospital, startling her. He apologizes or lying and cheating on her, and Kathryn tells him that it's okay. She admits that they both knew they weren't right for each other and she can't blame him for realizing it first, and wishes him well.
Emma and Granny throw a welcome-home party for Mary Margaret at her apartment when she's released for jail. Henry and August talk and August assures the boy that what he's looking for will find him. After giving Mary Margaret his present, Henry starts to go home and finds David outside. Emma tells David that he shouldn't come in right now and suggests that he give Mary Margaret some time. He leaves with Henry while Gold watches the exchange. He comments to Emma that it must be hard letting Henry go, and she accuses him of abducting Kathryn. The pawnbroker that Emma can't decide if he's helping Regina or working against her, and asks if she knows who August really is. Emma doesn't find anything unusual about August using an alias and doesn't think that Gold needs to worry about him, and says that she trusts her.
Once Upon a Time
Back at home, Rumpelstiltskin dismisses their mute maid, Onora. Balefire objects to his father killing the driver and refuses to let Rumpelstiltskin heal his scrape with magic. Rumpelstiltskin insists that he's done good with his magic by ending the war and saving the children recruited as soldiers, but Baelfire says that he can stop using magic now that he's succeeded. The wizard refuses, saying that he needs the magic to protect Baelfire, but his son points out that he only needs protection because of his father's magic. He asks his father if he's tried to get rid of his power, Rumpelstiltskin reminds him that the only way to lose his powers is if someone kills him with the magic dagger with his true name on it. As Rumpelstiltskin takes out the dagger, Onora comes back in and the wizard hastily hides the dagger away. Baelfire asks if his father would give up his powers if there was another way, insisting that he just wants his father back the way he was. Rumpelstiltskin says that he'll do it if Baelfire can find a wire and his son has him agree to make a deal.
Now
Gold breaks into August's apartment and goes through his belongings, and finds a sketch of the magic dagger.
Emma surprised Sydney as he's eating at the diner and shows him the bug that she found in the flower vase that he delivered. She accuses him of spying for Regina and he doesn't deny it, but insists that Regina is a good mayor and an amazing woman. Emma realizes that he's in love with Regina and warns him that when she has the proof that ties Regina to Kathryn's abduction, Sydney will have to decide whether the mayor is worth protecting.
Gold follows August as he drives away from his apartment.
Once Upon a Time
Rumpelstiltskin drops Baelfire off in the woods near where some village boys are playing as he goes to Onora's hut. The boys quickly leave rather than risk angering Rumpelstiltskin by doing something to Baelfire. However, Baelfire's friend Morraine comes over to talk to him. She doesn't think that Rumpelstiltskin is bad, pointing out that she was one of the children that he saved by ending the war. When Baelfire explains that he's trying to find a way to save his father and take his magic, Morraine tells him about the stories of Reul Ghorm, a mystical being of vast powers that predates the world's magic. Morraine leaves as Rumpelstiltskin comes back, and Baelfire notices blood on his father's boots. Rumpelstiltskin admits that he killed Onora rather than take the chance that she might draw a picture of the dagger for someone to use against him.
Now
Gold watches August talk to the Mother Superior. Once the newcomer leaves, Gold talks to her and threatens to double her rent unless she tells him what they said. She explains that August was looking for his father after a long separation and found him in Storybrooke. However, August hasn't talked to her father yet because it was a difficult parting and they still have issues to resolve.
Once Upon a Time
That night, Baelfire goes into the woods and calls to Reul Ghorm. The Blue Fairy arrives and offers her help, but admits that she doesn't have the power to strip Rumpelstiltskin of his magic. However, she says that she can send Rumpelstiltskin to a world without magic and where he can't draw upon his powers. Baelfire agrees to do whatever it will take and the Blue Fairy gives him the last magic bean, telling him to follow it wherever it leads.
Now
Mary Margaret is walking home when David approaches her and tries to apologize. He admits that whoever was trying to frame her did a good job and that he's only human for believing it. Mary Margaret says that she can't stand there good times together, knowing that there will be bad memories like what happened. She wonders if some dark force is trying to poison what they have and says that what is sad is that David loves her.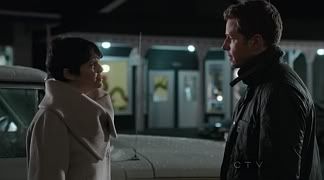 Once Upon a Time
Baelfire tells his father that Reul Ghorm has provided him with what they need to remove the magic. Rumpelstiltskin realizes that "Reul Ghorm" translates into "Blue Star" and that the Blue Fairy is the one trying to strip him of his powers. Baelfire wonders if he's breaking his deal and Rumpelstiltskin agrees to abide by his promise.
Now
Gold hesitantly approaches Archie at his office and the psychiatrist invites him to open up. The pawnbroker explains that he may have found his son, but wonders if he isn't seeing just what he wants to see. Gold worries that his son isn't ready for a reunion and may want to kill him. Archie admits that isn't a normal relationship but tells Gold that the only way he can solve anything is to be honest with his son.
Later, Gold finds August at a cabin by the lake. He tells the newcomer that he knows who he is and what he's come to Storybrooke to find. August, relived, says that he can stop lying and calls Gold "Papa."
Once Upon a Time
Baelfire and Rumpelstiltskin go out into the woods and throw the magic bean onto the ground. It creates a portal and Baelfire takes his father's hand and tries to lead him in Rumpelstiltskin refuses, insisting that it's a trick, and Baelfire calls him a coward and asks if he's going to break the deal. After a moment, Rumpelstiltskin releases his son's hand and lets him fall into the portal. It seals up behind him and a panic-stricken Rumpelstiltskin starts digging into the ground, insisting that he wants to go with Baelfire.
Gold apologizes for being a coward and letting August go without him, and explains that he's been looking for him ever since. He asks August to be the bigger man and forgive him, and August hugs him. He explains that he was looking for the dagger, figuring that if his father had it then he hadn't changed. Gold takes him to where he buried it to make sure that Regina couldn't use it, and they dig it up. As August holds it, Gold tells him to destroy it. However, August tries to use it to take control of Gold. Angry and hurt, Gold realizes that August isn't his son and that the real Baelfire would have known that the dagger couldn't work in a land without magic. He snatches the dagger back and demands to know who told him about it. August says that a fairy told him and that even though he knew Gold could kill him, he took the risk because he's sick and dying, and needs magic to save him. The newcomer tells Gold that he's been trying to get their savior, Emma, to believe, but realizes that it would take too long. Gold tells him that Emma does trust him and that his plan might still work. He tells August to try again and, when August wonders why he's sparing him, says that August will die either way. Gold figures that he can get something out of it if August succeeds.
Once Upon a Time
When Rumpelstiltskin yells for the Blue Fairy, she comes and he asks how he can go to Baelfire. She explains that the magical bean was the last one and that there is no other way. However, Rumpelstiltskin realizes that a curse could work, and vows that he will find such a curse and use it no matter the cost to the rest of their world. The Blue Fairy warns against it but Rumpelstiltskin vows that he will find a way to the other world.
Now
Regina goes to the sheriff's office and tells Emma that she is going to provide a confession. Sydney comes in and confesses that he abducted Kathryn, held her at a summer cottage, bribed a lab tech to fake the DNA report, and stole Regina' skeleton key to let Mary Margaret escape. Emma doesn't believe it but Sydney explains that he set the whole thing up so that he could save Kathryn, frame Regina, and break a story on it to get his reputation back as a reporter. Emma doesn't believe him but Sydney says that his fingerprints are all over the cabin as are Kathryn's. When Regina suggests that Emma accept Sydney's story, Emma calls her out into the hallway and warns her that she's had enough of Regina's games. Now she plans to play her own game and tells Henry that she is going to take back her son.