Regina is having dinner with Henry when Emma shows up at their door. She says that Henry invited her and suddenly all of the townspeople appear at her doorstep. Henry comes up behind Regina, carrying a rope. Suddenly Regina finds herself tied to an apple tree in the center of town with everyone around her. Everyone complains that she's stolen their happiness and they plan to make her pay, and Regina insists that she just wanted to win. Emma pulls an apple from a branch and squeezes it, saying that it's rotten, and then takes a sword from David and swings it at Regina...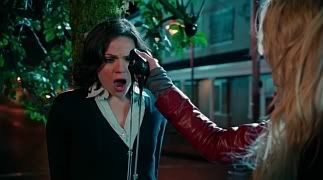 … who wakes up from her nightmare. She goes to Henry's room and sees him beneath the sheets. However, she's unaware that Henry has slipped out and left some pillows beneath the sheets.
Henry is in the car with Emma and realizes that she plans to leave town. He insists that she has to stay and break the curse, but Emma says that she's doing what she has to for him. As they drive past the town border, Henry yanks on the wheel and the car goes into the ditch. He begs Emma to stay, telling her that her family needs her.
Once Upon a Time
The soldiers bring James to King George, who accuses his son's twin of betraying him in the name of true love. James insists that he would do it again for the woman he loves, and George has James escorted to the guillotine. However, when the executioner drops the blade, it turns into water as Regina arrives. She tells King George that she will pay what he would have received from Midas when James married his daughter. When the king says that he wants James to suffer, Regina assures him that he will because she plans to use James to end Snow's life.
Now
Regina goes to check on her apple tree and discovers that the fruit is rotting, just like in her nightmare. She goes to the pawnshop and asks Gold why it's rotting, and she believes that the fruit is rotting because the curse is fading, and the curse is fading because Emma came to Storybrooke. Gold suggests that Regina might have to let Emma leave Storybrooke with Henry so that Emma can't break the curse. Regina would rather keep Henry and kill Emma, but Gold reminds her that doing so will break the curse. He knows because he's the one who designed it, and Regina tells him to change the conditions. Gold admits that he can't because of the lack of magic in the real world. When Regina offers him anything he wants to do so, Gold says that he isn't interested and is already planning where to go once he is free. He advises her to make travel plans of her own because when the townspeople remember what she's done, they'll come after her.
Later, Regina goes to the school and puts a card with a white rabbit on the bicycle belonging to Paige, Jefferson's daughter.
Emma returns home and finds an angry Mary Margaret. Her roommate complains that Emma took off without saying goodbye and reminds her that she once told Mary Margaret that they had to stick together because they were family. Emma explains that she doesn't want anyone relying on her and that she left town to save Henry. Mary Margaret points out that stealing her son isn't a good sign that she can give him a stable home, and warns that Emma is reverting to the person she used to be.
Once Upon a Time
Snow mobilizes her friends to help her rescue James from castle. As Granny and the dwarves arrive, Red meets them after scouting out the defenses. She warns Snow that Regina is at the castle and that it must be a trap. Snow agrees but says that they've gone too far now to turn back. As the others go in, Snow tells Red that she destroyed Regina's happiness and now the queen plans to destroy hers.
Regina visits James in the dungeons and he tells her to be done and kill him. However, Regina says that she doesn't want him dead and that she plans to use him to punish Snow. As she leaves, holding an apple up, he realizes what she means.
Now
Jefferson gets Regina's message and comes to see her at her home. She asks for his help to gain access to the fairy tale world once more and reminds Jefferson that if he kills her then he'll never get his daughter back. Regina shows him his magical hat, but he admits that he can't use it without magic. However, Regina tells him that she has enough magic to open the portal one last time and get what she needs to keep Emma from breaking the curse. When Jefferson wonders if he should let Emma succeed, Regina reminds him of the impoverished life he had with his daughter in their original world, and says that if they work together then they can both have their children back. She agrees to restore Paige's memories as Grace, but Jefferson says that he doesn't want that. What he wants is for Regina to take away his memories and write a new story for him with his daughter where they are together. Regina agrees to the deal and says that he'll have what he wants once she takes care of Emma.
Once Upon a Time
Grumpy calls upon the Blue Fairy and her people to help them take the castle. Snow, granny, and the dwarves scale the walls and Snow dispose of the guards. They fight their way to the courtyard but are soon outnumbered, but the fairies launch a sleep-dust barrage and render the soldiers unconscious.
Now
Henry goes to see August and get his help, warning him that Emma plans to leave Storybrooke. However, August admits that he was unable to convince Emma to believe that the fairy tale world is real. Worse, his transformation back to a puppet has continued and his arms and legs are both wood. Henry is able to see the transformation, unlike Emma, and realizes that August is Pinocchio. August warns him that if the curse isn't broken then he will revert to his original puppet body and that Emma simply refuses to believe. Now all he can do before is spend his remaining time with Marco. Henry wonders if everyone is giving up and August says that Henry is the only one who can convince Emma to break the curse.
Emma meets with Archie at the diner and asks if she has any case for acquiring custody of Henry. He admits that she probably doesn't and wonders if the struggle between Emma and Regina is hurting Henry more than it can ever hurt. The psychiatrist admits that even though he originally advised Emma to embrace Henry's fantasy life, now he thinks it might have been a bad idea. When Emma wonders if Regina might hurt Henry, Archie assures her that the one thing Regina has never done is harm the boy.
Once Upon a Time
Snow goes to the dungeon to rescue James, but discovers that Regina has taken him to her palace and left a mirror bearing his image. She talks to him and James tells her to have faith that they'll be together someday. Regina then cuts him off and appears, and suggests that she and Snow parley. Snow agrees and Regina tells her to go the place where it all began. Once Regina finishes, Snow goes back to her friends and tells them that she is accepting Regina's offer. They warn against it but Snow insists on honoring the parley and refuses to take any of them with her and put them at risk.
Now
Regina and Jefferson go to the crypt where she keeps the things that she brought from the fairy tale world. However, Jefferson discovers that the hat doesn't work and Regina assumes that it has to absorb the magic from her items. There is only one item that still works, however: the engagement ring that Daniel gave her. Regina reluctantly places it into the hat and it begins to spin. Jefferson warns that there's not enough magic to travel back, but that he might be able to pull a single thing back, something that can be held in one hand. Regina realizes exactly what she needs and Jefferson tells her to concentrate on the place and time where it exists. She smiles and tells Jefferson that she needs an apple.
Once Upon a Time
Snow goes to Regina's family stables and finds the evil queen waiting for her. Regina takes her to the forest and shows her where Daniel is buried, and explains that her mother ripped his heart out after learning from Snow of the stable boy's engagement to Regina. Snow apologizes but Regina says that it's far too late to do any good since she broke her promise. She shows Snow an enchanted apple and explains that the poison curse on it will trap her within her own body and force dreams on her of all of her regrets for eternity. However, the victim must willingly eat the apple. When Snow wonders why she should, Regina says that she will let James live if she eats it. Snow has no choice but to take the apple and eats it. She collapses and in the Queen's dungeon, James feels sympathetic pains and demands to know what has happened to his love. The apple rolls out of Snow's hand and down the hill.
Now
Regina grabs the apple and pulls it back through the portal. Jefferson demands his payment, but Regina says that it won't happen until Emma has been disposed of.
Emma comes to see Regina, unaware that the mayor is cooking a very special apple turnover. Regina invites her in and Emma explains that she's willing to negotiate over Henry as long as the stop their fighting. However, she warns that they can't go back to the way things were before Emma arrived in Storybrooke. Regina gets the turnover from the oven and offers it to Emma as a peace offering. Emma takes it and leaves.
Once Upon a Time
When Snow doesn't come back, her friends come and find her body. There's no sign of life and they assume that she gave up her life for true love. Meanwhile, Regina watches them from her castle via the magic mirror and laughs, while James remains in her dungeons... alive.
Now
Regina goes to see Gold and tells him that she has disposed of Emma. He realizes that she used the last of her magic and warns her that all magic comes with a price. Confident, Regina tells him that he will have to pay it because the curse will be stronger than ever and he isn't going anywhere.
Emma calls Henry to Mary Margaret's apartment and tells him that he has to stay with Regina and that she can't stay in Storybrooke. When he realizes that Regina gave Emma the apple turnover, he says that the whole thing was a trick by his mother to poison Emma. Henry grabs the turnover and eats it, hoping to prove to Emma that he's telling the truth. For a moment, nothing happens, but then Henry collapses, apparently dead.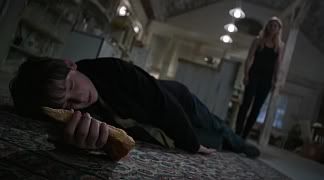 Share this article with your friends