Now
In New York, a man walks home from work and goes home to his apartment. It starts raining out and he tries to close his jammed window without success. A dove lands on the windowsill, drops a postcard, and flies away. The mystery man checks the postcard and discovers that it shows the clock tower in Storybrooke, and has the word "broken" written on the back.
Once Upon a Time
Prince Phillip and an armored woman warrior ride up to Phillip's former castle, now in ruins. They go inside and find Princess Aurora, sleeping atop a bier. Phillip tells him comrade that if his kiss works then they will tell Aurora everything and then kisses his beloved. True love breaks the spell and Aurora wakes up. She wonders why the castle is in disrepair and Phillip tells her that they must rebuild the castle. He assures her that their people are safe and that Maleficent no longer poses a danger to anyone.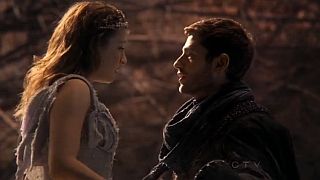 Now
As the purple mists dissipate from the streets of Storybrooke, Mary-Margaret and David realize who they really are and the love that they share. They check on the other townspeople and find first Granny and Ruby, and then the seven dwarves. Everyone bows to their queen and king as Emma and Henry arrive. Mary-Margaret and David embrace their daughter and Henry calls David "grandfather." The Mother Superior, aware that she is the Blue Fairy, arrives and says that magic broke the curse that held Storybrooke in sway. When Henry asks her to help them, she admits that she has no powers and can do nothing. They go to look for Regina, figuring that she's responsible, but Emma says that it wasn't her.
At the magic well, Gold asks Belle how she came to be imprisoned and the woman explains that Regina abducted her and left her in an insane asylum. Gold is furious that Regina tried to use Belle against him but she makes him promise that he won't give into his hate. Gold reluctantly promises that he won't kill Regina and they kiss.
In Storybrooke, the group goes to Regina's house and Mary-Margaret tries to get Emma to talk about what's happened. Emma avoids discussing it, saying that she needs time. Archie runs to find them and warns that Dr. Whale has created a mob to find Regina and they realize that they need to stop the mob before Regina destroys them with her magic.
Once Upon a Time
While the warrior paces outside, waiting for Phillip and Aurora, she notices a crack in the flooring. As the warrior goes to investigate, a wraith bursts out of the ground and attacks. Phillips hears the noise and runs outside, slashing at the wraith. He cuts off the amulet it wears around its neck and it flies away, and Phillip warns Aurora that it's something bad. He picks up the amulet and holds it in his hand.
Now
Gold goes back to the pawnshop with Belle and tells her that he's going in the back to find her something to wear. However, once he's alone, he removes the wraith's necklace from a case.
Regina comes out to confront the mob at her doorstep, unphased by their anger. Whale tells her that they plan to make her suffer as she made them suffer, and she gestures, trying to cast a spell. The mob cowers back but Regina discovers that her magic no longer works. Emma and the others arrive and Emma tells them to stop. David reminds the townspeople that Emma saved their lives and should listen to them. Whale insists that they don't have to follow human laws because they aren't from the human world, but David points out that they live there now. He wonders who Whale is but the doctor says that it's none of his business. Mary-Margaret takes a more practical approach, warning them that they won't be able to get answers from Regina's corpse, and suggests that they lock her up.
At the jail, Emma and the others lock Regina up and wonder why breaking the curse didn't send them back to their land of origin. Regina tells them that they didn't go back because the curse destroyed it and there's nothing for them to go back to. They go to talk to Gold and Regina tries to use her magic to open the lock without success. Gold comes in and tells her that she can't use her magic because magic works differently in the real world. When Regina wonders if he's there to kill him, Gold tells her that he promised Belle that he wouldn't kill her. However, since Regina sentenced Belle to a fate worse than death, he has the same thing planned for her. He grabs her hand through the bars and slaps the amulet onto the palm.
Once Upon a Time
The warrior woman removes her mask and introduces herself to Aurora as Mulan. Phillip explains that they journeyed together and fought many threats, and Mulan warns them that the wraith, a Qui Shen in her people's legends, marks its victims and then rains their souls, damning them for all eternity. Since the wraith didn't mark any of them, they should be safe. As she walks away, Phillip hides the mark of the amulet on his palm from Aurora.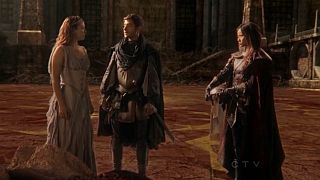 Now
Gold goes to the forest and uses the dagger bearing his true name to summon the wraith from the amulet.
At the jail, Regina looks at her hand in horror and realizes that the brand of the amulet is now visible.
The wraith flies off into the sky in search of its victim.
Emma has Ruby take Henry off for safety and then tries to avoid Mary-Margaret, who wants to talk about all the things they shared when they weren't aware that they were mother and daughter. Emma admits that she's having trouble getting over the fact that her parents sent her away for 28 years, no matter how good the reason. When Mary-Margaret points out that Emma would have been trapped in Storybrooke with the rest of them if they hadn't sent her away, Emma says that at least they would have been together and then goes to find Gold.
Once Upon a Time
Phillip, Aurora, and Mulan leave the castle and make camp for the night. Mulan warns the others that the wraith hunts at night because it fears the light, which is what drove it off earlier. Aurora tries to talk to Phillip, who avoids her for fear of giving away how he's been marked. He gives her one passionate kiss, explaining that he's making up for lost time, and then leaves... believing it's the last time they will see each other.
Now
Emma, Mary-Margaret, and David go to the pawnshop and confront Gold, who cheerfully welcomes them in. When they accuse him of helping Regina inadvertently curse Henry and setting magic loose to destroy them, he points out that Henry is alive, the curse is broken, and Emma and her parents are together. When they wonder why he broke the curse, Gold refuses to answer. The town suddenly shakes as darkness sweeps over the town and Gold tells them that he's taking care of Regina for them. As they go back to the jail, Emma warns Gold that they're not done. He agrees and reminds her that she still owes him a favor. Once they leave, Belle comes out from the back room, realizing what he's done. Gold insists that he kept to the letter of his promise and that he won't kill Regina. Belle accuses him of toying with words like he has always toyed with people and tells him that he's still a man who makes the wrong choices. Gold tries to apologize but Belle angrily walks out of the shop.
Once Upon a Time
As night falls in the forest, Mulan and Aurora hear the wraith in the distance and discover that Phillip has slipped away, taking the horses with him. Mulan realizes that Phillip bears the wraith's mark and goes to find him. when Aurora insists on going, Mulan tells the princess that she would only slow her down an goes away before Aurora can catch up to her.
Now
The wraith flies into the jail, breaking open the cell door and draining Regina's soul. The others arrive and David hits the wraith, driving it back momentarily. Mary-Margaret uses hair spray as a flamethrower and drives the wraith out of the building, but Regina warns that it will come back once it has regenerated, and that there is no way to kill a creature that is dead. David is happy to leave Regina alone and let her pay for her sins, but Emma refuses to break her promise to Henry to keep Regina alive. When Mary-Margaret wonders what they can do, Regina says that they have to send it away to somewhere that it can't hurt anyone.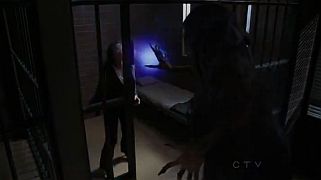 The group goes to the mayor's office and she takes out Jefferson's hat from the case. She asks Emma if Henry really asked her to protect the mayor, and Emma says that he did. Emma says that she recognizes the hat as belonging to Jefferson but Regina claims that she doesn't know the man. As David and Mary-Margaret make torches, Regina tells them that she can use the hat to send the wraith into oblivion by creating a portal to the destroyed world that they came from.
Once Upon a Time
Mulan tracks Phillip through the woods and aurora catches up to her, having found one of the missing horses. The princess insists on going but Mulan tells her that Phillip understands sacrifice and that he is sacrificing himself to keep Aurora from harm. Aurora stares at Mulan closely and then tell the warriors that she recognizes love when she sees it, but Mulan insists that she isn't in love with Phillip.
Now
The wraith returns to the attack and flies into the mayor's office. David holds it off with a torch and Mary-Margaret uses alcohol to create a flame barrier, while Regina tries and fails to make the hat work.
Once Upon a Time
Mulan and Aurora find Phillip as the wraith closes in. Mulan asks for the amulet, volunteering to mark herself and let the wraith take her so that Aurora and Phillip can have each other. He refuses and Aurora says that she doesn't want to live without her beloved. Phillip turns to confront the wraith and invites it to attack him. it drains his soul and reenters the amulet, while Aurora goes to her beloved's body.
Now
Regina is unable to get her magic to work... until Emma takes her hand. The portal spell works and the wraith is sucked into it as it grasps at Regina. Emma shoves the mayor out of the way and falls into the portal, and a desperate Mary-Margaret jumps in, refusing to lose her daughter again. David tries to dive into the portal but it closes, leaving him sprawled on the floor.
Once Upon a Time
Mulan and Aurora take Phillip back to Aurora's castle and put him on the bier where the princess once rested. Aurora tells the warrior that she knows about sacrifice and that she made her own sacrifice to make her kingdom. Relenting, Mulan puts the amulet in a bag and gives it to Aurora, saying that she should keep it.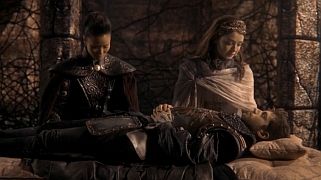 Now
Regina tells David that she has no idea where Mary-Margaret and Emma have gone. When he tries to choke her, Regina casts him back with a spell, binding him to the wall. She prepares to kill him just as Henry and Ruby come in. Regina releases David and tells Henry what has happened to his birth mother and grandmother. She says that she's sorry but Henry doesn't believe her and says that she really is the Evil Queen. Desperate to regain his love, Regina insists that she cares and Henry tells her to prove it by bringing Emma and Mary-Margaret back. Until then, he refuses to have anything to do with her. When Regina wonders where he'll go, David offers to take care of the boy and leaves with Henry.
Gold is surprised to discover that Belle has come back to the pawnshop. He tells her that Belle is still alive and she wonders if he got what he wanted. Gold says that it remains to be seen and Belle notices the chipped teacup from their other world. She's surprised that he still has it and Gold tells her that it's the only thing in the shop that he truly cherishes. Belle is clearly willing to stay but Gold tells her that she should go because he's still a monster no matter what she believes of him. Smiling, Belle tells him that's the very reason that she has to stay with him.
David takes Henry to Mary-Margaret's apartment and assures him that he knows that Mary-Margaret and Emma are still alive. He promises to find them because he will always find them.
Once Upon a Time
Mulan tells Aurora that much has changed since she went into her cursed sleep. Aurora was only unconscious for a year, but in that time the land was frozen for 28 years when Queen Regina cast a curse and sent most of the inhabitants away to somewhere unknown. Something recently has weakened the curse, freeing Phillip and Mulan, and they set out to find Aurora. The ravaged land is now filled with hideous beasts but the few that were left behind have found a safe haven.
The two women hear something moving outside in the rubble from the wraith's first attack and go to investigate. They find what Mulan believes is the cause of the wraith's attack: an unconscious Emma and Mary-Margaret.