Once Upon a Time
Ruby arrives at the rebel camp and warns James, Snow, and the others that King George has sent his new general, the Leviathan, to lead a troop of men to attack them. James tells his forces to split up and sends Snow to his cabin where his mother is staying while he draws them off since he's the one that King George wants. However, the masked Leviathan follows Snow instead and captures her. She demands to see his face and he removes his mask, introducing himself as Lancelet of the Round Tables. When she wonders where the other knights are, Lancelot says that he is no longer with them.
The Enchanted Forest
Cora examines the unconscious Mary Margaret and tells Emma that she will recover. Emma wonders where they are and Cora explains that they are on an island where the survivors of the curse have gathered after it devastated the Enchanted Forest. She admits that Regina, her daughter, cast the curse, and assures Emma that she's is nothing like her evil daughter. Cora realizes that Emma and Mary Margaret are from the other side, and Emma explains that Henry is her son. Before Emma can say anything else, Mary Margaret wakes up. She warns Emma that Cora is much worse than Regina. Cora protests and Emma points out that she may be their only chance, but Mary Margaret is unconvinced. A man tosses down a rope and tells them to climb out and meet their leader.
Now
David and Henry are walking through Storybrooke and David tells his grandson that he has already talked to Jefferson. The former Mad Hatter refused to help so David plans to seek out magic and figure out a way to get to Emma and Mary Margaret. Henry wants to help but David refuses, explaining that he doesn't want to put his grandson anywhere close to magic given the price that it demands. Henry reluctantly agrees and goes to the school bus. However, as soon as he is out of David's sight, Henry runs off.
The Enchanted Forest
As they go to the camp's leader, Emma tells her mother that she was just trying to help. However, Mary Margaret says that she knows more about their new world and Cora, and tells Emma to follow her lead. Emma wonders if Mary Margaret came through just to protect her, but Mary Margaret insists that she came through to be with her. The camp leader greets them: Lancelot. He welcomes Mary Margaret and apologizes, admitting that he didn't know who she was or he would never have imprisoned her. Mulan and Aurora watch and Aurora wonders why Lancelot trusts the newcomers. Mulan says that Phillip trusted Lancelot so she's willing to trust his judgment as well, and tells Aurora that they don't seek vengeance. Aurora reluctantly agrees, but makes sure that her dagger is ready after Mulan walks away.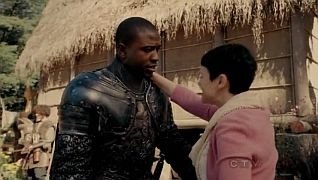 Lancelot invites Emma and Mary Margaret to a meal and they ask what happened to the Enchanted Forest. He admits that they don't know how some of them survived the curse. Lancelot tells them that the survivors were forced to fight their way through the ogres to get to the island and create a safe haven. Mary Margaret asks if any portals remain and Lancelot tells her that none of them exist. However, Mary Margaret says that there could be one that still exists. She's reluctant to speak of it when Cora is in the camp, but Lancelot assures her that Cora lost her powers when the curse struck. He admits that Cora could still be dangerous, which is why they keep her locked up. When Mary Margaret explains that they plan to find the portal, Lancelot agrees to let Mulan go with them.
Once Upon a Time
Lancelot escorts Snow to King George, who assures her that he didn't bring her there just to kill her. He tells Lancelot to get Snow some water and then tells her that he knows all about pain. When Snow says that he can't understand pain, King George tells her that James hurt her by refusing his offer to become the Prince of the land. Further, he was cursed himself when his wife drank a potion that made her infertile, depriving him of a family. Now King George plans to punish James the same way. Snow realizes that the water that Lancelot gave her contained the same potion and clutches at her stomach as she realizes that King George gave her the same potion that his wife drank.
The Enchanted Forest
As Mulan gives Snow and Emma weapons, Emma asks for her gun back. Unimpressed when Emma says that she's fought a dragon and win, Mulan warns her that the ogres are more dangerous than anything she can imagine. As they leave, Mary Margaret secretly tells Emma that they may be able to use the wardrobe to get back to Storybrooke, if it survived the curse. To obtain it they must go to Snow's castle.
Now
Henry finds Jefferson sitting at the harbor and approaches him for help. Jefferson refuses, saying that Henry should talk to Regina and have her help using the magic items in her vault. Henry sees a child's drawing that Jefferson is looking at, of a girl looking for her father, and realizes that the girl is Paige, Henry's classmate. He wonders why Jefferson isn't going to his daughter and the man says that he left her and can't bear to see her knowing what he's done. When he considered going, the curse on the town was lifted and he took it as a sign from fate telling him not to see his daughter. Henry tells Jefferson that he knows from personal experience that knowing what has happened to a parent is the worst thing possible.
The townspeople have turned Regina out of office and she is busy packing up when Henry calls her. He asks her to meet him for lunch at the diner and she gladly accepted. However, once she leaves, Henry slips into the office and steals her ring of keys.
The Enchanted Forest
Mary Margaret and Mulan pick a spot to camp for the night and say that they should build a fire. When Emma points out that it could draw the ogres, Mary Margaret tells her that ogres are almost blind and hunt by scent. She suggests that Emma watch the campsite while they get food and firewood and Emma reluctantly agrees.
Once Upon a Time
The king's men take Snow back to the ruins of the rebel camp and leave her. When someone rides up, Snow ambushes them and discovers that it's Lancelot. He says that he's there to help and that he's trying to act on what little honor he has by warning her that King George has sent his men to kill Ruth, James' mother.
James is at the cabin with Ruth when he hears someone approaching. He sends his mother inside as the soldiers surround him. James attacks and kills them all, but one of them gets off a stray shot and hits Ruth in the chest. She collapses and James runs to her. Ruth tells him that she heard the noise and came to help, just as Snow and Lancelot arrive.
The Enchanted Forest
Night falls over the camp and Aurora attacks Mary Margaret. She blames her for the curse and Phillip's coma, but Mary Margaret knocks her to the ground and tells Aurora that she knows what it means to be separated from loved ones. As Aurora reconsiders, Emma fires a warning shot into the sky. The others realize what Emma has done and run as an ogre howls in the distant. Emma trips and Mary Margaret runs on, unaware of what has happened. The ogre emerges from the woods, knocking the gun out of Emma's hand when she tries to shoot. However, Mary Margaret doubles back and whistles at the ogre. When it charges at her, she kills it with a single arrow into its eye. Mary Margaret tells Emma that her inexperience with the fairytale world could get her killed and Emma admits that she's right.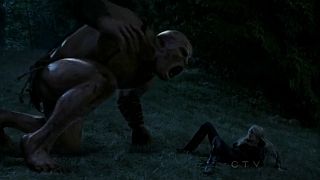 Once Upon a Times
Lancelot warns the others that the arrow is poisoned and that there is no antidote. James suggests that they go to Lake Nostos and use the magical waters to heal his mother. As they head to the lake, James wonders how Lancelot became a mercenary, but the former knight will only say that it was because of a woman. They scout ahead and Snow tends to Ruth, who thanks Snow for being there for her son. She gives Snow a necklace blessed by a gypsy that can tell the gender of an unborn child and insists on trying it on Snow. It doesn't show any gender and Ruth hastily dismisses it as a superstition, nothing more. However, Snow admits that King George has cursed her with infertility. Undeterred, Ruth tells Snow that the lake waters can cure her as well as Ruth and that Snow will be a wonderful mother.
The Enchanted Forest
As the foursome continues toward the castle, Aurora starts to fall behind and complains that she didn't dress for the cold and the forest. Emma offers the princess her jacket and admits that she can understand since she's also been screwing up. Over the next rise they come to a cliff overlooking the castle.
Once Upon a Time
The group arrives at the lake only to discover that it has dried up.
Now
Using his storybook to find the symbol that marks the vault, Henry goes to the cemetery and locates the mausoleum that conceals Regina's vault. He finds the passage down and begins exploring, and finally removes one coffer from its niche. When he opens it, two sneaks emerge and prepare to attack him... just as David arrives and slams the coffer's lid down, sealing them in. He explains that Regina called him when Henry didn't show up at the diner and asked him to help her son because she knew Henry didn't want her there. Henry complains that they are in Storybrooke when he should be in the Enchanted forest, learning how to ride horses and fight. Accepting that Henry wants to help, David says that they'll work together from now on.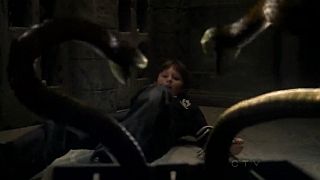 Once Upon a Time
James realizes that when he killed the siren, it caused the lake to destroy it. Lancelot insists that, as a boy raised by a lake, there is still hope and searches until he finds a shell holding a single sip of the lake water. Ruth tells Snow to drink it so that she can have a child and make James happy, but Snow refuses to let Ruth give up her life. The old woman tells her that it's the responsibility of parents to put their children first and that Snow will understand when she has a child. Snow insists that she wouldn't know how to raise a child, having been raised without a mother. James brings Ruth the lake water and she reluctantly drinks it, and then tells Snow to have faith that they will find another way to break the curse on her.
The Enchanted Forest
The foursome enters the castle and Mary Margaret leads them to the nursery. Mulan and Aurora give mother and daughter time alone and Snow talks about how she planned to raise Emma and teach her everything that she needed to know, but the crisis was upon them and they never got to be a family. Emma says that they have a family and need to get back to Storybrooke, and they try to figure out how to make the wardrobe work.
Once Upon a Time
When Ruth doesn't get better, James realizes that something is wrong and she tells him that the lake water had lost its magic. She doesn't want to spend her last minutes watching James struggle for an impossible cure, and tells him that she is willing to give her life to make him happy. Ruth tells her son that her only regret is that she won't be able to see him marry Snow, and Snow says that she will. She asks Lancelot to perform the wedding ceremony for them. Using a small cup and speaking of the holy chalice, he has the couple share a sip of water each from the cup and pronounces them man and wife. As they kiss, Ruth dies and James says goodbye to his mother for the last time.
The Enchanted Forest
Emma and Mary Margaret realize that they will have to take the wardrobe back to the island sanctuary and find someone there with the magic to activate it. Lancelot arrives, telling them that he heard about the ogre attack and came to see if they were okay. He examines the wardrobe intently and says he wants to help them get back to Henry, and Mary Margret draws a sword on him. She tells Emma that they only told one person about Henry, and that was Cora back in the pit. Cora drops her spell of illusion and explains that she killed Lancelot a long time ago, but she has kept him alive through illusion to give them a leader. She then casts them both aside with a spell, pinning Mary Margaret to the wall.
While Emma tries to struggle free of the spell, Cora tells Mary Margaret that she needs a way back so that she can meet Regina and her grandson Henry. Emma takes out her bullets and uses the gunpowder to start a fire, burning the wardrobe. Cora attacks her with a fireball but Mulan bursts in and deflects it away. Realizing that she's out numbered, Cora tells them that they're not done and teleports away, as Emma realizes that she destroyed their way home.
Once Upon a Time
James buries his mother and tells Snow that he still has her and their children-to-be as family. He gives her Ruth's necklace and Snow starts to tell him about King George' curse. However, the necklace starts to move and Snow realizes that the curse has been listed. When James wonders what their child will be, Emma says that it's a surprise. As he leaves to prepare for their journey back to reunite the rebel forces, Emma turns to Lancelot. She accuses him of working with Ruth to put the lake water into the wedding chalice and trick her into drinking it. Lancelot feigns ignorance and asks about the child, and Emma says that it will be a girl.
The Enchanted Forest
Mary Margaret promises to tell the survivors that Lancelot died an honorable death. Mulan realizes that they need a leader and Mulan says that Mary Margaret must do it. She hesitates to agree, telling them that she needs to find a way back to her family. Mulan and Aurora promise to help them find a portal back to Storybrooke. As they leave, Emma tells Mary Margaret that she has realized that her mother has and still is giving up everything for her, and admits that it's the first time anyone has done that for her. Mary Margaret hugs her and tells her to get used to it. Once they leave, Cora teleports in and takes some ashes from the burnt wardrobe.
Now
Jefferson finds his daughter as she comes home from school and calls her by her fairytale name. Recognizing him, Paige runs to embrace him. Henry is watching from nearby and David finds him and says that it's time that he learn how to fight. David has purchased a pair of wooden swords and they start practicing on the street. As they do, King George watches them from his car.