Now
Gold gives Belle a necklace and explains that he'd like to take her out to see Storybrooke. As she thanks him for changing and becoming a more honest man, Leroy storms in and demands his axe. Gold says that he doesn't have it and Leroy warns him that nothing in the pawnshop actually belongs to him. The miner asks Belle how she can stand to be with a monster and Gold viciously attacks him, reverting to his Rumplestiltskin form...
And Belle wakes up from her nightmare. She goes outside and looks through the cellar window, and sees Gold spinning golden thread and then putting it into a beaker where it glows.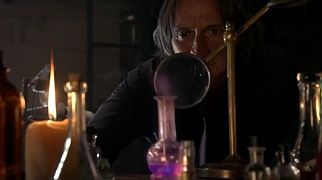 Once Upon a Time
Rumplestiltskin comes home to Bae and realizes that his wife Milah has left. He goes to town to ask around and reluctantly takes Bae with him, and leaves him outside while he goes into the tavern. Several sailors are gambling at a table and Milah has joined them. Rumplestiltskin asks what she's doing and she reminds him that he was a coward during the Ogre Wars. She turns back to the dice game but Bae comes in and calls to her. Shocked, Milah reluctantly lees with them and puts her son in bed. When Rumplestiltskin asks if she wishes he had died during the Wars, Milah says that she wants to leave and find a place where Rumplestiltskin isn't known as the village coward. He asks her to try and cope, for Bae's sake if not his own, and Milah says that she'll try.
Now
The next morning, Belle asks Gold while he is practicing magic. He insists that it's just a few simple spells but she refuses to settle for his answer. She asks him why he brought magic to Storybrooke and why he needs it so badly, but he refuses to tell her. Disgusted, Belle tells him that what he needs is the courage to open up to her.
Once Upon a Time
A village woman comes to see Rumplestiltskin and tells him that the sailors have captured Milah and taken her to their ship. When Rumplestiltskin tries to board the ship, he stumbles in front of the captain, Killian Jones, who demands to know why he's there. Rumplestiltskin explains that they have his wife and Killian says that his sailors need a companion. However, he tells Rumplestiltskin that he's a man of honor and will let Rumplestiltskin duel to win Milah back. Rumplestiltskin hesitates and is unable to fight, and Killian advises him to tell Bae that his father is a coward.
Now
David is working with the dwarves in the mine, searching for fairy dust, while Henry looks on. Ruby brings them lunch and David tells Leroy that he's heading back to town to take over as sheriff until Emma returns.
Gold discovers that Belle has fled his house. Desperate to find her, he goes to see Moe French, her father, at his flower shop. He complains that Belle has disappeared because of both of them and the deal that they made. Gold insists that he just wants to know if belle is safe but Moe says that he's a monster and now they have no idea what has happened to her.
Once Upon a Time
Years after the disappearance of his wife, Rumplestiltskin is at the tavern, reveling in the fear around him since he has become the Dark One. A man wearing a red cap, William, approaches him and says that he has heard rumors that Rumplestiltskin is looking for a magical bean that will open a passage between worlds. William says that a ship has returned and has such a treasure onboard, and explains that he knows about Rumplestiltskin's past. Offended, the Dark One chokes him off with a gesture and asks what he wants. William says that he wants eternal life but Rumplestiltskin warns him that only the Dark One can live forever. However, William will settle for being reverted to a child so that he can live his own life. Rumplestiltskin agrees to the deal but warns that he will age William to dust if he fails to deliver the bean. Once William leaves, Killian and his crew enter the tavern and Rumplestiltskin takes an interest in them.
Now
Belle makes her the way to diner and chats with Ruby as the waitress brings her another iced tea. Belle admits that she has been a kept woman until recently and doesn't have anyone to turn to. Ruby offers her a room at Granny's but Belle says that what she really needs is a job and a new start to her life. She tells Ruby that she likes books and the waitress suggests that she might take a job at the library. Regina closed it but it is opening back up. Belle goes there and peers in through the windows, admiring the books. William approaches her and confirms who she is and then grabs her and hauls her away.
Once Upon a Time
Rumplestiltskin follows Killian and his crew back to their ship and confronts them in the street. Seeing his skin, Killian sarcastically calls him "Crocodile" and asks what he wants. Rumplestiltskin removes his hood and the pirate captain recognizes him from before, while Rumplestiltskin introduces himself as the dark one. The rest of the pirates back away as Rumplestiltskin asks Killian what happened to his wife. Killian claims not to remember at first but finally tells Rumplestiltskin that Milah died a long time ago. When he asks what he wants, Rumplestiltskin reminds him of the duel he avoided before and says that now they will fight at dawn the next morning. He advises Killian to prepare to die and promises to kill him and gut his crew if he tries to run.
Now
Gold visits David at Mary Margaret's apartment and apologizes for his mistake. He wants to report Belle as missing and David realizes that she's the one that Gold once spoke of in the other world when he mentioned the only person he ever loved. Gold admits that he can't use his tracking spell without anything of Belle's and that he isn't sure if something happened to her or if she just ran away. When David hesitates, Gold points out that he can understand what it means to have a loved one disappear without knowing their fate.
Once Upon a Time
Killian goes alone back to his ship but Rumplestiltskin throws him a sword and tells him to begin their duel. When the captain refuses, Rumplestiltskin teleports Killian's sword to his own hand and attacks. Killian is unable to defeat the Dark One, who finally disarms him. As the captain tells him to get it over with, Rumplestiltskin jams his hand into Killian's chest and starts to remove his heart. However, Milah steps out onto the street and tells Rumplestiltskin to stop.
Now
William, still wearing his red cap, takes Belle to a shed and explains that his specialty is finding hard-to-locate objects. Moe comes in and apologizes to his daughter, but insists that he had no choice when he realized that Gold was holding her captive. Belle insists that she chose to be with the pawnbroker and admits that she loves him. She reluctantly admits that their time together may be over and Moe demands that she promise not to see Gold again. She refuses, insisting that it is his life, not her father's, and Moe tells William to proceed with the next step of their plan.
David questions some of the townspeople but none of them want to help Gold given his prior actions against them both as Gold and as Rumplestiltskin. As they go to Granny, Gold asks David how he and Mary Margaret maintain their relationship and David explains that they are both literally and figuratively honest with each other.
Once Upon a Time
Killian tells Milah to run but she refuses to abandon him. Rumplestiltskin demands to know why she let him think she was dead and Milah explains that she was drawn to Killian's tales of far-off lands and adventures. She couldn't bring herself to tell Rumplestiltskin the truth so she let him think that she was dead. Furious, Rumplestiltskin prepares to kill Killian anyway but Milah shows him William's red cap and says that she has the magic bean. She offers it to Rumplestiltskin if he will let them live and he demands to see it first.
Now
David and Gold go to the diner and Ruby initially denies seeing Belle. However, David assures her that he has Gold under control and Ruby finally admits that Belle was there earlier. She shows them the scarf that Belle left and Gold takes it, explaining that he gave it to her because she was cold. Realizing that he's sincere, Ruby offers to track Belle by scent, explaining that her wolf abilities have returned since magic came to Storybrooke. The trio head down the street and Ruby loses the trail in front of Moe's flower store. Realizing that Moe was involved, Gold goes inside and demands to know what Moe has done with Belle. Moe tells them that Belle is safe and that he won't let Gold destroy her, but refuses to tell them what has happened to his daughter. Gold realizes that Moe plans to send Belle across the town border, causing her to forget her entire life, including Gold. He grabs Moe and starts to choke him, but David pulls him off. As he tries to work out how Moe is going to send Belle out of Storybrooke despite the border patrols, he spots mine dirt on the florist's hand. Recognizing it from earlier, David realizes that he plans to send him through the mine tunnels that run beneath the border.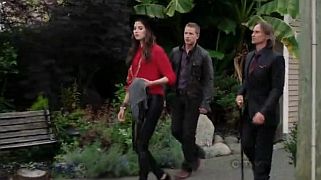 Once Upon a Time
Milah, Killian, and Rumplestiltskin go to Killian's ship and bring up William. Killian shows them the bean he took from the man and asks if their business is done, but Rumplestiltskin has one last question. He tells Milah that he can see she's in love with Killian and asks how she could leave Bae. As they talk, the Dark One animates the ship around them. Milah admits that misery clouded her judgment and apologizes, and finally admits that she was miserable because she never loved Rumplestiltskin. He reaches into her chest and rips out her heart, leaving her to die in Killian's arms as he crushes her heart. Killian vows revenge and refuses to hand over the bean, which he clutches in his left hand. Unconcerned, Rumplestiltskin cuts off his left hand and takes it, and says that he will let the captain suffer like he did. Killian grabs a ship's hook and jams it into Rumplestiltskin's chest, but the Dark One tells him that it will take more than that to kill him. He wishes the captain good luck in living long enough to find a way to kill him and teleports away.
Now
William puts Belle inside of a mine cart and handcuffs her, and then leaves the key in the bottom so she can free herself when the cart passes beyond the town's border. He shoves the cart down the tracks and Belle tries to grab the key, only to drop it over the side. As the cart approaches the border, a blue beam of light strikes the cart, pulling it back. Gold, relieved, frees her after ending his spell and embraces her. However, Belle shoves gold away and says that he hasn't changed. When Moe tells her to come with him, she refuses, saying that it's her own life and that she doesn't want to see either of them again. Furious, she walks away.
Later, Belle has breakfast at the diner and thanks Ruby for everything. Ruby assures her that she can stay at Granny's as long as she wants and gives her a small box that someone left at the desk. Inside is the key to the library. When she goes there, she finds Gold waiting for her. He admits that he used his connections to find her a job and points out that the caretaker's position comes with an apartment in the back. Gold admits that she was right about him and that he is and always has been a coward. He gathered power to fight his cowardice but discovered that he couldn't let go of his magic even to be with Bae. Gold vowed to find Bae in the world he traveled to but could only get there by locating the curse and convincing Regina to cast it. However, he had to wait until the curse was broken to leave Storybrooke and look for his son, only to discover that the new curse would strip him of his memories. If he leaves Storybrooke then he won't know why. Gold is researching magic so he can find a way to break the new curse, and has come there now to tell Belle the truth. As he starts to leave, Belle suggests that they have a hamburger sometime and Gold accepts her offer.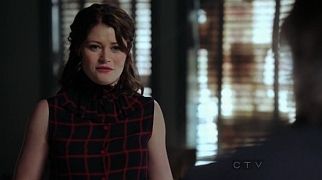 Once Upon a Time
When Rumplestiltskin returns to his cabin, he pries open Killian's hand only to discover that the bean is no longer there.
As his ship leaves port, Killian looks at the bean and then watches as his men give Milah a burial at sea. He ungags his prisoner, who gives his name as William Smee and asks for the bean. Killian says that he holds the bean but that he will give William a position among his crew as payment for it. When William points out that it's not a fair price for the magic bean, Killian says that he will give him the eternal youth that he wants. They are sailing to a place where no one ever ages so that he will have the time he needs to find a way to destroy Rumplestiltskin. William agrees and Killian tosses the bean into the ocean. A maelstrom forms and Killian attaches the ship's hook to his stump and pilots the ship into the maelstrom. As they descend, he says that they are going to Neverland.
Now
Unbeknownst to Belle, Gold returns to his cellar and confronts his prisoner, William. He found his red cap in the mine and knows that he was the one working for Moe. Gold demands to know where William's real employer, Killian, can be found. The man admits that somehow Killian remained behind when the curse took hold and that the captain is still in the Enchanted Forest.
The Enchanted Forest
Killian watches the sanctuary the survivors have on the island. Cora comes up to him, greeting him as "Hook," and he asks why she wanted to meet him. She shows him the ash from the magical wardrobe and explains that there's not enough there to create a portal... yet. When he asks where they are going, Cora tells him that they are going to Storybrooke to find her daughter and his nemesis. Smiling, Hook vows to finally skin the crocodile.