The Enchanted Forest
Emma, Mary Margaret, Mulan, and Aurora return to the sanctuary and discover that someone has attacked it, slaughtering the residents. Mary Margaret soon realizes that Cora attacked, ripping out the hearts of all of the residents. Emma finds someone alive beneath the ruins and he thanks them for helping free him. They're unaware that it's Hook.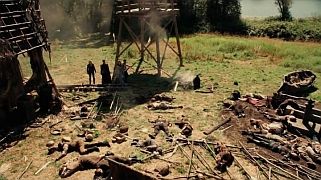 Now
Dr. Whale approaches David, who promptly slugs him for sleeping with Mary Margaret. Whale points out that he didn't know because he was under the curse, and then asks if David is trying to find a way back to the Enchanted Forest. David says that he is and Whale asks if all of the other lands exist and Regina lied, but David warns him that Regina is the one making the claim.
Regina come to see Archie and admits that it's been difficult for her to avoid using magic and keep her promise to Henry. He invites her in and he points out that she can win Henry back. However, Whale storms in and tells Regina to send him back so he can find her brother. She tells him that the curse can't bring the dead back and that she can't send anyone back and Archie orders Whale to leave. Once he goes, Archie closes the door and points out that she can bring the dead over as she did with her father's grave. Regina refuses to discuss it with him and Archie tells her that she has to embrace the truth if she wants to earn Henry's love.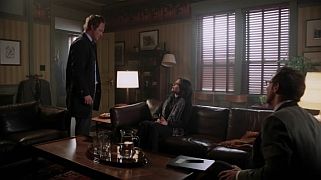 Once Upon a Time
Rumplestiltskin teaches Regina magic, showing her how to immobilize a unicorn. She does and he then tells her to take its heart. Regina objects, remembering that Cora took her true love's heart, but Rumplestiltskin tells her that she can do it without harming it if that's what she wants. She can't bring herself to do it and Rumplestiltskin removes its heart, explaining that holding the heart gives control over the owner. He then tells Regina to take the next step in her training and crush the heart, killing it. Regina hesitates but can't bring herself to do it. Rumplestiltskin tells her that magic is power and that she has to determine what is holding her back.
Later, Regina goes to see her lover Daniel, preserved in an enchantment spell within the mausoleum.
Now
Regina explains that she couldn't let go of Daniel and Archie warns her that the past is doomed to haunt her if she can't let go of it. At that, Regina says that Archie can't help her and leaves. As she drives home, she sees Daniel standing on the street, glaring at her from out of the storm. As she turns away for a moment, Daniel disappears.
David drives Henry out to the stables to show him how to ride a horse. Henry explains that he couldn't sleep for concern for his mother and grandmother, and David admits that he misses them as well. He then introduces his grandson to his steed, explaining that before he rides Henry will have to learn how to care for the horse so that he can bond with it. When Henry wonders when he will ride it, David tells him when the horse says so. David leaves to check on the mines while Henry goes to work.
Regina goes to the mausoleum containing Daniel's body, only to discover that it's gone.
Once Upon a Time
Rumplestiltskin is spinning thread when Regina asks if he's ready to begin. He asks if she is and he asks her why she's really there. When she says power, Rumplestiltskin cuts her off and asks for the truth. Regina asks if she can use magic to bring back the dead and Rumplestiltskin realizes that she plans to bring her true love back. He tells her that magic can do many things but it can't transcend death. Jefferson comes in with what Rumplestiltskin wanted, interrupting them, but admits that he couldn't find the slippers that Rumplestiltskin needs to get to the other land. Rumplestiltskin says that he needs the slippers to go to a land without magic but refuses to say why. As Jefferson takes his reward, Rumplestiltskin tells Regina to get out because as long as she lives in the past, she'll never find her future. Jefferson approaches Regina and says that he knows the wizard who can do what she wants. However, she wants Regina to give him a royal passport to traverse her kingdom. She agrees and Jefferson assures her that if the wizard can't bring someone back from the dead then no one can.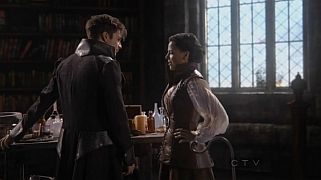 The Enchanted Forest
Mulan tells Emma that she knows Hook as a blacksmith who lost his hand in an ogre attack. They both suspect that Hook is more than he appears since Cora doesn't leave survivors. Meanwhile, Hook explains that he hid under the bodies of the first ones that Cora killed so that she would overlook him. Emma tells Hook that she can tell when someone is lying to her but Hook insists that he's telling the truth. He offers to guide them through the land but Emma holds a knife to his throat and demands to know who he really is.
Now
Regina goes to the hospital sub-basement and calls to Dr. Whale.
Once Upon a Time
Jefferson takes Regina to the castle and explains that he's going to bring the wizard to their world. He warns that the wizard is unfamiliar with their ways but Regina doesn't care. Jefferson takes her to the garden where the wizard--Whale--is sketching a flower. He says that he's a doctor, not a wizard, and asks to see the patient. Regina takes him to the mausoleum and she explains about the preservation spell. The doctor goes to work, cutting open Daniel's hand and taking a sample of blood. He informs Regina that Daniel's condition is ideal and Regina asks how many times he's done it. The doctor admits that the procedure is experimental but he's confident that the conditions are optimal. The one thing he needs is a strong heart and has found none in his world. He wants a heart transformed by magic, one that has been removed from its owner. The doctor asks Regina how she enchants the hearts and Jefferson explains that they take them from living people. Regina says that she won't use magic for evil but Jefferson points out that she'll need to find someone who is. When the doctor wonders if they're wasting his time, Regina says that she knows where she can find a heart.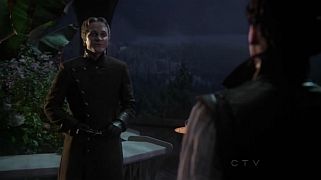 Now
Regina discovers that someone has torn apart Whale's laboratory. She finds Whale's severed arm on a table and Whale himself lying nearby. She demands to know why he took Daniel and one of her hearts, and wonders if he brought him back. Whale says that he succeeded but that he didn't bring back Daniel: he brought back a monster.
Once Upon a Time
Regina shows the doctor and Jefferson her mother's chambers and tells them to listen at the fireplace. They concentrate and heart the sound of a beating heart. Regina explains that it's coming from Cora's vault and shows them the hidden chamber behind the fireplace. They go inside and Regina invites the doctor to take his pick. She admits that she doesn't know who they all belong to because her mother inflicted so much pain. The doctor removes one coffer and smiles in satisfaction, insisting it's perfect.
Now
David comes to the hospital to find Regina at the unconscious Whale's bedside. Regina insists that she went there to talk to Whale and found him, and David demands to know what she wanted to talk about. Regina explains that she was going to talk to Whale about Daniel but that Daniel is back. Whale believed that he could bring Daniel back from the grave using something more powerful than magic. Regina tells David that all Whale needed was a heart, and David realizes that she has the hearts from their vaults. She has no idea which heart Whale took and tells David that she needs to find Daniel. When David warns that Daniel could be dangerous, Regina insists that her ex-lover will harm no one. David doesn't believe her and demands an answer, and Regina explains that Daniel will follow his final thoughts and go to the stables... where Henry is taking care of his horse.
As Henry takes care of his horse, it suddenly starts whinnying. The other horses do so as well and Henry's order knocks him down and runs out. Daniel enters the stable and stands over Henry.
The Enchanted Forest
The women tie Hook to a tree and Emma whistles for the ogres. As they leave, Aurora wonders if he's telling the truth but Emma insists that they're not. Hook finally admits that they've bested him and introduces himself as Hook. They find his hook in his satchel and Hook explains that Cora wanted him to learn everything about Storybooke from them. He tells them that Cora has the ashes from the wardrobe and asks them to cut him loose. Mulan doesn't want to considering all of the lives that he took and Emma agrees, but Hook says that they want the same thing: to get back to their own lands. He offers them his help if they take him along. When Mary Margaret wonders how he can help them, Hook says that Cora needs an enchanted compass and he'll help them get it first. Emma seizes on the opportunity but Mary Margaret isn't convinced. As the ogres close in, Emma asks why Hook wants to go to Storybrooke and he says that he wants revenge on Rumplestiltskin.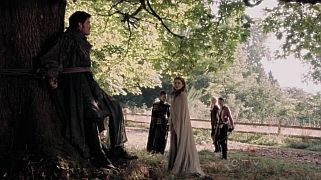 Now
Daniel stars around in confusion and Henry realizes that his hands are covered in blood. When he reaches out to him, Daniel remembers Cora reaching out to take his heart and grabs the boy. Regina and David arrive and Regina tells Daniel to let Henry go. He does so and Henry runs off while Regina tries to get through to Daniel. He lunges at her and David slams the stable door shut. Regina refuses to cast a spell and David prepares to kill Daniel, but she insists that Daniel will listen to her.
Once Upon a Time
As night falls and a storm gathers, the doctor moves Daniel's body to a tent in the woods. He gets the heart from Regina and tells them to stay back while he performs his operation. Jefferson warns Regina that there is much that the doctor knows of that they don't. They watch as lightning strikes the tent and the doctor goes about his business. After a few minutes, he emerges and tells Regina that the heart wasn't strong enough to withstand the procedure. Regina goes to Daniel's body and strokes its cheek.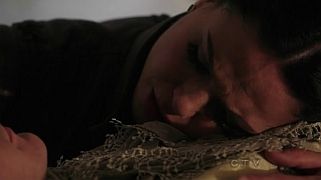 Now
David lets Regina go into the stable and Daniel approaches her. He reaches for her face but then grabs her throat and chokes her. She tries to get through to him, saying that she loves him, and Daniel finally releases her. They embrace but then Daniel staggers and begs Regina to let him go so it will stop the pain. She refuses to leave him, insisting that she's lost without him. When she says that she loves him, Daniel tells her to love again and then advances on her. Regina casts a spell to first stop him and then disintegrate him into nothingness, saying goodbye as she does.
The Enchanted Forest
Hook takes the women through the woods, saying the compass is just over the next ridge. Emma and Mary Margaret figures that it's a trap but that they can handle it as long as they know it's a trap. Over the next ridge, they find a giant beanstalk leading up into the clouds. Hook warns them that they need to worry about the giant at the top and they proceed onward.
Now
Regina drives back to town, crying.
Once Upon a Time
Regina returns to Rumplestiltskin and finds him working with a replacement, Trish. He explains that he needed someone more dedicated and Regina turns to the assistant and removes her heart and then crushes it, and Rumplestiltskin smiles in satisfaction as they return to their lessons.
Now
Regina goes to see a surprised Archie and admits that she used magic.
Once Upon a Time
Jefferson takes the doctor into the woods. The doctor demands his return but Jefferson says that he doesn't go back until they complete their deal. Rumplestiltskin emerges from the woods and the doctor admits that he convinced Regina that he couldn't bring Daniel back. They give the doctor his reward: an enchanted heart. Rumplestiltskin thanks him, saying that he's made his monster, and hopes that the doctor will make his. The doctor says that he isn't making a monster and that what he's going to do is far beyond magic. Rumplestiltskin offers him a wager as to whose land is more powerful, but the doctor declines. As Jefferson opens a portal back to the doctor's world, Rumplestiltskin reminds the doctor that everything comes with a price.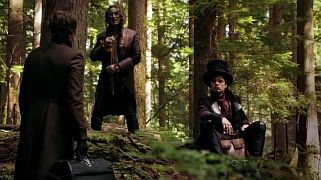 Now
Whale stumbles down the street carrying a cooler and goes to the pawnshop. He shows Gold his severed arm and asks him to reattach it. Gold agrees but first asks why he brought Daniel back. Whale admits that he thought if he helped Regina then she would send him to his world so that he could bring his brother back after his first attempt failed. Gold tells him to admit that magic is more powerful than Whale's science and the doctor admits that he needs magic. At that, Gold casts a spell and restores Whale's arm, addressing him as "Victor."
Once Upon a Time
Victor returns to his castle and gives the heart to his assistant. They insert it into the assembled body on the platform and begin their work, charging their experiment with electricity. After a moment, it comes to life and Victor Frankenstein welcomes his brother back, insisting that it's science, not magic.