Night in Storybrooke, and Hook lands his ship at the dock and comes ashore. Cora follows him and Hook tells her that they'll be parting ways while he deals with Rumplestiltskin. She teleports in front of him and suggests that he rethink things, pointing out that she's able to use dark magic. As Hook realizes what that means, Cora reminds him that he won't have a chance against a magically-empowered Rumplestiltskin. As they talk, a fisherman comes over and comments about the ship, and Cora makes Hooks' vessel disappear. When the fisherman asks if she's a sorcerer, Cora transforms him into a fish to maintain their secrecy and assures Hook that his ship is safe for the time being. Hook agrees to hear her out and she suggests that they look around Storybrooke.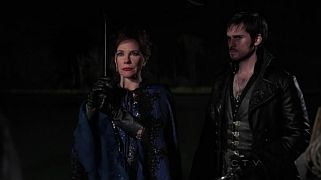 The next afternoon, Mary-Margaret and David are in bed at her apartment. Emma and Henry come in and interrupt them, and Henry wonders why they were in bed. Mary-Margaret hastily makes an excuse and Emma says that they have to make some tacos for the welcome-back party that night.
Once Upon a Time
A black knight rides up to Regina as she watches the people rise up across her kingdom. He warns her that George has fallen and that the people are winning, and Regina tells the knight to make sure that Snow and James stay apart long enough for her to find them.
Snow is running through the woods when Regina finds her. She tells the queen that she can't win now and offers her parley, and Regina says that her terms are Snow's death. When she advances on Snow, the Blue Fairy flies down and traps Regina in a spell, while James emerges from hiding. They explain that they knew Regina couldn't resist coming after Snow and now the kingdom is theirs.
Now
Emma and David bring Mary Margaret to Granny's diner where everyone is waiting. David offers a toast to Mary Margaret and Emma, but is interrupted when Regina comes in late. Leroy grabs a knife and asks why she's there, and Emma explains that she invited her. Mary Margaret and David talk to Emma privately and point out that Regina tried to kill them a day ago. Emma insists that Regina should get a chance and that Henry believes in his stepmother. The couple reluctantly agrees to let Regina stay, while Regina hands out her lasagna.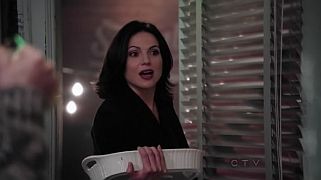 Regina ends up sitting alone and ignores. She goes and Emma goes after her, asking her to stay for a piece of cake. Regina asks if Henry could stay with her from time to time. However, when Emma says that it's not a good idea, Regina snaps at her, reminding her that she was out of Henry's life for ten years. After a moment, Regina reconsiders and apologizes, and Emma says that Archie said that Regina was trying to be a good person. The psychiatrist was the one who said it would be a good idea for Emma to invite Regina, and Regina agrees that it was before walking off. Hook and Cora watch from a rooftop and Cora admits that her daughter hasn't broken... yet.
The next morning, Archie is out walking his dog and runs into Regina. She complains that he violated her confidence and Archie insists that he was just trying to help. Regina points out that he got his medical degree from a curse and warns Archie that he's lucky she's changed.
Once Upon a Time
The council gathers to deal with Regina and Jiminy Cricket warns that Regina will never change. He is against banishment since it would condemn another realm and James warns that the kingdom is in danger as long as Regina lives. He admits that they have no choice but to kill her and dismisses the council. Once they leave, Snow insists that there is a choice, pointing out that James once saved Regina. He says he did it to stop Snow from being an assassin, and that they have no choice but to kill her.
Now
As Regina walks by the diner and goes to Archie's office, Ruby sees her go inside. Upstairs, Regina asks to talk to Archie. He lets her in and Pongo growls at her. "Regina" then grabs him by the throat, immobilizes the dog, and kills Archie. She then walks out, transforming to Cora once she's away from the building.
The next day, Henry and Emma are eating breakfast and Henry wants to know what it was like in the other realm. Emma insists on walking Henry to the bus even though she hasn't before, and Pongo runs up, barking. Ruby comes out and says that something is wrong, and Emma sends Henry on to school. They follow Pongo to Archie's office and find him dead on the floor. Ruby remembers seeing Regina go in the previous night.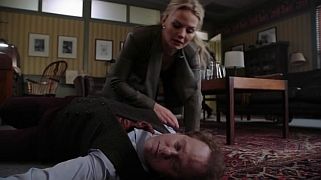 Once Upon a Time
Regina watches from her tower cell as the people gather in the courtyard below. Her father Henry comes to see her and blames himself for failing her as a father. Regina assures him that she doesn't blame the one who stood by her, and Henry tells her that it doesn't have to be the end. He suggests that she show regret for the pain that she's caused and they'll spare her if they give them a reason.
Now
Emma takes Regina to the jail. Mary Margaret watches through a one-way mirror as David and Emma come into the interrogation room and inform Regina that Archie is dead. They don't believe her claim that she was at home all evening, and Regina insists that she wouldn't have tossed it all away to get Henry back. She also points out that she isn't that sloppy. David doesn't believe that Regina is capable of change, but Emma isn't so sure.
Once Upon a Time
The guards bring Regina out to the courtyard, unaware that Rumpelstiltskin is secretly watching from the crowd. Jiminy approaches Regina and asks if she has any last words. Regina claims that she feels regret... that she can't cause more pain. James tells the executioners to aim and fire, but Snow speaks up and tells them to stop. The Blue Fairy stops the arrows in midflight and Snow tells James that it is not the way. She walks off and the guards take a smirking Regina back to her cell
Now
Emma insists that Regina isn't guilty, but Mary Margaret and David aren't convinced. Their daughter figures that Regina wants to change and would destroy the building if she didn't want people to know that she's changed. As the sheriff, Emma insists that Regina is innocent until proven guilty and says that they should let her go and then find the truth.
Once Upon a Time
James asks Snow why she spared her and the new queen insists that she saw a woman who didn't want to appear weak. Snow reminds her husband that Regina saved her life when she was a girl and believes that she can change back to that again. James warns that the safety of the kingdom is at stake, but Snow warns him that there's no going back from killing. He agrees to do it but warns Snow that they can't come back from her chosen path.
Later, Snow goes out to the courtyard to contemplate the execution post. Rumplestiltskin is waiting for her and explains that he came to watch Regina's execution. The Dark One asks how she plans to redeem Regina and Snow admits that she might be fooling herself. Rumplestiltskin offers to provide Snow with a test to determine if Regina is sincere. Snow wonders why he would help when he wants Regina dead, but Rumplestiltskin refuses to explain and asks if they have a deal.
Now
Mary Margaret, Emma, and David go through Archie's files and discover that Regina's file is missing. Mary Margaret assumes that Regina is guilty and David agrees, but Emma figures that it's way too easy. She says that there's only one person in town who would kill. They go to Gold's shop where the pawnbroker is preparing for a picnic with Belle. Emma accuses Gold of trying to frame Regina, but he tells them to check with the one witness. They bring Pongo in and Gold says that they can cast a spell to extract his memories. When Emma asks why they should trust him to cast the spell, Gold says that she'll cast the spell using the potential and takes out a dream catcher. He runs it over Pongo and then tells Emma to will it so that they can all see. She takes it and concentrates, and they all see Archie's last moments... and a disguised Cora killing the psychiatrist. Emma admits that David and Mary Margaret were right all along.
Emma goes to the jail to make Regina pay, and Mary Margaret and David warn her that Regina is too powerful to go after without a plan. Snow suggests that they use fairy dust to restrain Regina's power and Emma promises to make sure they take Regina by surprise.
Once Upon a Time
Snow goes to see Regina and reminds her that she wasn't always evil. Regina reminds her that the woman she once was lost much and is gone, but Snow isn't convinced. She opens the cell and says that Regina needs a chance to let that woman out again and start fresh. Regina walks out of the cell but then turns and grabs Snow. Taking Snow's knife, she stabs her in the chest. However, Snow is unharmed and James comes in and explains that Rumplestiltskin has created a protection spell so that Regina can't harm either of them ever again. They banish Regina to live alone with her misery, and Snow tells Regina that she's saved her life and now they're even. She promises to kill Regina if she tries to hurt anyone in the kingdom and walks away.
Now
Emma goes to Regina's home with David and Mary Margaret and tells her what she saw. Regina figures that they turned to Gold and Mary Margaret explains that Emma used magic. The ex-mayor warns them that magic always comes with a price and Emma says that they'll both pay the price when Henry's heart breaks. Regina asks to see her son and comes out with them, and the Mother Superior throws a pocket of fairy dust at her. However, Regina easily deflects it and knocks Emma down with a spell. Emma, satisfied, tells her that Henry will never believe anything that Regina says now. Shocked, Regina teleports away.
Later, Emma goes to pick up Henry when he returns from school and worries that she doesn't know how to be parent. David and Mary Margaret assure her that she can handle it. Henry gets off the school bus and Emma tells him what happened... while Regina watches from nearby, crying.
Once Upon a Time
Regina is at her castle when Rumplestiltskin comes to see her. He says that he's there to help raise her spirits and reminds her that it's the day of Snow and James' wedding. Regina points out that she can't stop it because of him and the spell that protects them, and Rumplestiltskin points out that there's nothing she can do... in that name. He explains that the deal he made was explicit: she can't harm them in their land. Smiling, Rumplestiltskin disappears and Regina tells her father to summon her carriage because she's going to a wedding.
Now
Cora returns to Hook on the docks and tells him that Regina has now lost everything. He asks when she will help him get his revenge on Rumplestiltskin, and Cora says that she left a gift for him in the hold of his ship. They go aboard the cloaked ship and go to the hold. Imprisoned inside is Archie, and Cora explains that he knows the weaknesses of everyone in town. Cora cast a spell to disguise the person she really killed as Archie, and they're sure that they can make the psychiatrist talk.