Gold comes to pick up Emma and discovers that she's taking Henry with her. She refuses to argue and Gold agrees, saying that he'll need to buy another plane ticket. David asks him to take care of his family and Gold promises that no harm will come to them. They drive toward the town borders and Emma notices that Gold is wearing the shawl, and he insists that it will work. They cross over the town border... and Gold retains his memories... and vows to find his son.
Back at the apartment, Mary Margaret comments about how David is putting on a holster and he admits that he misses his sword. They go out to find Regina... and find her at their doorstep. She wonders if they still blame her for Hopper's death, and they tell her that he's alive and Cora framed Regina for his murder. Regina feigns ignorance that Cora is in Storybrooke and asks to see her son, and is shocked to learn that he's gone with Emma and Gold into the outside world. When she complains that no one told her, Mary Margaret points out that they didn't know where she was and that Emma didn't need her permission in any case. Regina reluctantly agrees and walks away.
David, Mary Margaret, and Leroy take the wounded Hook to the dock and demand that he show them his ship. He tells them that Cora won't be there but David figures they can find something to lead them to Cora. When Hook wonders why he should help them, Mary Margaret points out that he knows which side is the winning one and will help them. He goes aboard the cloaked ship and they come onboard behind him. Leroy asks Hook if he can sail it back to the Enchanted Forest and the pirate explains that it's made from enchanted wood. However, to travel between lands, the ship must go through a portal. Hook tells them that Cora has a secret weapon and pulls the covering off a cage. It contains the giant, unconscious...
Once Upon a Time
The giant, Anton, arrives for dinner with his family. His brothers mock him, calling him "Tiny," and their father Arlo announces that the bean harvest is ready. They share a toast, and Anton drops a human's golden harp that he had hidden in his pocket. Arlo warns him that his fascination with humans is a weakness and points out that they no longer trade beans with the humans because they used them to travel between worlds and conquer and pillage. Anton insists that it's only a few bad humans but Arlo says that they must never let the humans know that they still exist. Anton wonders why they harvest the beans if no one uses it, and Arlo says that the labor is enough. Anton's brother Abraham picks up the harp and crushes it, and Anton runs to the beanstalk and climbs down.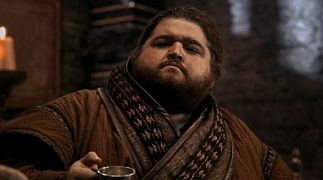 Now
Hook figures that whatever Cora intends to do with Anton is important, but David figures that he's holding out. The pirate tells them that he doesn't know and invites them to talk to the giant. Mary Margaret releases Anton, who demands to know where Cora is and is shocked that she's made him small. When Anton sees David, he recognizes him and attacks him. Mary Margaret threatens him with an arrow and Anton says that it isn't over, promises that David will pay for his evil, and runs off.
Ruby goes to see Belle at the hospital and realizes that she doesn't remember her. She introduces herself and offers her a book that she brought for her. Belle thanks her and asks if they were really friends, and then asks who Gold is and how he healed her with magic and cast a fireball. Ruby claims that she was hallucinating but Belle doesn't believe it and starts to panic. The nurse gives her a sedative as Greg comes out, having overheard Bells' comments. He asks what's happening and Ruby assures him that everything is fine, and tells him to get better so that he can leave.
At the diner, Mary Margaret, Leroy, and David try to work out why Anton bears a grudge against David. David thinks back and realizes that Anton just thinks that it's about him.
Now
At the castle, James is with a woman, Jacqueline, when King George comes in. The king isn't interested in James' newest dalliance and tells James that a giant is running amok in the outer villages. Jacqueline offers to battle one but George wants the giant as a weapon.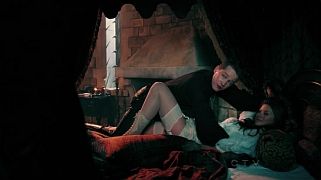 Now
David says that it's time to find out what his brother did to the giant, and sets out with Mary Margaret, while Leroy gathers the dwarves.
Once Upon a Time
Anton peers into a tavern and looks at the humans celebrating. Despondent, he starts to walk off but James and Jacqueline arrive and introduce themselves. Anton explains that he's been fascinated by human customs and came there to see them for himself, and James offers to show him around. Jacqueline offers to help shrink him so that he can accompany them, providing a magic mushroom. Anton takes the mushroom and asks who he can thank, and Jacqueline says that most people call her... Jack.
Now
At Logan International, Gold tries to cope with a modern-day airport. He claims that he isn't nervous and Henry says that it must be hard to be like everyone else. Gold is reluctant to go through airport security and release his shawl, but Emma claims that he is her father and promises not to let him lose his memories. When Gold removes the shawl, he staggers. Once the shawl goes through, Emma quickly puts him on it.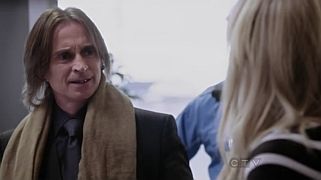 Hook wanders through Storybrooke and tries to summon Cora. until Regina finds him and tells him that she's made amends with Cora. When Regina asks if they found the ship, Hook tells her to send Cora but Regina admits that her mother doesn't want to be seen in public. Hook tells Regina that they found the ship and released Anton, and they both agree that he will serve as a useful distraction.
Anton walks down the street, trying to avoid cars.
Once Upon a Time
The shrunken Anton goes in with James and Jack. They take a table and share some ale, and Anton is happy to be able to sit at the table without fighting for a place. He admits that his family pushes him around, and Jack and James assure him that they're happy to have him and consider him family. Anton enjoys the harp music and is happy to learn that it produces beautiful magic. James goes to the bar and tries to pay his bill, and Jack explains that the Royal Family is in debt to a neighboring company. She tells Anton that the realm will plunder James' realm if they don't get their payment, and suggests that a magic bean could pay the debt. Anton offers his help and his family treasure to preserve his new home and Jack kisses him.
Now
Regina finds Anton at the lake and offers to help him. He vows to kill her but Regina just chuckles and offers to help him kill the man he believes is James. Regina offers him a piece of mushroom and explains that it will restore him to his former glory. Anton eats it... and grows.
At Logan, Gold paces nervously and finally says that he'll be right back. He goes to the restroom and enters a bathroom stall, and then starts pounding the walls in frustration until his hands are bloody. He tries to cure the injuries and discovers that he can't. Henry comes in to tell him that they're boarding soon.
Once Upon a Time
Anton returns to his kingdom and starts collecting treasure. Arlo finds him and asks where he's been, and Anton explains what happened. His father warns him how dangerous it is but Anton insists that he has found friends that like him. The sentry birds sound an alert and Arlo realizes that Anton has given away their location.
Now
Anton goes on a rampage through Storybrooke and David tells everyone to head to the town hall. He then calls out to Anton, saying that he doesn't have to do it, insisting that it was his twin brother James who hurt him. Anton wonders where James is and David tells him that his brother is dead. Mary Margaret says that Emma is their daughter and Anton asks to talk to her, and they admit that she's out of town. The giant doesn't believe them and charges toward them.
Once Upon a Time
Jack and James climb up the beanstalk and Arlo comes out. He's ready to kill them but Anton says that they're his friends. When he says that the treasure is ready, James says that they're there for the beans. Anton realizes that they betrayed him and Arlo vows to fight what is theirs. James and Jack draw their swords and attack.
Now
As David, Mary Margaret, and Leroy run, David tries to explain what his real name is. When they realize that they are heading for the town border and can't go any further, James offers to surrender himself to Anton if he spares everyone else. Anton agrees and tries to leap atop David... and embeds himself in the concrete. The mushroom wears off and Anton shrinks down to human size, holding on to a pipe in the giant-sized hole.
Once Upon a Time
Anton and Arlo retreat into their castle as the human armies overrun the giant kingdom using poison swords. Arlo tells Anton to raze the bean fields so that the humans can't use the beans to spread their violence to other realms. Anton hesitates and Arlo tells him to fulfill his birthright and destroy the fields.
Now
The townspeople mobilize to lower a rope so that David can climb down to rescue Anton. Once he climbs down, James offers his hand but Anton says that he doesn't want to go up. He wonders if death is better than life, but David points out that he would have already let go if he wanted to die. After a moment, Anton takes David's hand and the townspeople pull them both up. Anton thanks them for saving his life and David assures him that not all humans are the same.
Once Upon a Time
Jack stabs Arlo with her poison sword and he manages to pick her up. She calls to James, who is busy gathering treasure, but he ignores her as Arlo kills her with her own sword. Arlo collapses as Anton runs in and goes to his father. Meanwhile, James ignores the dying Jack and runs off. Anton tells his father that he destroyed all of the beans and begs him not to die, but Arlo tells him that someday he will know which road to choose. He gives him a preserved cutting from the beanstalk that Anton can plant to create new beans in a new land.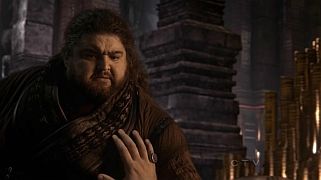 Now
The townspeople bring Anton to the diner and offer him a room, but he says that he'd rather camp in the woods. Leroy assures him that there are all kinds of creatures in Storybrooke and that it's their home now. Mary Margaret admits that they've all considered going back but they have no way to return. Anton asks about the farmland and then shows them the beanstalk stem and how the beans could let them go home again.
Later, Anton checks the fields and assures the townspeople that the beans will grow well there. However, he figures that Cora brought him to grow the beans and warns that it can't be good. The dwarves vow that no one else will get the beans and offer Anton their help. He accepts and they give him an axe to start digging. The axe shows his true name, "Tiny," and Anton admits that his brothers called him that.
At the hospital, Greg comes to see Belle and tells her that he also saw Gold using magic.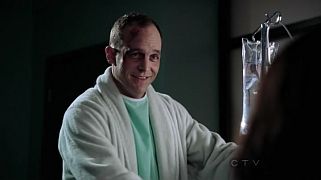 At the diner, Mary Margaret and David share cups of coffee and David wonders what would have happened if he had been raised by King George. Mary Margaret assures him that his heart would have made a difference and then says that she had a lot of fun on their adventure. David admits that it was kind of fun and suggests that when the beans grow, they could go back and have adventures all the time. Mary Margaret says that she doesn't know and points out that home is where their family is... and their family is in Storybrooke. David assures his wife that Emma can take care of herself.
On the plane, Henry tells Emma that everything is great. Gold looks around nervously and Emma notices that his hand is bleeding through the makeshift bandage. She tells him that everything will be all right and they'll find him, but Gold doesn't appear convinced.