Tamara and Greg take Hook to the clock tower and remove his hood. They tell him that they want him to do a job for them. When Hook says that he's killed Rumplestiltskin and his work is done, Greg and Tamara drag him to the window and hand him a telescope. They show him Gold and Lacey walking down the street together, and tell the pirate that Gold beat him. Hook vows to kill him again but Tamara says that he'll need their help... because they know how to kill magical creatures. In return, Greg wants Hook to help him find his father.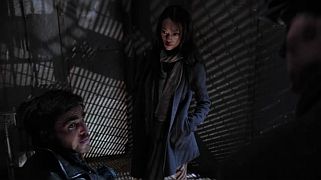 Once Upon a Time
Regina and her men ride to a cabin in the woods and break in, but there's no sign of Snow White. The queen figures that someone tipped her off and orders her men to bring the villagers to her. Regina tells them that Snow White has betrayed them, killing the king so she can ascend to the throne. She promises them a reward in return for Snow's location, but no one speaks up so she tells her men to kill them.
Now
At the docks, David and Mary Margaret discuss whether to take Regina with them when they return to the Enchanted Forest. They figure that she's too dangerous to take with them, but Mary Margaret warns that Henry won't like it. David suggests that they give Regina the choice to come with them and live in Rumpelstiltskin's cell, or stay in the real world. Regina, disguised as a fisherman, listens in on the conversation.
Once Upon a Time
Regina returns to her quarters and finds Rumplestiltskin waiting for her. She wonders why the peasants are loyal to Snow, not her, when she's a hero. Rumplestiltskin points out she just slaughtered a village. He warns that Regina may have to settle for spreading fear, but Regina wants to go among them in disguise and asks him to teach her how to shapeshift. Rumplestiltskin says that it will take months so Regina asks him to cast it for her. He warns her that she won't be able to control it or use magic, but Regina is satisfied with getting close enough to Snow to kill her with his bare hands. Rumplestiltskin agrees in return for her cutting off all trade with King George, and tells Regina to contact her when the deed is done. Once he casts the spell, Rumpelstiltskin shows her the disguised image in the mirror and warns her that she may not like what she hears when she walks among the peasants, but Regina doesn't care.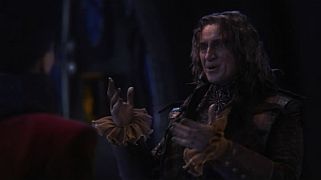 Now
The next morning, Regina finds Henry and shows her the magic beans. She explains that his family wants to take him to the Enchanted Forest and leave Regina behind, and that they don't see the good in her that Henry has seen. Regina insists that she wants to go back and start over as a hero, and explains that there's a failsafe built into the curse. With it she can reset time, making Storybrooke disappear. Regina says that they'll get away to the Enchanted Forest first using the beans, but everyone else will die. Henry tells her that she's a villain if she's willing to kill everyone, and vows to stop her. Regina casts a spell making him forget what she just said and says that she came to say hello.
Once Upon a Time
Regina walks into a village's town square and watches as a carny runs a booth for people throwing darts at an effigy of the queen. Regina is shocked that they hate her but they say that Snow White should be the queen. She warns them that it's treason and grabs the torch and tries to stop them. The queen's guard runs up and accuses Regina of burning the effigy. She calls them by name but they don't recognize her because of Rumplestiltskin's spell and drag her away.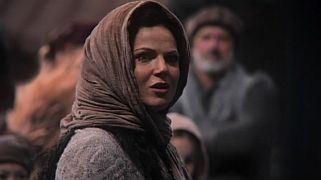 Now
Hook goes to see Regina at her office and asks for her protection. When she wonders why, Hook tells her that Greg is in league with Tamara, and they want him to make an alliance with Regina and then betray her. He offers to betray them instead and ally with Regina and Cora, and Regina informs him that Cora is dead. Hook offers his condolences and offers to help Regina get her revenge as tribute to Cora. Regina shows him a container she has with some of the magic beans and says that she plans to start over again with Henry. Once Hook is sure that Regina plans to destroy Gold along with everyone else in Storybrooke, he's glad to help.
At the diner, Emma bumps into Tamara as she leaves with her lunch for Neal. As Emma helps her pick up her things, she notices that she has a list of townspeople and their real identities. They talk about Henry and Neal, and Emma says that it would hurt both of them if the real world found out about Storybrooke. Tamara assures Emma that she can trust her and leaves. Emma goes to Mary Margaret at the apartment and tries to convince her that Tamara is the "she" that August warned them about. Mary Margaret figures that Emma is making things up because she's jealous of Tamara's relationship with Neal. She advises Emma not to tell Henry because he might think that Emma and Neal could get back together, and advises her to keep it to herself until she has more to go on. Once Mary Margaret leaves, Henry comes in, having listened to the entire conversation, and tells Emma that they need to start investigating Tamara.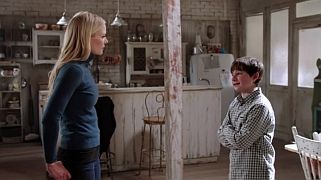 Hook and Regina go to the library and descend into the tunnels beneath Storybrooke.
Once Upon a Time
The queen's knights drag Regina to the chopping block and prepare to cut off her head. As Regina yells for Rumplestiltskin to lift the curse, Snow arrives and kills the knights. Injured by a knight's blade, Regina passes out before she can do anything.
Now
Hook wonders if their pursuit of revenge is the reason that everyone hates them, and admits that he doesn't know what he'll do with himself once he kills Gold. Regina assures him that she'll have Henry and notices that Hook has the cuff that Cora gave him to climb the beanstalk. She demands it back and Hook reluctantly turns it over. Regina then leads him on to the dragon's lair where she has hidden the curse's failsafe. When he wonders who is guarding it, Regina says that it's an old friend and that she needs Hook's help to keep the sentry distracted. She then shoves him into the cavern below and Maleficent's undead corpse appears. Hook stabs at her repeatedly with his hook but she regenerates and keeps coming, knocking him aside.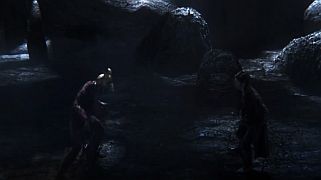 Regina makes her way to a glass coffin and shatters it. She removes one of the diamonds within and studies it carefully.
Once Upon a Time
Regina wakes up in the woods and finds Snow tending to her injury. She claims her name is Wilma and her family works in the mills, and Snow assures her that she'll live. When Snow says that she can hunt for food, Regina wonders how she knows that and her rescuer says that someone in another forest taught her how. Regina asks why she's helping a stranger when she's hunted, and Snow tends to her wound while explaining that when she was young, a woman saved her from a runaway horse. That event convinced her that there can be a genuine selfless connection between people, even strangers. Snow finishes cleaning the wound and tells Regina that the stranger is gone, but she hopes that she'll come back someday.
Now
Henry and Emma watch the boarding house and try to come up with a new operation code name. The boy admits that he thought they'd be having adventures in the Enchanted Forest, and Emma wonders if that's what he wants. Henry realizes that Emma knows of a way back and says that the two of them and Neal could have a castle. Tamara and Greg leave the boarding house and Emma and Henry break into Neal and Tamara's room. Henry continues to ask about Neal and Emma tells him that she's not getting back together with Neal no matter what happens. She tells Henry to stand watch while she goes inside. Emma eventually finds a loose floorboard and starts to pry it loose.
Outside, Neal shows up and realizes that Henry is standing watch. He goes inside and Emma tells him that Tamara is playing him. Neal doesn't believe it and explains that he helped Tamara made the list of names to help her deal with it. Emma insists that she's not a crazy ex and offers to back off if there's nothing beneath the floor. Neal agrees and they discover that there's nothing beneath the board. Disappointed, Emma leaves with Henry.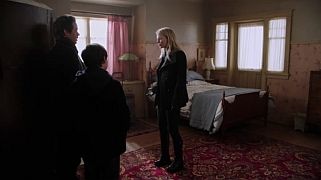 Once Upon a Time
Regina wakes up the next morning and finds Snow preparing to move on. They hear knights approaching and Snow gives Regina a sword for protection. As they make their way through the woods, Regina starts to draw the sword but then puts it back. She asks Snow if she would kill the Queen for sending the Huntsman to tear out her throat. Snow says that Regina wants to hurt people because she's in constant pain, and that she wants revenge more than love. As they continue, Snow says that she wants to be guided by love and wouldn't kill Regina. Regina doesn't believe that people are that good but Snow insists that everyone has good inside of her. She just wants Regina to open herself to love. Regina considers everything and asks if Snow would invite her back in if she wanted to be good. Snow says that she would but figures that Regina would never consider it.
They arrive at the village and discover all of the corpses the Queen's knights left behind. Snow blames herself, but when Regina says that it's not her fault, Snow says that she could never forgive the queen for slaughtering hundreds. Regina reminds her of the story about being saved by Regina, and Snow points out that she never said it was Regina. Realizing that Regina is disguised, Snow draws a bow and arrow and demands the truth. Regina admits that it is but says that there's good in her, but Snow doesn't believe her. When Regina tries to cast a spell, nothing happens. She calls to Rumplestiltskin but the Dark One doesn't appear. Regina runs off and Snow lets her go.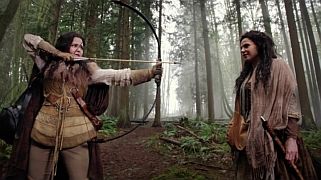 Now
Regina returns to the library and finds Hook waiting for her. He admits that Regina almost had him with her story about a clean start, but he went with the other plan instead as Greg and Tamara come in. As they come in, Hook says that they helped him against Maleficent because they have a way to negate magic. Regina tries to cast a spell, but nothing happens and Greg tells her that magic won't work anymore.
At the diner, Henry and Emma share a bowl of ice cream. Henry assures Emma that he believes her about Tamara and will help her prove it. Once they do, they can go to the Enchanted Forest.
David, Mary Margaret, and Leroy drive out to the bean field and discover that someone has burned it down.
Once Upon a Time
Regina returns to the palace and demands to know why Rumplestiltskin didn't come. He reminds her that he said she could call but he didn't say he would answer. Regina admits that he was right and that she's learned that they'll never love her. The Dark One asks what she's going to do now and Regina promises to punish them all. He removes the disguise and restores her magic, and Regina declares that the Queen is dead... and long live the Evil Queen.
Now
Regina realizes that the cuff negates her magic, and Greg explains that they rigged the cuff with machinery. She wonders who Greg is, and Greg says that he's just a man on a mission. However, he refuses to tell her what that mission is. He then tells Tamara to bag their prisoner.