Scott is sleeping on the bus with his friend, Greer. They arrive in Cloverdale, back from overseas, and Scott thanks Greer for coming with him. They get off at the bus stop but discover that Scott's father isn't there. Scott spots his father across the street, crosses, and is hit by a car.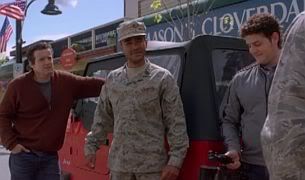 -----
On an alien planet, Scott wakes up screams in agony as a plantlike infestation spreads on his left arm. Johansen tries to do what she can, but admits that nothing is working. Rush says they need to keep moving as Scott passes out.
-----
Young, Scott's father, wonders what's wrong with him. The driver, Brody, apologizes but Scott insists that his fine. Scott introduces Greer, his best man, to Young and Eli, Chloe's brother. Eli says that Chloe is busy with her wedding dress, for her wedding with Scott.
-----
Johansen confirms that Scott is asleep, and Rush warns that they can't take him back to the ship for fear of infection. Rush takes the remote and runs ahead to the Stargate to get medical supplies.
-----
Young brings everyone home and serves beers, and Scott wonders if they're planning a party for him. However, they say that Chloe wanted him to herself to go to a movie. Chloe comes in and she and Scott kiss. She apologizes for not meeting him, and then notices a bruise on his left arm. Scott says that he bruised it when he was hit by a car, but insists that he's fine. Chloe warns him that he's not looking well, and Scott collapses.
-----
Rush contacts Young and has him send through all of the medicinals they have. He also suggests they send hydrochloric acid and something to cut through bone. Rush admits that Scott's condition is bad.
-----
Scott wakes up on the sofa with the others looking on. They aren't particularly concerned that he fainted. Young tells him to go to the movie with Chloe. They go to the theater and settle in to watch the movie. It's a story of a pair of young explorers on an alien planet, encountering field of color-changing flowers. However, plant-like tentacles emerge from the growth and attack them, infecting the brave young soldier's left arm. When the soldier kills it, some drops get on the girl's tunic. Scott insists that it looks familiar, but Chloe has no idea what he's talking about. A panicky Matt laves the theater and Chloe goes after him. She insists that it's just a movie and Scott relaxes. As they go, Chloe returns to get her purse and tells Greer that she'll have to stall so Scott doesn't come back early.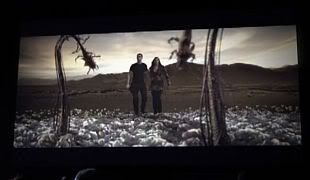 -----
Rush returns with the medical supplies, including alien venom. Eli realizes that there's a bone saw among the supplies.
-----
Chloe wonders if something happened to Scott overseas, but he says he's fine. He suggests they go to Brody's Bar, and the town pharmacist, Dale Volker, runs over. When Chloe suggests that it's not open, Volker calls Brody and confirms that he just opened. Volker then awkwardly says that all of the staff are there, and says the couple is good to go.
Scott and Chloe enter the bar and Brody greets them. He tells them that the place is packed, and everyone jumps out of hiding. Chloe is satisfied that she's delivered Scott to his bachelor party, and tells them to make sure he isn't hung-over in the morning. Young offers a toast to the bride-to-be.
-----
Johansen gives Scott something to dull the pain. Rush confirms that the plant creatures are getting closer, while Johansen determines that the infection is immune to the new supplies. They realize they have no choice but to amputate the arm. Greer and Volker run up and warn that they only have 10 minutes. Johansen says that doesn't give them enough time and has the others move Scott to the Stargate.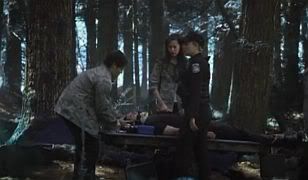 -----
Greer gets drunk and dances, and Vanessa the waitress tells them it's last call. He flirts with his ex, and she calls him on it. Scott backs away and insists he's joking, and a disgusted Vanessa walks away. When the bar closes, Greer and Young start taking Scott home. The sheriff, David Telford, is waiting outside and offers them a ride. As he drives, he asks Scott what it was like overseas, and says that he figures soldiers like Scott die young. Scott responds by saying that he keeps thinking that he's himself. As he drives, Telford says that Scott should try to sleep, and that when he wakes up he may wonder if he's the person he used to be.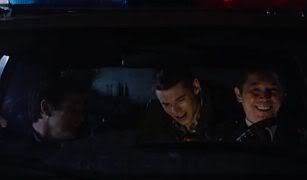 -----
Back at the Stargate, Johansen prepares to amputate while the others hold Scott down. However, when she makes the first preparatory cut, they realize that the infection has spread through Scott's blood and amputation is useless. Greer warns them that they have three hours until
Destiny
leaves, and refuses to give up. The only planet within range is locked out of the Gate system. Greer goes to get something.
-----
In the morning, Chloe comes into Scott's room and asks if he's marrying because he feels that's what expected of him. When he's unable to answer right away, she reminds him of everything he has to do and leaves.
-----
Lisa tells Young that they have no way to safely quarantine Scott, and eventually they may all become infected. Young isn't convinced, and Lisa asks him not to leave the decision up to her. Young assures her that he'll make the final call. He then has Brody send a kino to the planet so they can gather information on the creatures, while Greer builds a barricade to keep the creatures away for the three hours they have left.
-----
Scott goes to see Nicholas Rush, the justice of the peace. He discusses their wedding vows, and Rush wonders if he's having doubts. Scott insists he loves Chloe, but admits that he's been having a feeling that something isn't quite right. He wonders if he's losing it, and worries that Young thinks he is as well. Rush assures him that fear means he's alive, but everyone eventually dies, and then says he'll be there for the wedding.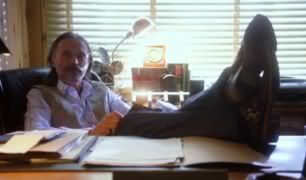 -----
Lisa and Brody conclude that all of the vines extend from a central root system, and hope that it burns. On the planet, Greer and his men use flamethrowers to hold the vines back. Chloe watches over Scott, while Young tells Johansen to make sure all the non-combatants return to the ship after she confirms that they're not infected. Chloe asks how long Scott has, and refuses to leave him. Johansen notices a spot on her tunic and they realize she might be infected.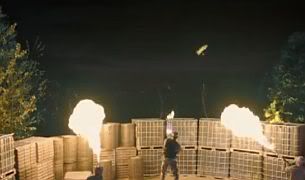 As Greer and his men continue to hold the vines back, Johansen determines that Chloe is uninfected and then has Greer burn the discarded piece of tunic. Johansen then tells the non-combatants to team up to inspect each other for infection before going back through the Stargate. Chloe slips away and extends her hand out past the barricade toward one of the vines.
-----
Scott, Greer, and Eli go to get their tuxedos fitted. When Greer steps away, Eli wonders if something is bothering Scott. He notes that Scott isn't a one-girl guy, and figures he's having cold feet. Scott insists that he's going to marry Chloe and have a nice normal life, but Eli suggest he doesn't believe it. The tailor finishes and Scott starts to walk away... and collapses.
-----
Eli tells the unconscious Scott that no one is giving up on him, and that he has to fight back. They realize that Chloe has slipped away. She steps back and reveals that her hand is infected, and that now she has to stay. Shocked, Eli walks away.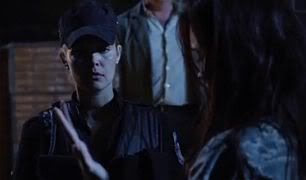 -----
A paramedic, Johansen, is called in to check on Scott after his collapse. She suggests that he's low on electrolytes and wants him at the hospital, but Scott insists that he's fine and plans to get married.
-----
As the Stargate opens, the vines momentarily retreat. Eli is among the last of the first group to go. He pauses and says goodbye to Chloe, and then steps through. Rush asks Chloe why she let herself become infected, and she explains that when the bit on the clothing didn't infect her, she wondered if she was immune and put it to the test. Since she's conscious and Scott isn't, she realizes that the alien pathogen in her body makes her immune.
-----
Telford arrives for the wedding and meets with the others. Scott is in the kitchen, eating soup. When Young comes in, Scott says that he can't go through with the wedding because he might hurt Chloe. Young tells him that what he has to do is wake up.
-----
Rush has Johansen take blood from Chloe and claims that the girl had a relapse. He wants Johansen to give a blood transfusion from Chloe, despite the fact that Scott will then be infected by the alien pathogen.
-----
Rush begins the ceremony.
-----
Johansen sets up the blood transfusion. Greer sends his soldiers back through the Stargate as the countdown clock runs down. Finally, only Scott, Johansen, Chloe, and Scott remain. Scott is recovering, but not fast enough. Rush suggests they create the wormhole over and over, and Greer agrees. He sends Johansen and Rush on ahead.
-----
Rush asks Scott if he takes Chloe as his wife.
-----
Greer opens a wormhole, temporarily driving the creatures back. Another one emerges from the ground and Greer activates the Stargate, disintegrating it within the event horizon.
-----
Scott turns to Chloe and realizes that her face is partially transformed into a silvery flesh.
-----
Scott wakes up, free of the infection. They get back to
Destiny
just as it jumps into FTL. Young knows what they did to cure Scott, and places him and Chloe into quarantine indefinitely. When Scott wonders what's going on, Young tells Chloe to explain and walks away. Chloe takes Scott's hand.