Sam wakes up to discover that his dead fiancée Jessica is in his bed. Jessica wonders why he's running away, noting that he tried to escape his destiny before. Sam insists that it's different this time because he knows he's a freak. However, Jessica says that he knew that in college and she died as a result. Sam asks her why she's there in his dream and Jessica explains that his past is catching up to him and the ones closest to him will be hurt just like she was. Sam insists he won't make the same mistake as Jessica disappears.
One Week Earlier
After splitting up, Sam goes to Garber, OK, and takes a job as a busboy at a diner. Meanwhile, Dean continues hunting, going after a vampire in Greeley, PA. Castiel appears to Dean at his hotel and explains that he found him by talking to Bobby, who knows Dean's location. When Dean wonders why he's there, Castiel explains that he's still looking for God and needs Dean to help him find Raphael, the archangel that destroyed him. They have to capture and question Raphael to get him to reveal God's location. Dean wonders why Castiel needs his help and the angel explains that no angel would harm Dean while he is vessel of Michael. Dean agrees but insists on driving to Maine where Raphael was last sighted.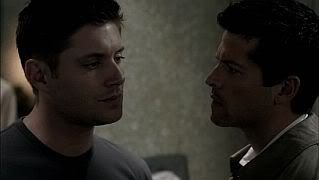 In Garber, the diner waitress, Lindsay, befriends Sam and notes that he's an enigma: highly educated but secretive. She suggests they play a game of darts for dinner. Sam easily wins but is distracted when he hears a TV new story about a lightning strike that set fire to the nearby forest.
Dean and Castiel, posing as FBI agents, arrive in Maine and talk to the deputy who reported the sighting. What the deputy believed was a riot broke out at a gas station. There was a sudden explosion which Castiel identifies as a brilliant white flame. The deputy reports that the only survivor was the mechanic, Donny Finnerman, who survived unscathed. Donny is now being tended to at a local hospital. Dean and Castiel go there and find Donny an empty shell. Castiel warns that Dean would be in much worse condition if Michael ever claims him.
Sam calls Bobby about the lightning strike, insisting it's one of the Revelation omens. Bobby agrees but wonders why Sam is calling him. He points that the best qualified hunter to deal with the problem is the one in the area, Sam. Sam insists that he can't risk it and hangs up.
Castiel teleports himself to Jerusalem to get a rare oil that can be used at sunrise to trap an angel in its host body. However, he warns that he'll almost certainly be destroyed. Dean insists on taking Castiel out for one last night of drinking and women.
Three hunters, Hank, Steve, and Reggie, visit the diner and ask Sam to help them fight a local demon gathering. Their leader, Hank, wonders why Sam is insisting he has personal issues and can't get involved. Sam refuses to explain and they reluctantly drop the matter and leaves to fight the demons. Lindsay comes over and wonders how the hunters are connected to Sam. He insists that they're college friends and he's always liked hunting, but Lindsay isn't satisfied and buys him dinner.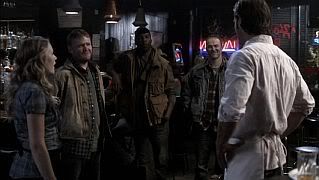 Dean and Castiel go to a strip bar and Dean convinces the angel to go for a lap dance. However, the stripper, Charity, runs out a few minutes later. Castiel admits that he looked into her soul and told her that it wasn't her fault that her father left her. Dean gives the whole thing up as a lost cause but admits it's been fun.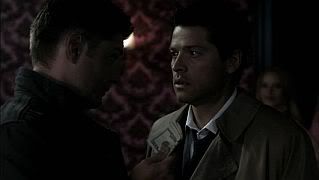 Lindsay tries to learn more about Sam and wonders if he's in the witness protection program. Sam assures her he isn't with the Mafia, but he did work with his brother. Finally he made some mistakes, got people hurt, and had to quit. Lindsay guesses that he's addicted to something and explains that she's a recovering alcoholic. Sam wonders if he can be forgiven and Lindsay assures him that there's nothing so bad that someone can't be forgiven.
The next day at sunrise, Dean and Castiel go to Donny's room and make a circle of oil around him. Castiel performs a ritual to summon Raphael back to his host body but nothing happens. However, when they return to their rented house they find Raphael waiting for them. The archangel threatens to take Dean to Michael and torture him until he agrees to act as a vessel. As Raphael steps forward, Castiel lights the circle of oil that they placed in anticipation of Raphael coming to the house. He asks where God is but the archangel tells him that God is dead.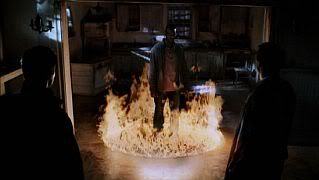 Sam is closing the diner alone when Hank comes in. The hunter explains that one of his comrades died and the other one is badly injured. When they fought the demons, they stumbled into an ambush and were informed about what Sam had done. Hank demands the truth and when Sam refuses, the surviving hunter brings Lindsay in at knifepoint.
Raphael insists that God is dead or gone, since he wouldn't have left his "children" behind without instructions, or let the 21st century go to hell. He admits that he's tired of eternity and hopes to use the Apocalypse to create a paradise for himself and his fellow angels.
Hank offers a trade: Lindsay for the truth from Sam. Sam finally tells them that he's the one who freed Lucifer and started the Apocalypse.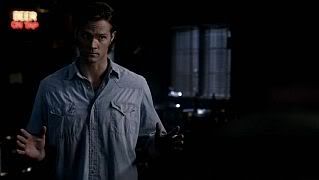 When Castiel asks how God could be dead if Castiel was brought back to life, Raphael insists that Lucifer is the one who resurrected Castiel to add to his army of rebellious angels. Castiel and Dean depart, leaving Raphael caught in the circle.
Hank tells Sam that they plan to have him drink some demon blood so he can get his powers back and go out and destroy the demons. When Sam refuses, the hunters grab him and pour the blood into his mouth. Sam shakes them off and, managing not to swallow, spits the blood into Hank's face. He takes out the two hunters and prepares to kill Hank with his own knife. At the last second, Sam sees Lindsay looking at him in horror and tells Hank and the other man to leave. They do, but warn that they'll be back.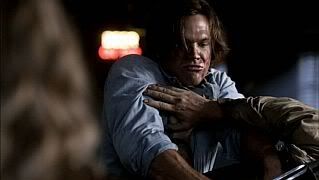 As they drive, Dean tells Castiel that he can understand having faith in a missing father even when all the signs indicate he's dead. He asks if Castiel believes his Father is alive, and the angel insists he is. Dean tells him to find him and then talks about he's better off now that Sam isn't around, posing a risk because he might lose control of his powers. Dean admits that he's had more fun with Castiel then he ever did with Sam. He turns to discover that Castiel has disappeared again.
Sam wakes up with Jessica in bed with him. He insists that he can change and there's always hope. The dream Jessica transforms into Lucifer, who explains that he's inside of Sam's dream and can't find him physically. Yet. The fallen angel admits that his current host body is an improvisation and Sam has always been the one destined to act as his vessel. When Sam refuses, Lucifer says that he won't ever lie or trick him, but Sam will eventually agree. Sam threatens to kill himself and Lucifer says he'll simply resurrect him until he does agree.
Share this article with your friends