In a quiet suburban home, a terrified and bloody mother takes her baby and runs upstairs to the bedroom. She tries to call out but the phone is dead. Desperate, she hides under the bed and tries to keep the baby quiet. The intruder walks to the door, hesitates, and then keeps on going. As the mother looks up, she sees her husband's bloody corpse nearby and barely restrains a cry of terror. The intruder then grabs her and pulls her out from beneath the bed.
Dean, Lisa, and Ben move to a new house and Dean makes sure the weapons in the Impala trunk are properly stored. Dean then goes inside and starts to help Lisa unpack. Ben wants to go outside and bike around, but Dean suggests that he stay and unpack, and promises they can go out for lunch later.
In Lansing, Michigan, Sam investigates the parents' murder. The local detective admits that he doesn't think there's much chance that the missing baby is still alive.
Dean orders in pizza, and Ben and Lisa wonder why he didn't let them go out for lunch. He claims that he forgot, but Lisa isn't convinced.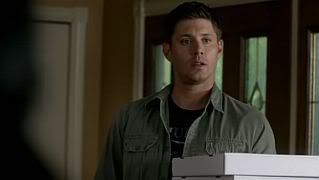 Sam calls Samuel and suggests that it's not a supernatural series of killing. Samuel notes that there have been three similar killings, and in each case the parents were killed and the baby stolen from a locked house. Sam still isn't convinced, and Samuel wonders if he's paying attention. As they talk, Sam notices the sign for the security company that protected the house, and asks Samuel to check the previous victims to see if they used the same company.
Dean enters the garage and finds Ben looking at a shotgun from the impala. When Ben asks if he can learn to shoot it, Dean vows that he won't shoot it. He insists that there's nothing coming from them, and snaps at Ben when he persists.
Sam is at a park reviewing the files when Samuel calls to tell him that every family that got hit was protected by the same company. There is one other family that fits the pattern, and Sam heads for the address.
Lisa tells Dean that Ben has locked himself in his room, and asks what happened. Dean admits that he yelled at Ben for getting into his "tools," and insists that he's trying to keep them safe. Lisa wonders if they're safe and he worries that something might be coming after them. When Dean insists on protecting them, Lisa warns that he's scaring her.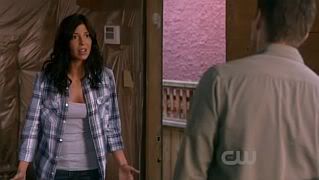 Sam goes to the house and enters, and finds the parents dead. He hears sounds from a closet and investigates, and a security guard leaps out and attacks him. Sam manages to drive it off using a silver blade, and it runs away. He starts to go after it, but hears something in the next room. When he investigates, Sam is startled by what he discovers underneath a table.
Later, Sam calls Dean and says he needs help, and he won't take no for an answer. He threatens to drive there unless Dean meets him, and tells Dean what he has. Dean goes to meet his brother and they look at what Sam recovered from the house: a baby boy.
Dean makes sure that Lisa knows how to handle a gun, and then tells her that he'll have to go for a while. She insists that it's okay for him to go and practically has to force him out the door. He then meets Sam, who explains that the creature is vulnerable to silver, but that doesn't narrow it down. They start to leave, and Dean realizes that they need some baby supplies. They go to a shopping center and Dean picks out the right stuff, and Sam is amused to learn that Dean has some experience from dealing with Lisa's niece. They get to the front counter but can't get the baby to stop crying. An elderly lady finally offers to help, but Dean sees her on a security monitor and realizes her true form is a shapeshifter. She realizes he knows and makes a run for it with the baby. Sam gets the baby from her while Dean tackles her, but she pretends to be an old lady and the manager helps her. Dean runs outside and escapes with Sam in the Impala. The shapeshifter notes their license plates as they go.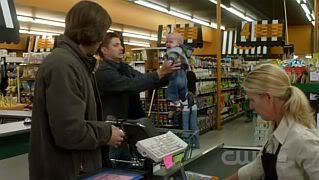 As they drive, Sam figures that the shapeshifter has been following him since he left the house. As they go to a motel, the shapeshfiter kills a patrolman and takes his form, and pulls out an APB on the Impala.
The brothers go to a hotel and Dean changes the baby's diaper, and then gets it to calm down. Sam is surprised that Dean is father material, and Dean admits he's had practice with Ben, who he considers his own son. He figures he can do something different with Ben than how he was raised. Sam wonders how Dean can possibly protect Ben and Lisa without treating them like John treated his sons. Dean doesn't have an answer for him. Sam finally realizes that one father survived because he wasn't living in the house at the time. Dean tells Sam to go while he takes care of the baby.
Sam meets with Jimmy, the father, who is shocked that his wife is dead and the baby has disappeared. When Sam asks, Jimmy admits that he filed for divorce when he figured that his wife lied to him. They hadn't had sex for a while, and then she became pregnant and claimed Jimmy was responsible. However, he knows he was out of town at the time, even though she insisted otherwise.
Dean is trying to sleep when blood and mucus suddenly spews out of the crib. He goes over to investigate as Sam calls and tells him that the shapeshifter is the baby's dad. Dean picks up the baby, which has changed into the shape of the baby on the diaper package. The manager knocks on the door and says there's been noise complains, and demands to come in. Dean tries to stall him, but the door opens and the shapeshifter, using the patrolman's body, comes in. He says the baby needs to be with their father and throws Dean aside. Before it can get to the baby, Sam arrives and shoots it dead with silver bullets.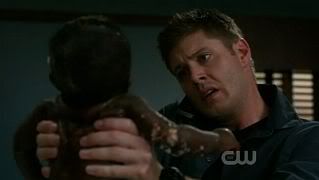 As they drive away, Sam realizes that the shapeshifter uses the security company as a front to scout out the house. When the father is out of town, it takes on the father's shape and impregnates the mother, then collects the baby nine months later. They wonder what to do and Sam suggests that they take it to Samuel and his hunters. Dean refuses at first, since he doesn't know Samuel. However, he doesn't have a better idea.
The brothers drive to the Campbell hunter compound and explain the situation. Dean refuses to hand the baby over, and Christian wonders who he thinks they are. Sam finally gets the baby and gives it to Samuel, who says they're going to raise it. Dean doesn't believe it, and says he's the only one who seems curious to know how Samuel and Sam came back from Hell. When Dean wonders if they're going to study it, Christian notes that Dean always thinks of torture because of his time in the pit as a torturer. Samuel finally decides to have Christian and his wife raise the baby since they can't have a child of their own. Before Dean can object further, the dogs start barking, sounding an alarm. Samuel sends the baby with Sam and Dean to the panic room, while they arm up. A shapeshfiter bursts in, using Samuel's form, and tells them to hand over the baby, saying it can sense it. Gwen opens fire and Mark stabs it in the chest, but the shapeshifter is unaffected. As Samuel shoots it with a tranquilizer dart, the shapeshifter breaks Mark's neck and grabs Gwen. Samuel and Christian keep firing but the shapeshifter is only temporarily stunned by the darts. It expels them from its body and attacks the hunters.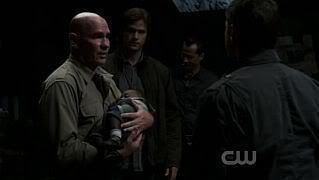 Sam and Dean listen as the battle rages above. Sam starts to go up and finds the shapeshifter outside, wearing his body. It rips off the door and smashes Sam aside, and then advances on Dean. It takes on Dean's shape and asks for the baby, but Dean refuses. It grabs him and chokes him unconscious, and then leaves with the baby.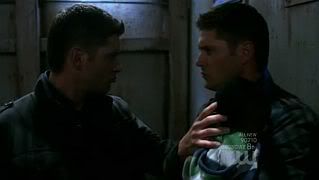 As the hunters clean up, Samuel figures that the monster that attacked them was an alpha shapeshifter, the first one that spawned all the rest. They don't know why it wants baby, or how to kill it. As Dean leaves with Sam, he notes that the shapeshifter at the hotel mentioned having a father. Sam doesn't remember hearing it, and Dean wonders if he used the baby as bait. His brother denies it and Sam seemingly accepts his claim.
Inside, Samuel calls someone and informs them that he wasn't able to capture the alpha shapeshifter. However, he insists that they'll find a way to capture it and bring it to his mysterious superior.
Dean returns home and admits to Lisa that he has no idea whether it's better to stay and guard them, or get as far away as possible. All he knows is that he doesn't want to be like John Winchester. Lisa doesn't know which is the better choice, but she does know that Dean is a hunter and he doesn't want to be there. When he insists that he does, she tells him that they're not going to have this discussion every time they leave. Lisa tells him to go, but says that he can come back when he needs to so he can be with them. Dean wonders if they can pull it off, and Lisa insists that it's worth a shot.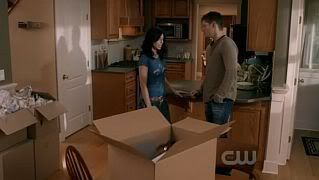 Dean goes out to the garage, smiles, and gets in the Impala.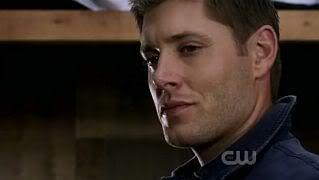 Share this article with your friends