Crowley is busy torturing the alpha shapeshifter, for the location of Purgatory. He refuses to be distracted when the shapeshifter takes on his appearance, and takes out an iridium knife to inflict permanent page. It insists that it can't direct Crowley to Purgatory, and Crowley stabs it in the chest. When it still refuses to speak, Crowley turns on a baby monitor and threatens to kill all of its children. Unimpressed, the alpha tells it to go ahead and kill them, and Crowley decapitates it.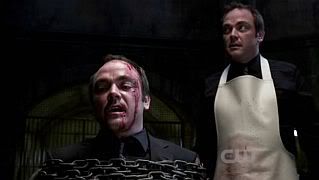 Sam and Dean hand off a captured rugaru to two of Crowley's demons, When Dean asks when they'll see Crowley again, the demons refuse to answer them and leave with their prisoner. Dean angrily insists that he's had enough, but Sam says they don't have a choice if they want to get Sam's soul back. In response, Dean wonders if he wants to get his soul back, and Sam notes that he's working for Crowley. When Dean turns around, he discovers that Sam has disappeared. He goes to look for his brother and finds him lying, unconscious. Another demon ambushes Dean, When the brothers wake up, they discovered that Meg and her demons have captured them. She wants to know where Crowley is, and Sam denies that they ever meet with him or know where he is. Sam realizes that the demons are running scared from Crowley since he's hunting down the Lucifer loyalists. She needs them to get at Crowley so she can use the stolen demon-killing knife on him. Sam suggests that they work together, and she gets something out of him before she kills Crowley. Meg agrees and leaves them to work themselves free.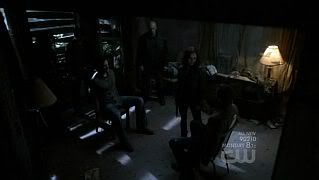 Once they get free, Dean demands to know what Sam is doing, and notes that Meg that killed Ellen and Jo. Sam figures that they can kill Meg and her posse first, but when Dean isn't convinced, he says that he's bringing insurance. He goes outside and tries to call Castiel. When the angel doesn't respond to a direct request, Sam says that he has a holy relic and Castiel shows up. Sam tells him he used the plot of a movie and Castiel says he's busy dealing with the civil war in Heaevn. In response, Sam says that he isn't interested, and that Castiel owes him. When Castiel balks, Sam threatens to hunt him down and kill him, no matter what it takes and how long he needs to search. Castiel says he needs help, but Sam says that right now he needs Castiel's help.
Sam and Castiel meet with Dean, and Sam insists Castiel is helping them as a friend. The angel is unable to penetrate Castiel's warding spells, and they go to the Campbell compound to search for any maps or books that Samuel might have. Samuel comes in and demands to know what they're doing. They ask for Crowley's location, and Samuel says he can't. Dean asks Castiel for help, and then asks what Crowley is holding over them that would turn him against his grandchildren. Samuel finally explains that Crowley has offered to bring Mary Winchester back to life. Dean warns that Crowley won't make good on his promise, and the bad guys get them every time when they try to bring back their loved ones. He asks what Samuel will tell Mary if he does get her back, and if he'll admit he refused to help her sons, and Samuel orders them out.
Back at the motel, Dean and Sam do research while Castiel watches porn. Samuel arrives and says that he's going to help them because it's what Mary would want. He shows them the location of the abandoned prison where Crowley tortures his captive monsters. Samuel asks them not to do it, and Sam asks him to come with them. Their grandfather refuses, saying he's not suicidal.
The brothers and Castiel meet with Meg and her three demons. She asks where Crowley is, but Sam refuses to tell. He asks for the demon-killing knife and Meg reluctantly hands it over, and then Sam kills one of the demons. He tells Meg that it was more interested in killing the brothers then doing the job, and he did them a favor. Sam walks off with the knife, and reminds Meg that she took it from them and he's taking it back. Meg smiles at Castiel and goes.
As Sam gets his equipment from the Impala, Dean privately talks to Castiel. The angel warns that retrieving Sam's soul may not be wise. After it's been tortured by Lucifer and Michael for over a year, its return to Sam's body may drive him insane. Dean tells Castiel to figure it out and says that for now, getting the soul back is the most important thing. Castiel agrees... while outside, Sam hears the entire conversation.
The group assembles outside of the prison, and Castiel gets them in via a side door. They figure it's too easy, but have no other choice. Inside they find a number of monster prisoners, including the female djinn that attacked Dean in his home. They have no choice but to continue, and hear hellhounds coming. The group runs, but the hellhounds bring down Meg's two remaining demons. The others seal a door and draw a salt line, but it won't last for long. Meg says that she'll see them in Cleveland and tries to leave her host body, but discovers that Crowley's spell has her locked in her body while she's in the prison. Sam gives Meg the demon-killing knife and tells her to hold them off, since she can see them. Meg tells them to kill Crowley for her and kisses Castiel. After a second, he grabs her and kisses her back, hard. Once she recovers, Meg tells them to run and steps forward to attack the hellhounds.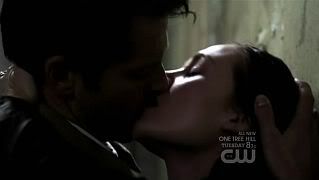 As Dean, Sam, and Castiel make their way through the prison, Castiel is suddenly banished back to Heaven. The brothers realize that the person who drew the blood runes is... Samuel, who sold them out. Crowley's demons capture them, and Crowley arrives to boast that Samuel is one of the best purchases he's made. He informs them that they'll soon be dead, and his demon minions lock Sam and Dean up in separate rooms.
Meg kills the last of the hellhounds, and the demon-possessed Christian arrives to knock her down, grab the knife, and take her prisoner.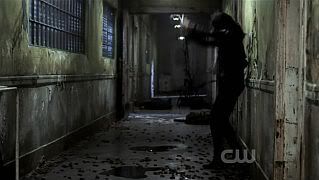 Samuel comes to see Dean and say that he's chosen blood, and that Dean is the one who sold Mary out and chose a demon over his own blood. In response, Samuel says that he doesn't know what Sam is, and that Dean's a stranger to him. Dean coldly tells him that he'll escape, and the next time they meet, he'll kill Samuel. Samuel steps away as the demons come to take Dean away.
Christian straps down Meg and prepares to torture her with knife for everything she knows.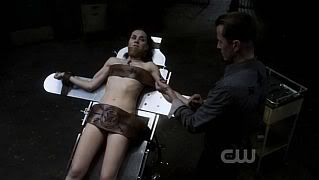 Trapped in his cell, Sam bites into his own wrist.
The demons lock Dean in a room filled with half-eaten corpses, and then usher two ghouls in with him so that they can feed.
The demons come to get Sam... and discover that he's painted a Devil's Trap in his own blood on the ceiling. Sam smiles at them with bloody teeth. He hears the fight and runs to rescue Dean, beating them to death with a steel pipe.
Meg continues to put up a brave front, boasting that all he's doing is torturing her host body. As he continues, she starts laughing. Christian asks what's so funny. Dean grabs the knife and kills him, and Sam says they should go. Dean hesitates for a moment and then frees Meg.
Crowley prepares to torture the djinn for information when the alarm goes off. He finds Christian dead, and Dean waiting for him. Sam knocks him down from behind, directly under a Devil's Trap. Meg steps out and starts telekinetically torturing Crowley. Sam demands the return of his soul, and Crowley refuses. Meg tortures him some more, and Crowley finally admits that he can't. The best he could do was get Sam's body, and Michael and Lucifer hold the rest. Crowley wonders why Sam wants his soul back, and warns that Lucifer has tortured it to the point that its return would drive Sam insane. Meg confirms what he's saying, and Sam tells her to dispose of Crowley since he's useless.
Dean gives Meg the knife and she enters the Devil's Trap after they assure her they'll let her out. Crowley knocks her down, grabs the knife, and throws it up to break the Devil's Trap. He telekinetically shoves them aside and prepares to torture Meg, but Castiel arrives holding a bag and tells Crowley to release the Winchesters. Crowley notes that he's losing to Raphael in the battle for Heaven. In response, Castiel removes a skull from the bag, and confirms that it's Crowley's. The angel asks if he can restore Sam's soul, and Crowley tells him the same thing. Castiel then burns the bones, destroying Crowley.
As Sam recovers the knife, Meg slips away. Outside, Dean thanks Castiel, who admits that Crowley is right and he's losing. He says that there's nothing they can do, and he'd rather be on Earth. Dean assures him that they're his friends, and they're there for hm. Sam says that he'll need to deal with the confined monsters, and Castiel disappears. Sam then tells Dean that recovering his soul would destroy him, and there's no point in risking their lives for something that he doesn't want any more. He walks away, ignoring Dean's pleas to stay.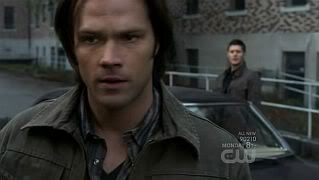 Share this article with your friends