In Chester, Pennsylvania, a man is working in his garage. He props the garage door open with a board, sets down his beer bottle, and starts hammering out his lawnmower blade. When he reaches for the beer, he discovers that it's not where he thought he put it. As he picks it up, he knocks over a jar of nails. As he picks up a broom, he knocks over a skateboard, which rolls behind him. He steps back, trips on it, and almost impales his eyes on a pair of clippers. As He pulls himself away, he knocks over a bucket of golf balls, trips, and falls beneath the garage door. A stray golf ball hits a mousetrap and hits the board. The garage door comes down, all but decapitating the man.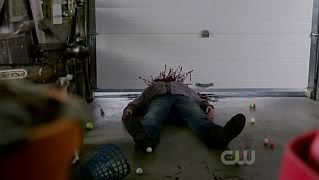 Bobby is going through his books, drinking heavily and trying to find a way to kill Eve, when Sam and Dean come in. They finally tell him that he hasn't slept in days and he should take a break, and figure he's upset over Rufus' death. Bobby denies it and says that he figured Rufus was done for the day that he met him. He tells them to get him some Irish coffee and they reluctantly go. Sam figures that they need to get Bobby out, and suggests they check out the case of the dead man in Chester. He was the third man to die under similarly bizarre circumstances, and the third member of his family to die. Bobby tells them to go out before they drive him nuts. As they get in a Mustang, Sam wonders if they should wait until "she" gets back, but Dean says she'll be back soon. As they drive away, Bobby pours himself a drink but is stopped by a woman: Ellen Harvelle. She says she's been hunting with Jo, and commiserates with Bobby over Rufus' death. Ellen tells him to wash up while she makes supper, and kisses her husband.
Sam and Dean check out the garage of the dead man, Russo. There are no EMF readings, but Sam finds gold threads on the floor. The next day, Sam checks family records while Dean meets with the next of kin, a cheap lawyer named Shawn Russo. Dean claims to be a genealogy student and asks about Shawn's cousins, but Shawn says he's not that close with his family. When Dean asks a number of bizarre questions about curses, Shawn takes offense, and Dean finally tells him that his life may be in danger. The lawyer figures that he's threatening him and orders him out. Dean calls Sam, who confirms that the Russo emigrated to the U.S. in 1912.
In the office of travel agent Anne Witting, time freezes and a blonde woman comes in, takes Anne's keys, and puts them under the copier. She leaves and time starts up, and Anne looks for her keys. She finds them under the copier, goes to get them, and knocks over a vase of flowers. The water gest into the copier, it shorts out, and snags her scarf. It pulls it in, strangling Anne. The blonde woman watches from the next room, crosses off a name in a ledger, and drops a piece of gold thread.
That night, Sam and Dean break into the travel office. Sam has checked the records and confirmed she isn't related to the Russos. Dean finds the gold thread, a match for the one at the Russo garage. Back at their motel, Dean calls Ellen, who confirms they're seeing similar accidents nationwide. Some of the victims are related, some aren't. Ellen assures Dean that she's doing fine after Rufus' death, and tells him that all of the victims' ancestors came over to America on 1912 aboard a ship called the
Titanic
. None of them have heard of it. Sam looks it up and discovers that it made its maiden voyage across the Atlantic in 1912, and almost hit an iceberg. The first mate spotted it just in time, but Sam notices that the man's name is I.P. Freeley. They look up a picture and discover it's of Balthazar.
The brothers summon Balthazar with a ritual, and he cheerfully admits that he saved the
Titanic
because he hated the movie. When Sam points out that they can't change history, Balthazar says that after the Apocalypse the rules have changed. He doesn't see what the problem is with him saving lives, but Sam points out that he made massive changes. Balthazar insists that there were only minor changes, like the fact that they don't drive an Impala, and Jo and Ellen are now alive. The angel pours himself a drink and says that he doesn't care that someone is now killing the 50,000 people that now exist because of his alteration to history. When the Winchesters disagree, Balthazar teleports away.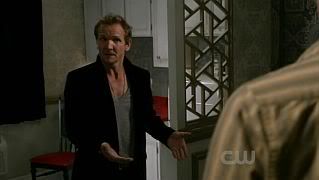 The brothers call Bobby and explain, and he tells them that they're up against the Fates, the goddesses who hammer out the details of how people die and spin out fates on gold thread and write the information down. They wonder if there is any way to stop Fate, and Bobby suggests that they sink the boat. Dean tells him not to think about it, but finally admits that Ellen and Jo died in the original timeline. Bobby tells the brothers to make sure that the angels don't re-sink the
Titanic
. They try to figure out how to save 50,000 people, and Dean suggests they watch over Shawn.
The next day, Shawn is walking down the street making a call when the brothers spot him. They try to get Russo's attention without success. Meanwhile, a driver spills his coffee, loses control, and almost hits Shawn. Sam and Dean come over, and Shawn blames Dean for almost killing him. He walks away but is hit by a bus and instantly killed.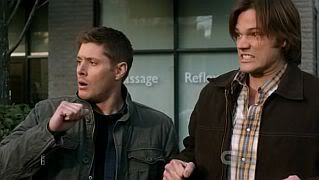 As they check the accident scene, Sam catches a glimpse of a blonde woman in a nearby restaurant under construction. Dean wants to talk to her and Sam reluctantly agrees. As they enter the restaurant, the goddess stops time and turns the gas valves on for all the stoves. She leaves and time starts, and Dean's flashlight goes out. As they head for the door, Dean tries to start a lighter to see. He finally succeeds and the gas ignites, but Castiel teleports the brothers away just in time. They find themselves in White Russia, and Castiel admits that he knows Balthazar unsunk the
Titanic
. When they wonder why Atropos is after them, Castiel explains that she's ticket off at them because they averted the Apocalypse and rendered her job obsolete. The angel says that Atropos won't stop until she's dead, and they have to kill her. He explains that one of Balthazar's stolen weapons will work, and that they have to draw Atropos out by tempting fate.
Ellen gets word from Jo that thirty more people have died. Bobby assures her that Sam and Dean can pull it off, and Ellen suggests that they sink the boat. He objects, saying that people who are loved would simply disappear. Ellen wonders what is up and forces her husband to explain that she died in the original timeline. She wonders if it was meant to be, but Bobby insists that they need her... and he needs her.
Sam and Dean walk down the street and act natural, but soon realize exactly how many ways there are to die in accidents. After avoiding knife-wielding jugglers and construction workers, they pass beneath an air conditioner on a hoist. The line breaks and the air conditioner falls toward them... and time freezes.
Castiel walks over as Atropos prepares to finish off the brothers. She complains that Castiel and the Winchesters destroyed her life, and after the Apocalypse, there's no script anymore. He insists that freedom is preferable, but Atropos says that it's all chaos and no one is talking to her. Castiel tells her that her services are no longer required, but Atropos says that Castiel is the one who ordered Balthazar to unsink the
Titanic
. He denies it, but Atropos says he's in the middle of a war and Balthazar's actions created 50,000 more souls for Castiel's side in the war. When Castiel admits that she's right but has no choice, Atropos tells him that if he doesn't resink the boat, she'll kill Sam and Dean. When Castiel says he'll stop her, she says that if does kill her, her sisters will go after Sam and Dean for revenge, and there's no way he can watch them every second. Castiel considers, and then tells Balthazar to stop. The other angel is just preparing to kill Atropos but halts, and Castiel sends him on his new mission.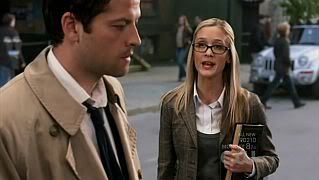 Sam and Dean wake up in the Impala at Bobby's scrap yard, and realize that they had the same dream. Castiel appears to confirm that it actually happened, and he sent Balthazar back to make sure Sam and Dean are safe. He insists that the 50,000 people never died because they never existed... and Ellen and Jo are still dead. When Dean wonders why they can remember it but no one else will, Castiel says that he wants them to remember it so they know who Atropos really, and that they have the ability to choose their own destinies and resist fate. However, he ducks the question of why he really did it and teleports away.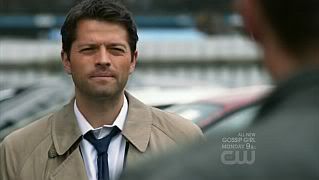 The brothers check on Bobby, who has dozed off on the couch. Dean says that they never tell Bobby what he had and lost without remembering, and let him sleep... alone.
Share this article with your friends