It's high noon in Sunrise, Wyoming, on March 5, 1861. Dean Winchester, wearing a sheriff's badge, and another man step out onto the street, draw, and shoot at the stroke of noon.
48 hours earlier and 150 years later, Sam, Dean, and Bobby search the Campbell compound and find a secret vault of books. They begin going through the books, looking for a way to kill Eve. Bobby finds a reference to the ashes of a "phoenix" burning the Mother. They keep looking and Dean finally finds an entry by Samuel Colt saying he used the gun to kill a phoenix in Sunrise, Wyoming, leaving a pile of ash. There's no description of the phoenix or any other clues, so Dean suggests they travel back in time to 1861 and recover the ashes. Dean preys to Castiel, and a female angel appears. She introduces herself as Rachel and tells them that Castiel is busy. She has no interest in their problems and accuses them of only calling Castiel when they need someone. Rachel starts ranting at them, but Castiel appears and tells her to leave. He explains that Rachel is his lieutenant and asks what they need.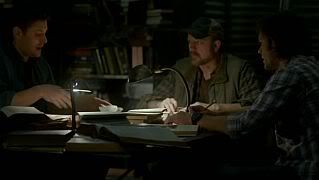 Dean goes on a supply run while Castiel tells Sam that they only have 24 hours. The further he sends them back, the harder it is to recover them. Dean arrives with bags of Western clothing, but Sam objects, saying that Dean has a fetish for Westerns, but agrees to at least wear the shirt. Once they put on Western clothing, Bobby provides them with gold jewelry to use as cash, and Castiel sends them back. He tells Bobby to pray for him in 24 hours and he'll come back.
The brothers arrive near Sunrise and Sam sets his watch. They head into town and find the townspeople gathered for the hanging of Elias Finch. The judge, Tye Mortimer, declares the manacled Finch guilty of the murder of his wife. For his last words, Finch tells Mortimer, the sheriff, and the deputy serving as executioner, that they'll burn for what they've done. The deputy pulls the lever, hanging Finch.
After the hanging, the brothers go to see Mortimer and the sheriff in the town jail. They ask after Colt, and they send the brothers to the saloon. Dean is less than thrilled to see that the saloon girls have rotting teeth. The owner, Elkins, says that Colt is building a railroad stop 20 miles out of town in the middle of nowhere, and the brothers realize he's constructing the Devil's Gate. One of the saloon girls, Darla, comes over and is clearly taken with Dean. Judge Mortimer comes in for his "date" with Darla and they go upstairs. As they get down to business, Finch enters the room and touches Mortimer, who burst into flame. The brothers burst in and find nothing but ash on the bed. The sheriff arrives and notes that the killer left footprints, but Darla insists that Finch was there and killed Mortimer. He tells Sam and Dean he's going to form a posse to hunt down Finch, and invites Sam and Dean to meet him at dawn. The brothers go to the cemetery to check on Finch's grave, and discover that he's broken out of his coffin. Dean has Sam go to get Colt's gun, and Sam realizes that he's going to have to ride a horse. It doesn't go well but he manages to get out of town.
As the sheriff prepares his horse for the next day, it gallops away. Finch comes out and the sheriff shoots him repeatedly to no effect. He asks Finch for forgiveness, but Finch incinerates him with a touch.
In the present, Rachel summons Castiel to an abandoned warehouse. She says that she's been hearing things that she doesn't want to believe, and asks him for the truth. Castiel dodges the question at first, and then insists that he has to defeat Raphael. She attacks him with an angel-killing dagger and cuts his chest, and he draws a knife of his own. After a brief struggle, Castiel manages to kill her.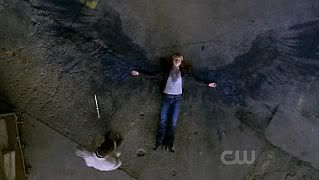 Bobby is going over research at his house when Castiel appears in his kitchen. The angel draws a sigil on the refrigerator in his own blood and then collapses.
Dean arrives at the saloon the next morning and discovers that there's no posse. They hear a commotion outside and go to investigate, and find the sheriff's ashes. Elkins picks up the sheriff's badge and tells Dean that he's the new sheriff.
Colt is in his cabin drinking when two demons barge in. They tell him they want the Devil's Gate opened and refuse to take no for an answer, so Colt shoots them down.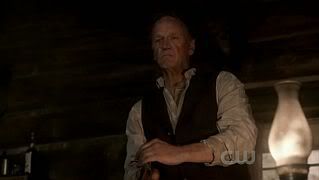 Dean breaks in on the deputy, who is packing to leave. The deputy figures that Dean is insane, but Dean just needs him to act as bait.
Sam arrives at the cabin and Colt prepares to shoot him. When Sam tells him who he is and where he's from, Colt asks for proof and Sam shows him his cell phone, and the 19th century hunter readily accepts his story and pours himself another drink. Sam explains that a phoenix exists and Colt will shoot one in three hours, and shows him the journal from the future. Despite that, Colt says he has no intention of going to Sunrise and insists that he's retired. When it's clear Colt isn't going, Sam asks for the gun and Colt claims he lost it in a game of poker. Sam points out that there's clear evidence of dead demons, impressing Colt. The gunsmith shows him the gun but warns that it's a curse and he hasn't accomplished anything.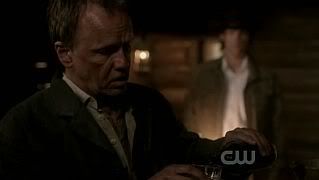 In the present, Castiel wakes up and claims that he was betrayed by Rachel, who was working for Raphael. He made the sigil to repel angels, but warns that he's too weakened by his injury to bring Sam and Dean back. The angel reluctantly admits that there's one thing that might work: Bobby's soul. Castiel explains that he can touch it and siphon off some of its energy, but it's extremely dangerous. Bobby agrees without hesitation.
Dean locks the deputy up in a cell and asks why Finch is gunning for him. The deputy says it was due to the hanging, but Dean figures that it's personal. Finch comes in, and Dean tells him to open the cell himself. When Finch hesitates, Dean figures that he's vulnerable to iron, including the iron in the cell bars and the iron in the manacles he was wearing when the deputy hung him. He tosses Finch an iron nail and it burns when it touches Finch's flesh, confirming Dean's theory. Finch realizes that Dean is a hunter, and explains that he was married to a human wife and had made a peaceful life for themselves. When they came into town, the deputy raped his wife and then shot them both. She died in Finch's arms, and the sheriff arrested him for his wife's murder. The deputy admits that it's true, but Dean says it's not about him and admits he has to kill him because he knows what Finch is. Finch then grabs a gun and shoots the deputy through the bars. Dean leaps out the window as Finch opens fire and runs down an alleyway.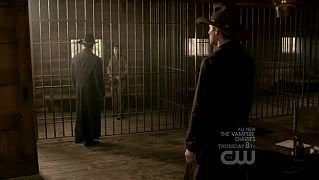 Sam arrives and finds Dean, and explains that Colt isn't coming but loaned them the gun.
In the present, there are two minutes late and Bobby tells Castiel to do it.
Dean calls Finch out onto the street. The phoenix steps out and prepares to shoot Dean down.
Castiel reaches his hand into Bobby's chest.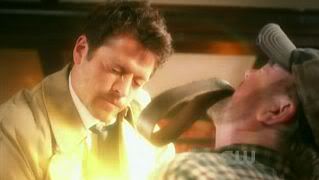 Dean and Finch draw, and Dean's shot hits home. The Colt bullet causes the phoenix to burst into flame. The brothers run to gather the ashes... and Castiel pulls them back to the present before they can get them. Dean asks Castiel to send them back, and the angel says he can't ever do it again. Before they can come up with a new plan, a deliveryman comes to the door. He explains that they've had a package from Samuel Colt with a note saying to bring it there on that particular day. Sam takes the package and brings it inside. It contains a note from Colt saying he got the address and date from Sam's cell phone, and a bottle of the phoenix ashes, They realize they can now take the fight to Eve.