Dean and Sam are in their car watching a man in a suit and fedora come out of a house. They split up to follow him and Dean reaches him first. The man is crouched over his victim, draining red energy from the body. Dean lunges at the man just as Sam arrives and sees them both disappear in a burst of red light.
Two Days Earlier
Dean is going over articles on the Internet about Dick Roman. The phone rings and Sam wakes up and answers it. It's Sheriff Jody Mills, who tells him that a body turned up in Canton, OH, and it was mummified. It was also the second body found in the last two weeks. Sam wonders why she checked it out and Jody admits that after everything she went through with Bobby and the Winchesters, she's been keeping an ear out. Once he hangs up, Sam tells Dean to stop reading about Dick Roman because he's just punishing himself.
The Winchesters arrive in Canton and move into a condemned house. They then talk to the man who saw the witness, who is taking drugs for a psychiatric condition. He tells the brothers that he saw the victim arguing with a man dressed in an old-fashioned suit and wearing, and then the well-dressed man drained red energy out of the victim's body. Back at the house, Sam confirms that there have been a string of similar murders going back to 1928. In each case, there were three victims. Dean taps into the local feeds, smugly explaining that Frank showed him how to do it, and accesses the cameras near the gas station where the murder took place. They find video of the man in the suit and confirm that he's also in some of the newspaper photos from the murders decades earlier.
Dean and Sam talk to Terry Cervantes, who found one of the corpses when she was a child. She recognizes the man in the photo as Ethan Snider and points out the house where he lived on her street. That night, the brothers watch the house and see the murderer come out. They follow him and split up, Dean tackles the killer, and sees that he's wearing a ring with an infinity figure-8 on it. They disappear in a burst of light as Sam looks on. Snider breaks free and runs off into the street. When Dean goes after him, he discovers that... he's in 1944. Two cops spot him, realize that he has a gun, and force him to surrender.
One of the arresting officers interrogates Dean at the station and tries to figure out what his cell phone is. He assumes that Dean is a German spy, while Dean figures out when in time he is. A man in a suit comes in and dismisses the cop, and then asks Dean what he's up to. When Dean tells him the straight truth, the man isn't surprised and Dean realizes that he's a hunter. The newcomer admits that he is a hunter and tells Dean his name: Eliot Ness.
The Present
Back at the house, Sam is going over newspaper clippings of the murders when Jody calls. She tells him that she wants to help and he asks her to come and help lift some heavy boxes.
1944
Ness and Dean compare notes and realize that they're hunting the same thing in different centuries. Snider has killed two people and they figure that he'll soon claim his third victim. However, before Ness takes Dean out, he insists on getting him clothing suitable to the time period. He takes Dean to a tailor shop run by Ezra Moore, an older woman.
The Present
Jody goes to one of Bobby's storage lockers, picks up his boxes of personal belongings, and meets with Sam at the house.
1944
Ezra provides Dean with a new suit, calls him an "idjit," and then Ness turns to her for help in hunting a time traveler. She's clearly worked with Ness before helping him track down the supernatural.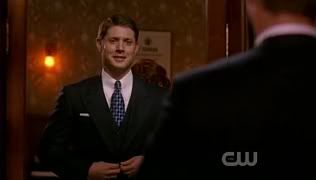 The Present
Sam and Jody go over the newspaper clippings and find a photo of Snider wearing the ring that Sam saw in the alleyway.
1944
Ezra goes on Dean's description of the ring and identifies it as belonging to Cronos, the Greek God of Time.
The Present
Sam tells Jody about the existence of ancient gods in the modern day, and how they are pissed because they're not what they used to be.
1944
Ezra tells Ness and Dean that Cronus is literally draining the time out of his victims, reducing them to mummified corpses.
The Present
Sam figures that they need to find a way to summon a god.
1944
Ezra assures Ness that she can find something to kill Cronus. The two men go to Snider's home and bus down the door. They look around and find a diary with racetrack results, and figure that Snider/Cronus is financing himself by using his knowledge of the outcomes to place winning bets. Snider is playing the bets with a bookie named Lester Young, and Ness knows where to find him. Sam threatens Lester until he breaks and tells them where they can find Snider at a local diner.
The Present
Sam and Jody find the proper summoning ritual, but Sam realizes that if they don't summon Cronus when he's touching Dean, Dean will be left behind in 1944. As they try to figure out a solution, Jody finds a bottle of whiskey that Rufus gave to Bobby to pay off a bet, and she admits that she didn't really know that much about him. She suggests that they drink it in Bobby's honor and Sam agrees.
1944
At the diner, Dean and Ness wait outside. Ness drinks from a flask and Dean is surprised that the Untouchable isn't the Boy Scout that history made him out to be. Ness tells him that he became a hunter when he encountered vampires in Cleveland, and that he doesn't hunt because he's lost family but just because he likes hunting. He wonders why Dean does it and Dean admits that he doesn't know why. Ness dismisses him as a nancy and tells him to enjoy it while he can because hunting is the only clarity anyone is going to find. They spot a waitress, Lila Taylor, leaving the diner. Cronus follows her down the street into an alleyway and moves in on her. The two hunters, armed to the teeth, prepare to shoot him but stare in surprise as he kisses Lila and she kisses him back.
Ness and Dean follow the couple into the country and the house where they live. They confirm that Lila owns the house and supposedly lives alone. Ness stands watch while Dean drives back to see what Ezra has found for them. She reveals a thousand-year-old olive branch soaked in blood and explains that it has to be driven through Cronus' heart. However, Dean realizes that if he kills Cronus, he'll be trapped in the past. Ezra tells him that 1944 isn't so bad and gives him a kiss for luck, and Dean gets an idea when he spot some envelopes on the counter.
Ness is watching the house but Cronus spots and attacks him. He knew that Ness had picked up Dean at the station and plans to dispose of both of them. Cronus throws Ness through the wall of a nearby barn but before he can move in, Lila comes out and asks what's going on. The god doesn't want her to see him killing someone or finding out who he is, and tells her that it was just a noise. However, when Lila goes back inside, Cronus realizes that Ness has escaped. He goes inside and tells Lila to pack because she's coming with him.
Dean goes to the house that he and Sam are occupying in 2012 and convinces the owner that he's a termite inspector. He then goes to the room where Sam is bedding down, lays down to see what Sam would look at if he were in the same position, and finds the floorboard he needs.
The Present
When Sam starts to doze off, Jody tells him to bed down for a while. When he lies down on his blanket, he spots a floorboard with his name carved into it. Behind it he finds a letter from Dean from 1944. The letter has a day and month on it, but they still need the time when Dean encountered Cronus. Since they know Lila lived in the house, they go to the local nursing home where she lives. She recognizes her boyfriend Ethan Snider from the photo and tells them that the last time she saw him was November 5, 1944, at 11:34 when every clock in the house stopped. Lila tells them that Ethan strangled one of the two policemen that came to arrest him, and recognizes Dean's photograph as the man that Ethan strangled.
1944
Dean goes back to the house and calls for Ness, but gets no response. He has no choice but to sneak into the house and look for Cronus. Cronus finds him first and the god easily subdues him. However, Ness comes in, holding Lila as a hostage.
The Present
Sam and Jody prepare to cast the ritual to summon Cronus.
1944
Cronus begs Ness not to harm Lila, and insists that he's not a monster. He says that he kills people so he can be with her.
The Present
Sam uses some of his own blood to write the necessary time on a piece of paper.
1944
Dean explains that Cronus isn't as strong as he used to be so he has to sacrifice three people to get enough power to travel when and where he wants. Each time he's come back for Lila because he loves her. Ness figures that Cronus planned to take Lila as his third victim and mentions the first two victims. Lila recognizes one of them as a woman from the diner and tells Cronus that he is a monster. Dean tries to stab the distracted Cronus but he knocks him down and strangles him, while Ness shoots him without effect.
The Present
Sam casts the ritual, burning the paper.
1944
Cronus starts to glow as he is summoned to 2012. Realizing he has only a few seconds, Ness tosses Dean the discarded stake as they both disappear.
The Present
Dean and Cronus appear. Sam attacks Cronus, who casts him aside and prepares to kill Dean for ruining his life. As he advances on Dean and Jody, Sam grabs the stake and stabs him in the heart. As he dies, Cronus tells them that he knows their future and that it's covered in black ooze.