Martinez gets a briefing from Peel and the general about the attack on Inostranka, and they both blame Martinez for being too weak. The President suddenly finds himself in the Oval Office, handcuffed to a chair. Sophia is seated behind the desk and tells Martinez that she's been forced to take desperate measures since he refused to trust her. She tells the general to put Martinez out of his misery, and the general hands his revolve to Thomas. Thomas warns Martinez that death will be a blessing compared to what the detainees have in mind for Earth, and pulls the trigger... and Martinez wakes up from his nightmare.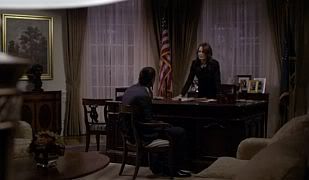 The detainees that escaped with Thomas drive to a gated community that he has purchased for them. He addresses the crowd and assures them that they will have that and more once the rest of their people arrive. As Thomas starts assigning them jobs, a disfigured sleeper pulls up. Thomas goes to him and tells him that his job is critical to their plans.
Martinez meets with his staff, including Sterling, who has released himself early from the hospital. The President condemns the general for lax security at Inostranka, and tells him to clean house. After the meeting, Simon calls Sophia and informs her that Thomas killed the detainees who wouldn't swear loyalty to him. Shocked, Sophia quickly marshals herself and says that they need to find Hanson, who is in San Francisco laundering Thomas' money. Before she can leave, she tells Simon that she has some personal matters to tend to. She checks on Michael, who is taking Leila and Samantha to stay with a married sleeper couple, Carlos and Diane Geller. Leila wants answers from her father, and Michael says that he will explain later. He goes to the backyard with Carlos, who has a gun buried. Carlos gives it to his friend and warns that some of the sleepers are considering Thomas' offer. Michael gets in the car with Sophia, who says that they have to eliminate all of Thomas' followers.
In San Francisco, Hanson meets with his contact, Jing-Mei, but spots Sophia approaching the criminal's shop. He runs out but Michael intercepts him and they take Hanson to an abandoned office building. They beat him for information and Hanson finally tells them that Thomas plans to use a portal to take uranium rods from a California power plant so that they can fuel the power array.
Sophia calls Martinez, who tries to keep her on the line so they can trace the call. She warns him of Thomas' plans, and explains that he tried something similar in Chernobyl, causing that reactor to explode and disfigure Hanson. Sophia tells Martinez that a strong magnetic field can block the portal effect, and they can either assemble such a field at the power plant, or move the uranium rods to a safer location. Martinez wonders why he should believe her, and Sophia insists that she's only kept secrets from him for his own protection, and then hangs up before they can get a trace.
At the Geller house, Leila unpacks and finds a photo of her and Sean together. She tries to hide it from Samantha, who sees it and asks if she misses Sean. Leila admits that she does, but that thinking about him makes her sad.
Sean stops at a bar for a drink, and a woman notices him looking at a photo of Leila. She commiserates, and her boyfriend Mark thinks she's hitting on Sean. When Sean tries to walk away, Mark keeps provoking him until Sean viciously beats him and leaves. He goes to a nearby house and goes inside, and starts eating food out of the refrigerator. A woman comes in with a bat, and Sean apologizes for entering his sister's home. She wonders why he's there and Sean explains that he needs her ex-convict boyfriend Johnny to make him fake IDs so he can get into Mexico. He explains everything that has happened, and his sister is surprised that he's running away instead of doing something.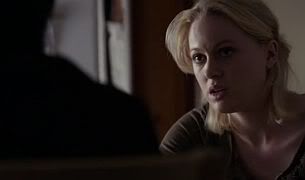 Sterling warns Martinez of the dangers of a nuclear detonation in California, and comes up with a plan to move the uranium rods to Camp Pendleton and then protect them with a magnetic field. Martinez prefers to put a tracking device on the rods, let Thomas portal them out, and then follow the signal to their opponent's base. Sterling and the others disagree, but the President insists that they need to be proactive. He wonders if they have any reason to believe Sophia, and Sterling explains that Maya sacrificed her life for him to stop Thomas in Alaska. Martinez decides to go with Sophia's plan, but is angry that she's backed them into a corner with only one option.
Simon goes to the plant and orders the supervisor to shut down the plant and prepare the removal of the uranium rods.
Michael confirms that all of their people are out of the blast zone, and Sophia worries that a lot of their people are on the fence waiting to see who emerges triumphant, her or Thomas. She thanks Michael for all his help, and Simon calls to update them on the status of the rods. In the next room, Hanson is handcuffed to the wall. When he hears Sophia confirm that the rods are being removed, he pries out a transmitter from beneath his skin, calls Thomas, and tells him that Sophia has taken the bait. Thomas tells him to kill Sophia now that she's outlived her usefulness.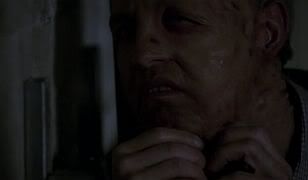 Leila overhears Carlos and Diane discussing the schism between the detainees, and what will happen to the native population. She interrupts them to demand answers and Carlos says that she'll have to talk to her father. When Leila persists, insisting that she's one of them, Diane warns that she's half-human and half-alien, and they have no idea where her loyalties lie... and neither does she.
Vicky Roberts is shopping at a grocery store when she notices two men watching her. The second one tries to talk to her about melons, and then follows her outside. She throws him to the ground and demands to know who he's working for, and he insists that he was just returning a receipt that she dropped. Vicky returns home and Sean ambushes her. Holding her at gunpoint, he demands to know who she has been working for, and says that he wants her to help him stop her former employers.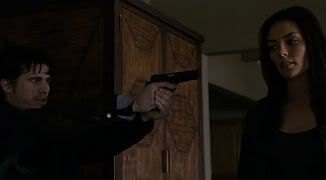 Michael checks on Hanson and then goes to the loading dock to make departure plans. Once he's alone with Sophia, Hanson uses the wire from the nearby electrical outlet to pick the lock on his handcuffs and then pulls the wire free to make a garrote.
Simon escorts the truck with the uranium rods down the highway. A car explodes in front of the, blocking their way, and Simon's men open fire from the sides of the road. Simon orders the truck driver to get away and runs to the cab, but Thomas' sleepers kill the driver and open fire on Simon. They close in only to discover that he's vanished. Thomas orders them to leave, unaware that Simon is hiding below a nearby bridge.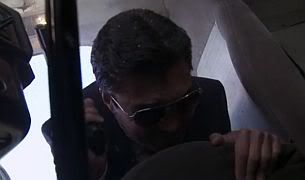 Hanson attacks Sophia and tries to garrote her. She temporarily drives him off with a coffee pot, but he starts strangling her with his bare hands. Michael arrives just in time to gun him down. She finds the transmitter in Hanson's ears and realizes that the entire thing has been a setup.
After meeting with the Japanese Prime Minster, Martinez receives a report from Sterling about the hijack attempt. Sterling figures that Thomas set the whole thing up and that he never had a way to portal out the rods. Sophia calls to warn Martinez, and he accuses her of setting him up. She insists that Thomas played both of them, but Martinez asks her to surrender herself to prove her good intentions. Sophia refuses until she can capture Thomas and hangs up. However, Sterling tells Martinez that they have decrypted her cell phone signal. They know she's somewhere in San Francisco, and can locate her precisely the next time she calls. Martinez tells Sterling to prepare a team to bring her in... and authorizes lethal force against Sophia for the first time.
Share this article with your friends