Bank clerk Hector B. Poole is going to work when he stops to buy a newspaper. He tosses the newsboy a quarter... and it lands exactly on edge. As he walks away, Hector starts to hear the thoughts of the people around him. He wanders into traffic and is nearly hit by a car. The driver comes out and expresses his sympathy, but Hector can hear him thinking he's a fool. However, the man denies saying anything, and Hector realizes what has happened.
]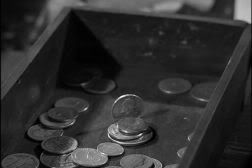 Arriving at the bank late, Hector is unaware that his superior Mr. Bagby is on the phone with his mistress. Hector goes in to explain why he was late and Hector hears Bagy thinking about how Hector better not spoil his weekend. When Hector mentions what he's hearing, Bagby thinks how Hector knows about his affair. Hector backs out and starts to get the hang of hearing thoughts, talking in response to people's thoughts. He also hears co-worker Miss Turner thinking that he looks tired. Hector's interrupted when he's notified that company owner, Mr. Sykes, has his loan approved. As Hector fills out the papers, he hears Mr. Sykes thinking that he plans to use the loan to bet on the horses. Hector mentions the gambling and Sykes snaps at him, then denies any plans to gamble when Bagby resolves the situation.
]
Hector hears Miss Turner commiserating with him and saying he should assert himself more. She then greets him shyly and he starts to thank her, but coworker Brand comes over and starts thinking lewd thoughts about Miss Turner. Hector dumps a cup of water on him and Miss Turner mentally congratulates him. As Hector returns to his desk, he hears long-time employee Mr. Smithers thinking about how it's unfair he's been there at the same desk so long and that they'll be sorry. Hector tunes in on him and hears Smithers planning to steal money from the bank vault at exactly 4:30 and got to Bermuda.
]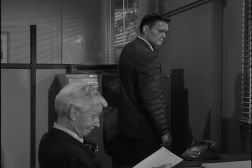 Later as the bank closes, Hector approaches Miss Turner and finds a private place to tell her that he can read minds. She thinks that it's a strange approach to come on to her and he responds to her out loud, saying he believes someone plans to rob the bank. She convinces him to go to Bagby and tells him that Smithers plans to rob the bank. the paranoid Bagby convinces himself that Hector is telling the truth. They look on as Smithers does exactly what Hector predicts. Bagby calls the security guard over and opens Smithers' briefcase... to reveal no money. Bagby confronts Hector who tries to explain he heard Smithers thinking. He apologizes to Smithers and fires Hector. Hector apologizes to Smithers, who admits that he was thinking about stealing the money: a little dream that he's had for years. However, he's never been brave enough to go through with it.
]
Hector goes to his desk to pack and Miss Turner thinks sympathetic thoughts, and Hector responds to them, convincing her he's telling the truth. He admits he's learned a lesson about what people think and what they do. They're interrupted when Bagby comes over and reveals Sykes was arrested for gambling with company money. Bagby offers Hector his job back, but Miss Turner thinks hard and says he should be in charge of the account section. Hector grows a backbone and demands the position, following Miss Turner's cues. Bagby is eager to meet with his mistress and Hector quietly brings up the affair and the trip he's planning. Bagby caves and gives Hector the position. However, Hector does ask Bagby for one last favor: provide Smithers with a free trip to Bermuda. Bagby gives in with a little reminder from Hector, who offers to see Miss Turner home. As they head home, they stop at the newsstand and the newsboy knocks over the quarter, which is still on edge. Hector realizes he can no longer read thoughts and is happy he's back to normal.
]