In New York City, engineer Alan Richards is in his apartment and asks his wife Doris where his cuff link is. She claims not to know where it is, but he shows her that he found it in her jewel case along with items: a human finger, a vulture's claw, and other witch doctor's baubles. She claims they're souvenirs but when he tosses them in the fire, she panics. He notes they're not in Africa any more and superstitions are for weak people, not him. He insists they have nothing to fear from witch doctors five thousand miles away. Doris notes that when his men started drilling for a hydroelectric project, a shaman warned them not to and said that the land would make them pay. She begs him to stop the drilling but he refuses to pander to superstition. He takes his coat and leaves, but Doris warns that he'll never be back. As Alan steps out, he finds a dead goat in the hallway outside.
Alan goes to his office and goes over the plans to build the dam with his superiors. The CEO asks about the attitude of the natives and Alan says that they're a violent people who resent the entire operation. He does say that a number of the native witch doctors have put a curse on anyone involved: a slow, painful death. Alan says that he's seen healthy men and women die from the "curse." He notes that one of the men wears a rabbit's foot, and another one believes in astrology. Each of them has their superstitions, and Alan dismisses them all.
Later Alan meets his friend Chad Cooper at a bar. While discussing where to find a dead goat, Alan spills a drink and discovers a protective amulet against lions that Doris wrapped in his handkerchief. An angry Alan notes that half the people in city are diseased with superstition, but Chad notes that only someone who believes in superstition would get this worked up about it. They leave the bar, and Alan leaves the amulet on the table. As Chad drives off, Alan tries to start his car but it dies on him. He goes back to the bar but it's closed for the evening. Alan goes to a phone and tries to call for a cab but gets no signal. As he turns to go, the phone rings and he answers it. Animal noises emerge from the receiver. He nervously walks off down the street as the wind picks up. A cab driver hails him and they drive away as animal noises echo through the trees. The driver stops at a red light and waits. When the light turns green, he doesn't start again. Alan tells the driver to go, taps him on the shoulder... and the cab driver falls over dead.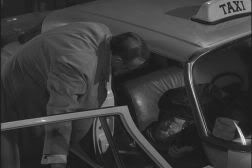 Alan starts to run down the street as more jungle noises echo between the buildings. He passes by a party costume shop and is startled by a witch doctor mannequin in the window. Lighting a cigarette, Alan is startled when a vagrant comes up behind him and asks him for some money. Alan gives him some money and asks the man about the sound of drums that he's hearing. The vagrant doesn't hear anything and Alan offers to pay him to accompany him through the park. When Alan hears more animal noises, he looks around desperately and discovers that the vagrant has slipped away. Alan tries to find the man without success and runs across a pair of stone lions outside a park. The engineer nervously approaches the statue and touches one to reassure himself it's solid, then starts walking through the park. The wind picks up as Alan lights a cigarette. He hears noises in the brush and the animal growls start again all around him. Alan runs through the park and finally finds an exit. He collapses against a locked building entrance... and the noises stop.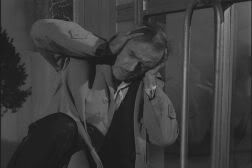 Alan gets safely to his apartment and pours himself a drink to steady his hands. However, he pauses as he hears the sound of breaking glass from the bedroom. He walks unsteadily to the door, opens it, and sees a lion on the bed standing on the bed over his dead wife. The lion leaps at him... and Alan screams.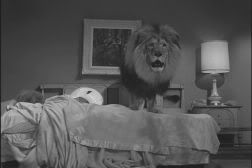 Share this article with your friends