At the B&B, Pete serves Kelly a half-banana for breakfast, and she suggests he move in with her. He hesitates and falls back on saying that Artie wants all of the agents under one roof. She goes back to work and takes both banana halves with her.
At the warehouse, Pete asks Myka, Kelly, and Helena for their advice about moving in. He admits he's not sure if he's in love with her, until he agrees to give her the bigger half of a desert. They figure he's in love, and Mrs. Frederic comes in and agrees. She tells him that he's allowed to tell one person what he really does.
In Alexandria, students Rod, John, and Terry are at the bazaar. When John sends some photos to his sister, the others warn him not to mess up the deal. Terry suddenly starts complaining of thirst and starts to dehydrate. Rod and then Jon are similarly affected and both die within seconds.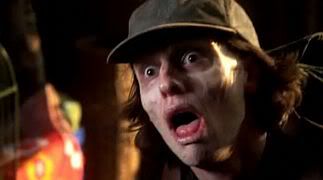 At the warehouse, Mrs. Frederic suddenly collapses. She starts muttering in an Arabic tongue. When she recovers consciousness, Helena realizes she was speaking in ancient Egyptian. Claudia translates it as "the penalty is death." They do a search of Egyptian artifacts and the incident in Alexandria with the students come sup.
Pete, Myka, and Helena go to Pittsburg to talk to John's mother. Helena talks to John's sister, Gabrielle, and mentions her own daughter. She asks to see the photo that John sent her where he's sitting in front of a wall in Egypt. The agents show Artie and the others the photo, and he and Mrs. Frederic recognize the hieroglyphs on the wall. Mrs. Frederic orders them to return immediately. Artie takes Claudia to the ancient archives. Once they go, Mrs. Frederic has visions of a glowing orb in Egypt.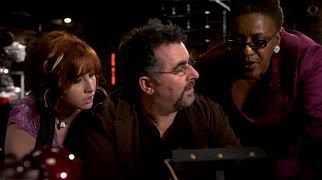 At the archives, Artie consults a scroll and matches the hieroglyphs on the wall to the ones on the scroll. He explains that they translate as "an oasis between and sea." Back in the office, Artie explains that someone has found Warehouse 2, which was lost in 31 B.C. when the Romans conquered Egypt. They figure that the students opened the first door and set off a trap. Mrs. Frederic warns that the Warehouses are organic and "woke up." When Warehouse 2 woke up, it sought to bond with the current caretaker. Since Mrs. Frederic is sharing a bond with two Warehouses at the same time, she will eventually overload. Further, Warehouse 13 will start to die as Mrs. Frederic loses her connection to it. She tells them that she'll have the Regents send an expert. The agents travel to Egypt, where they meet with their contact: Benjamin Valda.
The team goes to the Valley of Alam Nafaza and finds the students' base camp. They have a map that Valda insists they couldn't have. Valda explains that a common phrase recurs in Warehouse 2 mythology: "Mind, Body, Soul." He has a ankh that can be used to shut down Warehouse 2 once they get to the center. Peter has them wait while he leaves a message for Kelly. He tries to explain that he might be in danger, but can't quite bring himself to say he wants to move in with her before the recording runs out.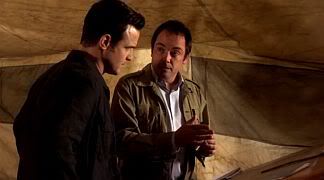 At Warehouse 13, Artie attaches a neural assessor to Mrs. Frederic so they can determine how she is being affected. Mrs. Frederic convulses and has more visions of Warehouse 2. Valda neutralizes the trap that caught the students, and Artie realizes that Warehouse 2 has sensed intruders. The team goes inside and enters a large chamber with posts extending from the floor. The door seals behind them and the ceiling starts to descend. They figure the Mind/Body/Soul refers to three separate traps. Pete realizes the posts are like a kid's puzzle he used to solve. They have to "jump" the posts to eliminate all but the last one. The agents go to work, jumping the posts in the proper order.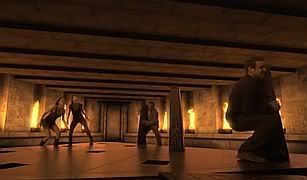 Claudia tracks the student's money trail while Mrs. Frederic says more words in Egypt. They translate as "one must die."
Pete and Valda jump the last post and the ceiling grinds to a halt just in time. A new door opens and they enter a hallway. Axe blades swing up out of the floor and flame jets ignite. Nearby hieroglyphs describe the use of an ancient Egyptian martial art. Pete tries to make his way through the traps but is forced to retreat.
Dr. Vanessa Calder arrives to treat Mrs. Frederic.
Helena uses her grappler to fire a line across the floor and she slides across. Myka follows her, while Valda finds hieroglyphs saying "One must die." As Pete starts to go, Valda gives the ankh and tells him that "the water bearer holds the key." He then tells Pete to go across and follows him. However, a flame jet ignites the rope. Valda tells them that one must die and to continue, and then lets go rather than risk them trying to rescue him. The agents try to call Artie but discover they're too far underground. They have no choice but to continue as another door opens for them.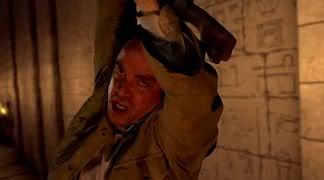 Mrs. Frederic continues to worsen and Artie realizes something is happening to the team in Egypt. They're unable to contact them via the Farnsworth, and Artie says he has to check something. Mrs. Frederic recites another message, saying that two will lose their way.
The agents enter a chamber with a giant medusa's head mounted on the wall. Its eyes glow red and each of the agents hears someone they know. Helena finds herself in her home in her own time, reunited with her daughter Christina. Pete finds himself at Kelly's home and they kiss as he tells her his secret. Myka is at the warehouse office and Artie is there with a perfect cup of coffee for her.
The agents are unaware that they are simply standing, entranced, in the medusa room, while the floor cracks open beneath them. However, each of them sees something glowing red in their vision. Myka finally realizes that Artie is acting strangely and that what she's seeing isn't real. She snaps out of it and brings Pete and then Christina out of the spell of the soul test. Myka throws her torch at the medusa head, causing it to burst into flame and retract into the wall. The floor restores itself and the agents leave through the passageway revealed by the head. As they go, Pete tells Myka that Kelly is the one. Helena is in tears, having lost her daughter again. Myka reminds her that they have to continue to save Mrs. Frederic and Warehouse 13.
Mrs. Frederic tells Dr. Calder to do what she has to, and they explain to Claudia that if the team doesn't succeed in Egypt, the Warehouse will close it down. To survive, they must put a new caretaker in place before Warehouse 13 dies... and Claudia is the chosen one. Claudia initially refuses but they insist they have no choice.
The agents enter the warehouse office and find a vast chamber with a glowing orb in the center. Helena lights up the room with a torch and goes down to the warehouse floor, while Pete and Myka search the office. They find a wall with hundreds of backlit holes, and figure that the ankh fits in one of them.
Dr. Calder tells Claudia that it's time and fastens her wrist to Mrs. Frederic's.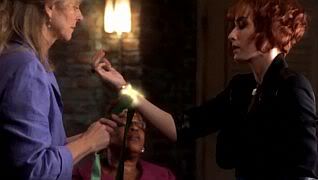 Pete realizes that the holes form constellations, and he needs to insert the ankh into the "star" of the water bearer, Aquarius. He inserts the ankh and the orb shuts down.
Mrs. Frederic recovers and tells Claudia and Calder that the agents shut down the link. As Calder packs up, Claudia apologizes for her reluctance. The doctor assures her that when the time comes, Claudia will be ready. After she leaves, Mrs. Frederic checks Claudia's efforts to determine who funded the dead students. They get a ping: the money came from Warehouse 13. Claudia and Mrs. Frederic realized that Artie has been gone for several hours.
Helena calls Pete and Myka down to the floor. They find her at the orb, and she hopes that they can forgive her. When they wonder what she's talking about, she tasers them unconscious and leaves.
Share this article with your friends